Updated February 18, 2018
What's in your travel wallet is as much about what you take with you on your trip as what you leave at home. It's also the result of figuring out what should go in your wallet, and what needs to be carried elsewhere.
Here are 12 tips to help you safely carry your money, documents and related travel essentials.
1. List all your travel essentials
A list helps you identify what purses, security pouches or other travel organizers might best suit your travel style. Here are a couple of suggestions.
Go through your "at-home" wallet and cull what won't be needed on your trip. Leave the personal cheques, and most loyalty and membership cards at home. The same applies to unnecessary identity documents such as a birth certificate or social insurance card.
"Essentials" could be one of the categories on your packing list. Add anything associated with finances and identity. Make a note of what documentation will be required to leave and return to your home country, and enter and leave other countries on your itinerary. Think about how you'll access and manage finances while on the move. It could also include information for responding to emergency situations. Here's an example: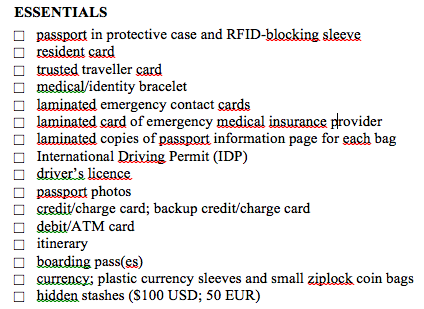 2. Identify what's needed to stow your essentials
Some travellers use a travel document organizer for their passport, itinerary, boarding passes, trusted traveller card, tickets, bookings, and anything else needed while in transit. They're usually zippered, and come with a removable wrist strap.
I prefer a wearable travel organizer with a removable shoulder strap. It's more secure and convenient than one with a wrist strap. While in transit, there's never a need to remove it, except at a screening checkpoint when it can be stuffed into a personal bag. When juggling a jacket, bag, boarding pass and photo ID at the boarding gate, a hands-free organizer is much easier to manage. Check out Etsy for handmade versions. I have one from KapomCrafts. One of the advantages of shopping at Etsy is that you'll be able to find a seller who'll make one according to your specifications.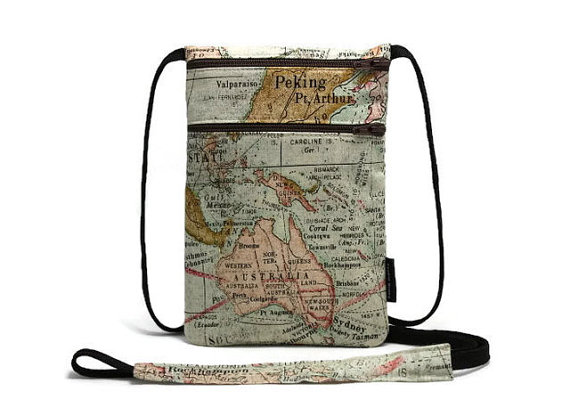 I like a packable travel purse. It's small enough to be worn during the entire flight or bus ride, so there's little danger of pilfering while I'm sleeping or away from my seat. Internal compartments housing my passport, travel wallet, currency, iPhone and iPad mini require the opening of two zippers to access the contents. This makes it more difficult for pickpockets. And, unlike the travel organizers with a wrist strap, it doubles as an evening purse, and a backup day bag. For more information, see Designing the perfect travel purse.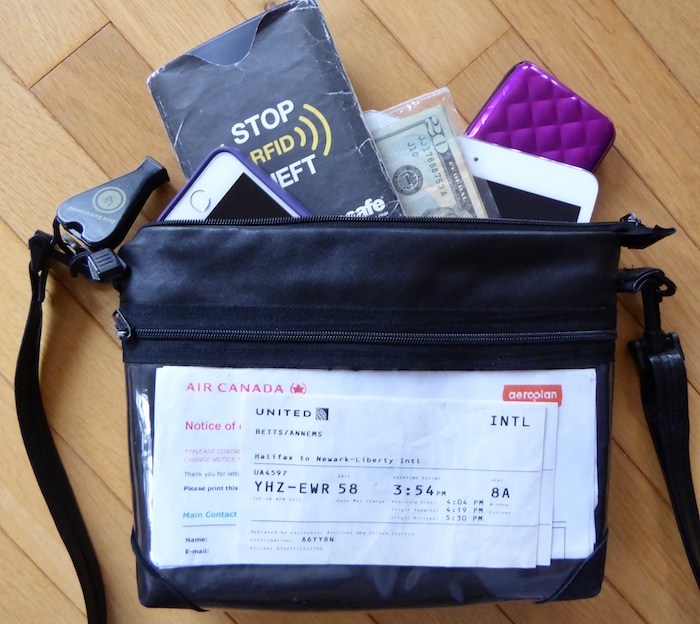 Some people are fans of under-clothing security pouches, worn around the waist, neck or leg to hide valuables from sight. Some versions are hidden from view after being attached to a piece of clothing such as a belt or bra. It's virtually impossible for a thief to access a security pouch unless it's taken from you by force. They can be useful for day-to-day use, or during transit without screening checkpoints. I like the kind that rests in the small of your back under a waistband. My favourite is the PacSafe RFID Safe 100. It's so comfortable I forget I'm wearing it. If you're considering one, get it in black. The grey develops a soiled look after several years of use. To expand your options, check out waist belts and armbands designed for runners.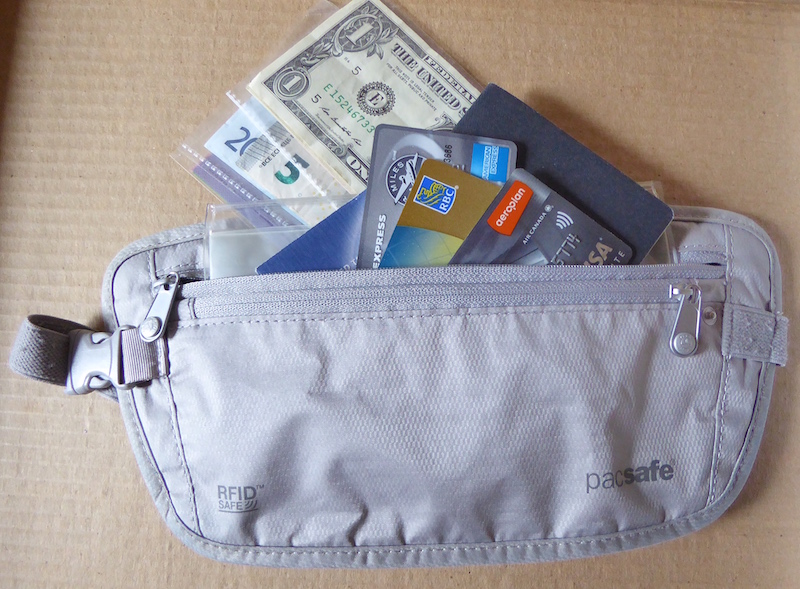 Clothing with hidden, internal or engineered pockets is another favourite.
For commercially produced options, Scottevest and Clothing Arts are companies that pride themselves on their pickpocket-proof travel clothing. I particularly like Scottevest's travel vest, and Clothing Art's Cubed Travel Jacket. It's surprising how much "stuff" can be packed in either one of these garments, and they're easily removed at screening checkpoints. This is particularly useful when travelling on airlines with a one-bag carry-on allowance.
For handmade options, check out Etsy or look for resources within in your community. For ideas, see Anti-pickpocket gear.
A cross-body bag can be very useful as a travel organizer and day bag. PacSafe is a brand that's popular for loading their bags with a host of security features. One of my friends travels with a PacSafe CS200, and loves it.
Why not pick up a slim minimalist wallet and use it just for travel? It should be small enough to fit in a front pocket, inside pocket of a jacket or vest, or a zippered internal compartment of your purse. RFID (Radio-frequency identification) protection provides additional security. Look for it as a built-in feature of the wallet, or through RFID sleeves for your cards containing RFID chips. My favourite for some time has been an RFID aluminum wallett.
Consider complementing your travel wallet with a phone case with a slot or hidden pocket. This is handy for items such as a credit card, hotel or hostel card key, address of your accommodation, or an emergency contact card.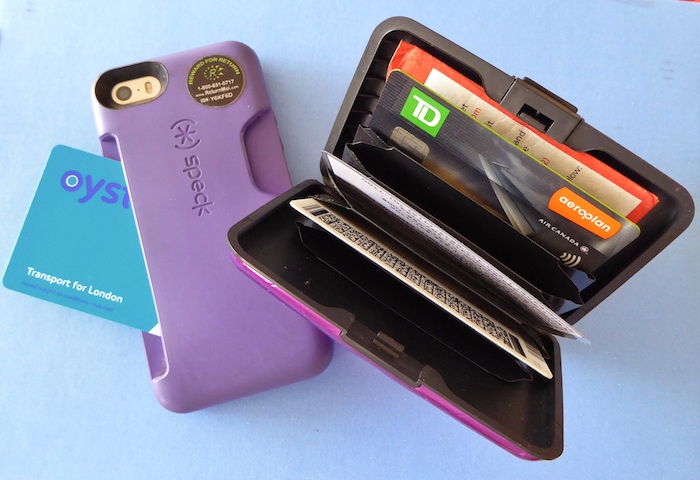 3. Use digital aids
Loyalty cards can be stored in an app. I think the Best loyalty card wallet app is Stocard.
Identity documents can be scanned and carried in a password-protected document or file storage system such as Dropbox.
Store copies of bookings in an itinerary management app, and in a special folder in your email account. My favourite itinerary management app is Kayak Trips.
Some people create a currency conversion cheat sheet, but this information can be easily accessed via an app such as XE currency.
Paper is a weight and space guzzler, so try to travel with as little paper as possible.
4. Pack one debit card, one credit card and one backup
It takes a little planning, but separate your cards. If you'll be stopping by an ATM, carry your debit card in your wallet and your credit card elsewhere. Pack a backup credit card, preferably from a different issuer (e.g., Visa, MasterCard, American Express). Always keep it separated from your main card. Some people travel with a second debit card in case several ATMs don't recognize their main card. Personally, I travel with two credit cards and just one debit card.
Information associated with those cards should be stowed elsewhere. Carry PIN numbers in your head, and all other details in a password-protected digital password wallet such as 1Password, LastPass or DataVault. Don't make a copy of your cards, unless they're digital versions in a password-protected file. A physical copy is just one more thing to keep secure.
5. Carry just enough cash for the day in your wallet
Set up a travel account with a financial institution where ATM fees are waived or refunded. That way, you'll be less likely to make fewer withdrawals of larger amounts. Carrying around large sums of money is never a good idea. Even if you mostly use credit cards, it's always wise to carry some cash for unexpected miscellaneous expenses. Not all places accept credit cards, and many merchants offer a better price for cash. Put what you'll need for the day's expenses in your wallet, and carry a few coins and small bills in a pocket (or outer pocket of a purse) for convenience. This makes it easier to support the work of street performers, or to pick up a snack from a street vendor without having to reach for your wallet.
Leave the majority of your cash in a safe, money belt or under-clothing security pouch. If you need to access your money belt or security pouch, don't forget to plan ahead so you can do so in private.
6. Consider carrying business cards
A business card is a wonderful timesaver when sharing contact information with others while travelling. Carry a few in your day bag and put one in your wallet. If your wallet is lost and falls into the hands of a Good Samaritan, it can help identify you, and how you can be contacted. Put one in a pocket of outerwear for the same reason. Depending on how much information it contains, it can also double as a luggage tag.
It's surprisingly easy to design your own cards at sites such as Moo and Vistaprint. Moo's Printfinity technology allows you to put different images on each card. You can even order cards (Moo's Business Cards +) with embedded Near Field Communication (NFC) chips.
7. Carry the business card of your hotel or host
It's easy to get lost in a foreign city, especially when you're jet lagged, and the street signs are in another language. If you carry the business card of your hotel with you, it can be shown to a taxi driver or helpful local who can help get you back to your accommodation.
8. Find a convenient place for a transit card
Transit cards offer convenience and savings. In fact, in cashless transit systems, they're a requirement. Some passes provide unlimited travel, while others permit you to top up with prepaid amounts and ride for a discount. Many electronic ticket readers allow you to leave your card in a pocket or purse, and simply wave it close to the machine. This is handy in areas where pickpocketing is common. Reaching for your wallet for your transit card or to pay cash for a fare gives the heads-up on the location of your wallet, and clues on how easy or difficult it might be to steal. Find a convenient place for a transit card – not in your wallet.
9. A driver's licence is handy
A driver's licence can be useful, even if you don't plan on renting or otherwise driving a vehicle. When asked to present some form of photo identification or government-issued ID, it's usually more convenient to reach for a driver's licence than to dig out a passport. In fact, if you lose your passport, a driver's licence can be used to confirm your identity when applying for an emergency replacement. For younger travellers, it can verify proof of age if you're carded. For senior travellers, use it as proof of eligibility for the senior's discount.
10. Student, teacher, senior, military or other ID?
If you belong to a group or industry that typically receives discounts or benefits when travelling, carry the respective card with you. Many museums and attractions offer discounts. Reduced rates and other benefits are available for accommodation and transportation. If you plan on staying in HI Hostels, you'll receive a reduced rate with a Hostelling International membership (that can also be used to obtain backpackers' discounts elsewhere). If you're a teacher or student, consider applying for an internationally recognized card.
11. Carry emergency medical insurance information
If your insurance company issues you a client card, carry it in your wallet. If there's a downloadable version, insert your name, policy number and toll-free number and have it laminated. Most insurance providers require contact before seeking treatment. If adversity strikes, you'll be able to fulfil your policy obligations. Or, someone else will be able to call on your behalf.
12. Create an emergency contact card
Create your own credit-card-sized collection of emergency contact numbers. Include your ICE (In Case of Emergency) contact person(s), financial institutions, consular services, and emergency medical insurance administrator. Make several copies and get them laminated. Carry one copy in your wallet, and spread the others throughout your belongings. Leave one behind with a stay-at-home family member. See How to make a traveller's emergency contact card for more information.

What's in your travel wallet?
On a typical day, my travel wallet contains:
one financial card

driver's licence

business card

emergency medical insurance card

emergency contact card

cash for that day's expenses
What's in your travel wallet?
What other suggestions do you have for carrying essential travel documents?
If you found this useful, the following related posts contain additional information:
Care to pin it for later?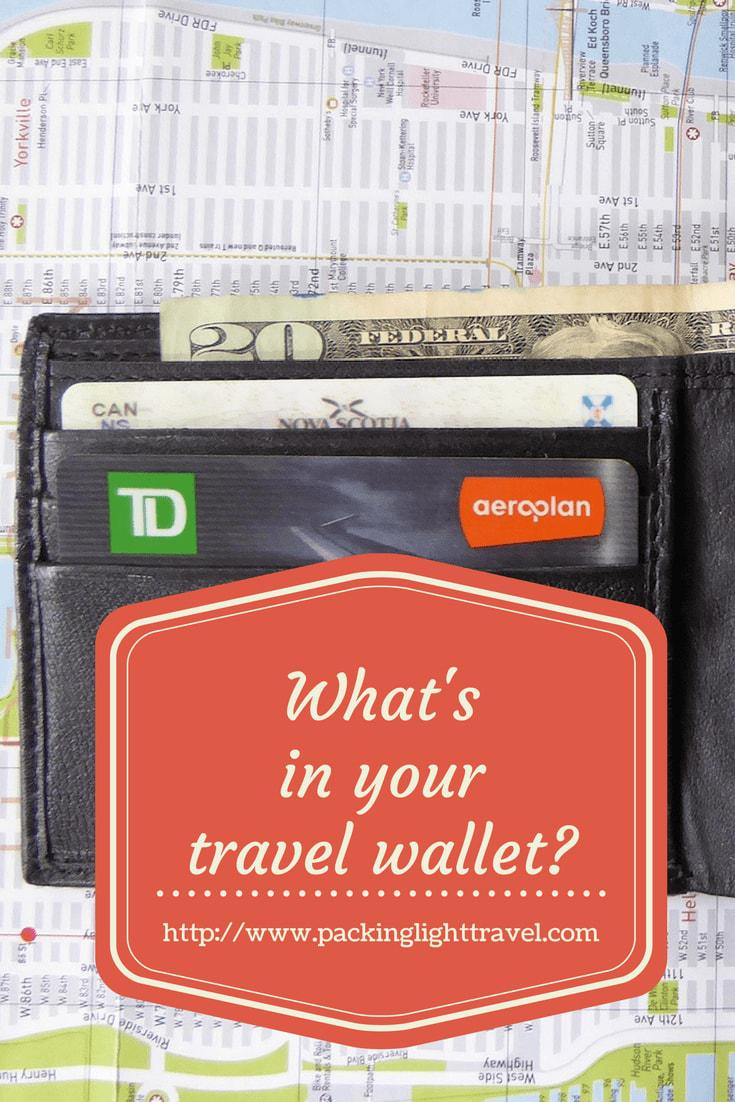 Some of the links on this page are affiliate links. If you use them to buy something, you don't pay more, but this website earns a small commission, which helps pay the cost of running the site. Thank you for your support.
SaveSave
SaveSave
SaveSave
SaveSave
(Visited 667 times, 4 visits today)