Have you ever purchased a travel product and found it wanting with respect to one or more important features? Or, perhaps you've found yourself thinking, "Now if I had designed this, I would have eliminated/added/changed…" Well, maybe it's time to give up on some of the commercially produced travel products and design your own handmade versions. Designing what for me is the perfect travel purse was one such journey.
Ideas, yes. Talent no.
I'd had too many frustrating experiences with ill-conceived strategies for carrying travel documents, and negotiating airport security. One benefit, though, was that they offered ideas on what might work better… for me.
I had plenty of ideas, but neither the talent nor the skills to bring them to fruition. I asked around for recommendations on the best seamstress in the community, and one name kept coming up: Carmen Maillet. I set up a meeting.
Features of a perfect travel purse
I shared my thoughts with Carmen on what a perfect travel purse might look like:
a purse that could double as a organizer for travel documents and related essentials;

chic enough to double as an evening purse;

adjustable strap to allow it to be worn cross-body, and remain hands-free;

small enough that I could protect it with one hand;

packable, to fit in my personal carry on/daypack once I reached airport security;

large enough to accommodate essentials (e.g., itinerary, boarding passes, aluminum travel wallet, iPhone, money, passport, trusted traveller card (NEXUS), laminated emergency contact information card, and a destination address);

three or four internal zippered pockets to deter pickpockets;

a colour such as black that would be versatile enough to wear with any outfit.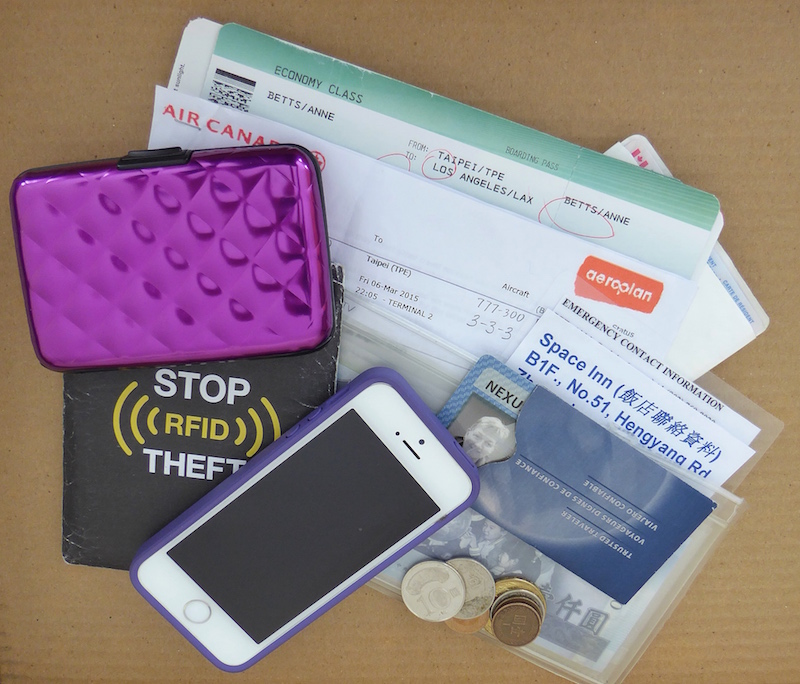 The thing about consulting a professional is that she knows her craft. I had no sooner finished describing these features, when Carmen offered some suggestions.
Grabbing a copy of the itinerary and boarding passes I'd brought, Carmen asked what I thought about a plastic window on the front (or back) of the purse. Brilliant!! Boarding passes could be lined up in order of flight segments. Information on the next flight would always be visible without having to remove the boarding pass. Checking flight, gate numbers, and boarding times could be quickly and easily accomplished on the fly.

To deal in an organized way with loose change, Carmen suggested a tiny removable coin purse attached to an internal strap.

For the transition to evening purse, would I appreciate a short removable wrist strap? Of course, the shoulder strap would also be removable.

How about one or two zippered pockets on the outside of the purse?

Would I prefer fabric or leather? Did I have a preference for the type and colour of fabric for the lining?
The ideas flowed, and the various contents destined for my perfect travel purse were measured.
A few days later, I couldn't have been more pleased with the results. Carmen had created one of my favourite and most used travel aids.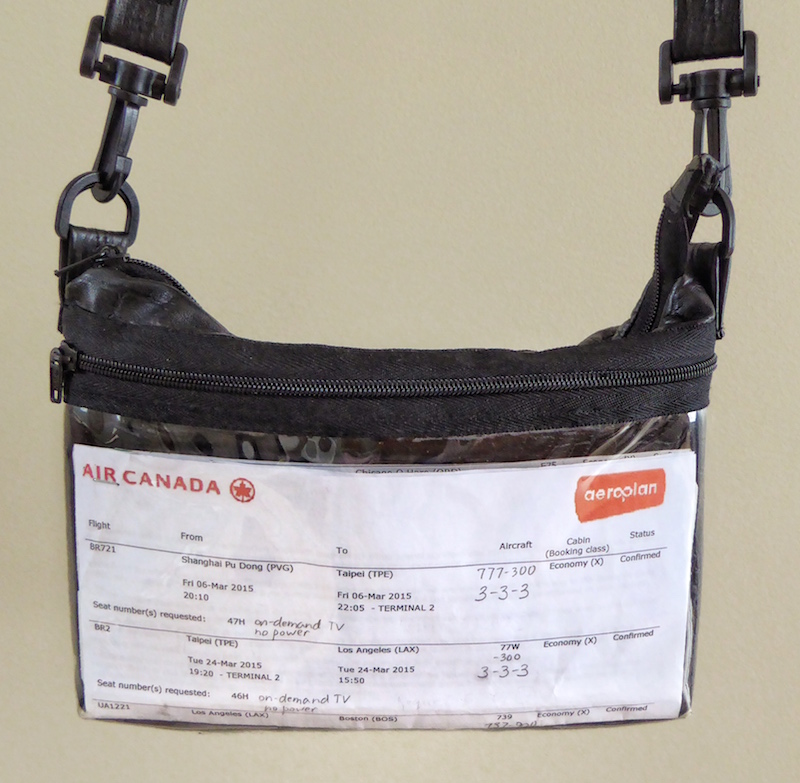 My packable travel purse
It's light and functional. Empty, it weighs just 6.5 ounces (185 grams) and measures 8.5 by 6 by 1.5 inches (21.5 by 15 by 3.8 centimetres). The soft and supple black leather exterior is complemented by a light grey satin lining. The choice of materials adds a touch of style to what could have been a fairly ordinary accessory.
On each trip, I wear it from door to door, taking it off only to pass through airport security. It fits in the top of my personal carry on/daypack. There's no need to leave anything exposed in the trays on the conveyor belt during screening. It's so comfortable, I don't bother removing it during the flight or at any other time before reaching my destination. I figure the purse and its contents are safer worn diagonally across my body than stowed in my personal carry on. Essential items are within easy reach at all times.
Two of the three zippered pockets in the internal compartment accommodate my iPhone and aluminum wallet. My passport sleeve and plastic currency pouch fit comfortably in the third. As the entire internal compartment closes with another zipper, a pickpocket would need to negotiate two zippers to reach any one of these things. Depending on the weather and the destination, it's small enough to wear under a jacket for additional security and protection.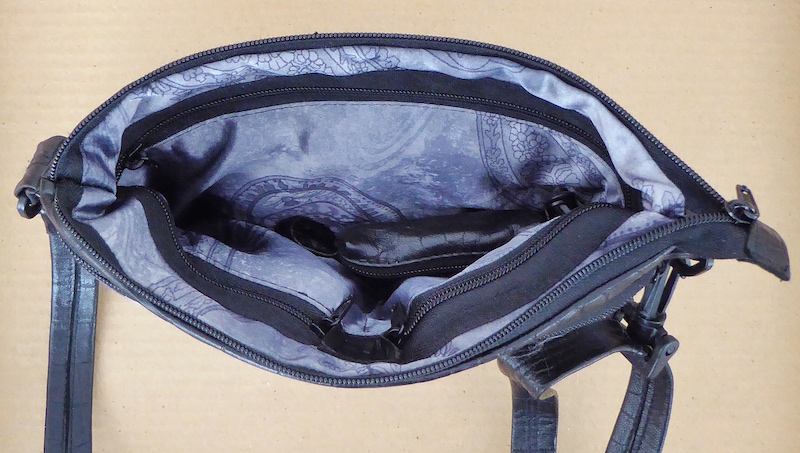 It has enough room for a few other items regularly reached for during a flight or when out and about (e.g., mini hand sanitizer and lotion, antiseptic wipes, lip balm, reading glasses, pen to complete customs and immigration forms).
When using it as a day or evening purse, the zippered back pockets are just the right size for a transit card or room key.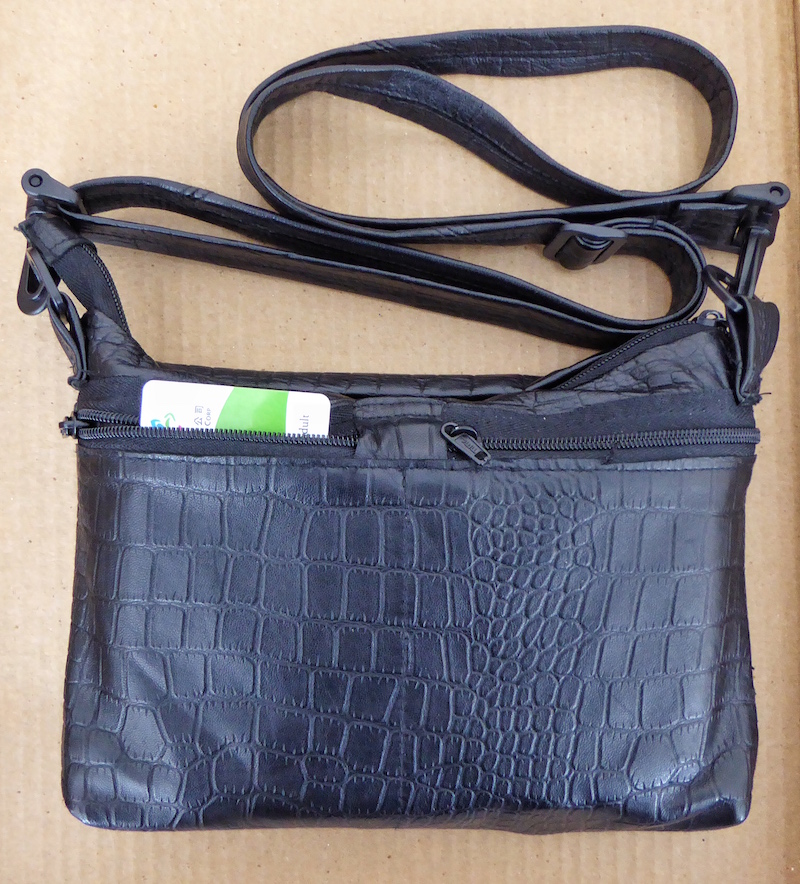 For me, it's the perfect packable travel purse.
If you'd like an identical or similar purse, the contact information for Couture par Carmen Maillet can be found on Facebook.
UPDATE: Carmen made a slightly larger version to fit an iPad mini, and reinforced the lower corners of the see-through front window. My updated packable travel purse remains one of my favourite travel accessories. It accompanies me on every trip.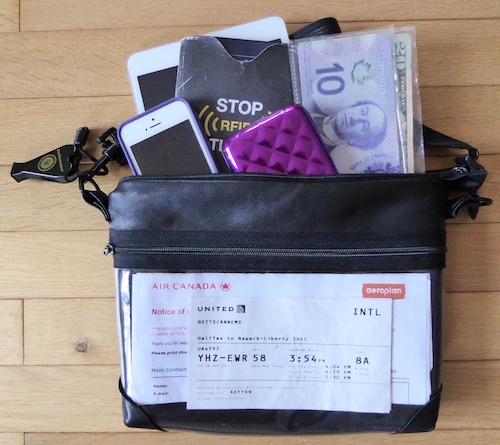 Have you ever designed or created your own travel or packing aids? If you've published a post or pictures, please provide a link in the comments.
Care to pin?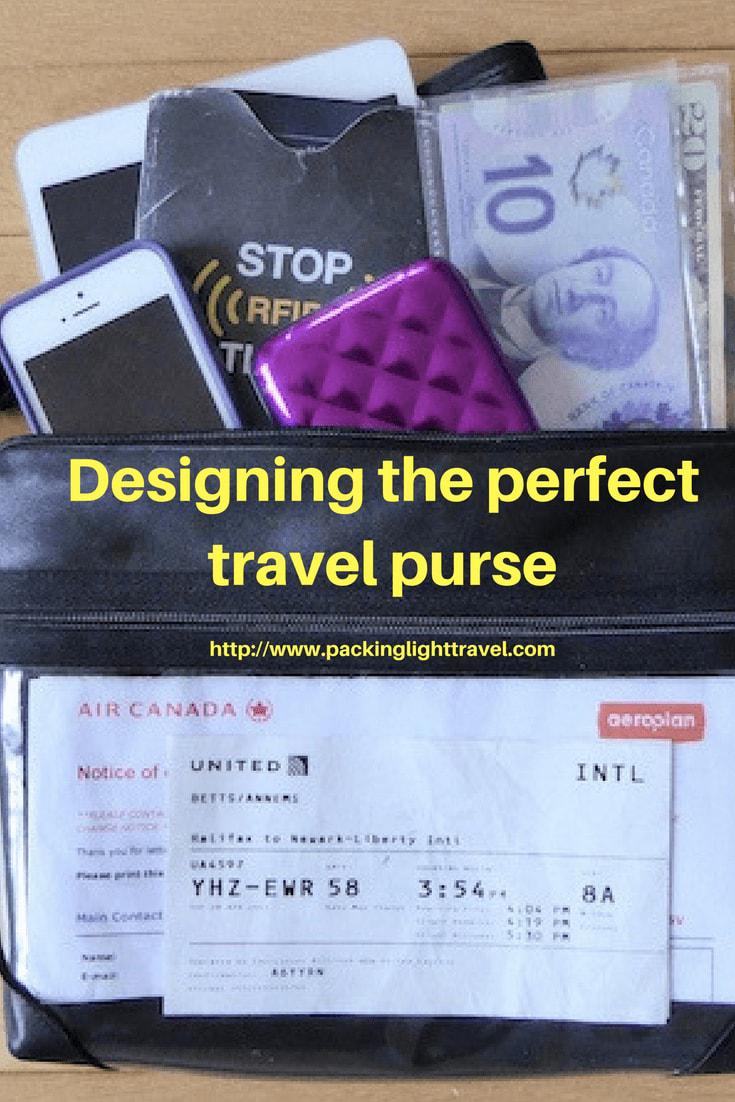 SaveSave
SaveSave
SaveSave
(Visited 4,961 times, 1 visits today)