Updated August 12, 2017
I'm sitting at the gate at LAX (Los Angeles International Airport) with my boarding pass, passport and NEXUS card, waiting for my flight to Halifax via Boston. I can't help but reflect on my experience a couple of hours ago with U.S. immigration, customs and airport screening procedures. The whole process was so quick and painless. Once again, I'm thankful to have a NEXUS card. In fact, I seem to experience these moments of gratitude every time I enter the U.S. or return to Canada. Throw a connecting flight into the mix and those anxious moments about missing the connection seem to dissipate, thanks to my NEXUS privileges.
Is a NEXUS card worth it?
A couple of hours ago, with my NEXUS card in hand, I was directed to the lane leading to the Global Entry self-serve kiosks.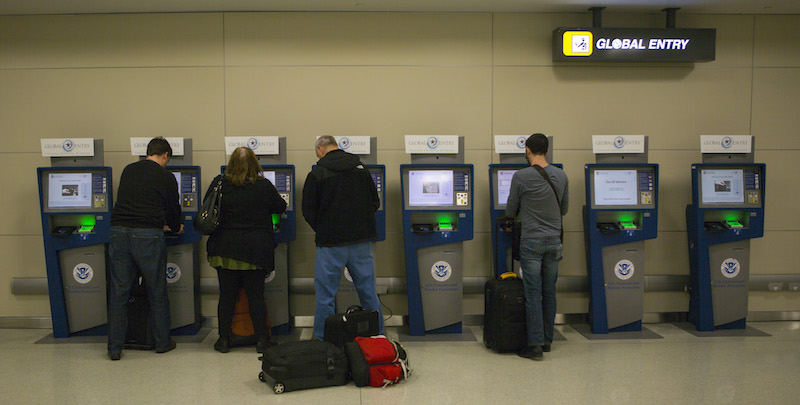 Without fail, I've always found a free kiosk and completed the questionnaire in a few short minutes. Whether it's Vancouver, Montreal, Boston, Philadelphia or Los Angeles, the non-NEXUS alternative has always been a much longer process. A process that invariably involves a long snaking queue of travellers waiting to be interviewed by border services officers. In fact, one arrival in Boston from Zurich resulted in queuing to queue. The lines were so long, passengers from our SWISS flight were herded into two lines in a hallway while members of NEXUS and other trusted traveller programs simply skipped the lines and proceeded to the kiosks.
Next came TSA (Transportation Security Administration) screening. My boarding pass for the LAX to Boston flight had been issued in Taipei, and it didn't include a TSA Pre✓ designation. As a result, I was directed to the non-NEXUS lane. The thought of joining a long queue with extra screening measures wasn't particularly attractive. Instead, I headed to a United kiosk to obtain a United-issued boarding pass. With my NEXUS information in the system, the new boarding pass displayed the requisite TSA Pre✓ designation permitting access to the TSA Pre✓ lane. The queue was short. It was also a fast process. The fact that shoes, belts, light jackets, laptops and 3-1-1 bags don't have to be removed makes for an expedited trip through screening.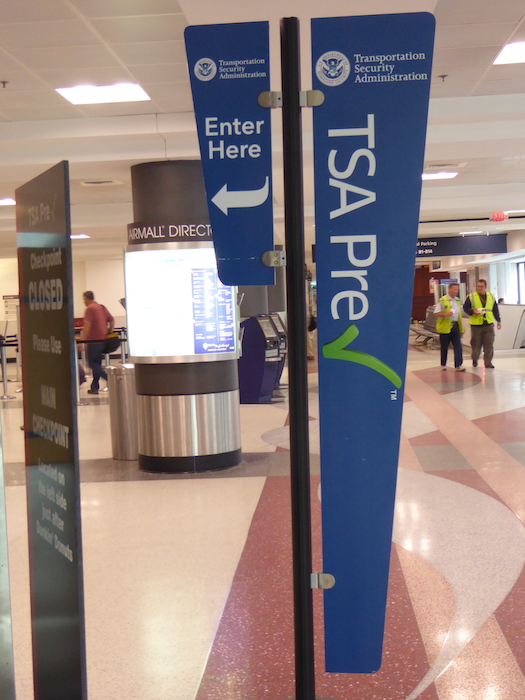 My best guess on my LAX experience? My NEXUS card likely saved an hour that would have otherwise been spent in queues. Last year in Philadelphia, I figure it was closer to two hours. And I won't even speculate on the queue-to-queue nightmare in Boston!
What's NEXUS?
NEXUS is a Canada-United States trusted traveller program. It's for pre-approved low-risk Canadian and U.S. citizens and permanent residents travelling to, from or within the U.S. or Canada. Mexican nationals who are members of Mexico's Viajero Confiable program can also apply for NEXUS membership.
The program facilitates expedited entry using automated self-serve kiosks at airports. At land crossings, there are designated NEXUS lanes. For travellers using marine services, there's a call-ahead system.
It also promotes expedited movement through dedicated airport security screening lanes. At busier airports, there may be a dedicated lane leaving the baggage claim area.
Benefits in Canada
I live in Canada, and use my NEXUS card on all domestic and international flights.
The larger airports have dedicated NEXUS screening lanes. All that's required to enter is a boarding pass and a NEXUS card. If there isn't a dedicated screening officer, NEXUS cardholders receive priority access to an agent serving both NEXUS and non-NEXUS lanes.

If there's a queue, it's short and efficiently managed. NEXUS members tend to be experienced in screening procedures so the process moves quickly.

When arriving by air in Canada, NEXUS members don't need to complete a Declaration Card if the airport has self-serve NEXUS kiosks.

My only contact with CBSA (Canada Border Services Agency) officers is at customs control to hand in the receipt printed by a NEXUS kiosk. Instead of queuing to be interviewed at immigration control, I spend a few minutes at a self-serve kiosk.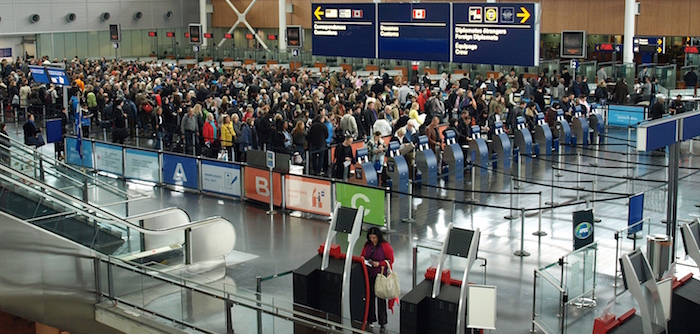 A kiosk has always been available, without any queues. I place my passport on the reader, get in position for an iris scan, and answer a few simple questions similar to those on the Declaration Card. The kiosk prints a receipt to be handed to an officer at customs control. It takes less than two minutes. There have been numerous occasions, especially when arriving at less busy airports such as Halifax, that it's clear I've been the first one to reach the arrivals area.

I've used my NEXUS card where government-issued identification is required. This is handy when boarding a plane. Why reach for a passport or driver's licence when a NEXUS card is so handy after passing through security?
Benefits in the U.S.
To avoid those dreaded fuel surcharges, most of my Aeroplan redemptions involve flights through U.S. hubs. It's on these occasions my NEXUS card has been invaluable.
A NEXUS application costs $50 and if approved, NEXUS privileges are in effect for five years. NEXUS provides access to both Global Entry and TSA Pre✓. It costs $100 to apply for Global Entry (that includes access to TSA Pre✓) or $85 to apply for TSA Pre✓. NEXUS is a good deal.

When entering the U.S. or at U.S. pre-clearance centres in Canada, there are dedicated Global Entry lanes for members of NEXUS and other trusted traveller programs. Unlike in Canada, my experience has been that there's contact with a U.S. Customs and Border Protection (CBP) officer. If there isn't a dedicated officer, NEXUS members receive priority access to one.

NEXUS membership grants access to TSA Pre✓ expedited screening. This is a huge time saver at busy airports. Huge. Unlike in Canada, presenting a NEXUS card doesn't provide access. A TSA Pre✓ designation needs to appear on a boarding pass. When booking travel, enter your Known Traveller Number or PassID to qualify for TSA Pre✓.
Zero tolerance for mistakes or abuse
As trusted travellers, NEXUS members are held to a high standard. The smallest of infractions can result in having a card confiscated and NEXUS privileges revoked. Trade lawyer Cyndee Todgham Cherniak cites several examples in Canadians Living in Border Cities at Risk for Nexus Pass Confiscations.
Carefully and honestly completing a declaration card or responding to questions at a kiosk is a condition of continued participation in the program. An honest or dishonest mistake may result in losing trusted traveller status. It's a good idea to be aware of what you're carrying, and pinpoint exactly what needs to be declared. Jet lag is no excuse for failing to provide correct information.
How to apply
My own experience is described in NEXUS card – a traveller's "speed pass".
Is a NEXUS card worth it?
$50 for five years of coverage? If you travel a lot, it will be the best $50 travel expenditure you'll ever make. Even if you travel just once a year, and your journeys involve busy U.S. airport hubs or border crossings, it will still be one of your best value-for-money travel expenses.
What's your experience travelling with a NEXUS card?
Care to pin it?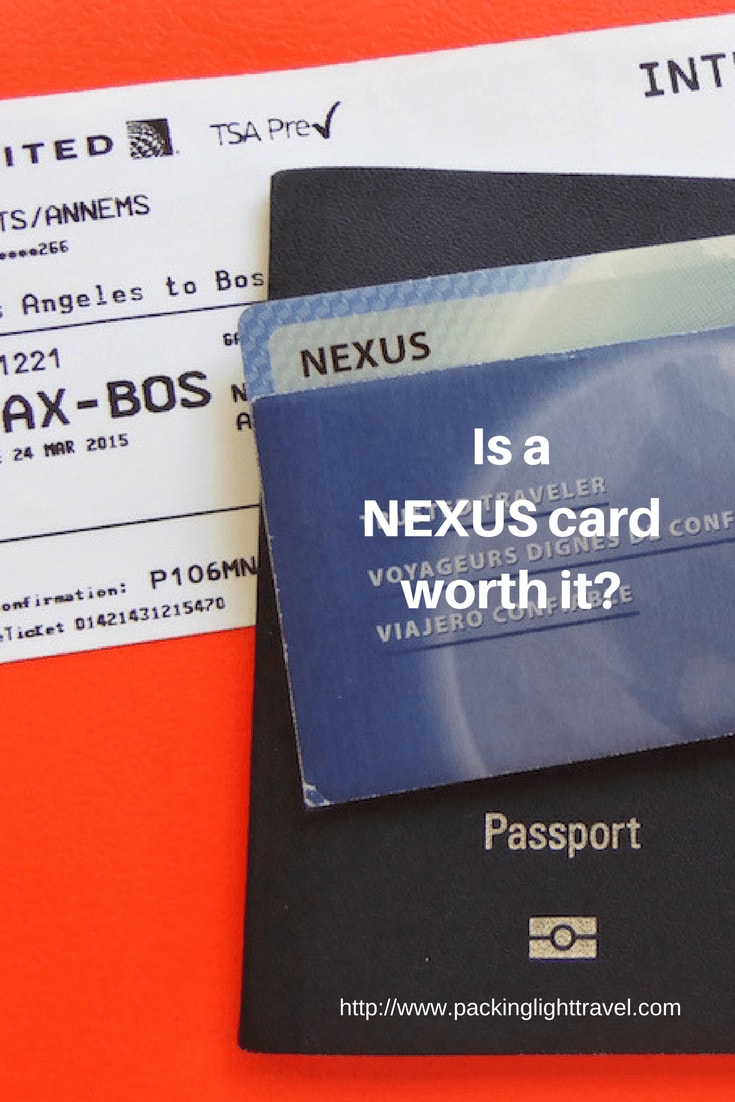 SaveSave
SaveSave
SaveSave
SaveSave
(Visited 1,273 times, 3 visits today)