Updated August 13, 2017
Lurking under the surface of some of the world's most beautiful cities are hordes of pickpockets preying on unsuspecting and unprepared visitors. Pickpockets and other street thieves are a curse to travellers, but they can be thwarted with some basic anti-pickpocket gear.
Other benefits of anti-pickpocket gear
There are other benefits to preparing gear for pickpocketing-free travel.
The right gear lessens the chance of losing something because of carelessness or neglect.

It presents different options for splitting up cash, financial cards and identity documents. If you lose something, reach for the backup.

Anti-pickpocket clothing can help avoid baggage fees. What you wear doesn't count against your baggage allowance. It's surprising how much can be carried in clothing with pockets. For example, in outerwear with pockets, I've stowed 1.4 kg (3.1 lb) of stuff. It's not a huge amount but when travelling on "8-kg airlines," it can mean the difference between going carry on and having to check a bag.
Preparing for pickpockets
A trip to Barcelona in 2015 persuaded me to assess my collection of anti-pickpocket gear. Barcelona had a reputation for being the pickpocketing capital of the universe and I was determined to not let pickpockets ruin the experience and possibly derail the rest of the trip. I had witnessed first hand the damage after a travel mate had lost her wallet to a pickpocket on Lisbon's notorious Tram 54 the previous year, and another friend had been pickpocketed on a crowded bus in Rome. In fact, in Barcelona, a travelling companion was within seconds of losing her iPhone to a pickpocket had it not been for the "heads up" body language of another passenger on the metro.
To date, I've been spared. However, pickpocketing is so pervasive, and most pickpockets are so adept, that identifying appropriate anti-pickpocket gear is at the heart of my packing strategy for every trip.
My anti-pickpocket gear
Most items in my collection of commercially produced and handmade products have one thing in common – at least two steps are required to access my belongings. It's less convenient for me but it's more difficult for experienced pickpockets who rely on stealth and speed and view open bags or single zippers as easy terrain.
Having a variety of anti-pickpocket gear means I can be selective when choosing what might work best given the season, destination and nature of the trip.
1. Engineered pockets
Inserted pockets, and adaptations to existing pockets, are staples of my anti-pickpocket clothing.
Pocket clips and pouches. Most of my travel pants have zippered pockets. It's too easy for a Smartphone or wallet to slip out of an open pocket during an active travel day. Each pocket has a small internal D-ring to attach a zippered pouch containing either my iPhone or RFID-blocking aluminum wallet. Each removable pouch can be connected to the respective plastic D-ring with a swivel clip at the end of a short cord sewn into the side of the pouch.
Added pockets. Zippered pockets have been inserted under the waistband of my favourite Not Your Daughter's Jeans' capris and jeans. In the upper corner of each pocket is a small D-ring held in place with sewing tape.
Many of my trips involve some cycling. That's when my three-quarter cycling knicks might earn a place on my packing list. Two internal credit-card sized pockets in the back of my cycling pants accommodate a financial card and cash in a small zip-top craft baggie. Each pocket has a flap for enhanced security.
For women, tights and leggings are perfect for packing light travel. They're comfortable, lightweight and versatile. They can be dressed up or down, used as loungewear, sleepwear or exercise gear, or for an extra layer of warmth when the temperature drops. The two credit-card-sized pockets added to the inside waistband of tights and leggings expand my options for separating financial cards, or not having to carry a purse.
Pouch on a leash. On my last trip, I lived in my Lululemon Pace Rival Crop. These leggings have five pockets: three in the waistband and two on the thighs. The zippered pocket in the back of the waistband is particularly useful. Under a long shirt or tunic, it's hidden from view but not inaccessible to a pickpocket. For added security, a silk pouch on a leash has been attached to the lining of the pocket.
These engineered pockets haven't failed me yet. I can't imagine a skilled pickpocket making off with my belongings without my knowledge. This isn't to say I can let my guard down or underestimate how skillful some pickpockets are. What I can count on is that there are plenty of easier targets to attract a pickpocket's attention.
2. Knickers with pockets
There's a variety of underwear with pockets on the market. I've worn three types: the Boy Brief and Bikini Brief from Stashitwear, and Clever Travel Companion's Women's Cotton Underwear with Secret Pockets.
I prefer Clever Travel Companion's design. It boasts two zippered pockets, in front under the waistband. They're more comfortable and secure than Stashitwear's centered open pocket. Clever Travel Companion's underwear is more expensive but it's of a much better quality. It's also more versatile, comfortable enough to wear as loungewear after a long travel day. It's also soft enough to wear as sleepwear. This is handy for sleeping with valuables on a sleeper bus, overnight train or in a hostel. Unfortunately, they're not as quick drying as my ExOfficio Give-N-Go Bikini Briefs. But that's a sacrifice worth absorbing when travelling to areas where pickpockets and street thieves are active.
3. Tank top with pockets
Many tank tops are close fitting. This means the outline of anything stowed in a pocket is usually obvious to passers by. As such, they're best worn as a base layer when pickpocketing is a concern. That's the case with my HIPSTER TechTank, a one-size-fits-all tank top with a pocket. The pocket can accommodate a Smartphone, and there's a media outlet for a cord attached to earbuds. Or, I can stow a passport, cash and ID. The flap closure keeps stuff secure from accidental loss.
4. Socks with a zippered pocket
My Zip It Everyday Travel Socks are very comfortable. Each pair has one pocket that's large enough to carry emergency cash and a few plastic cards. The pocket is high enough that the contents don't come in contact with the ankle joint or interfere with the movement of my foot. The elasticized band is effective at keeping things in place. Surprisingly enough, the pocket feels just as comfortable on the inside of my leg, as it does on the outside.
The pocket has a nylon zipper that won't set off security systems. The socks' quick-drying properties mean that I can wash them in the evening and they're dry by morning. Zip It Gear advertises a couple of technical benefits – a holofibre footbed that may reduce swelling, and ComFortrel XP that wicks away moisture to keep feet cool and dry.
5. Outerwear with zippered internal pockets
SCOTTeVEST is well known for its range of clothing with pockets. Some items boast as many as 43 pockets – some designed for keys, sunglasses, passport, tablet, phone, pen and a water bottle. Most pockets are on the inside, with zippers, useful as anti-pickpocket gear. I have a 14-pocket Chloe Hoodie, and a lightweight travel vest.
Brooklyn-based company Clothing Arts makes a variety of anti-pickpocket gear. I adore my Cubed Travel Jacket that's ideal for three-season travel. It boasts 8 internal pockets that are perfect for stowing a lot of gear when going carry on or exploring a destination.
6. Scarves with hidden pockets
Scarves with pockets are triple-duty accessories. They provide warmth, dress up an outfit and protect valuables. I have a rectangular scarf with a hidden pocket but it doesn't feel as secure as my two infinity scarves. An infinity scarf consists of one long circular loop, usually wrapped twice around the neck.
Both of my infinity scarves have hidden pockets that are large enough to accommodate a passport. However, I find the pockets work better for carrying a financial card and some cash.
Two layers of fabric wrapped twice around the neck translate into four layers, with another two layers at the position of the pocket. While a scarf may be advertised as "lightweight," my experience is that a scarf with so many layers of fabric is comfortable for temperatures that don't exceed 20 or so degrees Celsius.
The reversible scarf from Etsy seller RubysDaughter1977 worked perfectly for an autumn trip to New York.
The lightweight scarf from Etsy seller CallieandCarCar is 2 ounces lighter, but I find that it, too, is too warm for travel to warmer climates. With so many Etsy sellers advertising such a rich array of colours, it's not difficult to find something compatible with your travel wardrobe.
7. Bracelet wallet
My bracelet wallet dresses up an outfit. It's light, classy and functional. The pocket sits on the back of the wrist, blending into the design. As such, it's hidden from sight. The pocket accommodates a credit card, hotel room card key and emergency money. I bought it from Etsy seller HelgaRachinskaya.
8. Security wallets
Love 'em or hate 'em. Security wallets tend to sit close to the skin. This can be an aggravation to many travellers, especially in warm climates. The secret to travelling with security wallets is not to treat them as a purse or wallet. Treat them as a walking safe, accessed in private when necessary.
Waist wallet. A security waist wallet is my preferred under-clothing security wallet. It feels more comfortable and more secure than those designed to be worn around the leg, neck or shoulder.
My favourite is the PacSafe RFID Safe 100, an RFID-blocking travel waist wallet. It has a moisture-proof liner and breathable backing with anti-odour treatment. A handy internal pocket snugly accommodates a financial card. One of the wallet's best features is that each one of the two zippers has a snap-shut lock that takes a little effort to open. My first purchase was one in grey but it developed a soiled and grimy look after several years of use. I now have one in black.
This type of waist wallet sits comfortably in "the small of the back," out of sight under a shirt, tucked under a waistband. Most of the time, I'm unaware of its existence. This wasn't the case with a neck wallet purchased for a winter trip to Rome several years ago. It was adequate for that trip tucked under layers of winter clothing. But, for travel to warmer climates, the neck string was exposed, it was uncomfortable against my neck and was visible under summer clothing.
Leg wallet. I tried a leg wallet with Velcro straps but it didn't feel as secure as a waist wallet. If you have a similar concern and want to experiment with leg wallets, check out the En Route Leg Wallet. It's a stretchy band that pulls over a foot like a sock. Or, have one handmade to fit around the calf or thigh. This type of security wallet might be ideal for the traveller who feels uncomfortable wearing a waist wallet.
9. Security belt
A long zippered pocket on the inside of a security belt can keep a lot of excess cash secure. Mine has a plastic buckle that doesn't trigger security alarms, and a long 18-inch zipper. It's versatile enough to wear with trousers, shorts and skorts. Most belts on the market are black, brown, grey or camouflage. The Canadian company Silverfoot produces belts and other travel accessories in a variety of vibrant colours and designs. At Silverfoot, you're bound to find something compatible with the dominant colours of your capsule wardrobe. And because it doesn't look like all the other security belts on the market, it's less likely to attract the attention of street thieves. It can be used to carry emergency or surplus cash, folded along the length to create six panels.
10. Securing luggage
Pickpockets prowl airports, transportation hubs and connecting transit for newly arrived or soon-to-depart travellers. Most people can't carry all their valuables on their person, which makes an unsecured bag a tantalizing target.
Padlock. A padlock can be an effective deterrent. My favourite is a double cable combination lock. The shorter cable connects the two sets of interlocking zippers of my standard carry on. The longer cable connects the zippers to the carrying handle or a stationary object. I can remove the longer cable when it's not needed. Another attractive feature of my cable lock is that to date, it has fit all lockers I've encountered. An advantage of a combination lock is that there's no key to worry about losing.
Cable. A lightweight cable used to be a discretionary item, but it now accompanies me on every trip. The turning point was when a flight from San Francisco to Halifax via Newark became a San Francisco – Houston – Toronto – Halifax diversion. That was when spending six overnight hours in the Houston airport became a simpler alternative to finding a hotel. How does one keep two carry-on bags secure while nodding off? Attach a cable and lock to a belt, belt loop and/or a fixed object. My lightweight metre-long cable is part of the Eagle Creek 3-dial TSA Lock and Cable set.
Bag cover. Some bags have an integrated rain cover. If not, there are plenty of covers on the market that fit bags within a certain size range. For example, my Osprey Ultralight Raincover (medium) fits bags within the 30 to 40-litre range. It has a drawstring that cinches around and under the bag for a snug fit, offering protection against wet and dusty conditions. An added advantage is that it offers a barrier to pickpockets.
11. Securing a day bag
External security. My favourite personal carry on/daypack is the Tom Bihn Synapse 19. When I need to travel with a packable daypack, I use the Osprey Ultralight Stuff Pack. Unfortunately, neither bag locks. However, adjacent zipper pulls can be joined with S-biner clips, lightweight cables, twist ties, safety pins or a small lock.
My Hi-Vis Osprey Raincoveroffers a measure of protection from the prying fingers of pickpockets. This is an option on crowded public transportation or city streets where pickpockets are active. The XS size fits packs in the 10- to 20-litre range.
Internal security. One of the many attractive features of the Synapse 19 is the internal bag hardware: an O-ring in each of the five compartments. The Osprey Ultralight Stuff Pack has a tethered clip in the top pocket for attaching keys or pouches with built-in rings or clips. Both bags have internal attachment points for adding plastic O-rings or D-rings with sewing tape.
12. Packing organizers with attachment points
Tom Bihn and Eagle Creek produce pouches with swivel clips. Travelon makes a set of packing envelopes with a small fabric loop on the side of each one. Other packing organizers have zipper pulls, hanging loops, carrying handles, key rings, carabiners, grommets or drawstring. These all represent attachment points for tethering the organizer to something else.
I also have several handmade packing organizers. Each one has a built-in O-ring or cord for tethering to internal bag hardware. These include a padded bag for an iPad mini, a small pouch for ear buds, a zippered pouch for a "Kitty" purse, and a soft case for sunglasses.
My favourite commercially produced tethering tool is the key strap from Tom Bihn. One version has swivel clips at both ends. The other version has a swivel clip at one end and an O-ring at the other. Both versions come in two lengths: 8 inches (20 cm) or 16 inches (40 cm). My handmade tethering straps are 6 inches (15 cm) long with swivel clips at both ends. All are useful for attaching to internal bag hardware such as O-rings, D-rings and key clips.
To access my belongings, a pickpocket would need to negotiate the hardware joining the zipper pulls. S/he would then need to open the zipper of the respective compartment. Then, s/he'd need to open a second zipper of the pouch or unclip the swivel clip attaching the pouch to the O-ring. I like to think this kind of obstacle course is a suitable deterrent to someone who needs to move quickly.
The other advantage of tethered packing organizers is that I don't need to rummage through the cavernous expanse of the main compartment of my daypack to find what I need. It's much easier and faster to put my hands on the respective pouch, usually by touch.
13. Packable travel purse
My handmade packable travel purse performs triple duty.
It's a travel organizer housing travel documents while in transit. It's so comfortable, it's my door-to-door accessory from the moment I leave home until I reach my destination. The only time it's removed is to stuff it into a personal carry on at screening checkpoints. When I doze off or head to the washroom during a flight, it's with me at all times.
It's also an evening purse for those occasions when a daypack is inappropriate.
Or, it's a day bag for those activities or venues when a daypack is prohibited or unnecessary.
For a description, see Designing the perfect travel purse.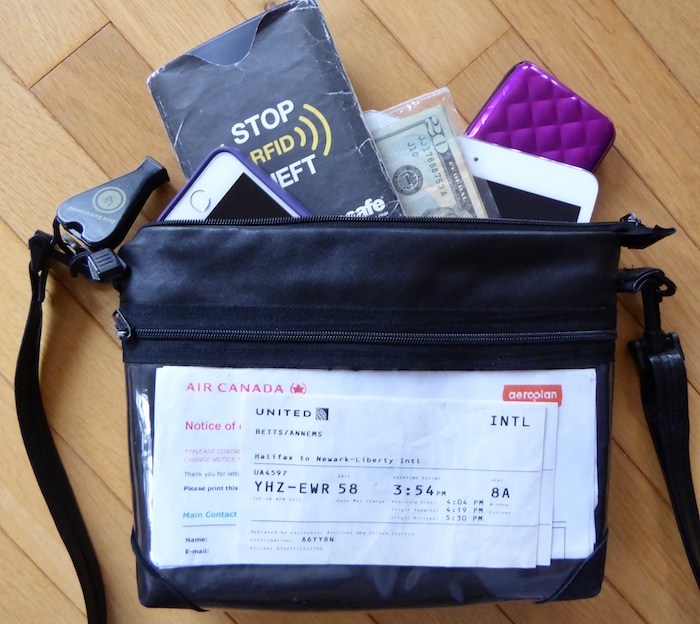 Other anti-pickpocket gear
14. "Bra Bank"
Reader Marti Goldring described her "bra bank" in a comment on an earlier version of this post. She graciously agreed to provide more details for this update.
Marti asked her seamstress friend to fashion a leash for her Eagle Creek Silk Undercover Bra Stash. A loop at one end rests under the snap enclosure of the bra stash pocket, and the other end attaches to a bra strap. The pocket fits comfortably inside her sports bra between her breasts. It's a perfect resting place hidden from sight. The extra security provided by the leash means that Marti can rest assured the pocket can't come loose and fall without her knowledge.
15. Anti-theft bag
DIY measures can go a long way to thwarting pickpockets, but there are times when purchasing an anti-theft bag makes more sense. Designed for travel, these bags have features such as cut-proof, steel-cable-reinforced shoulder straps, slash-proof fabric, RFID-blocking pockets, and locking zippers.
This was the situation for LeeAnna Pekel, a member of the Facebook group Girls Love Travel. LeeAnna purchased a Pacsafe CitySafe 200 for a trip to Paris. Here is her story:
"I'd read lots of posts on Girls Love Travel describing thefts from purses and pockets. I realize this happens to travelers, but I was naive in thinking 'That'll never happen to me.' Luckily, I work with some amazing women, including an older woman named Suzy. Suzy has traveled the world and is never short of a story to share. When I told her I was taking my mom to Paris for the holidays, she started sharing pickpocket stories. She's 65 years old so she had a lot of them. Her advice was to buy a purse produced by a company called Pacsafe. I researched my options, thinking it sounded like a good, but needless idea. I bought two – one for me, and one for my mom.
Fast forward to this morning. My mom and I got up bright and early at 5:30 am to go on a daylong tour outside of Paris. We stopped at the bank near our Airbnb apartment in Montmartre to withdraw some cash. I checked for cameras or a card reader, saw nothing and went ahead. While doing so, a woman walked into the ATM area, stood off to the side and looked out the window. She was watching me via the reflection. Thinking she wanted my PIN and didn't get it, we left.
On the subway, a man who appeared to be homeless came up to us and started begging. He even touched me when I ignored him. I told him not to touch me but he kept hounding me. We ended up moving away out of fear. As we got off the subway, two younger men followed us. My mother, being older, was slower on the stairs and the men surrounded her – one in front and one in back. When I stopped, they walked past me and started speaking in rapid fire French. "Did you see that bag?" "I've never seen anything like it before!" "It's impossible to do!"
Listening to Suzy and buying this bag saved us from a tag team of at least four pickpockets in Paris this morning. I highly recommend Pacsafe. They also have backpacks!"
Pacsafe and Travelon make a variety of anti-theft bags.
Resources for handmade anti-pickpocket gear
If you lack the skills and equipment to create your own handmade anti-pickpocket gear, check out resources within your community. I'm fortunate to have access to a talented dressmaker-tailor at Couture par Carmen Maillet. Carmen created most of the handmade items described above. If you come up empty in your own search, contact Carmen at her Facebook page.
Finding D-rings, swivel clips and other hardware for DIY projects can be a long and expensive search. I ended up purchasing large quantities (100 pieces for $5 USD) from Hong Kong-based Ah Kwok Buckles. Shipping costs were reasonable.
Emergency cash stash: borrowing ideas
An emergency cash stash is for those occasions when you most need to put your hands on some cash. It's based on a divide-and-conquer approach that results in never keeping travel cash in one place. Carrying cash and financial cards in one place puts a traveller at a huge risk.
Creative suggestions abound. Most of them offer a host of options on how to hide cash from the prying fingers of pickpockets. Here are a few examples:
Place cash in a small zip-top baggie and insert it under the insole of your shoe. Or, pin it to the inside of a sock, or the seam of trousers. Slip it into a slit in the hem or waistband of trousers.

Attach a canister (CashStash) on a key ring to internal bag hardware.

My handmade packing folder has a secret pocket in the base, hidden underneath a stack of clothes.

Hide cash in unlikely containers (e.g., dental floss, shampoo, deodorant, lip balm, prescription bottle).

Use duct tape (matching the internal colour of your bag) to tape a zip-top baggie containing cash to the base of the inside of your bag.

Tape a zip-top baggie with cash to the inside back cover of a small notebook or diary, or inside a first aid kit or comfort pack.

Use a phone cover with a slot to hide emergency money and/or a back-up financial card.

Insert cash in a slit in a sanitary napkin, or in a box of tampons or panty liners.
For further inspiration, check out Clever Ways to Keep your Travel Cash Safe and 10 Ways to Hide Money when Traveling.
Once you've perfected your strategy, remember where you stashed your cash. For each place, choose a single undamaged note in a currency and denomination that will be easy to change. Protect notes with a zip-top craft bag or cling wrap if they're likely to come in contact with tape, perspiration, moisture or residue from the original product of a repurposed container.
If you found this post useful, please share it on your favourite social media channel by clicking on the respective button(s) below. You might also like Tips on protection from pickpockets.
Now I'm interested in what anti-pickpocket gear you use. What has worked for you?
Pin for later?
Some of the links on this page are affiliate links. If you use them to buy something, you don't pay more, but this website earns a small commission, which helps pay the costs of maintaining the site. So, thank you.
SaveSave
SaveSave
SaveSave
SaveSave
SaveSave
SaveSave
SaveSave
SaveSave
(Visited 9,977 times, 2 visits today)