What is the world's worst city for pickpockets? After my friend lost her wallet to a pickpocket on the notorious Tram 28 last year, I would have chosen Lisbon. The crowded Tourism Police Office was overflowing with travellers who'd met similar fates. No, it seems neighbouring Barcelona is widely recognized as the pickpocket capital of the universe.
I leave for Barcelona tomorrow so I've been taking stock of my anti-pickpocket gear. My collection of commercially produced and handmade products all have one thing in common – at least two steps are required to access my belongings. Sure, it's less convenient for me but more importantly, it's more difficult for experienced pickpockets who view open bags or single zippers as easy terrain to practise their craft.
Here are the bulwarks of my anti-pickpocket gear.
Engineered pockets
My two pairs of pants destined for Spain and Morocco each have two zippered pockets. Each pocket has a small internal D-ring to attach a zippered pouch containing either my iPhone or RFID-blocking aluminum wallet. Each removable pouch connects to the respective D-ring with a swivel clip at the end of a short cord sewn into the side of the pouch.
My talented dressmaker Carmen Maillet inserted two zippered pockets just under the waistband of my favourite Not Your Daughter's Jeans' capris. In the upper corner of the pockets, Carmen placed two small D-rings with sewing tape. In my other travel pants, she added D-rings to existing zippered pockets.
This system has not failed me yet. I can't imagine a skilled pickpocket making off with my belongings without my knowledge. In addition, it's impossible for a wallet or Smartphone to inadvertently slip out of a zippered pocket.
Credit-card-sized pockets
Many trips involve some cycling, when a pair of three-quarter cycling knicks invariably earns a place on my packing list. I've signed up for a couple of cycling tours in Barcelona and hope to indulge in several self-guided tours in Mallorca. Carmen has added two internal credit-card sized pockets to the back of my cycling pants. A credit card and cash in a small zip-top craft baggie fit perfectly.
Also, two credit-card-sized pockets added to leggings provide the option of not carrying a purse when wearing these handy allies of the packing light traveller.
Daypack
My favourite almost perfect personal carry on/daypack is the Tom Bihn Synapse 19. It doesn't lock but adjacent zipper pulls can be joined with S-biner clips, lightweight cables, twist ties or a small lock.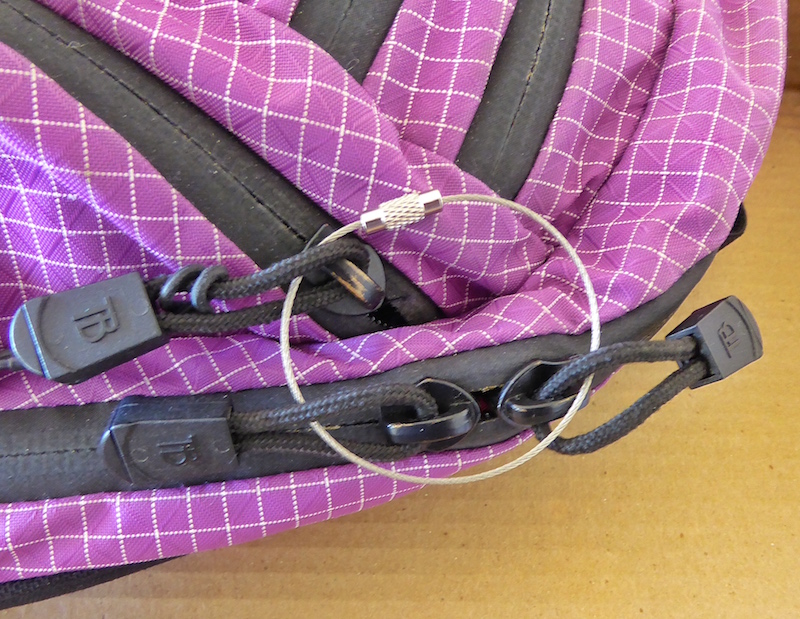 One of its many attractive features is the internal bag hardware consisting of O-rings sewn into each of the five compartments. While I never carry money, financial cards or my passport in a daypack, I do occasionally carry items such as an iPad mini, camera and sunglasses that would be very disappointing to lose to a pickpocket.
Several companies produce pouches with swivel clips (e.g., Tom Bihn, Eagle Creek) and Tom Bihn has straps of various lengths with swivel clips at both ends. Carmen has designed padded pouches for my iPad mini and sunglasses that can be attached to the internal bag hardware.
For a pickpocket to access my belongings, s/he would need to negotiate the hardware joining the zipper pulls, open the zipper of the respective compartment and open a second zipper of the pouch or unclip the swivel clip attaching the pouch to the O-ring. I like to think this kind of obstacle course represents a suitable deterrent to someone who relies on a quick grab-and-run manoeuvre.
Security pouch
These aren't a preference of many travellers but I feel comfortable wearing an under-clothing security pouch on most days at my destination. My favourite for some time now has been the PacSafe RFID Safe 100, a very comfortable RFID-blocking travel waist wallet. It contains a moisture-proof liner and breathable backing with anti-odour treatment. One of its best features is that each one of the two zippers has a snap-shut lock that takes a little effort to open.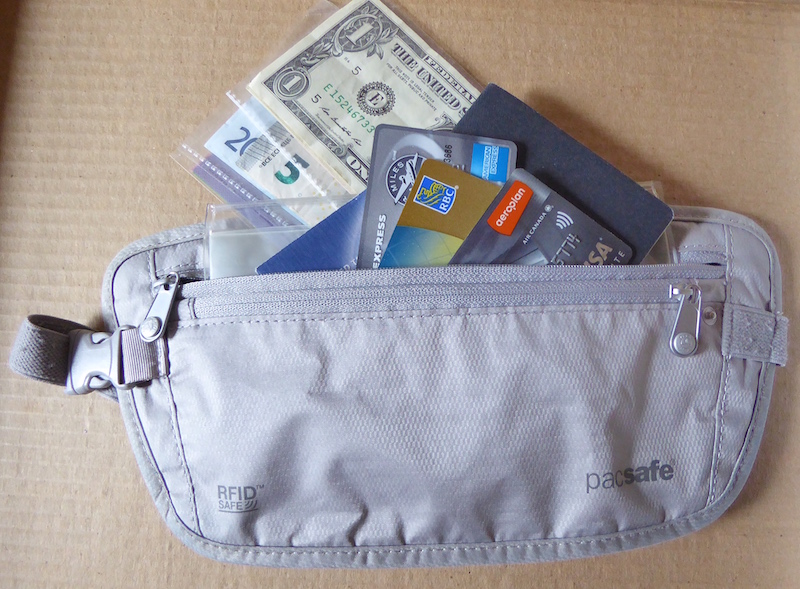 Each morning, I determine how much cash I'm likely to need during the day and place it in my aluminum wallet. If I'm likely to visit an ATM, I'll include my debit card in my wallet. If my ATM card goes in my wallet, the credit card goes in my under-clothing security pouch along with my passport and currency not needed on that particular day. I think it's important to separate financial cards in case one is lost, stolen or compromised.
Travel purse
My favourite travel purse performs double duty as an evening purse but its main purpose is to house my travel documents while in transit. It is so comfortable it's my door-to-door accessory from the moment I leave home until I reach my destination. This was the result of collaboration with Carmen Maillet when we embarked on a project aimed at designing the perfect travel purse.
In Spain, my travel purse may be pressed into service for day or evening use if I decide to forego using my zippered pockets in pants or carrying my daypack.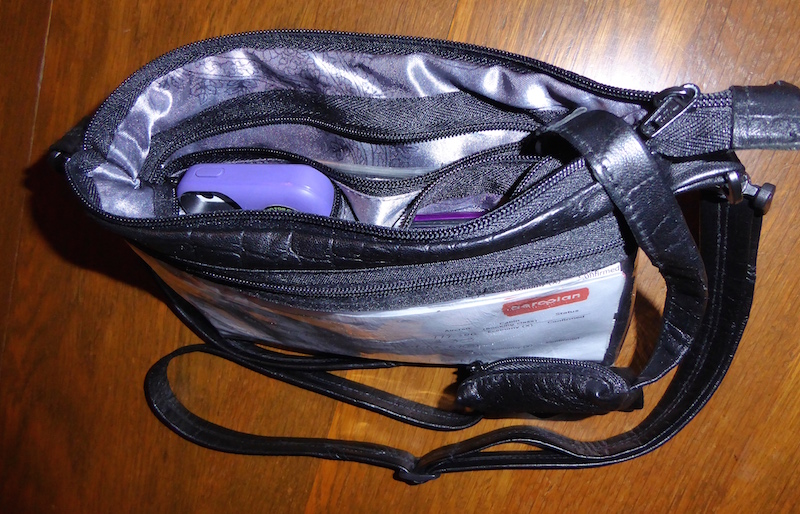 I'm feeling relatively confident about the impregnability of my anti-pickpocket gear. Wish me luck!! In the meantime, for additional strategies, check out Tips on protection from pickpockets.
If you're like me without the skills to bring your ideas on anti-pickpocket gear to fruition, check out resources within your community. Failing that, contact Carmen Maillet at Couture par Carmen Maillet in Nova Scotia who will be only too happy to work with you on designing anti-pickpocket gear. Inserting zippered pockets in your favourite travel clothing is one of her specialties.
UPDATE: I loved Barcelona!! My anti-pickpocket gear served me well, and I was able to focus on enjoying such a beautiful city. My travel mate Janet was just seconds away from being pickpocketed on the Metro. Thanks to a helpful local and universally-understood body language, she was directed to a partially-opened purse just in time to prevent the loss of her iPhone. Whew! Barcelona is a fabulous place. My advice? Accept that pickpockets operate where travellers hang out. Plan accordingly.
Now I'm interested in what anti-pickpocket gear you use. What has worked for you?
(Visited 7,458 times, 5 visits today)