Everything I'd read pointed to a challenging experience pulling together a packing list for a safari in Southern Africa. Avoid black or dark blue clothing so insects won't mistake you for a tasty buffalo? Skip rolling luggage in favour of a travel backpack? Treat clothing with Permethrin? Perhaps. For insights, I looked to three friends who recently returned from a three-country trip to Southern Africa in September. One thing I learned for sure is that packing light isn't up for debate. It's a necessity.
Packing considerations
It was a relatively short trip of 23 days in late September and early October.

Travel from Campbell River, Canada to Johannesburg, South Africa took 30 hours, with connections in Vancouver and London outbound, and Munich and Vancouver inbound. A long layover in Munich pointed to enough time to have a shower, with lounge access obtained through a seat upgrade.

Three countries were visited in Africa: South Africa, Botswana and Zimbabwe.

Flights within Africa with South African Airways had a two-bag carry-on allowance: a standard bag of 8 kg or less, and a smaller personal article of unspecified weight.

The highlight of the trip was to experience seeing wildlife in a natural setting. Clothing and footwear needed to provide comfort and protection, while allowing people to blend into the surroundings for successful wildlife viewing. Recommended colours included light brown and olive green.

Expected temperatures were in the range of 10 °C / 50 °F and 30 °C / 86 °F.

Most hotels and lodges had laundry services, and hand washing quick-dry clothing was factored into what, and how much, was packed.

With the exception of flights to and from Africa, The Heritage Safari Company organized the entire trip. Based in Vancouver, it specializes in customized and pre-packaged tours for small groups of up to 12 people. While the trip was paid for in advance, cash for "non-included meals" and tipping was an important factor in managing money. South Africa prefers the use of the Rand, but USD is acceptable.

Packing strategies
Carry on. My friends decided to check their bags for the international flights, but they were of a size and weight that would have passed for carry on. While perhaps dated, there were reports of pilfering at the airport in Johannesburg so bags were shrink-wrapped to deter thieves.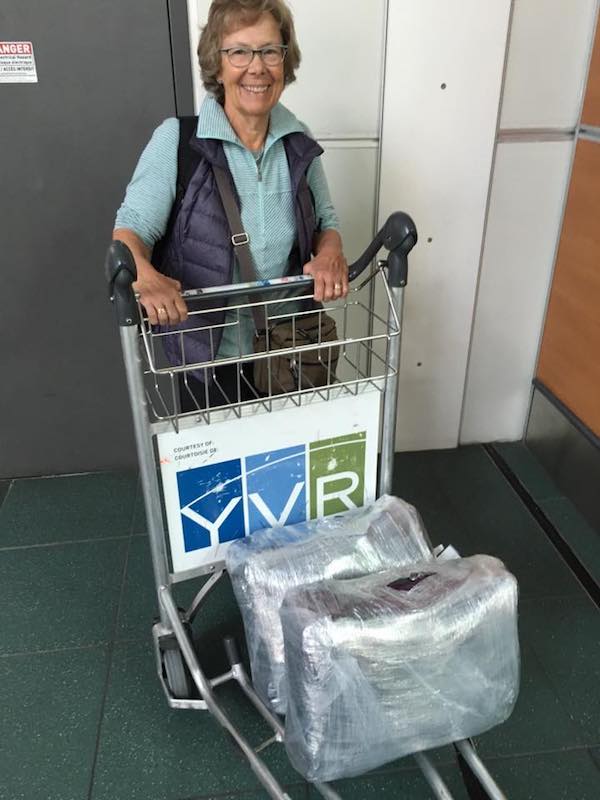 Layers. It was a busy tour, with activities beginning in the cool temperatures of early morning and bridging the much warmer temperatures in the middle of the day. This pointed to dressing in layers, and the means to carry discarded pieces.
Clothing with pockets. Pockets reduce the need for a bag, or influence the size and type of bag that's carried. A travel vest (Eddie Bauer Atlas II) kept things such as a phone and wallet secure, with space for "comfort" items such as tissues and lip balm.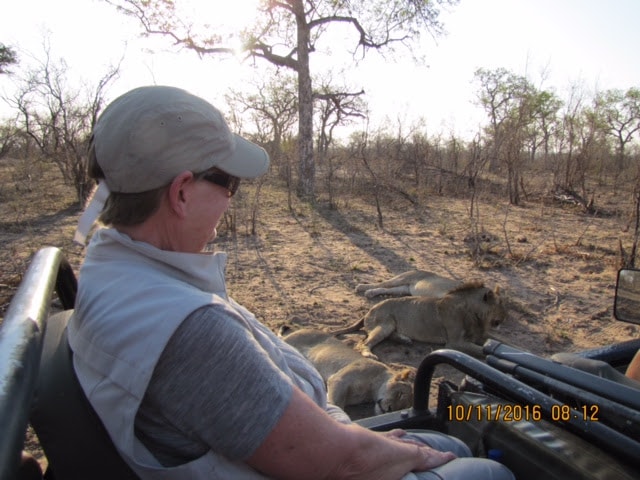 Shared first-aid kit. Travelling as three friends meant certain items could be shared. For example, each person packed supplies for a "group kit" with an approach aimed at avoiding duplication.
Travel-sized and decanted toiletries. A wide selection of containers of various sizes and functions allowed for the smallest amount of product to be packed.
Bags
Soft-sided bags without wheels seemed like the obvious choice. All three friends have the same "standard" carry-on bag: eBags Mother Lode TLC Weekender Convertible – a convertible travel backpack. One friend has the slightly smaller Junior, which was a better choice for her five-foot frame. The Mother Lode measures 22 x 14 x 9 in / 59 x 35.5 x 23 cm. It weighs 3 lb 15 oz / 1.78 kg, and has a capacity of 54 litres without the expansion feature activated. The Junior is 2 inches shorter in length, resulting in a reduced capacity of 41 litres (10% more with expansion).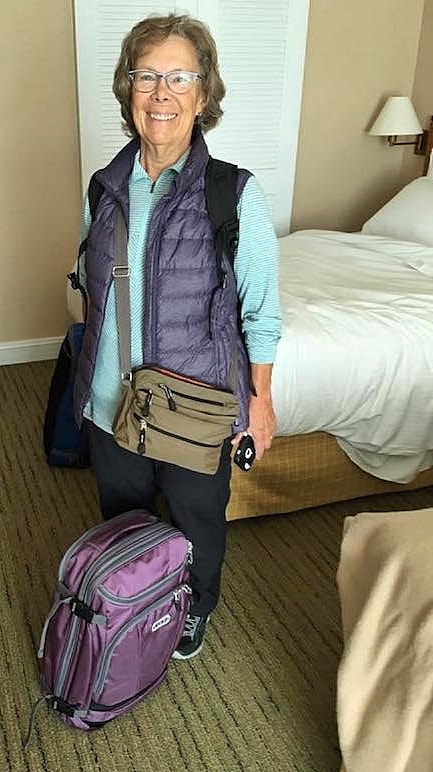 A second bag needed to function effectively as an in-flight "personal article" and a day bag in the game drive vehicles, bush walking or general touring. Choices included a Pacsafe Venturesafe 15L GII Anti-theft Daypack, a Derek Alexander 3-Zip Shoulder Bag and a Tom Bihn Synapse 19 backpack.
A third bag included a travel purse and packable backpack that could be packed away if necessary. These included a Travelon Anti-theft Signature Slim Day Bag, a Pacsafe 100, and a KIVA keychain backpack.
Packing list for a safari in Southern Africa
One of my friends provided her entire packing list, while the others commented on their packing lists in the "assessment" section below.
Clothing, shoes and accessories
bras (5), panties (6)

socks (4): Darn Tough and Icebreaker; compression socks (1) for flights

T-shirts (5): all merino (Ibex and Icebreaker)

lightweight top for dressier wear (1); long sleeve top (1)

lightweight merino wool skirt (1)

capris: L.L. Bean Tropicwear (1); lightweight cotton capris (1)

lightweight knee-length shorts (1); skort (1)

full-length, lightweight pants: CloudVeil Cool Convertible (1)

leggings: SweetLegs (2)

swimsuit (1); swimsuit cover-up (2): light long sleeve blouse; lightweight dress

sleepwear (2): summer-weight PJs; light nightie

safari vest: Eddie Bauer Atlas II

lightweight jacket with hood: Cloudveil

accessories: earrings (purchased)

closed-toe walking shoes: Merrell

closed-toe sandals: KEEN

sandals: Crocs
Toiletries
shampoo bar: LUSH; styling gel

travel-sized deodorant: Dove

toner: 2-oz Derma E Purifying Toner Mist
moisturizer: Reversa UV anti- wrinkle fluid SPF 15

toothbrushes (2); travel-sized toothpaste (2); dental floss; mouthwash tabs: Listerine; toothpaste tablets: LUSH

mouth guard; denture cleaning tablets

Super Lip Care + sticks (2)

nail cutter; tweezers

soap leaves; hand wipes (24)
Miscellaneous
Gadgets / Tech
mini flashlight

earbuds: Apple

adapter

iPad mini; charger

iPhone 6; charger; SIM card remover

Assessment
I asked all three friends to comment on their packing lists (e.g., what worked particularly well, what was missed, what could have been left behind) and make general recommendations on what to include on a packing list for a safari in Southern Africa.
Bags
The eBags TLC Mother Lode Weekender Convertible bags worked very well. They're roomy, have lots of pockets for internal organization, and are very easy to carry. The expansion feature was useful when bound for home, laden with purchases. It would have been difficult to carry as a fully packed backpack, but it was fine in suitcase mode. It was the type of trip where a bag didn't need to be carried over long distances. One friend purchased a medium-sized Samsonite cover to protect the bag from scuff marks while being transported in buses and trailers.
When it came to day bags, one friend took a Travelon Anti-theft Signature Slim Day Bag and a Pacsafe Venturesafe 15L GII Anti-theft Daypack. Most day-use items could be carried between the Travelon and a travel vest. While the Pacsafe backpack performed well, it was invariably left behind on the bus or back at the accommodation.
Another used her Derek Alexander 3-Zip Shoulder Bag to carry water, camera, iPad mini, tissues, hand sanitizer, and assorted items. This was complemented by a pocket KIVA keychain backpack to stow a rain jacket, warm layer and a water bottle on coach tours and game drives.
The friend who took her Tom Bihn Synapse 19 raved about the bag's design. It may look small but its internal organization means a lot can be carried in the six compartments.
Clothing, shoes and accessories
Don't pack any white or brightly coloured clothing. These pieces shouldn't be worn on game drives, so they probably won't get enough wear to justify packing them.

Utilizing laundry services isn't the best option for some fabrics. Everything is tossed together, and hot water and hot-air dryers can be tough on merino. Plan to handwash.

Clothes dried overnight in some areas (Zimbabwe and Botswana) but not in parts of South Africa (Capetown and the East Coast Garden Route). This included ExOfficio underwear with its legendary quick-drying reputation. This reality needs to be considered when packing clothes.

While more expensive, merino can be worn several times without washing. It's a good choice. The Icebreaker T-shirts were of a better quality than the Ibex brand. The Icebreaker shirts held their shape much better after being washed.

Too much clothing was packed, especially tops and bras. For example, just 4 base-layer tops and 3 bras would have been sufficient. The lightweight Jockey Modern Fit Microfibre Bra Top is excellent. It's very comfortable and dries quickly. Pads in the cups can be removed which adds to its versatility.

SweetLegs leggings are quick drying, and one pair would have been sufficient. One, not two swimsuit coverups would have been adequate.

A skort is a versatile piece of kit, as it can be used for both casual and dressier wear. The Windriver Performance Skort (Mark's Work Warehouse) performed well and more than earned its keep. It was cool and functional during the heat of the day and climbing in and out of the jeeps on game drives.

For one friend, standard wear became the L.L. Bean Tropicwear Capris, an Icebreaker T-shirt and the Eddie Bauer Atlas II Safari Vest. The vest was comfortable, even when it warmed up.

Choose a hat with a brim wide enough to provide protection for the face, ears and neck. A chin strap will alleviate the need to hold on to the hat with one hand when it's windy.

Cooler temperatures weren't anticipated in the Western Cape of South Africa and on some of the early morning game drives. More detailed research would have pointed to packing an extra layer. However, the safari vehicles were equipped with blankets and ponchos.

When selecting sleepwear, consider clothing that can be worn as loungewear and daywear. For example, one friend packed a pair of capri leggings and a T-shirt to wear as pyjamas.

Three pairs of shoes were packed, but two would have been sufficient. The Merrells and Crocs were worn constantly. The closed-toe KEEN sandals could have been left at home. It was a similar assessment from another friend who packed Merrells, Crocs and a dressier pair of sandals. The dressier sandals were worn just three times, and could have been left behind. The friend who packed a pair of KEEN Targhee II shoes was very pleased with how well they performed. They're waterproof, grip wet grass and rocks well, and have comfortable insoles with good arch support.
Other
Teeth didn't feel clean when using LUSH toothpaste tablets. Extra toothpaste was purchased locally. No 3-1-1 bags containing liquids, aerosols and gels were checked within Africa.

Get a strap for sunglasses so they don't go astray when removing them to take photographs or use binoculars.

A flashlight was packed but never used. Where there were no lighted walkways at the lodges, tour members were escorted to their accommodation if there was a danger of encountering wildlife.

Depending on an iPhone 6 for taking photographs was extremely limiting. A camera with a decent zoom, even on a point-and-shoot pocket camera, would have been an asset. One friend had a Canon PowerShot SX710 20.3 Digital Camera with a 30x zoom. Another had a Panasonic LUMIX with a 30x zoom. Both were pleased with the results. Not only did they take excellent photographs, but the zoom was used as an alternative to binoculars. Photographs and videos were easily transferred to an iPad mini each evening, freeing up space on each camera's memory card. This also facilitated editing and posting to social media. Pack extra memory cards if there's a possibility of running out of storage. You'll take lots of photographs! Remember to charge the camera each evening.

A decent pair of binoculars (or zoom feature on a camera) is essential for wildlife viewing. Birdwatching, in particular, was virtually impossible without them.

If a universal adapter isn't packed, it's important to research country-specific needs. One person was missing the 2-pronged adapter needed in Botswana.

A decent recording app would have been useful for recording the very informative presentations of guides on game drives, and capturing the interesting expressions, pronunciations and accents of locals.

A small external charger (such as a lightweight "lipstick" charger) would have helped extend the life of an iPhone on game drives and long touring days.

Given that lodges provided toiletries, sunscreen and insect repellent, much less could have been packed.

Buy quality. For example, one friend has had her ExOfficio briefs for six years, and her Derek Alexander 3-Zip Shoulder Bag for eight years. While these items seemed expensive at the time, they've outlived less durable purchases of lesser quality.
Conclusion
Thank you Anne MacKnight, Jean Marshall and Susan Giampietri for your detailed input on a packing list for a safari in Southern Africa.
If you enjoy reading "packing list" posts, you might like:
You might find the following articles of interest:
Some of the links on this page are affiliate links. If you use them to buy something, you don't pay more, but this website earns a small commission, which helps pay the cost of running the site. Thank you for your support.
SaveSave
(Visited 227 times, 1 visits today)