I love to shop Etsy for travel products. Etsy is so well organized, online shopping is actually a pleasant experience. Even window shopping is fun. Although, with so many creative sellers producing unique products, don't be surprised to have something in your shopping cart before you're done.
What's Etsy?
A key feature separating Etsy from other online marketplaces is that the vast majority of sellers create their own unique products. Merchandise is handmade or digitally created by talented entrepreneurs. Sellers create products for buyers who value human ingenuity and craftsmanship, and are looking for something different.
Why shop Etsy for travel products?
It's a way to support the "little guy." It could be a woman working from home while juggling family responsibilities. It might be a young person unable to find a job. It may be someone whose geographical location makes it difficult to join the workforce. It could a worker supplementing a meagre income.

Sellers determine the value of their work. They establish their hours and working conditions. They organize and build their businesses on their own terms.

Many are dedicated to sustainability and using environmentally safe products. Choosing Etsy merchandise over mass-produced products from offshore factories is a greener way to spend consumer currency.

Many sellers offer custom-made options. These might include different dimensions, an extra pocket, or supplying your own fabric. "Unique" can't get much more unique than that.
Some of my Etsy travel purchases
My earlier purchases were infinity scarves with hidden pockets. Each has a pocket that's spacious enough to carry a passport. Scarves with pockets are triple-duty accessories. They provide warmth, dress up an outfit and protect valuables. An infinity scarf wrapped twice around the neck offers greater security than a rectangular scarf.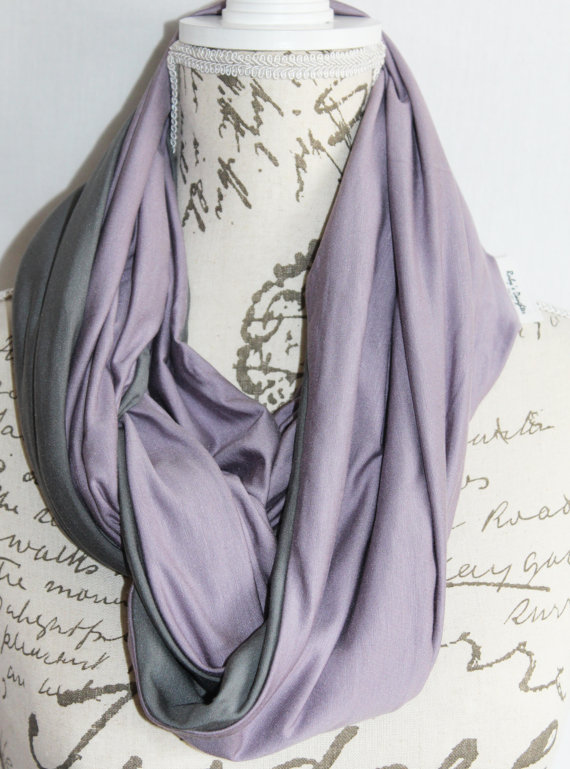 I love my bracelet wallet. It's light, classy and functional, and dresses up an outfit beautifully. The pocket sits on the back of the wrist so it's mostly hidden from sight. When it's not, it blends perfectly into the design. The pocket accommodates a credit card, hotel room card key and emergency money.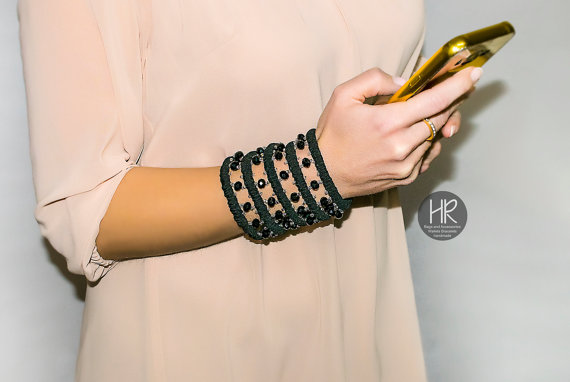 Most packable stuffable backpacks lack internal organization. That's when it's handy to have a few packing organizers to contain, compress and organize your stuff. My wearable travel pouch from KapomCrafts can be packed with individual items such as a small note pad, pen, business cards, cash, ear buds, chapstick, or flashlight. It can be worn under a jacket to keep a passport, IDs and money safe while travelling.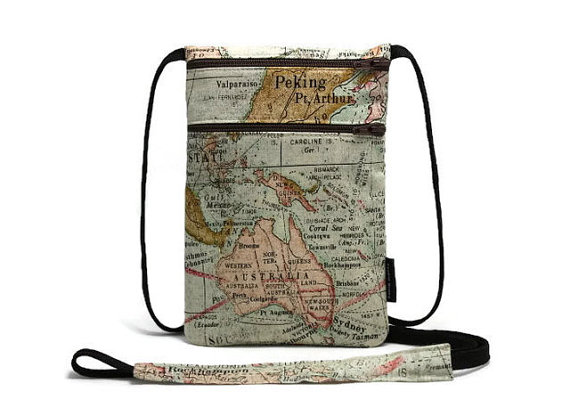 Etsy is easy to use
Register by setting up an account with your name, gender, email address, password, and username.

Set your currency preference.

The user interface is simple, yet informative. The search engine expands your search criteria as you type. For example, type "travel" and a host of possibilities help narrow your search (e.g., travel accessories, travel mug, travel wallet).

When browsing, set filters such as country-specific storefronts or colours of products.

Each item for sale has photographs, detailed descriptions, reviews, shipping policies, and payment methods. I particularly like knowing exactly what it will cost to ship, rather than waiting until checkout. So many times at other sites, I've invested time inserting all my details only to discover the shipping costs are a deal breaker.

A very handy "ask a question" button facilitates direct contact with the seller. A "Note to Seller" box allows the buyer to insert specific requests concerning modifications or shipping.

A confirmation email is received within seconds. Another email arrives once the seller has shipped the order.

Each of my purchases has been shipped promptly, and I've been very satisfied with the service.

My package invariably includes a hand-written note, uniquely wrapped item, or some other evidence of a personalized connection with the seller.
Looking for inspiration?
Here are several travel products that caught my eye while window shopping.
A camera strap has a pocket to store a lens cap, or memory card. Choose from a selection of designs, or personalize your purchase with a custom order.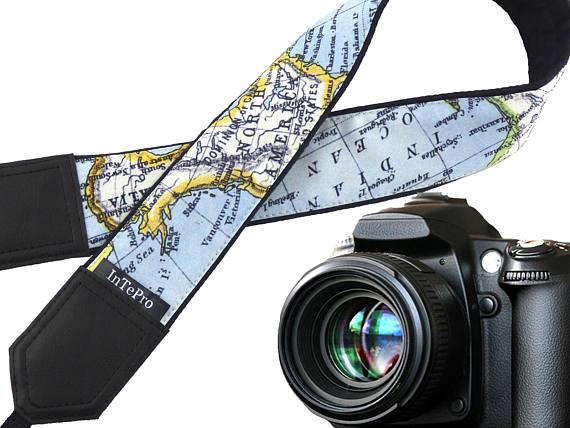 Some people prefer a pen and paper to journal their travel experiences.
A pocket notebook is handy for recording information on the move. There are times when it's inconvenient to reach for a Smartphone, or hand your phone to someone else for this purpose.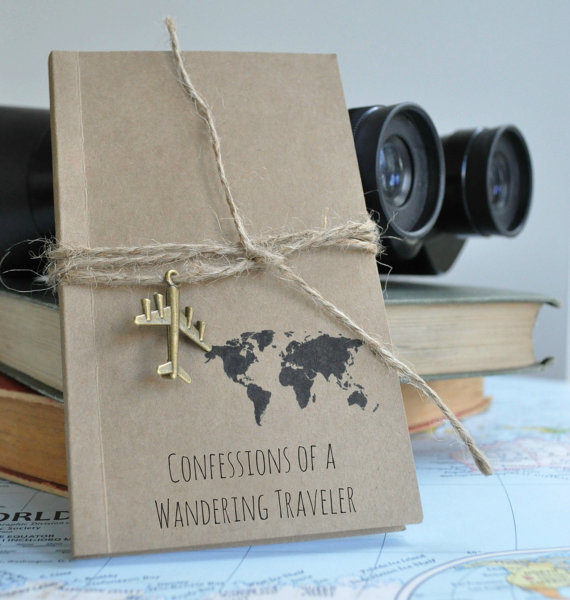 A slim wallet helps streamline the contents, and leave superfluous items at home.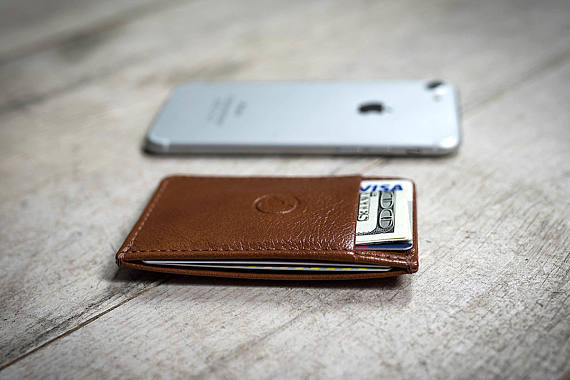 Boxer shorts, men's briefs and tomboy briefs with a pocket can help foil pickpockets. Some are versatile enough to use as swimwear, loungewear or sleepwear.
Saving for travel can be a challenge. Might a wooden cube travel fund provide motivation to get started?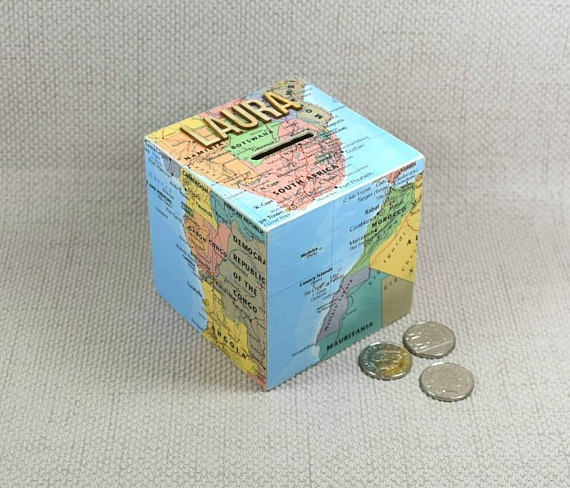 If you're into packing organizers, check out this zippered organizer for gadget accessories.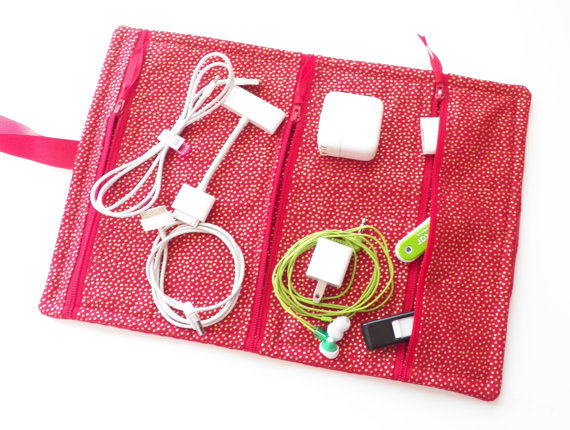 Who can resist a travel-inspired pouch to use as a packing organizer?
Luggage handle wraps distinguish checked luggage, and they're easier on the hands when carrying a bag.
If you're in the market for unique travel products, for yourself or those on your gift list, check out Etsy.
Have you shopped at Etsy for travel products? Please show and tell, in the comments. If you uncover any other travel-related gems at Etsy, do share in the comments.
The links on this page are affiliate links. If you use one to buy something, you don't pay more, but this site earns a small commission, which helps pay the costs of maintaining the site. So, thank you.
SaveSave
SaveSave
(Visited 90 times, 1 visits today)