It might look like a movie set, but it's real. I'm referring to a scene in the movie Tomb Raider. It's the one where Angelina Jolie's character Lara Croft ventures into eerie ruins among the roots of strangler figs and other huge trees. It's actually Cambodia's Ta Prohm: Angkor's jewel in the heart of the Angkor Archeological Park. If you haven't yet visited Ta Prohm, it's definitely worth adding to your travel list.
Angkor Archeological Park
Tomb Raider aside, it's easy to understand why Angkor is a magnet for travellers. This UNESCO World Heritage site showcases the remains of one of humankind's most remarkable architectural achievements. More than 100 stone temples are the survivors of a grand religious, social and administrative metropolis built by the Khmer civilization between 802 and 1220. Regrettably, palaces, public buildings, houses and anything else built of wood have long since decayed and disappeared.
The allure of Ta Prohm
Ta Prohm is unlike any other Angkor temple.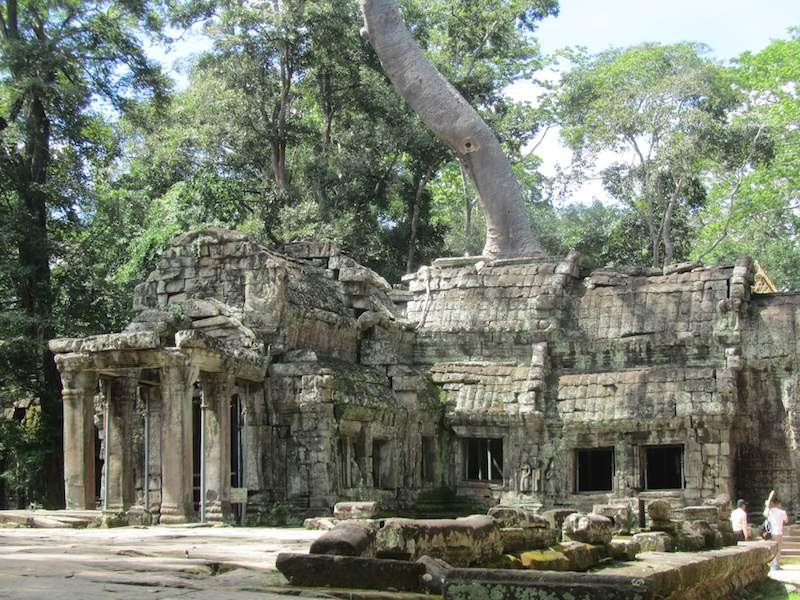 Abandoned for centuries and left to the clutches of the living jungle, Ta Prohm must have mesmerized nineteenth-century explorers when they stumbled upon it. Because many of the giant trees had, for the most part, harmoniously merged with the ancient architecture, the French colonial administration of the time decided not to proceed with a full-scale restoration of the temple.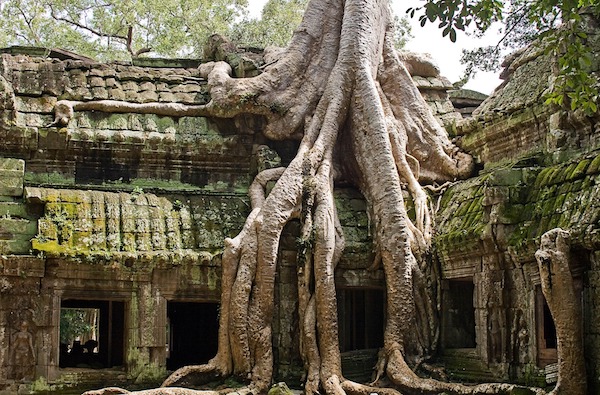 Locked in the muscular embrace of massive trees, Ta Prohm has been preserved as an example of what the power of the jungle will do to an architectural monument once the protective hands of humans have been withdrawn.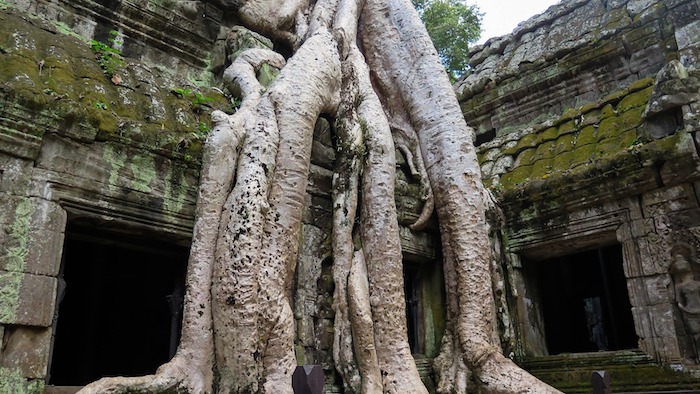 Trunks of trees twist amongst stone pillars, and branches and leaves intertwine to form a roof over the temple. Roots coil like reptiles, spilling over the tops of temple ramparts.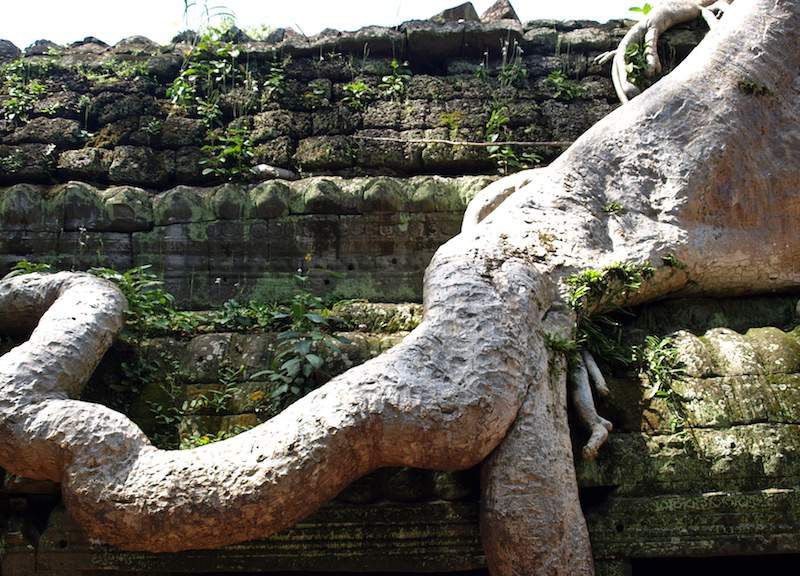 In places, the tentacle-like roots of fig, banyan and silk-cotton trees have pried walls and terraces apart, devouring what was in their path. The ancient stone blocks littering the corridors of Ta Prohm are now carpeted with lichen, moss and creeping plants.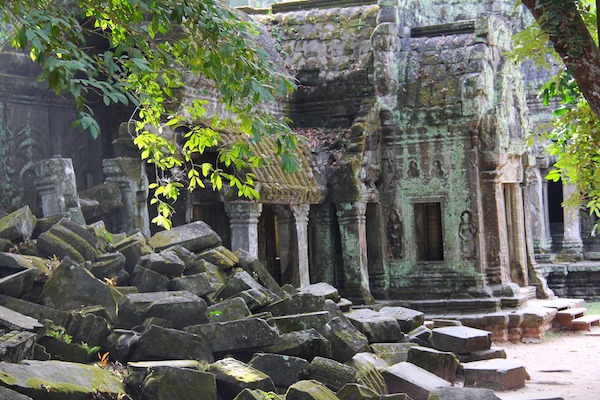 Where architecture and nature merge, the effect is striking. This is the allure of Ta Prohm.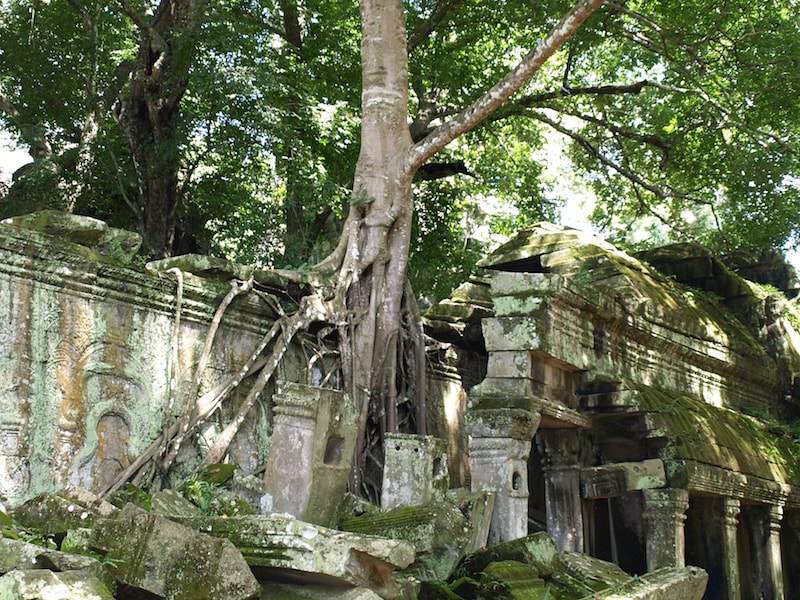 Ta Prohm: a once magnificent metropolis
It was interesting to learn that Ta Prohm was once a wealthy and magnificent metropolis. A Sanskrit inscription on stone provides details.
Ta Prohm consisted of 3,140 villages that have long since succumbed to the ravages of time. To maintain the temple, it took 79,365 people, including 18 great priests, 2,740 officials, 2,202 assistants and 615 dancers. Among the property belonging to the temple was a set of golden dishes weighing more than 500 kilogrammes, 35 diamonds, 40,620 pearls, 4,540 precious stones, 876 veils from China, 512 silk beds and 523 parasols.
Even considering that these numbers were probably inflated to glorify the king, Ta Prohm must have been an important and impressive monument at the time.
Tips for visiting Ta Prohm
Ta Prohm is a popular site for visitors. To avoid the tour bus crowds, visit early morning or late afternoon. Lunchtime is another window when there may be fewer visitors. At least, that was the case during my visit on a cycling tour. Word has it that it's at its most impressive early in the day.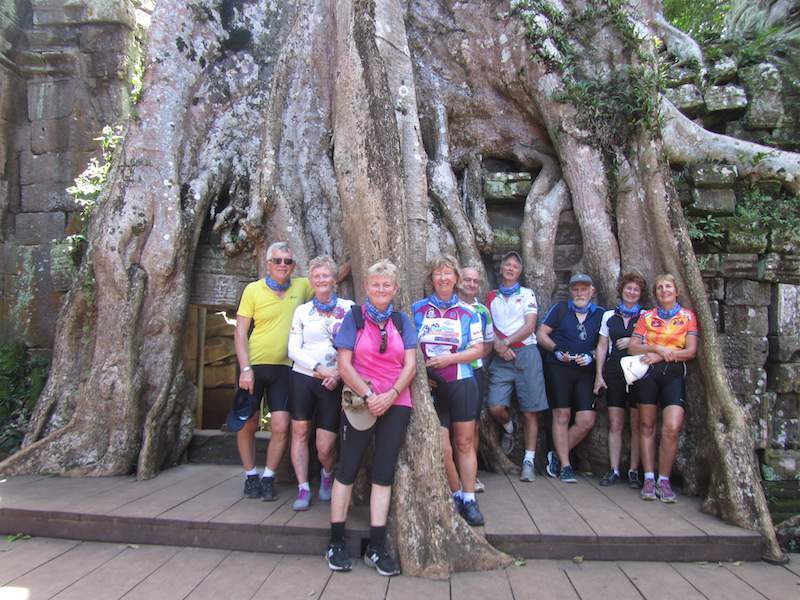 Allow at least two hours to fully explore the maze-like corridors, open courtyards, delicately carved reliefs and imposing vegetation.
Siem Reap to Ta Prohm is approximately 12 kilometres. Touring Angkor by bicycle is an attractive option. If not, booking an early morning tuk-tuk (as in 05:00) may be the way to go. Catch the sun rising over Angkor Wat then head directly to Ta Phrom.
You'll need an Angkor Pass, available at the entrance to the park, 3 kilometres from Siem Reap. Passes are available in one-day ($20), three-day ($40) and seven-day ($60) segments. Unless you're really pressed for time, pick up a three-day or seven-day pass, valid for one week and one month respectively. You may find yourself visiting Angkor several times to catch the sun rising and setting over Angkor Wat, and to explore the many impressive temples within the park.
For your health, safety and comfort make a note of what to bring. In addition to these suggestions, plan what to wear when visiting Angkor Wat, the most sacred temple in the park. Our cycling group carried "temple pants." Most of us were wearing cycling shorts, and purchasing the pants at a market in Siem Reap added a layer of richness to our visit.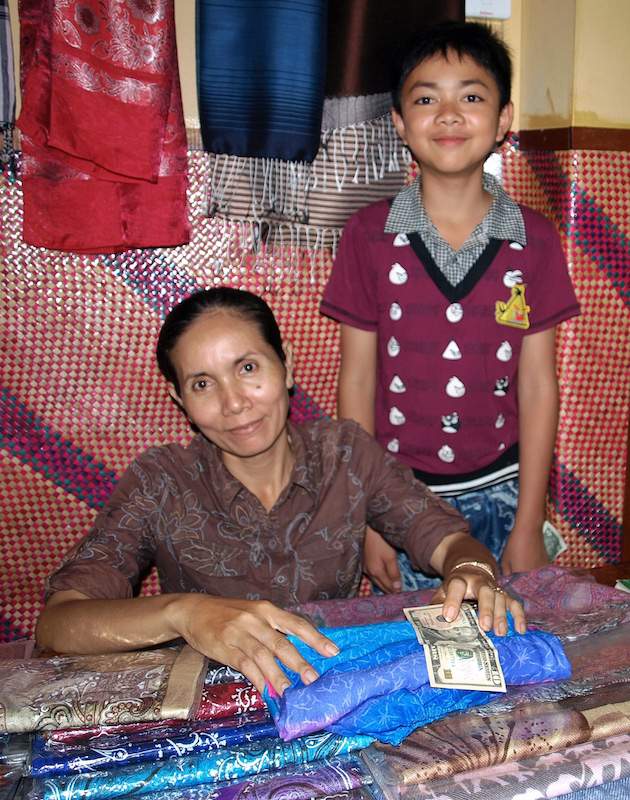 If you enjoyed this post, you might be interested in Cycling in Cambodia, a description of a 300-kilometre tour that included two days' cycling within Angkor Archeological Park. If you're heading to Phnom Penh, take a look at Exploring Cambodia's dark history.
Have you visited Ta Prohm? If you've published a post about the experience, please share a link in the comments.
(Visited 180 times, 1 visits today)