I've never waffled so much about a trip as I did with cycling in Cambodia. This type of indecisiveness was a stark contrast to other adventures where I'm usually the first one out the gate.
Source of my hesitation
It wasn't the cycling, and it wasn't Cambodia. It was the merging of the two that pushed me out of my comfort zone. Certainly, malaria and dengue fever played a part, but simple precautions could cover those stumbling blocks. No, the major concern was heat exhaustion, and not being able to keep up in the gruelling energy-sapping heat. I became fixated on one cycling day in particular of 90 kilometres. Like an unrelenting itch, it was at the heart of my hesitation.
The tour involved 300 kilometres of cycling. I was joining two friends, and their six friends from Australia. All of them are avid leisure cyclists who bike year round in tropical North Queensland. Their playground is about the same distance south of the equator as Cambodia is to the north. I was coming from Canada, where cycling is seasonal in summer temperatures mirroring a cold North Queensland winter day. And, tropical diseases not something to be concerned about.
Taking the plunge
A few back-and-forth emails convinced me to take the plunge. My friends would pack tropical-strength repellent, and coach me on strategies to stay hydrated. Their experience cycling in tropical conditions was a source of comfort, and the availability of a support van sealed the deal. I loaded up on a course of anti-malarial pills, and purchased a few pieces of protective clothing. As an additional strategy, I booked my flight to arrive a week earlier to get acclimatized.
Getting acclimatized
Exiting the terminal in Phnom Penh, I was greeted with a blast of hot evening air. My first thoughts were "Thank goodness I came a week early. There's no way I could jump on a bike in this." I figured with careful planning over the days ahead, I could possibly develop some tolerance to the heat.
My first stop was Me Mates Villa, a base for a few pleasant days exploring Phnom Penh. As is the case with hostels, I enjoyed the interaction with many other travellers where tips and tales were shared on past and future travels. From Phnom Penh, popular next stops were the magnificent temples near Siem Reap, the beaches of the Gulf of Thailand, or other countries in Southeast Asia.
My mention of a 300-kilometre cycling trip was invariably met with "WHAAAT??" or "Anne, you're my hero!!" Comments such as these from travellers half my age weren't at all convincing I'd made the right decision. The doubts still lingered. What did they know that I didn't? And that 90-kilometre day had taken on a life of its own, assuming more space in my mind than it deserved.
I found my way to Siem Reap and awaited the arrival of my travelling companions. We were all of a similar vintage, and it was clear from the get go I was in great company for cycling in Cambodia.
Angor to Sihanoukville Cycling Tour
The same rang true with everyone from the Cambodia Cycling Company. From beginning to end, everything was expertly coordinated. The four staff accompanying our nine-person group did everything within their power to assure our safety, security and comfort at all times. They were amazing. Absolutely amazing.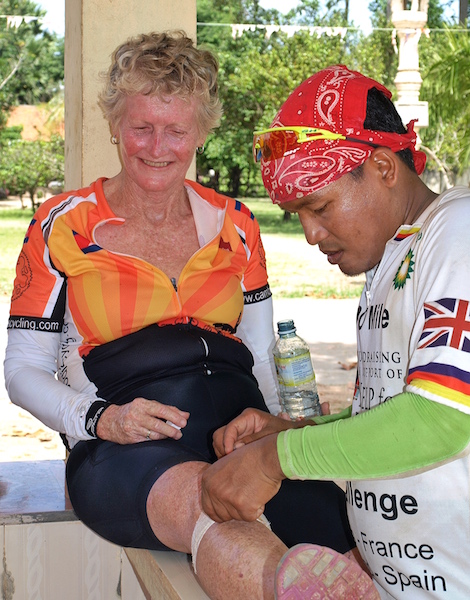 I loved the diversity built into the tour. There was a mixture of cycling and non-cycling days, and both were interspersed with hiking, swimming and guided tours. Most of us had never been on mountain bikes (brand new Giant ones at that), and became converts as a result. Evading tree roots, fording streams, and dodging animals introduced variety into the ride.
Spending two days exploring the remarkable Angkor Archeological Park by bike was a highlight.
Unlike other forms of transportation, a bike can be more conducive to interacting with locals. We passed through villages, and encountered friendly, hard-working Cambodians going about their daily lives.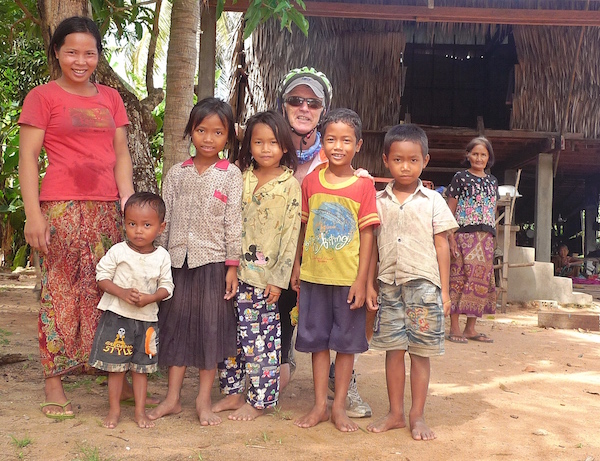 We met children on their way to and from school who loved to exchange versions of a high-five, or constantly shout "Hello" as we passed. On breaks in village squares and schoolyards, we were objects of curiosity.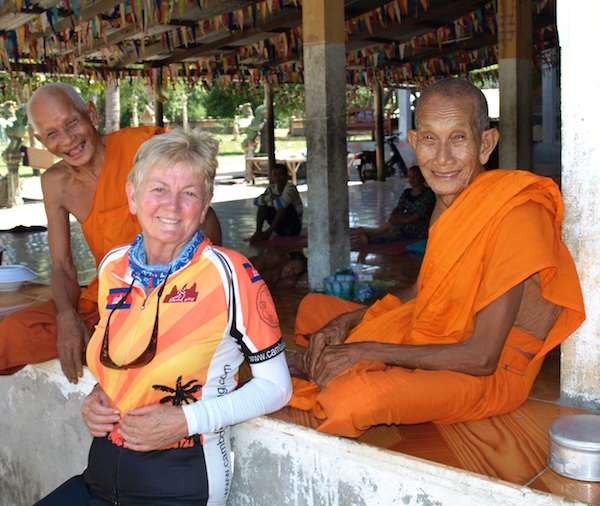 We travelled by boat from Siem Reap past the floating village of Chong Kneas. Water levels were high in early November, and we made good time along the Tonlé Sap river system to where it merges with the mighty Mekong River at Phnom Penh. The boat was equipped with bus-like seats but many passengers, especially tourists and foreigners, headed outside for the deck around the wheelhouse or to climb up to the roof. With plenty of sunscreen, it was possible to spend part of the six-hour journey outdoors.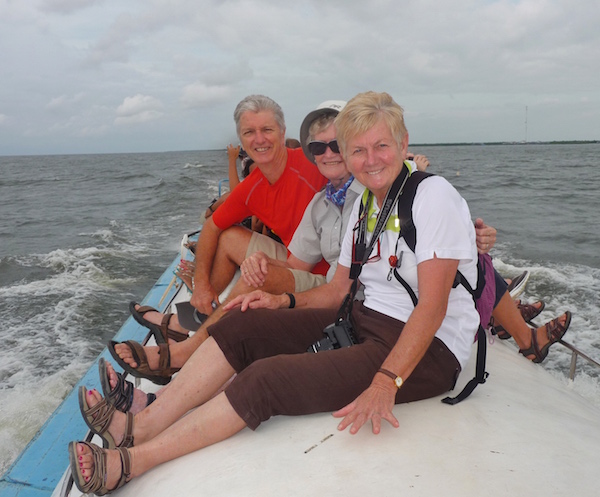 After reaching the coast of the Gulf of Thailand, we spent a free day in Sihanoukville. A boat tour took us to three islands where we enjoyed snorkelling and swimming.
We couldn't get enough of Cambodia's inexpensive yet delicious Khmer cuisine. For example, this spiced fish fillet wrapped in banana leaf was served at Friends, a training restaurant that helps marginalized youth prepare for employment in tourism or food services.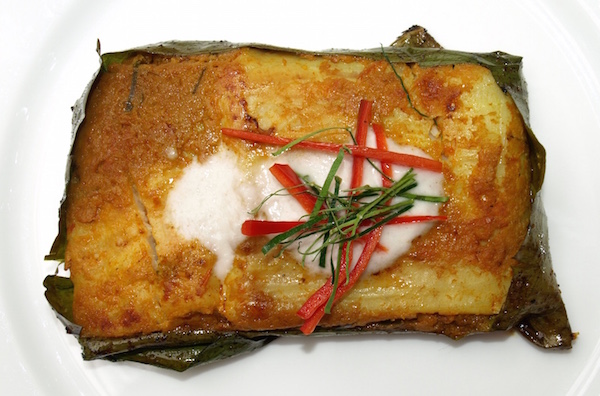 Conclusion
As it turned out, my fears were not totally unfounded, but certainly not insurmountable. Mosquito-borne diseases are not something to be taken lightly, but I could have skipped the Malarone. I saw two mosquitoes the entire time, and protective clothing and repellent would have been sufficient. Remaining hydrated was a daily constant as we consumed oodles of bottled water, soft drinks and chilled coconut water. Cooling down at rest stops was achieved by dipping our Buffs in the water of the icebox.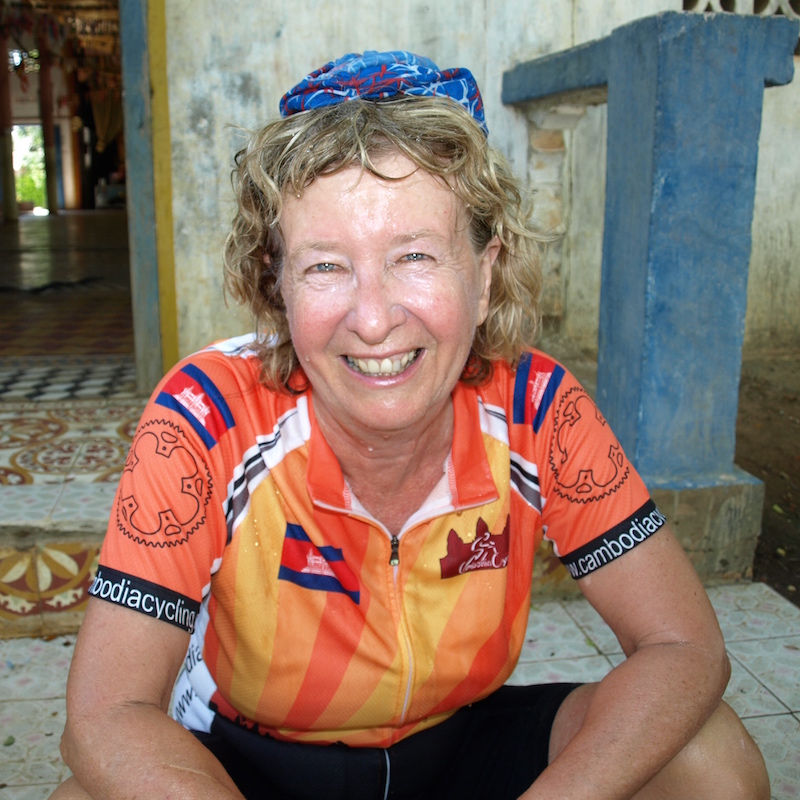 At a time when more travellers are looking for experiences from the vantage point that two wheels provide, I can heartily recommend cycling in Cambodia.
Oh, and that 90-kilometre day? It was like every other. Exhilarating.
Logistics
Cambodia's official currency is the Cambodian Riel (KHR), with the U.S. dollar (USD) the country's unofficial second currency. Most tourist-oriented businesses quote prices in dollars, as do most grocery stores and restaurants. Even the $35 visa on arrival must be paid in USD. I didn't see any coins, in either KHR or USD. If something costs less than a dollar, change is given in KHR with a street value of 4,000 to the dollar. Carrying USD in larger denominations may result in receiving a fistful of KHR as I found out after buying my first street food with a $20 bill. Pack USD in smaller denominations.
If you enjoy staying in hostels, Me Mates Villa is conveniently located in the heart of Phnom Penh. It features a restaurant and bar with indoor and outdoor seating – an ideal environment for striking up conversations with other travellers. I found the best price at Agoda: $30 total for 4 nights in a 6-bed women's dorm.
With promises of glimpses of the Cambodian countryside, I elected to travel overland by bus (a six-hour trip) from Phnom Penh to Siem Reap. The $13 fare on Mekong Express included shuttle service from the hostel. When water levels permit, another option is to take the ferry ($35). Some sections are very interesting, especially when lathered in sunscreen sitting on the top of the boat. For more information and options, see How to get from Phnom Penh to Siem Reap (and vice versa).
In Siem Reap I stayed at the centrally located Golden Temple Villa. The rate of $20 per night included pick-up service by tuk tuk, a welcome iced lemon tea and snack, bottled water in the in-room fridge, iced tea and fruit in the restaurant, and a one-hour Khmer massage during my stay.
The 8-day/7-night Angkor to Sihanoukville cycling tour cost $887. This included the tour cost of $721, a single supplement of $96, and $70 for the bike rental. It covered accommodation in 4-star and 3-star hotels, in-tour transfers by van and boat, entrance fees, a two-day temple pass, two support vans with two drivers, two guides, refreshment breaks and most meals.
Malaria and dengue fever are serious diseases carried by mosquitoes. We used tropical-strength Bushman Insect Repellent. Castelli Chill Arm Sleeves and a High UV Protection Buff provided additional protection from mosquito bites and the sun. To guard against dehydration, Nuun Active Hydrating Electrolyte Tablets complemented our fluid intake.
Now it's over to you. Do you have any recommendations for visiting Cambodia?
Some of the links on this page are affiliate links. If you use them to buy something, you don't pay more, but this website earns a small commission, which helps pay the cost of running the site. Thank you for your support.
(Visited 167 times, 1 visits today)