Updated May 15, 2017
Thankfully, the days of assembling heavy space-hungry plastic envelopes filled with printed confirmations of all bookings, and associated documentation, are long gone. This is in part due to itinerary management apps capable of organizing fragmented bookings into an organized electronic package. I've used five different itinerary apps from time to time. On three trips in 2014, I conducted a comparison test of three popular creations – Kayak, TripIt and WorldMate. The result was that Kayak "Trips" consistently emerged head and shoulders above the rest. Three years later, Kayak remains my favourite itinerary management app.
How an itinerary management app works
Essentially, booking confirmations are forwarded via email to an itinerary management website's dedicated email address (e.g., plans@tripit.com or trips@kayak.com). Or, a user can choose to activate an auto-import feature that scans an email account for travel confirmations. The bookings are then organized and categorized into one or more trips, and displayed in an attractive readily accessible format. All details can be edited at the website or from within the app. The beauty of this kind of travel app is that all itinerary details are stored in one place within easy reach on a mobile device.
Kayak accurately processes all bookings
The major strength of "Trips" is that there doesn't seem to be a booking Kayak can't process. Once I forward bookings to trips@kayak.com, I can rest assured Kayak will get them right, and correctly merge them into the right trip. This is a major time saver. It's where Kayak has the edge over the more popular TripIt and WorldMate. There's never a need to figure out how to resend a booking in a different format, and I rarely have to spend time editing what Kayak has processed.
A major disadvantage of TripIt and WorldMate is that they only seem to be able to recognize "supported booking vendors" or "supported providers." As such, these apps may be useful to business travellers who:
customarily fly with major carriers;

reserve vehicles at easily recognizable car rental agencies; or

book accommodation at brand-name hotels or through established booking platforms.
However, for those who stay in hostels or family-owned guesthouses, book independent tours or use a variety of transportation options, Kayak is a much better choice.
Some examples
If I plan to stay in private accommodation, I'll draft a very short email with the name, address and telephone number of my host, and send it to Kayak. This is sufficient for Kayak to add this "booking" to my itinerary. WorldMate can't process this kind of email as it didn't originate from a "supported provider." Therefore, it needs to be manually entered. TripIt will add it as a Note in Unfiled Items.
The same holds true for hostel bookings. Kayak inserted my booking at Planet Traveler in Toronto correctly. WorldMate couldn't process it at all, and TripIt added the email (but not the attachment with the booking details) as a Note.
I booked a brand-name hotel through RocketMiles. It was processed by both Kayak and WorldMate. TripIt was only capable of adding a Note in Unfiled Items. A bike-and-barge tour in the Netherlands could only be processed by Kayak. Similarly, the "Love Letter Train Tour" by the Mural Arts Program in Philadelphia could only be processed by Kayak.
TripIt also doesn't fare well when it comes to selecting an accurate name for a trip. For example, I sent my Aeroplan itinerary for a trip to Taiwan to all three sites. Kayak and WorldMate both selected "Taipei Trip" for the name of the trip. TripIt chose "Toronto Trip." Toronto was the first of three airport connections on the way to Taipei.
Unfortunately, the performances of Tripit and WorldMate were less than satisfactory. I notice WorldMate is discontinuing its service effective September 2017, but TripIt remains very popular. I fail to understand why. Perhaps I'll give TripIt another try in the hope it improves with time.
In the meantime, Kayak "Trips" remains my favourite itinerary management app.
Kayak's user-friendly interface
Kayak's user interface is simple and efficient, especially on the iPad app. A split screen displays the itinerary on the left, and more information on each booking on the right. The itinerary is presented as a clean looking short scrollable list with each activity under its respective date. Arrival, departure and layover times are clearly displayed, and distinctive icons such as airline logos enhance rather than clutter the itinerary.
Tapping on any aspect of the itinerary (e.g., a flight segment or hotel booking) reveals further information. This could be a confirmation number, flight duration, seat number and weather at the destination. For hotel bookings, I especially like the "Show Driver" feature. It displays the address and telephone number of the accommodation. This is handy when struggling with pronunciation in another language, or the driver is unable the find the address. Most drivers or helpful locals have a mobile phone, so calling the local number is easily accomplished with the number so conveniently displayed.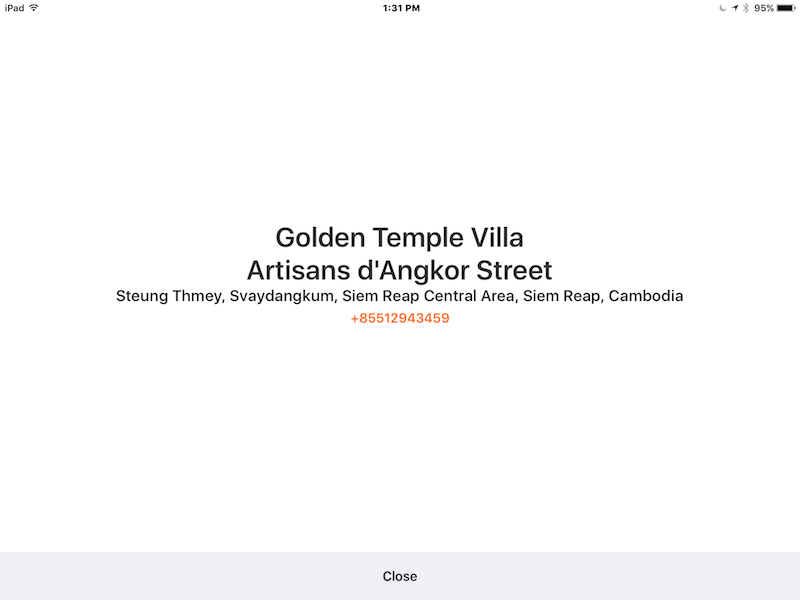 I also like the capacity to add a note to each part of the itinerary. It could be a reminder to confirm a tour the day before, the cost of a tuk-tuk from the airport to the centre of town, or special requests lodged with the hotel.
Calendar synchronization
Kayak provides helpful instructions on how to establish a feed with a traveller's calendar. Once it's set up, the feed is activated for all trips. Within a couple of minutes, the Calendar apps on both my iPad and iPhone are fully populated with all my bookings and key details.
Email alerts
Kayak's email alert feature is very efficient. The 24-hour check-in alert is a timely reminder to check in, select a seat (or confirm seat selection) and obtain a boarding pass. It provides a very handy direct link to the airline's web check-in page to do so.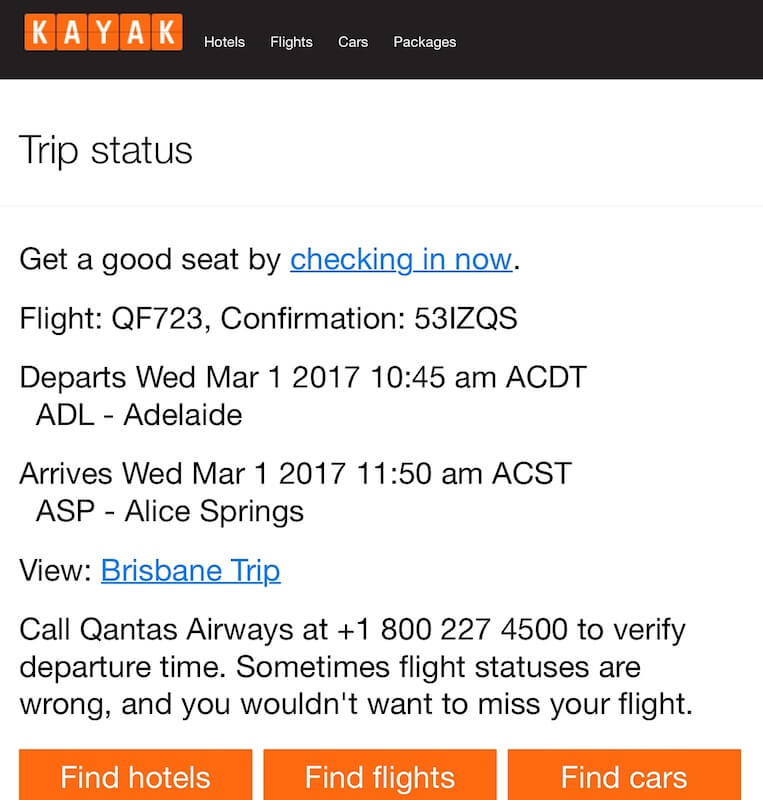 The flight delay alert not only keeps me updated on possible flight delays, but the email notification includes helpful information. For example, prior to leaving my Dead Sea hotel for the 45-minute drive to the airport in Amman, I had several hours' notice of an expected delay of my flight to Istanbul. The email contained my flight number, booking confirmation number, revised flight details and the contact telephone number for Royal Jordanian Airlines that I could call from within the email. In another case, a United kiosk in San Francisco printed my two boarding passes but it was only when I logged into Wi-Fi in the lounge did I see Kayak's alert advising me of the cancellation of the second flight. The cancellation wasn't appearing in United's system, but thanks to the alert and the early intervention of a United agent, I was able to be booked on alternate flights.
To obtain this service with TripIt, I would need to upgrade to TripIt Pro that comes with an annual fee of $49 USD.
Another convenient feature is the email alert advising me of terminal and gate numbers (including changes) of connecting flights. There's also an alert with the number of the correct baggage carousel, a handy feature when arriving at large airports. Before disembarking, I know where I'm headed, which is especially useful with tight connecting times. Again, this service with TripIt would require an upgrade to TripIt Pro.
Sharing with others
"Trips" allows me to automatically share any new trips with a designated person or people. When sharing my itinerary with others, I can keep parts of my trip private. This feature is especially useful when planning a trip with others, or when visiting someone who could benefit from knowing my travel plans.
Booking documentation
A fantastic feature I really appreciate is Kayak's ability to save the original email and attachment of each booking. With Kayak, I always have a digital copy of the documentation confirming the booking. This is especially useful when I need to reacquaint myself with details of a booking, or for verification purposes when communicating with the service provider. While I keep copies of these bookings in my email system and Dropbox folder, it's a helpful timesaver to be able to quickly access them from within the itinerary management app.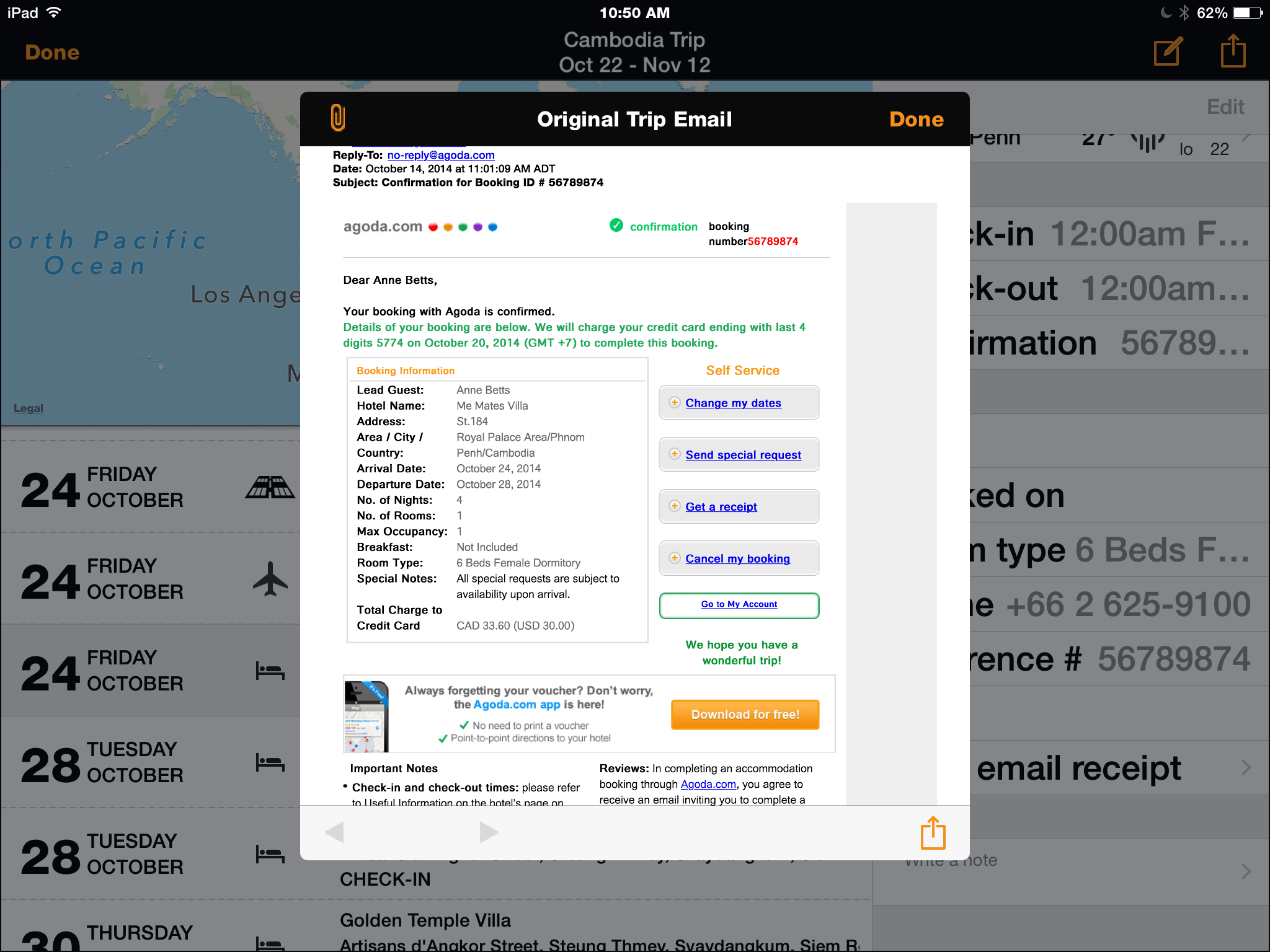 And there's more…
"Trips" isn't the only feature of the Kayak app. The app has the capacity to make bookings for hotels, flights and cars, and I appreciate that these are separate from my itinerary. Within the Trips Settings, a Directory has alphabetized lists of airlines and airports. At a glance, I can check baggage fees, or call the airline or visit the website directly from the app. I can access airport maps, search for specific services or obtain directions to the airport.
Beware of the auto-import feature
Kayak now makes it possible to optionally auto-import bookings from a Gmail account. I used this feature on TripIt but eventually disabled it.
How it works is that the app scans an email inbox and automatically populates an account with any bookings it finds. In the case of Kayak, you can stipulate which senders' bookings are added. Auto-import might be desirable for work-related travel but in my case, it added to my workload for a couple of different reasons.
One is that I often book travel many months in advance. During the period leading up to the trip, flight times or seat assignments invariably change. The result was that amended versions of the original itinerary were sent to my inbox, and a conflicting version added to my itinerary. This would require an intervention on my part to delete the incorrect one.
The other is I often travel with other people who would send me their itineraries and related bookings. TripIt recognized all of these emails as travel plans, and populated my account with multiple versions of different bookings. Having to manually edit what TripIt had posted was labour intensive and convinced me that I prefer a system where I can manually forward each booking, and to do so a few days before each trip.

Creating an itinerary is easy
Organization is key to quickly and efficiently creating an itinerary in Kayak "Trips." Here are my suggestions:
Store all bookings and trip-related emails in a trip-specific folder in your email account.

Save all attachments to a trip-specific folder on your computer.

A few days before your trip, forward all trip-related emails to trips@kayak.com.

Verify the accuracy of the bookings at the Kayak site. Edit as required.
Kayak packs a huge punch for a free app. I use Kayak "Trips" for every trip, and after four years, it remains my favourite itinerary management app.
Care to weigh in? Do you use an itinerary management app? If so, which one? Do tell, in the comments.
Care to pin it?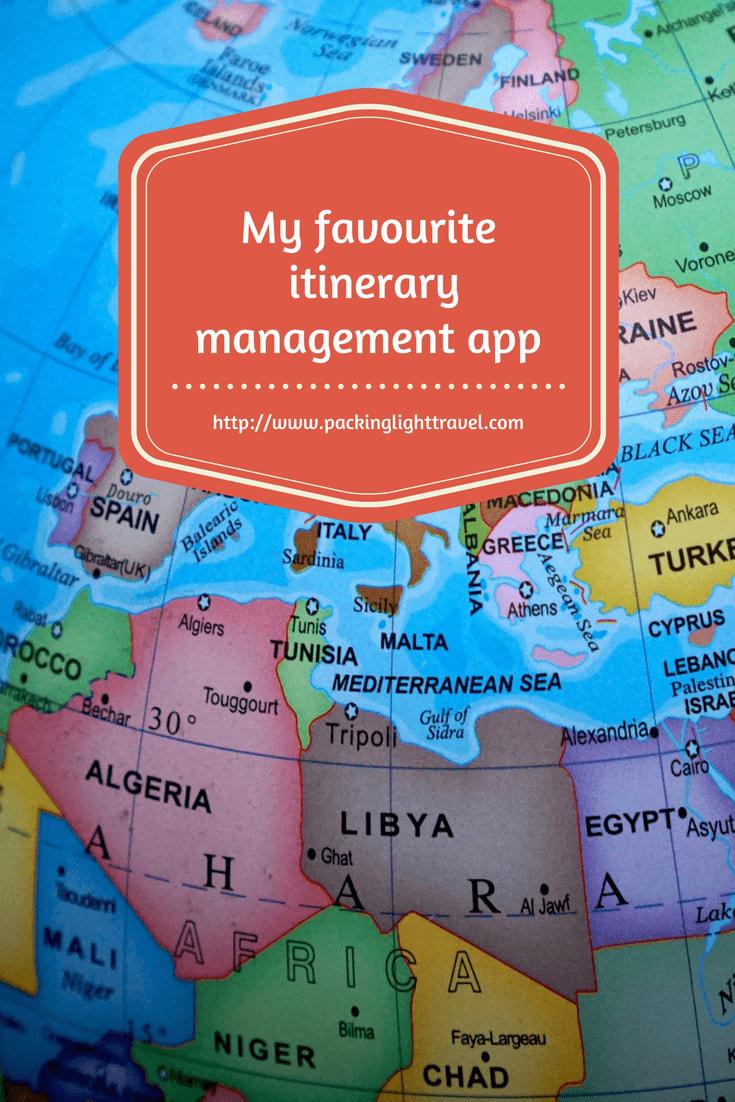 SaveSave
(Visited 4,225 times, 2 visits today)