I admit it. I'm a packing list junkie. I never tire of devouring other travellers' lists for insights and ideas. The destination or length of the trip doesn't matter, as I seem to learn something from each and every one. If you can relate, here's one more. It's an annotated version of my packing list for New York City in October, a 12-day trip with a stop in Toronto on the way. If you'd like a copy of the actual packing list, a PDF version is in our Resource Library. Information on how to obtain it is at the end of this post.
Packing considerations
There are so many beneficial reasons to pack light that I'd need a compelling reason to travel with anything other than carry on. For this trip, it was carry on as usual.

Air Canada's carry-on baggage allowance covers two bags, one standard and one personal article, each weighing a maximum of 10 kg (22 lb). My mantra is to pack what I can comfortably carry, and 10 kg total is enough.

Average weather conditions in both cities in October pointed to a temperature range of 8°C (46°F) and 18°C (65°F) with the probability of some rain.

It was a short trip – 4 nights in Toronto and 7 nights in New York City.

Activities included a conference, a couple of Broadway productions, checking out the dining scene, walking my feet off and alternating between exploring outdoors, spending time indoors then heading outdoors again. This pointed to the need to dress in layers, with the means to comfortably carry the temporarily discarded pieces.

I travelled solo to Toronto and stayed in a women's dormitory in a hostel. In New York, I met up with three friends and shared an apartment.
My bags
I'm a three-bag traveller. I know, I know. It sounds somewhat incongruous with packing light travel, but that's my current preference for most trips. However, like Matryoshka nesting dolls, all three bags can easily combine when circumstances warrant.
A packable travel purse is my travel document organizer and door-to-door accessory during transit. It's removed only at security checkpoints when it's stuffed into my personal or standard carry on. It doubles as an evening purse, or a day bag at times when carrying a daypack is inconvenient or prohibited at some venue or event. It's large enough to carry an iPad mini, iPhone, noise-cancelling ear buds, point-and-shoot camera, wallet, pen, and various travel documents. Designing the perfect travel purse provides more information.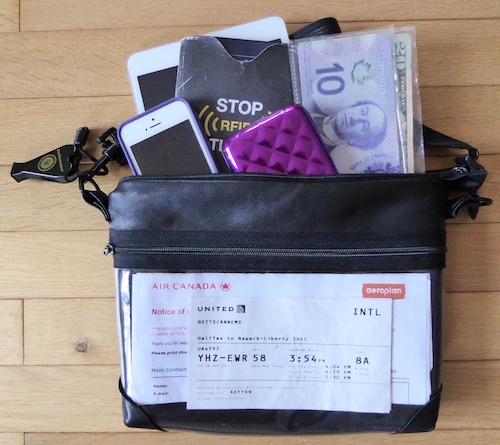 My day bag and personal carry-on article was a Tom Bihn Synapse 19, a small backpack. With a capacity of 19 litres and weighing 1 lb 7 oz (0.65 kg), it carries everything needed for a comfortable flight. It's not as compact as a foldable stuffable daypack, but it's way more comfortable, functional and secure than any I've tried. It's large enough to carry the usual "stuff" when exploring a destination: rain gear, clothing layers, first aid kit, sunglasses, camera, refillable water bottle, and comfort pack.
My standard carry-on bag was the eBags TLS Mother Lode Weekender Convertible Junior. It has a capacity of 41 litres (10% more with the expandable zipper opened) and weighs 3 lb 5 oz (1.5 kg). The flimsy removable waist belt is almost useless, but otherwise, it has many attractive features for this type of trip. When packed to 80% capacity, it easily accommodates my daypack on travel days when I prefer to wear just one backpack.
Packing list
Luggage and accessories
Essentials
On travel days, my packable travel purse carried my passport in a small protective case along with a trusted traveller card (NEXUS) and a laminated emergency contact card. These slip easily into a PacSafe RFID-blocking sleeve. My printed itinerary and boarding passes were in my purse's outer pocket with a see-through window. Canadian and US banknotes were packed in separate sleeves cut to size from a plastic page protector. An RFID-blocking wallet carried a driver's licence, one financial card, an emergency contact card and my business card.

Two credit cards and one debit card were separated between my travel wallet and clothing (security pockets in outerwear and an infinity scarf with a hidden pocket).

A laminated copy of the information page of my passport is always carried in each bag. Laminated emergency contact cards are carried in different places for easy access. How to make a traveller's emergency contact card provides more information.
In New York, we established a "kitty" for group expenses. I carried a packing pouch (Magellan's) with a key strap for attaching it to internal bag hardware in my purse. For more information, see Share group travel expenses with Kitty.

I had two hidden stashes of emergency cash.

I wear a RoadID Wrist ID Elite bracelet, especially when travelling solo. Emergency ID bracelet for travellers provides more information.
Toiletries
All toiletries fit in a Tom Bihn 3D Clear Organizer Cube, which doubles as a 3-1-1 bag and hanging toiletries kit. Products were decanted into containers of various sizes and functions. Organizing a 3-1-1 bag provides more information.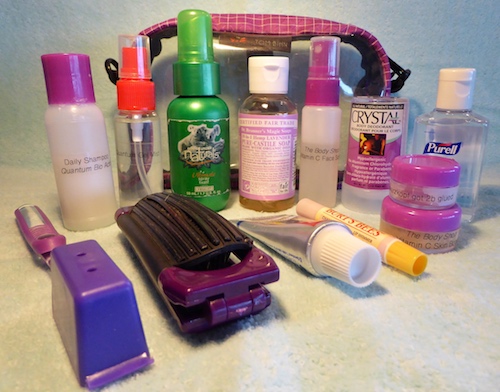 Comfort Pack
A comfort pack is a small pouch containing a collection of products promoting hygiene and comfort. See Create a travel comfort pack and Travelling with soap leaves for more information.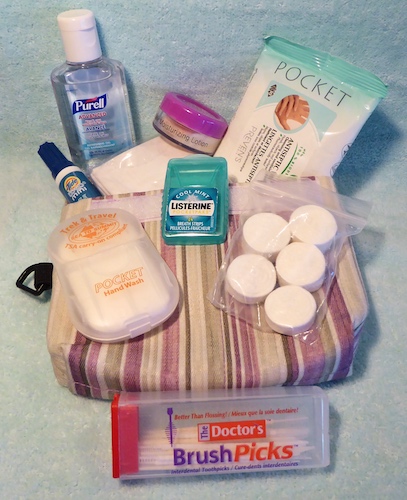 Footwear, clothing and accessories
Underwear was packed in a Magellan's see-through mesh envelope. The tops that weren't worn on travel days were rolled and packed in an eBags small packing cube. Bottoms, nightshirt and scarves were carried in a lightweight handmade packing folder.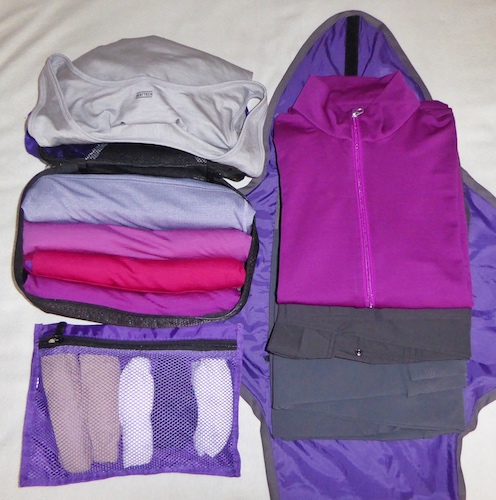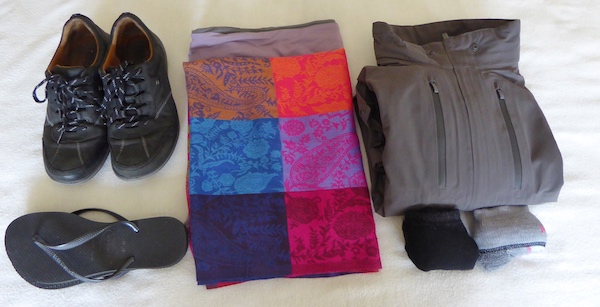 Gadgets
A Tom Bihn Travel Stuff Sack contained the chargers, wipes, adapter and SIM card remover. With the multi-port USB charger, I didn't pack the three charging blocks of my camera, phone and tablet (which was a lighter and more functional approach).
Miscellaneous
twisted travel clothes line (Design Go Go) with suction cups removed

mending kit

basic first aid kit in a wide-mouthed prescription bottle

duct tape card (See Travelling with duct tape)
reading glasses, retainer (Croakies Tite End Combo), soft protective pouch, spare reading glasses (folding)
zippered packing pouch (Magellan's) for receipts/collectables, booking confirmations, laminated map of Manhattan
Sip 'n Go folding water bottle with carabineer (See Favourite water bottle)

pen; pencil; small notebook

business cards
Weight of packed bags
The total packed weight of the three bags was 7.7 kg (17 lb).
"Standard" carry on: 4.8 kg (10.6 lb)

"Personal" carry on: 1.5 kg (3.3 lb)

Packable travel purse: 1.4 kg (3 lb)
Assessment
On three of the four short-haul flights, my "personal" carry on was stowed in my "standard" carry-on bag. The aircraft between LaGuardia and Toronto/Montreal have smaller overhead bins that fill quickly and it's better to have just one bag if it needs to go under the seat in front. I never book bulkhead seats for this reason. Everything needed for a comfortable flight and transit across Canadian and U.S. borders was carried easily in my packable travel purse and Clothing Arts Cubed Travel Jacket.
The eBags Mother Lode Junior worked well for this type of trip. It has great internal organization, and the deep main compartment easily and quickly accommodated my packed personal carry on when I arrived in Toronto. This made negotiating transit to downtown much easier with one backpack. I walked about 10 blocks from the station to the hostel so the absence of a decent hip belt wasn't a problem. The situation in New York was similar. For trips where I anticipate walking longer distances with my main bag, my Osprey Farpoint 40 has a much better design for walking in comfort.
Average temperatures and actual forecasts are useful for planning what to pack. However, these aren't always accurate, and there's no better way to accommodate fluctuations in temperature and weather patterns than to dress in layers. This approach worked for New York City where "feels-like" temperatures were just a few degrees above freezing and winds whipped wildly wherever we went. A pair of gloves and an ear warmer headband or Buff would have been handy.
Did I need both a "personal" carry on/daypack and packable travel purse? Yes. When spending long days exploring a place, it's nice to have a decent day bag for carrying comfort items such as a refillable water bottle, first aid kit, comfort pack, pocket shopping bag and clothing for layering up and down. When transitioning from cold and windy outdoor conditions to spending a few hours indoors exploring a museum or magnificent building, having a means to stow a few layers makes for a more comfortable experience. On most days, we walked 15 km, and on a couple of days, it was over 20 km. A comfortable daypack made it that much more enjoyable.
Washing every day (except around travel days) meant that two base layers, two pairs of socks and three pairs of panties were on constant rotation. One base layer and two pairs of panties weren't worn. The braided clothesline was used for laundry and as a clothes hanger in the hostel. I always ask for a lower bunk, and the clothesline attaches perfectly to the bed frame or mattress support of the bunk above.
My capsule wardrobe worked. The neutrals (grey pants and jacket, black walking shoes) and complementary colours of the base and mid-layers (lilac, purple and fuchsia) mixed and matched wonderfully. The accents (purple earrings, lilac/grey infinity scarf and vibrant colours of a pashmina) were sufficient to dress up outfits for the conference, theatre and dining scene.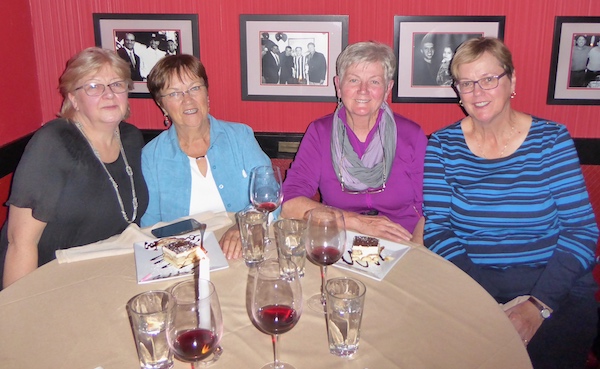 My feet prefer alternating between two pairs of walking shoes. The weather forecast indicated that walking sandals wouldn't get much wear so I opted to take just one pair of closed-toe shoes. Given the distances we walked, my feet would have appreciated a second pair of the closed-toe variety on alternate days. They loved escaping to the Havaianas every evening after a long day of sightseeing.
Had I checked a bag, I would have missed a connecting flight. Carry on and my NEXUS card allowed me to make it from my arrival gate in Montreal to my departure gate for Halifax in just 15 minutes. I heard my name announced as I whizzed through the NEXUS lane at security screening, hoping against hope I wouldn't lose my seat to a standby passenger. The Air Canada agents were aware I was arriving on a delayed flight from LaGuardia and gushed with praise for having navigated immigration, customs, baggage control and security so quickly. The secrets? Carry on only. Always carry on. And trusted traveller status such as NEXUS is a godsend. For more information, see Is a NEXUS card worth it?
Comments? Suggestions? They're always welcome.
Some of the links to products are affiliate links. If you use them to buy something, you don't pay more, but this website earns a small commission, which helps pay the cost of running the site. Thank you for your support.
(Visited 725 times, 1 visits today)