Restrictions on liquids, aerosols and gels are an ally of the packing light traveller. Toiletries can be space and weight guzzlers, so look upon the restrictions as additional motivation to pack light. To manage all those products competing for the limited real estate in such a small bag, it helps to have a few creative strategies at your disposal.
Why the restrictions?
Restrictions were introduced in 2006 on the heels of a foiled terrorist plot to bomb planes using liquids as explosives. The restrictions were meant to be temporary, and might be lifted soon thanks to technology being tested at various airports. In the meantime, we're stuck with conforming to the "3-1-1 rule" as it has come to be known.
What's the "3-1-1 rule?"
Essentially, the rule limits the quantities of liquids, aerosols and gels in carry-on luggage. Passengers must use containers no larger than 3.4 ounces ("3"). All containers must be placed in a one-quart/one-litre transparent, plastic, sealable bag ("1"). Each passenger may have only one bag ("1"). Note that "3" refers to containers, and not contents. I've observed screening agents confiscate larger containers from passengers. Judging from the conversations, some of these travellers mistakenly believed that because the small amount in the container was less than 3.4 ounces, it was allowable. There are exceptions (e.g., medication, baby food), and it doesn't apply to the contents of checked luggage. The Transportation Security Administration (TSA) has a short video on the rule, and Tortuga Backpacks has produced a simple infographic.
Stay up to date on restrictions
From time to time, review the guidelines of the Canadian Air Transport Security Authority (CATSA), Transportation Security Administration (TSA), or those of a similar agency operating in the countries you'll be visiting. Rules change, and determining what's classified as a liquid or gel isn't always as simple as it sounds. As a reminder, all liquids, aerosols and gels on a packing list could be identified using a differently coloured font.
TSA has a My TSA app with loads of helpful information on a variety of related topics. Travellers can use the "Can I Bring My…" feature to determine if items are prohibited or not, and which ones are subject to the 3-1-1 rule. There's also a web-based version of the "Can I Bring My…" tool.
Check what qualifies for an exemption
Reasonable quantities of liquids to be used during the trip for medical purposes or special dietary requirements aren't subject to the liquid ban. Saline solution, doctor-prescribed medication, baby formula and breast milk are among the exemptions. However, these need to be declared to a screening agent as soon as you arrive at the security checkpoint.
Use a working list
Begin by listing all toiletries, cosmetics and any other liquids, aerosols and gels you'd like to take with you on your travels. Keep in mind that liquids such as jams, syrup and drinks also fall under the 3-1-1 rule. If it helps, physically line up the full-sized versions of the products you'd like to take.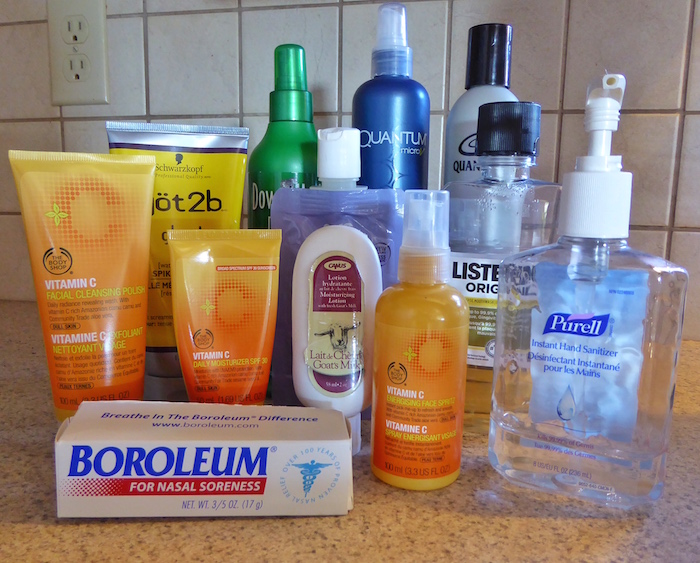 Evaluate each item on your list. When it comes to cosmetics and toiletries, do you need to take the full range of products you use at home? Is there room to do without or try something new? For example:
Do you need hair conditioner? Could a shampoo with a moisturizing component satisfy your needs?

Is a daily mouthwash necessary? Might a small pack of Listerine Breath Strips do in a pinch?

Do you regularly use perfume? Plan a scent-free journey. Nearby passengers, especially those with multiple chemical/fragrance sensitivities will have a healthier trip as a result.

Do you need shower gel, shampoo and facial cleanser? Would you consider a product performing all three functions?
Look for solid substitutes and double-duty products
Non-liquid alternatives and those performing double duty relieve some of the pressure of fitting everything in a one-litre/one-quart bag. Deodorant, facial cleanser, shampoo, toothpaste, perfume, moisturizer and sunblock are available in solid form. And there are non-liquid products available as body wash or breath freshener, or for sanitizing hands, washing clothes or removing makeup. An added advantage is that they don't leak.
For example, tinted lip balms perform double duty as lipstick and moisturizer, and those with an SPF (sunscreen protection factor) provide protection from the sun. The Quebec company, Druide makes a bar soap that triples as body wash, facial cleanser and shampoo. I've tried it, with good results. Many travellers like LUSH for its range of products in solid form. The small shampoo bar "Honey I Washed My Hair" lathers beautifully with only two or three swipes, and with my short hair, it lasts around 50 washes.
The following articles offer concrete strategies and options for paring down cosmetics and toiletries, with specific suggestions on non-liquid alternatives and double-duty products:
Figure out how much you'll need
I've learned that a travel-sized toothpaste lasts almost a month, and 50 ml of my favourite liquid shampoo lasts about six weeks. I can fit enough spiking glue (Schwarzkopf got2b glued) in what must be the smallest plastic travel jar available. It's not efficient to carry around quantities that aren't needed so use the smallest possible bottle, jar or tube for each product. And it doesn't make sense to put 30 ml of product in a 100-ml bottle and have valuable space in a 3-1-1 bag taken up with air.
Set aside samples
Save samples of products you're likely to use while travelling. Sephora, Kiehl's, Clinique and a host of other companies provide free or bonus samples in travel-sized containers.
Collect containers
It's surprising how much space and weight an off-the-shelf product takes up in packaging and empty space. Collect your own unbreakable leak-proof refillable containers and use them to carry favourite products in the desired quantities. Check out dollar stores, drug stores, travel/outdoor stores, and The Container Store. Or, have a look at the wide selection at the eBay seller Bluebonnet Beauty Supplies.
Avoid kits unless they contain a variety of containers of different sizes and functions. Those with three or four 100-ml containers in a plastic case don't necessarily permit the best use of space. Figure out what types of containers you'll need (e.g., spray, flip top, jar, tube, pouch) and approximate sizes, and build your own kit. Some containers work better than others so it might be useful to take them for a "test run" at home. For example, I discovered a container with a flip-top lid worked much better than a plastic jar for moisturizer. The lid on the jar would stick and become difficult to open. One of my travel mates washes her long hair every day and needs more than 100 ml of shampoo for a trip of any length. She likes soft-sided travel pouches, as empty containers roll up, demand very little space and are ready to go for the next travel adventure.
What's available at your destination?
In a word: everything. But there's something to be said about being equipped and ready to go on arrival. Who wants to spend time wading through labels in another language, and searching for sizes that don't add weight and claim more space than they deserve? Discarding a half bottle of shampoo creates a large environmental footprint. If you purchase something locally and plan on not taking leftovers home, pay-it-forward by asking another traveller or local if s/he can make use of it.
Also, find out if any toiletries are available on a complimentary basis where you're staying and factor this into your planning. I've stayed in hostels with soap and shampoo dispensers, and hotels and apartments where toiletries were supplied.
Decant
Products in travel-sized containers cost more, especially in drug stores, and those not saved for refilling can be hard on the environment. Decanting gives you greater control over containers and their contents.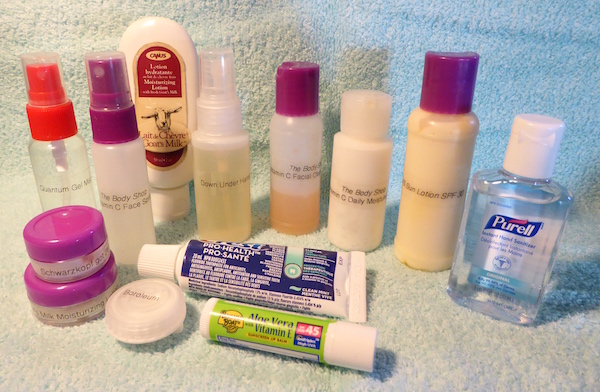 Sometimes, decanting is much harder than it needs to be. Luckily, there are several tools that can help get each product into its new container. A beauty spatula can help pull product out of an "empty" bottle, and a mini funnel can come in handy. Or, it can be lucrative cutting up an almost empty tube of moisturizer to retrieve the sizeable quantity that would otherwise go to waste. Lotion Saver Bottle Couplers come in three sizes to make it a simple task to transfer the contents of one bottle into a new one. If travelling by air, leave a little space for the contents to expand with the changes in air pressure during the flight.
Label containers
Without labels, there's a risk of reaching for body lotion instead of shampoo. Been there, done that. If you don't have a label maker to create durable waterproof labels, look for an affordable kit that comes with them.
Share the load
If travelling with another person, it might make sense to share the combined space and weight of two 3-1-1 bags. Also, identify what products can be shared so that only one container of a particular product is needed.
The bag itself
Most screening authorities stipulate that the bag must be plastic, transparent and sealable. Some jurisdictions specify the type of sealing mechanism as the type found in freezer or sandwich bags (e.g., Australia). Many airports have these types of bags available for passengers. However, in my experience, zippered bags have always passed muster. For many years, my 3-1-1 bag was a repurposed zippered pillowcase packet. It has since been replaced with a Tom Bihn 3D Clear Organizer Cube. With the built-in hook, the Tom Bihn bag converts to a hanging kit. Just in case a screening agent takes issue with the zippered cube, I always carry an empty one-litre freezer bag in my personal carry on.
Place your 3-1-1 bag in an accessible outer pocket so it can be quickly retrieved, and then returned to your bag at the screening checkpoint. Of course for Nexus or Global Entry members travelling through the U.S.A., 3-1-1 bags don't need to be removed from carry-on luggage. To take advantage of this benefit, ensure your boarding pass contains the TSA Pre✓ ® designation.
Leave it packed
It may seem wasteful to have a set of toiletries specifically for travel, but I find it contributes to a much more efficient packing experience. Back home, evaluate what was used and replenish it, as required, for the next trip. A ready-to-go 3-1-1 bag means one less thing to organize. If no travel is planned, wait until something is in the works. It doesn't make sense to carry full containers for a weekend getaway.
What other tips and strategies can you suggest for organizing a 3-1-1 bag? What double-duty or solid products have you found useful?
Some of the links on this page are affiliate links. If you use them to buy something, you don't pay more, but this website earns a small commission, which helps pay the cost of running the site. Thank you for your support.
(Visited 2,087 times, 1 visits today)