How do you assemble a perfect travel first-aid kit, yet still manage to pack light? I don't claim to have the solution for every traveller, but the following steps work for me.
1. Identify what makes a good travel first-aid kit
Each kit is different. A first step is figuring out what you expect of yours. Here are the objectives of mine:
It has what's needed to prevent illness and injuries given the destination, season, activities, and individual health needs.

It contains enough supplies to deal with minor injuries and illnesses until it's possible to get to the nearest clinic or pharmacy.

It has what's needed to manage pre-existing medical conditions for longer than the duration of the trip.

It's small enough, and light enough, to carry at all times.
2. Never packing "what-if" items doesn't apply to a first-aid kit
Packing light travellers advocate never packing "what-if" items.
A first-aid kit is an exception. It's like that travel insurance you hope to never have to use. I never regret returning home with a kit that was never opened, or tossing expired medication that was never used. Instead, I feel grateful to have been blessed with healthy travels.
3. Build your kit from scratch
Assemble your own first-aid kit. It gives you more control over the contents and the container. By all means, look for clues from pre-assembled kits, but there's a good chance an off-the-shelf kit won't meet your needs. Cobble together your own, considering your destination, activities and health needs.
4. Get sound advice
Bloggers and "Doctor Google" are sources of ideas. For advice, consult a professional health care provider. Your family doctor and pharmacist are aware of your health issues, and can suggest compatible OTC (Over-The-Counter) medication. Your pharmacist can also provide suggestions on generic alternatives to brand name products. A travellers' clinic specializes in preparing people for worldwide travel.
5. Help out others, within limitations
Unhealthy or injured travelling companions impact on all members of a group. My first-aid kit has responded to various health issues, and I've been the grateful beneficiary of supplies from another person's kit.
The right supplies in the right quantities add very little weight, and are invaluable if they let you get on with your travels.
6. Adopt packing light strategies
If your kit is large and heavy, you'll be tempted to leave it at home, or back at your accommodation. A first-aid kit should be small enough, light enough and functional enough to be with you at all times.
Look for travel-friendly sizes. Check out truck stops, drug stores and dollar stores for products packaged in small sizes.

Where feasible, choose tablets over liquids, and single-dose blister packs over tubes and bottles.
Visit hiking and outdoor stores, and minimus.biz for single-dose blister packs of OTC medication and first-aid supplies.

Transfer or decant to smaller containers.

Use see-through zip-top bags to separate various products.
Choose a container that slips easily into a day bag. It will need to be waterproof if you're involved in activities around water. Otherwise, carry a spare zip-top bag, or a rain cover for your daypack.

Pack a pocket pill container for storing medication and supplements for use while in transit or on the move.
7. Get prescriptions filled before departure
Your prescriptions are valid only in your home country. Get them filled before leaving home. Pack quantities needed for the duration of the trip, and extra to cover travel delays. Ask your pharmacist for the smallest possible labelled container, and ask for the expiry date to be listed.
Scan the information sheets received with the medication, and take the electronic copies with you. I use the app Scanner Pro.
8. Label everything
Don't separate medication from the manufacturer's packaging. Keep medication in its sealed package or blister pack to protect its integrity, stability, and effectiveness.
The manufacturer's packaging helps promote safe use by providing information on medicinal ingredients, dosage instructions, and expiry dates. It's also useful information to help respond to possible inquiries of border services agents.
Having the medicinal ingredients is handy when trying to purchase additional supplies across a language barrier. If you do separate medication from its box, cut up the box and slip the pieces containing relevant information into a small zip-top bag with the blister tabs.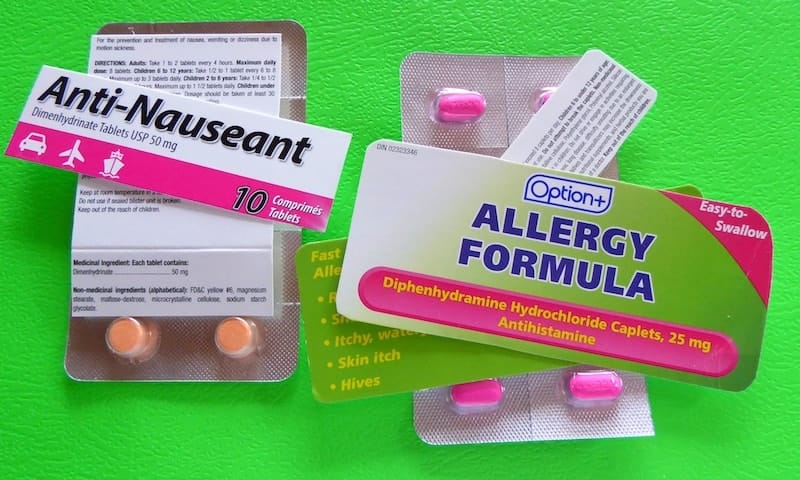 For supplements and probiotics, I find the containers take up too much space. My preference is to leave them in the containers, but depending on the trip, I might transfer them to sealable zip-top bags.
9. Have access to medicinal information and first-aid advice
Before packing or taking any medication, consult an authority site for information and advice.
How should it be safely stored?

What temperatures affect its effectiveness?

Will it cause drowsiness?

What can or can't be taken with it?

Can it be taken on an empty stomach?

What's the suggested maximum dosage within a 24-hour period?
Drugs.com is an excellent resource. The Canadian Red Cross First-Aid app is a useful resource for emergency first-aid advice.
10. Review your kit before each trip
Build in enough time to finalize your kit.

Discard expired medication.

Replenish low supplies, or missing items.

Remove or include destination- or season-specific items.

If travelling with others, lighten the load by sharing supplies across first-aid kits.
11. List kit contents
A detailed list of the contents of your first-aid kit, and those items that complement what's in the kit, can be helpful. Brand names (and their generic equivalents) aren't available in all countries, so it's handy to include the medicinal ingredients of each. Store it in a cloud storage app, or where it's readily accessible on your device.
A list…
keeps you organized when it comes to replenishing or removing supplies;

is helpful when seeking advice from health care professionals;

is useful when consulting with travelling companions on sharing first-aid supplies;

is a reference to avoid overdosing when taking combinations of different medications (e.g., "Tylenol Poisoning" is a real problem; some cold-and-flu medication also contains Acetaminophen/Paracetamol);

enables you to purchase depleted items with the same or similar medicinal ingredients at your destination; and

can be easily updated for future travels.
12. Identify factors affecting kit contents
Take into account your own health needs and previous experience in managing them. For example, here are some of the things I considered for my last trip to New Zealand, Australia, and Southeast Asia. These guided what was packed.
Blister prevention and treatment. It's not uncommon to walk 20 kilometres each day, more than at home. Also, feet change. I bought my shoes a year ago when they were a perfect fit.
Insect bites. In Cambodia, Dengue Fever and Malaria are to be taken seriously. I was visiting in the dry season, but I couldn't rule out being exposed to biting insects. In New Zealand, the sand flies are legendary.
Allergic reactions. I expected my skin to react to a lethal combination of heat, insects and unfamiliar plants in temperatures approaching 40 degrees Celsius. When swimming off the Great Barrier Reef, I anticipated water temperatures of 30 degrees, and the possibility of water-borne irritants.
Sunburn. High temperatures, ozone depletion and long days on a bicycle and motorcycle pointed to the need for adequate protection from the sun.
Motion sickness. The only time I've experienced motion sickness is on confined spaces in fishing boats, or in rough waters. How would I fare for three days on the small cruise boat off the Whitsunday coast of Australia?
Digestive ailments. I take medication for acid reflux. This means that Acetaminophen/Paracetamol (e.g., Tylenol) is a safer pain reliever than Ibuprofen (e.g., Advil). Also, with reduced acid in my stomach, I always expect travellers' diarrhea. I also need to plan for occasional and very uncomfortable heartburn.
Muscle spasms. Lower back strain and extended periods of sustained activity contribute to muscle strain and spasms.
Dehydration. Warm temperatures, prolonged periods of activity or loss of fluids from diarrhea require strategies for remaining hydrated.
Minor scrapes. I planned to cycle in New Zealand, central Australia, and Cambodia when there was a good chance of minor scrapes and abrasions.
Respiratory issues. I have a propensity for a bad case of the 'flu to morph into pneumonia. Would travelling on long flights from a Canadian winter to a southern summer increase the likelihood of contracting a cold or 'flu?
Staying healthy on long-haul flights. Planes harbour harmful bacteria, and long flights increase the risk of Deep Vein Thrombosis. The dry environment contributes to dehydration, dry skin and sore nasal passages.
13. Individualize your kit
In the event it's helpful, here's a list of the contents of my kit, based on the considerations described above, and the advice of my pharmacist.
Anti-diarrhea (e.g., Imodium): Pharmascience Diarrhea Relief (Loperamide hydrochloride 2 mg); MooreBrand Medical Bismuth Anti-Diarrhea Tablets (Bismuth subsalicylate 262 mg)

Antihistamine allergy relief: Option+ Allergy Formula (Diphenhydramine Hydrochloride 25mg)

Anti-itch relief cream: Safetec 1% Hydrocortisone Cream

Anti-motion sickness (e.g., Gravol): Option+ Anti-Nauseant (Dimenhydrinate 50 mg)

Blister prevention and treatment: Dr. Scholl's Moleskin Plus; Moleskin pre-cut and shaped by Adventure Medical Kits; Polysporin Blister Treatment Cushions;

Spenco 2

nd

Skin Adhesive Knit

and a BAND-AID

®

Blister Cushion

Burn relief: Safetec Burn Relief Gel (Lidocaine 2.0% and Aloe Vera)

Cough, cold and 'flu relief: Option+ Flu, Cough & Cold Complete Day and Night (Dextromethorphan hydrobromide 15 mg, Pseudoephedrine hydrochloride 30 mg, Guaifenesin 100 mg, Acetaminophen extra strength 500 mg, Diphenhydramine hydrochloride 25 mg)

Heartburn relief: Zantac 150 Maximum Strength (Ranitidine 150 mg); Tums Extra Strength (Calcium carbonate 750 mg)
Hydration: Medique Medi-Lyte Electrolyte Heat Relief Tablets (Calcium 10.8 mg; Potassium 40 mg; Magnesium 12 mg)
Infection prevention (e.g., Neosporin): Waterjel Triple Antibiotic First-Aid Ointment (Bacitracin Zinc 400 units; Neomycin Sulfate 3.5 mg; Polymyxin B Sulfate 5000 units)
Miscellaneous aids: cotton wool buds (Organyc); cotton balls; tweezers (remove splinters, thorns, ticks, debris); safety pins (remove splinters, thorns, fashion a sling, miscellaneous uses); folding scissors (Fiskars)
Muscle and joint strain: Tiger Balm Red Extra Strength (Camphor 11%; Menthol 10%) in a 0.14-oz jar
Pain relief, fever reducer: Extra Strength Tylenol (Acetaminophen 500 mg); Bayer Aspirin (Aspirin 325 mg)
Wound care: MooreBrand Gauze Pads (2" x 2"); Webcol Alcohol Prep Pads (Isopropyl Alcohol 70%); 3M Steri-Strips; variety of sizes and shapes of BAND-AID®
All these supplies fit in a soft-sided zippered packing organizer measuring 17 x 10 cm (7 x 4 inches) and weighing 188 grams (6.6 ounces).
14. And to complement my first-aid kit…
15. In summary…
Avoid pre-assembled kits. Build your own.

Be strategic. Base kit contents on your destination, season, activities and health needs.

Get advice from health care professionals.

Look for medication and supplies in travel sizes.

Don't separate medication from its packaging.

Know the exact medicinal ingredients of what's in your kit.
With thanks to Adrien Comeau, Pharmacist, Saulnierville Pharmacy, for his helpful suggestions and advice.
Disclaimer: The opinions expressed here are for general travel health information only. It's not a replacement for a personal consultation with your doctor, pharmacist or travel medicine specialist.
If you found this useful, you might be interested in these related posts:
Thoughts? Suggestions? What's in your travel first-aid kit?
Pin for later?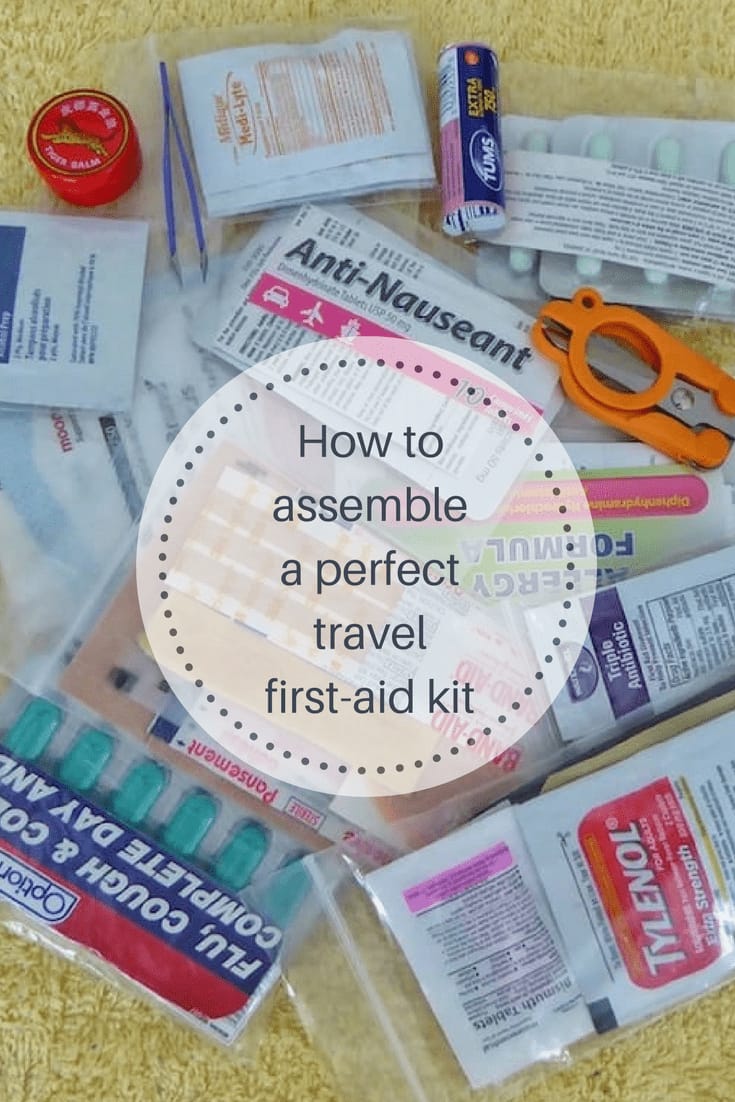 The Amazon links on this page are affiliate links. If you use them to buy something, you don't pay more, but this website earns a small commission, which helps pay the costs of maintaining the site. So, thank you.
SaveSave
(Visited 177 times, 1 visits today)