Updated December 23, 2017
If you could foil pickpockets, fashion makeshift packing aids, or repair travel gear with a few items weighing next to nothing, would you be tempted to add them to your packing list? If so, maybe you need a MacGyver kit for travellers.
Why "MacGyver?"
In 2015, the Oxford Dictionary added the verb MacGyver. It means to make or repair (an object) in an improvised or inventive way, making use of whatever items are at hand. MacGyver was a creative and inventive fictional TV character from the late eighties. He crafted ingenious solutions using ordinary objects to solve problems or get out of a jam.
"Just-in-case" and "what-if" items don't appear on many travellers' packing lists. My MacGyver kit weighing just 50 grams (less than 2 ounces) more than justifies its place on mine.
MacGyver kit contents
Sewing kit. One needle and some clear (also called monofilament or invisible) thread are all that's needed. Skip the kits with several needles, threads of different colours, and assorted sewing aids.
Plastic-coated twist ties. Secure zippers or luggage tags, tame charging cords, or fasten a loose button. Use as a temporary shoelace, or to replace a screw in eyeglasses.
Duct tape. Leave the roll at home and pack a small amount by wrapping it around a sturdy core. Travelling with duct tape describes the many uses of this versatile item.
Dental floss. It's strong enough to use as a shoelace, fishing line or clothesline. It's stronger than thread, useful for mending jobs requiring a tougher approach. Fix eyeglasses after the screw holding the frame together goes missing. Repair a broken necklace or bracelet. Fasten a piece of cloth to a leaky tap or shower head to silence an annoying drip. It can substitute as a knife for cutting cheese, fruit, hard-boiled eggs, bread or pastries.
Elastic bands. Carry a selection of various lengths and widths. Use them to secure one or more pieces of rolled clothing. Fashion a safety strap for eyeglasses, or a gripping handle for a hiking stick. Make an impromptu strap for attaching things to your wrist or ankle. Use one as a bookmark, or to constrain charging cords.
Paper clips. They're useful for more than keeping travel documents together. Use one as a money clip to keep currency organized. When used as a bookmark, place it at the side of the page to quickly find what you're looking for. Open up a paperclip and use it as a tool to remove hair from a brush. Use one as a SIM card remover. Unclog a spray bottle, or a salt or pepper shaker.

Hair elastics. These come in different lengths, widths and colours. They're sturdy aids for keeping something contained or bundling items together.
Safety pins. Carry a few different sizes for making a fishhook, or anchoring a zipper to foil pickpockets. Join curtains to shut out the light for sleeping. Fashion a temporary repair to a tent, bag or clothing.
Stretch utility straps. With Velcro at both ends, these straps compress rolled clothing beautifully. Or, bundle items together to take up less space. Tighten wide sleeves at the wrist to keep out the cold. Strap pants to boots to keep out insects or leeches. Wrap around trousers to keep the fabric free of a bicycle chain. At Dollarama, they're sold as a pair in two different lengths – 12 or 18 inches (30 or 45 centimetres).
Key strap. With a swivel hook at both ends, a key strap tethers one or more objects to internal hardware inside bags and clothing. Mine come from Tom Bihn.
Zip-top bags. Dirty clothes hamper, icepack, camera raincoat, camera incubator to prevent condensation, food and snack storage, packing cube, outfit organizer, nausea bag, reusable wet wipes dispenser, space saver, 3-1-1 bag, wet swimsuit bag, washing machine, currency bag, leak-proof and waterproof storage unit, file folder… the possibilities are endless, making them very handy indeed. Pack several, of different sizes.
Carabiners. A durable carabiner is strong enough to attach a daypack to a backpack, or carry several bags of groceries. A locking mountaineering carabiner can be a deterrent to opportunistic thieves. Use one to secure belongings to stationary objects.
There are lightweight versions of carabiners, S-biners and cable key rings with screw locks. These are useful for attaching lightweight items such as shoes, sunscreen, cap, water bottle, travel mug, flashlight, compass or wet bathing suit to a backpack, belt loop or purse. Those that are difficult to open are useful for securing adjacent zipper cords on bags to deter pickpockets.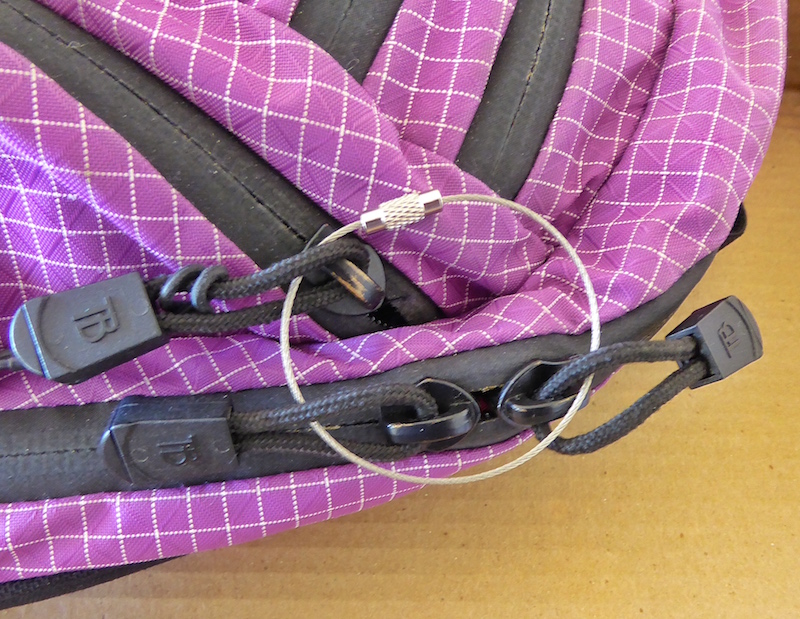 They can also be used for hanging wet or dry clothing… or, attaching anything to anything else, just about anywhere.
If you found this post useful, you might be interested in Cruise dollar store aisles for travel products and My favourite travel gear hacks.
Do you have a MacGyver kit for travellers? If so what does it contain? What additional uses have you found for the items in my kit?
Care to pin it?
Some of the links on this page are affiliate links. If you use them to buy something, you don't pay more, but this website earns a small commission, which helps pay the cost of running the site. Thank you for your support.
SaveSave
SaveSave
(Visited 1,069 times, 1 visits today)