Shopping for a travel adventure doesn't have to be a purse-emptying experience. If you know how to cruise dollar store aisles for travel products, it's surprising how many items you'll be able to scratch off your packing list. And if you love travel gear hacks, feed your creative spirit by figuring out new uses for stuff on dollar store shelves. Looking for inspiration? Let's get started.
Hair clips. These little beauties are one of my favourite travel gear hacks. They're fabulous at keeping electrical cords organized. No more fighting with twist ties, as a simple release provides access. Leave the clip attached to the cord while in use and it'll never go astray. Placing a different colour on each cord makes it easier to grab the right one at a glance.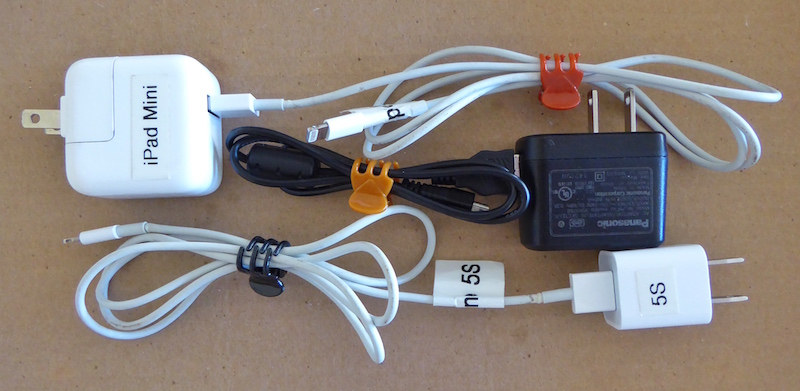 Notebook. A notebook and pen are "old school" but ideal when using paper is preferable to using a phone. As I leaf through my little notebook, I see recommendations from other travellers, and names and email addresses of people I've met. There are directions to a difficult-to-find hostel deep in a Moroccan medina, mud maps of cycling routes, and notes made during conversations with locals. Seeing handwriting of countless individuals brings back fond memories of each and every encounter. Electronic devices are great for making notes but sometimes, good old pen and paper can't be beat.
Folding scissors. I've carried one of these handy little tools on many trips, and had a pair confiscated just once at an airport screening checkpoint in Singapore. It doesn't hurt as much to lose the dollar store variety.
Stretch utility straps. With Velcro at both ends, these straps compress rolled clothing beautifully, or bundle items together to take up less space. Tighten wide sleeves at the wrist to keep out the cold, or tame long trousers at the ankle to keep the fabric free of a bicycle chain. Strap pants to boots to keep out insects or leeches. They're so versatile, you'll want to pack a few on every trip. At Dollarama, for some reason, they're located in the automotive section. Each pair comes in a choice of lengths – 12 or 18 inches (30 or 45 centimetres).
Three-ply tissues. Travel packs of tissues (they have to be three-ply) double as emergency toilet paper. I wouldn't dream of venturing out without some in the comfort pack in my day bag.
Currency sleeves. Durable closeable sleeves the size of banknotes can usually be found in dollar stores. Or, make your own non-closeable variety by cutting the desired size from one of the corners of a plastic page protector. These keep banknotes organized by currency, and notes remain dry when they're close to the body in a security pouch.
Craft bags. Zip-top craft bags are perfect for keeping small items organized and protected – microfibre wipes, tablet towels, cord clips, spices, coins categorized by currency…
Hair elastics. Elastic bands are handy, but their life expectancy is too short. Hair elastics come in different lengths, widths and colours, and are sturdy aids for keeping something contained or when bundling items together.
Self-sealing padded envelopes. These can be handy as packing materials for souvenirs. Or, pack a few pre-addressed envelopes if you expect to be mailing things home. They could also be used for protecting and camouflaging a tablet or laptop.
Duct tape. Pack a small amount. Make a key fob, or wrap some tape around a plastic hotel key or depleted gift card. Check out Travelling with duct tape for the many uses of duct tape when travelling, and how to make a key fob or card.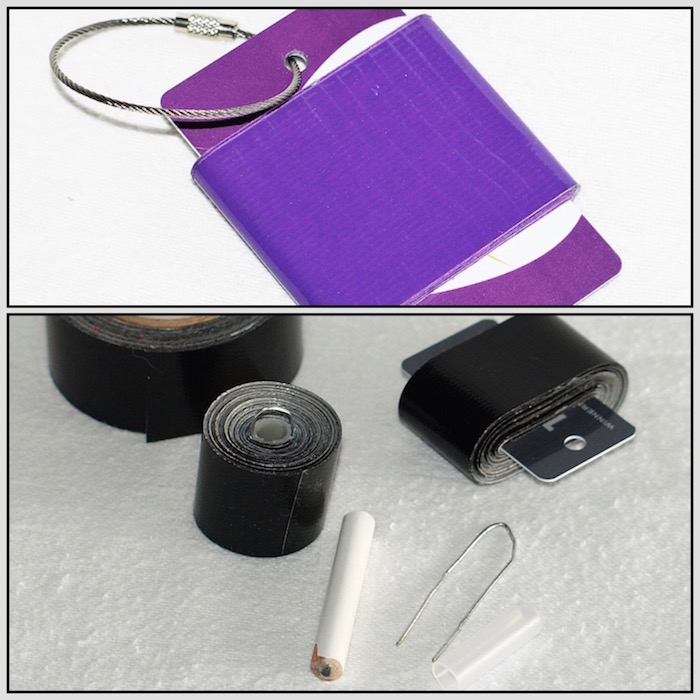 Travel-sized toothpaste. It's usually cheaper than what you'll find at a pharmacy. Purchase brands you trust, and check expiry dates.
Self-laminating cards. Make your own luggage tags with a kit containing self-laminating cards and silicone straps. Or, look for the version for laminating business cards; in my local dollar store, a pack of 50 costs $3. These are perfect for creating your own emergency contact cards, or laminating an existing card. For example, I can download a credit-card-sized card with the contact information of the nearest embassy or consulate to my destination. My emergency medical insurance provider has a downloadable card for carrying with me on my travels. Both of these will last longer if they're laminated. But most importantly, I like to create my own emergency contact cards. They contain:
my name;

country of citizenship and passport number;

emergency contact numbers for consular services, financial institutions, and ICE (In Case of Emergency) contacts; and

emergency medical insurance policy number and toll-free number.
On my last trip, I carried four copies – one in each of my two bags next to the laminated copy of the information page from my passport, one in my wallet and the other in my passport sleeve. Overkill? Perhaps, but chances are one of these will always be accessible to myself (or others if I'm not in a position to speak for myself).
Emergency cash stash. Create hiding places with secret pockets in bags or clothing, or hide cash in plain view in unlikely containers. For each place, choose a single undamaged note in a currency and denomination that will be easy to change in an emergency. Protect notes with a craft bag or cling wrap if they're likely to come in contact with moisture, or residue from the container's original product. Look for possibilities on dollar store shelves. Dental floss? Band-Aid dispenser? Lip balm? Travel-sized deodorant? There are lots of possibilities.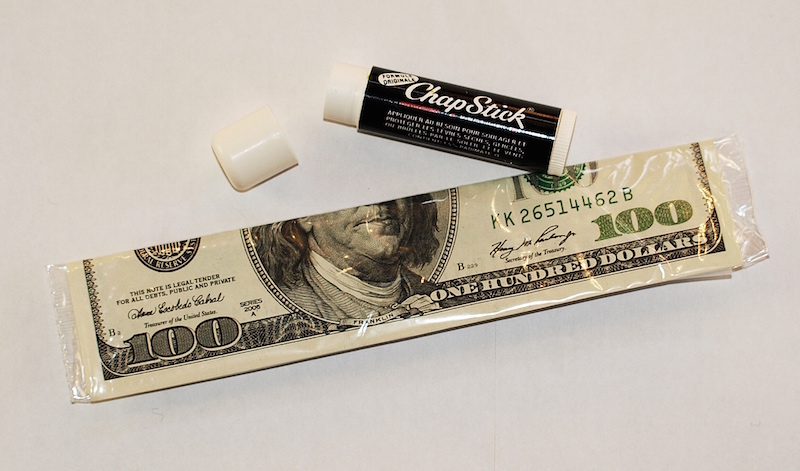 First-aid supplies. Assemble a basic first-aid kit for carrying in your day bag. Pick up over-the-counter medication such as Advil or Tylenol in travel sizes. You'll also find alcohol wipes, surgical tape, plasters and miscellaneous items. When updating your kit, discarding expired items hurts less if they've been purchased at dollar-store prices.
Soap leaves. Travelling with soap leaves fills a need in situations demanding bar or liquid soap and there's none available. These are so handy that a small case of 50 soap leaves has earned a permanent place in the comfort pack in my day bag. At travel stores, packs of 50 soap leaves cost almost $5. Coleman soap sheets are available at my local dollar store for a little more than a dollar.
Tablet towels. These little babies are about the size of two Lifesaver candies. Drop one into some water and watch it explode into a durable washcloth. They're great for freshening up, wiping spills, or cleaning cuts and scrapes. Before venturing out, have one or two fully expanded in a small craft bag ready for instant use. They're durable enough to be used over and over.
Country-specific souvenirs. Pencils, erasers and stickers make great gifts for children. Any item displaying an easily recognized country-specific emblem facilitates conversation and positive contact. You'll be rewarded with a smile and a great photo. As an aside, Canadians can obtain a supply of maple leaf lapel pins from the office of their local Member of Parliament. They're a hit with people of all ages.
Packing organizers. For packing-organizer devotees, check out cloth pencil cases, plastic filing envelopes, and bags designed for cosmetics and laundry. These can be viable alternatives to the more expensive versions from travel stores.
Wet wipes. Look for travel packs that reseal, or a box of individual wipes in blister packs.
Denture cleanser tablets. Cleaning a refillable water bottle can be a challenge when travelling. Wash it out with warm soapy water as often as possible. Once a week, sanitize it with an effervescent denture cleanser tablet.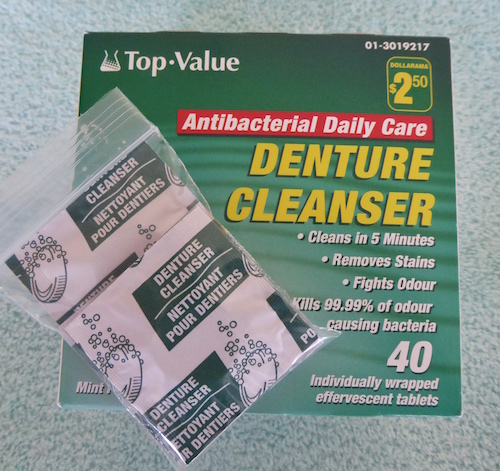 Travel bottles and jars. Look for the kits with a variety of containers of different shapes, sizes and functions for decanting your favourite toiletries and cosmetics. Or, check out the contact lens cases. They're great for products where a little goes a long way. Cut the case into two separate containers and they'll squeeze perfectly into a corner of your 3-1-1 bag or comfort pack.
Dollar stores make seasonal rotations of merchandise on a regular basis. For example, at my local dollar store, soap leaves are only available during the summer with camping supplies, and "Canadiana" prior to Canada Day.
How have you used dollar stores for travel purchases? What additional products or uses have you found?
(Visited 2,759 times, 1 visits today)