How do you find Aeroplan flights? If you punch in your round trip or multi-city destination and dates, chances are you'll be offered flights with hefty taxes, fees and surcharges. They can be as much as the cost of a revenue ticket!
There's a better way. Get behind those initial offerings to find the sweet spots in the Aeroplan inventory. They're there. Finding them takes time, and a little Aeroplan know-how.
Ready to get started? Good. I'm currently searching for spring flights from Canada to Europe. I'll use my trip as a case study to illustrate the steps I generally follow to redeem Aeroplan miles.
Case Study
Case Study: It's now December 2017. I'll be travelling to Europe between mid-March and mid-April of 2018.
My home airport is Halifax. I'll be visiting Malta and Italy. I'm leaning towards an "open-jaw" redemption. This involves flying into one airport, and returning from another. In my case, it would mean flying into Malta, and flying home from Italy. According to Aeroplan rules, an open jaw between two continents allows for one stopover. This is an advantage if you'd like to take a rest from a long flight. Or, perhaps you'd like to visit another place on the way out, or on the way back. It's also useful if you'd like to extend your stay in a city where you're forced to stay overnight. Onward flights aren't always available at convenient times.
Malta is in the Europe 2 zone. It will cost 75,000 miles to travel in economy, or 90,000 miles in premium economy. Business class costs 115,000 miles, and 160,000 miles are needed for first class.
Finding Aeroplan flights: a step-by-step guide
Step 1: Gather your tools
Having access to the right tools will save you money and time. Here are the ones I currently use.
Mileage chart. The Aeroplan Flight Rewards chart shows how many Aeroplan miles you'll need if you're using Fixed Mileage Flight Rewards. They're categorized by destination, and choice of cabin.
Your Aeroplan account. You'll need to log in to your online account to search for possibilities. If you'll be travelling on another person's miles, you'll need to be an authorized user on that account.
Aeroplan Contact Centre. Program the toll-free number into your phone (1-800-361-5373). Set up your Contact Centre PIN. Enter your Aeroplan number at the beginning of the call.
Map. A map shows your destination and what's nearby. Google Maps is a good choice. Ground transportation, budget airlines, or other frequent flyer programs could be used in tandem with your redemption.
Calendar. Hopefully, you have flexibility with dates. Some airlines don't have daily flights on some routes. Weekend schedules and award availability can be different from what's offered during the week.
Your other frequent flyer programs. These might help you get to a hub offering an attractive Aeroplan redemption. It's also an opportunity to integrate another stopover. Air Miles? Use it as a secondary program to reach a hub, and enjoy another stopover. British Airways' Avios? Avios miles are excellent for short-haul flights with OneWorld airlines.
Your hotel loyalty programs. Award travel often requires overnight accommodation en route.
List of Star Alliance airlines. Divide your list into two groups. Separate airlines with fuel surcharges from those without. Some people put LOT Polish into a category on its own because of its low fuel surcharges. See my list in a previous post, Minimizing Aeroplan taxes, fees and surcharges.
Countries that regulate fuel surcharges. A good resource is Prince of Travel's Which Countries Regulate Fuel Surcharges?
Star Alliance Flight Map. The map is searchable by destination, and specific carriers. It will help you focus your search efforts.
FlightConnections. This is another tool for airline routes. An attractive feature of FlightConnections is that it shows which days of the week an airline offers flights.
Great Circle Mapper. Use Great Circle Mapper to calculate the total mileage of your award flights. Knowing which routes exceed Aeroplan's MPM (Maximum Permitted Mileage) is a huge timesaver.
List of airlines serving your departure airport and nearby hubs. Getting to know the routes of the airlines without fuel surcharges will save you lots of search time. Create a "semi-permanent" record showing routes, and usual flight times.
IATA codes. Get to know the airport codes, and use them when searching and recording your results. It'll save you time. It will also reduce the possibility of mistakes involving cities with more than one airport.
Flight search sites. Know the value of a revenue ticket. A good starting point is Google Flights. Google Flights can also be used to research routes, using the Star Alliance filter.
SeatGuru. Where you have choices of routes and airlines, the seat maps at SeatGuru might help you decide. It's also useful for getting a picture of unfamiliar aircraft. In the case of smaller regional planes to and from a major hub, it's a quick way to confirm whether or not there are business class seats.
RouteHappy. Once you've found availability, RouteHappy provides a quick overview and rating of what to expect of the in-flight experience. It can help you choose one flight over another.
Recording tools. You'll need to keep track of your research. Spreadsheet? Pen and paper? To avoid a disorganized mess of assorted notes, I've developed a couple of tables in MS Word. To find connections for my "last possible flight home," I've used post-it notes to create a mind map. Now that I see it as an image, it looks a little lame. At the time, seeing my options in this way helped.
Step 2: Think about what your flights are worth
When it comes to air travel, how do you determine "worth?" How much emphasis do you place on monetary value? How much value do you attach to convenience, such as friendly departure, arrival and connecting times? What's it worth to you to have access to premium seating and airline lounges? What value do you place on the ability to add stopovers, as allowed by Aeroplan's stopover rules?
What are the costs, flight times and benefits of an economy class revenue ticket? Are seat selections per segment included in the price? What are the costs and benefits of a business class ticket on the same route? Is the free carry-on allowance 7 kg, 8 kg, or 10 kg? What are the allowances and fees for checked baggage? What are the change and cancellation fees?
The more information you gather will position you to choose between a revenue ticket and an award ticket. All things considered, you might decide that it's better to save your miles for future travel.
Case Study: Do I burn 115,000 miles for the luxury of business class? Or, do I redeem 75,000 miles for an economy class ticket, and use the other 40,000 miles for a future trip to Central America? Or, will I pay cash, and save the miles? A ticket from Halifax to Malta, and Rome to Halifax costs a minimum of $1072 in economy class. It costs at least $4905 in business.
Step 3: Know how your costs add up
Award travel isn't free. Costs consist of the following:
Aeroplan miles
Aeroplan miles are a travel currency. They depreciate with time. With the AIMIA/Aeroplan divorce with Air Canada effective June 2020, Aeroplan's future is uncertain. AIMIA will undoubtedly forge partnerships with other airlines, and the value of Aeroplan miles may change. Depending on where you live, it might be more difficult to redeem miles to and from your home airport. I don't think it's a great time to sit on a stack of Aeroplan miles.
How are Aeroplan miles valued? Some people use various approaches to create a "cents-per-mile" (CPM) value. Others work from the perspective that the more an equivalent revenue ticket costs, the more value you're getting from your miles. This is why many miles-and-points aficionados use them for business or first class redemptions.
Booking fee
If you're able to book online, there's no fee. The Aeroplan site can handle more complicated searches, but it doesn't have the capacity to book them. For these, you need to book through an agent. The service fee is $30 plus tax.
Taxes, fees and surcharges
When you search on Aeroplan, you'll see an itemized list of the taxes, fees and surcharges. It appears in the search results if you click on > DETAILS > SELECT > Taxes, fees & surcharges.
Fuel surcharges
Fuel surcharges appear as "carrier surcharges." In points-and-miles circles, they invoke reactions ranging from distaste to disgust. They're commonly referred to as "scam charges." In the industry, they're known, and coded, as "YQ/YR" charges. For the most part, they're avoidable. Avoid flying on airlines that have them.
Air Canada has fuel surcharges. Depending on where you live, it might be impossible to avoid Air Canada. If so, use Air Canada only for your first and last flights to and from a nearby hub within North America. From the hub, look for a Star Alliance airline without fuel surcharges. That way, the fuel surcharges due on the Air Canada segment(s) either disappear or are reduced to $15.
Here's an example, using Istanbul to Halifax via Toronto.
The Toronto to Halifax segment with Air Canada attracts a fuel surcharge of $42. The total in taxes, fees and surcharges amounts to $83.76.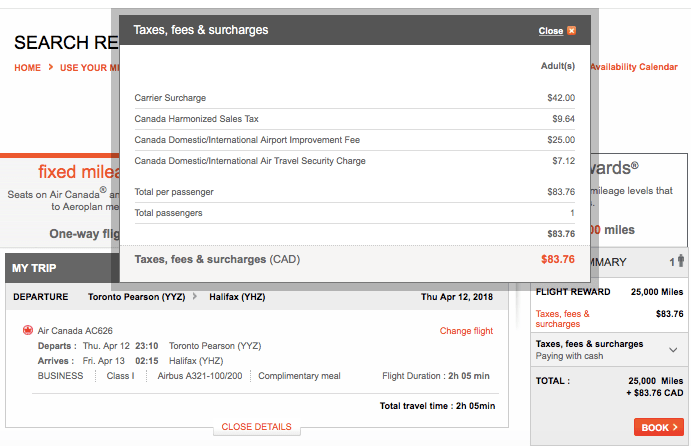 When Aeroplan joins the two segments (Istanbul to Toronto, Toronto to Halifax), the fuel surcharge disappears. You'll also notice that taxes and fees are reduced to $23.62.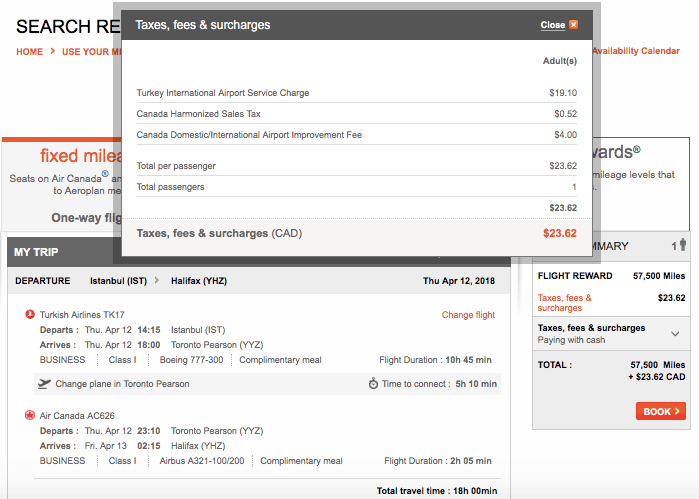 Taxes and fees
These are unavoidable. They include government-imposed charges for services such as airport security and navigation, or to fund airport improvement. But, they can be minimized.
Where possible, choose airports and countries with low taxes and fees. As you saw in the screenshots above, Istanbul has a "Turkey International Airport Service Charge" of $19.10. That's the extent of the taxes and fees when departing from Istanbul. On the other hand, departing from Heathrow on the same date to the same destination costs $340.30 ($264.30 + $76.10). With Air Canada's fuel surcharge of $244.80, the total in taxes, fees and surcharges is a whopping $585.20.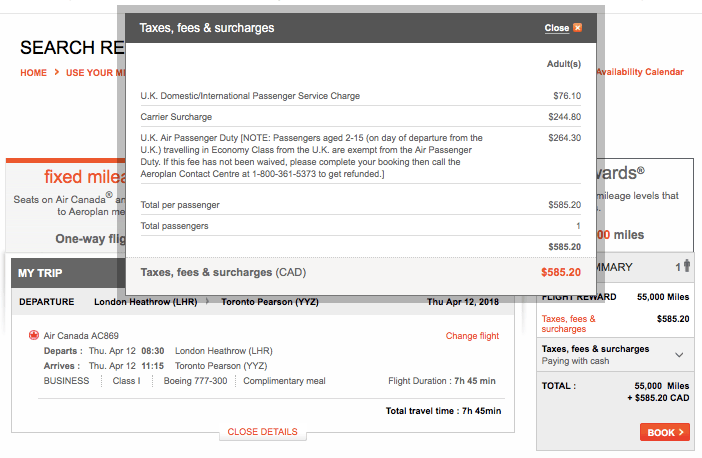 Some countries have lower taxes and fees, compared to others. For example, travelling through Germany, compared to Switzerland, will attract higher taxes and fees.
Case Study: Given AIMIA's uncertain future, I'll redeem Aeroplan miles. I'm leaning towards business class. I detest fuel surcharges. To minimize them, I'll need to get behind the noise of so many Air Canada and Lufthansa flights in the Aeroplan inventory. I'll focus on routes served by airlines without fuel surcharges. These are Brussels, SAS, SWISS, Turkish Airlines, and United. I'll avoid connections through Germany, unless a stopover in Munich takes my fancy. I love Turkish Airlines. However, given that my destination is Malta, I might run into trouble with MPM by flying through Istanbul.
Step 4: Picture your trip in segments
Most successful redemptions involve searching in segments. Think of segments as having a beginning, an end, and those in between. Or, picture them as a one-way string of flights from your departure airport to your destination. Visualize a similar sequence of separate flights for the trip home.
Step 5: Keep MPM in mind
MPM is an abbreviation of "Maximum Permitted Mileage." For an itinerary to be valid, the total distance of your award ticket must be within Aeroplan's MPM limit. If your routing exceeds Aeroplan's MPM value, their system can't book your trip. By applying an MPM lens to your searches, you can avoid wasting time on unbookable itineraries.
If you fall within the following groups, you need to keep MPM in mind:
Part of your journey requires flying in the opposite direction to your destination in order to reach a major hub.

Your destination has limited service, and you need to be creative in finding indirect routes. It might require overshooting your destination and backtracking, or zigzagging to find a route.

You want to add a stopover that deviates from a relatively straight line to your destination.

You like to find MPM sweet spots, and push the limits on squeezing the greatest distance possible from the award chart.

You're searching for a round-the-world redemption.
Early in your search, some obvious routes will start to appear. To find out if they're viable, calculate their total mileage using the tool Great Circle Mapper. Insert a string of airport codes of a likely itinerary in the search box, separating each one with a hyphen. Click on either the Map or the Distance button to reveal the total mileage.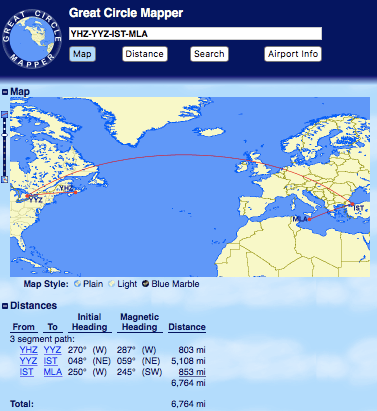 To find Aeroplan's MPM from your point of departure to your destination, call the Aeroplan Contact Centre. Or, conduct a dummy search of flights to your destination. Any one of these three posts will describe how to do it:
Case Study: Minimizing fuel surcharges on routes to Europe, from Halifax, usually requires backtracking to Montreal or Toronto. In addition, there are a limited number of routes serving Malta. For example, there's a "zigzag" route via Copenhagen or Stockholm, or a "backtrack" route through Istanbul. These factors can lead to MPM issues.
As you can see from the above screenshot, a Halifax-Toronto-Istanbul-Malta itinerary has a total distance of 6764 miles. This exceeds Aeroplan's MPM of 6624 for Halifax to Malta. This was the value I obtained from an agent at the Aeroplan Contact Centre. The dummy search described in the posts above revealed an MPM value of 6614. Close enough. If in doubt, speak to an Aeroplan agent before wasting time on an invalid itinerary.

Changing the routing slightly to travel through Boston makes a difference. A Halifax-Boston-Istanbul-Malta route reduces the mileage to 6097. Also, if I want to travel through Copenhagen or Stockholm, I'll need to connect through Boston. Connecting through Toronto will likely exceed the MPM. Zurich is on a relatively straight line between Eastern Canada and Malta. So it's unlikely I'll run afoul of Aeroplan's MPM by connecting through Zurich.
Step 6: Know your departure airport's airlines
Which Star Alliance airlines, without fuel surcharges, serve your departure airport? Where do they fly?
For example, United connects Edmonton and Houston. There's a direct flight from Vancouver to San Francisco or Chicago with United. EVA Air offers a direct flight from Toronto to Taipei. From Montreal, you can fly SWISS to Zurich, Air China to Beijing, and Turkish Airlines to Istanbul. These are nuggets if there's award availability.
Keep a semi-permanent record of the airlines, routes, flight schedules and usual departure times. I use a printable table for this purpose. It makes searches more focused, and saves lots of time. My go-to tools are FlightConnections and Google Flights. Use the built-in filters such as "Star Alliance" on FlightConnections, and "direct flights" on Google Flights.
It's important to know flight schedules. Why spend time searching for availability for an airline that doesn't fly every day? For example, earlier this month I enjoyed a wonderful Air China flight from Havana to Montreal. It has just one flight a week on this route. Knowing this saves a pile of research time. My go-to tool for this "Intel" is FlightConnections.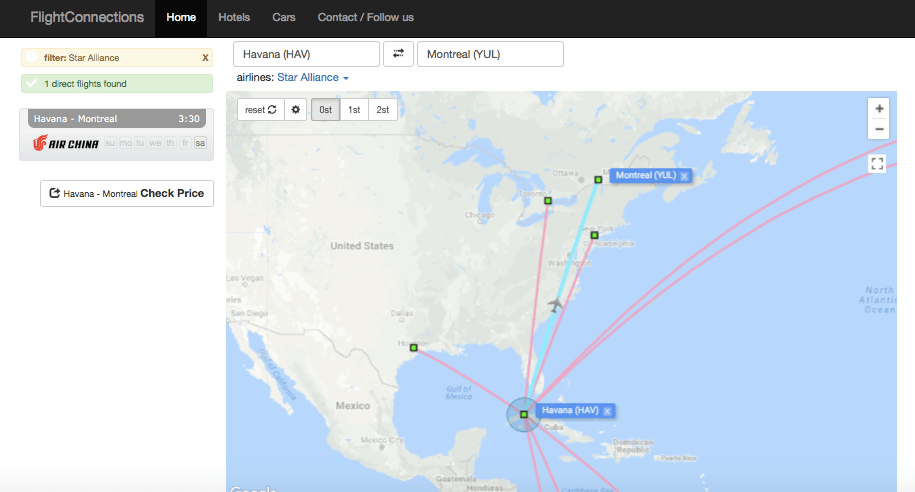 However, if you find a route with loads of potential, don't rely on FlightConnections. The information could be outdated. Just in case, check Aeroplan availability on other dates.
Case Study: United is the only Star Alliance airline, without fuel surcharges, flying out of Halifax. It offers a direct flight to Newark, New York on a small aircraft offering economy class only. I also maintain a record of airlines without fuel surcharges serving Montreal, Toronto and Chicago. More often than not, these are my go-to hubs for Aeroplan redemptions. Boston is another option, using Air Canada's direct flight from Halifax. It, too, uses a small plane with economy seats only.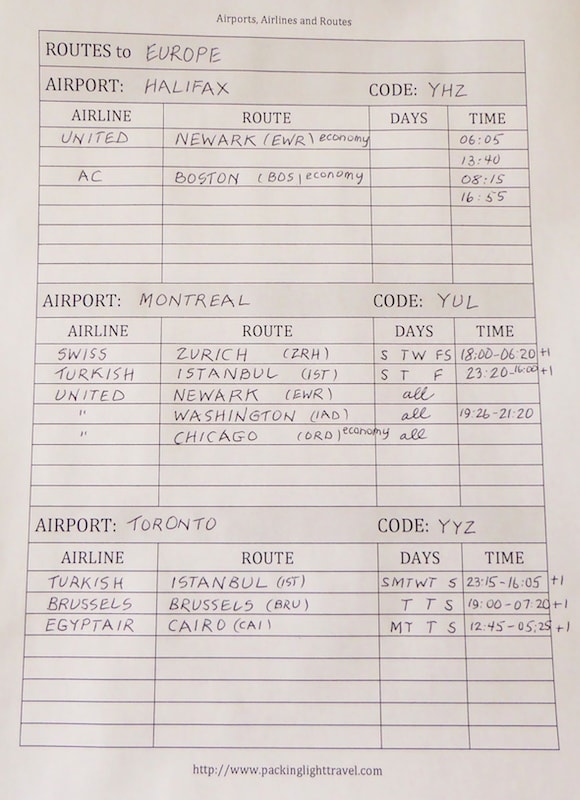 Step 7: Identify routes from your destination
Yes, "from" isn't a typo. Let's work backwards, by exploring options for the "end" segment. This is especially important for an unfamiliar destination (such as Malta). It might not be served by a Star Alliance airline. Or, it might be an airline with fuel surcharges. If so, you'll need to know what's the closest hub.
My favourite tool is FlightConnections. Click on the airline alliance filter and select "Star Alliance." Enter your destination to generate the map showing the routes with direct flights. Click on each connecting city to find out which airlines operate on that route, and which days of the week they offer service.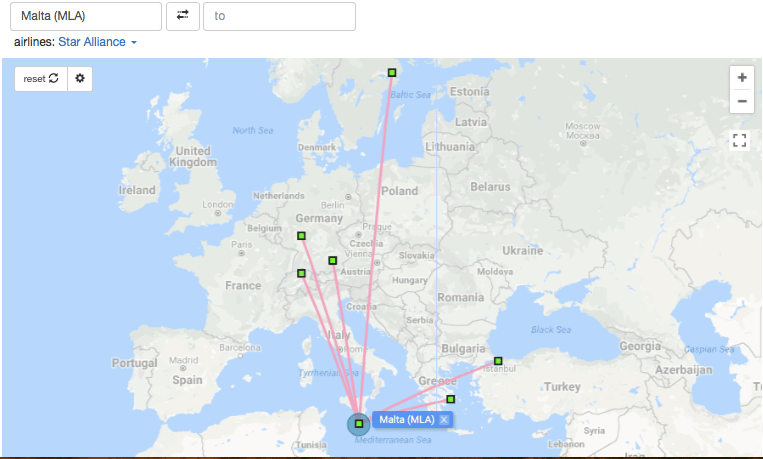 Or, consult the Star Alliance FlightMaps. Use the zoom feature (+) to locate your destination. Click on the destination. When the information box appears, click on Departing from _____: > Show destinations. This will generate results on a map, and as an expanded list in an information box (Departures List Results).
Case Study: There are direct flights to Malta from Stockholm (SAS), Copenhagen (SAS), Frankfurt (Lufthansa), Munich (Lufthansa), Zurich (SWISS), Athens (Aegean), and Istanbul (Turkish Airlines). Of the five airlines serving these routes, only one has fuel surcharges (Lufthansa).
Step 8: Conduct a search of the "end" segment
Segment searches reveal availability. Each option displays flight times, cabin, and type of aircraft. Also, it gives some idea of what taxes, fees and surcharges might be due on the entire trip.
The other great thing about segment searches is that they reveal the possibilities for stopovers.
Visit the Aeroplan site and conduct segment searches of routes revealed in the previous step. Record the results of your research in case you need to search over several sittings. Going over the same ground a second or third time will drive you crazy. Figuring out your recording tools is an important piece of award travel.
Case Study: It became clear that Zurich and Istanbul were my best options. Copenhagen was a possibility. The end segment looked like Zurich to Malta with SWISS, Istanbul to Malta with Turkish Airlines, or Copenhagen to Malta with SAS.
Zurich to Malta seemed the most viable. That's where I started, using a search window of Sunday to Saturday. I recorded availability in the bottom section of my three-segment table. The other two sections were kept vacant for connecting segments.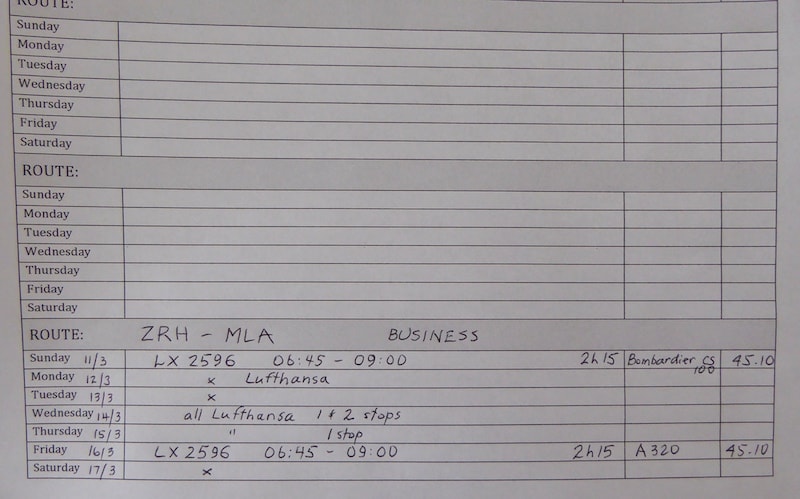 Step 9: Research availability on the first segment
Revisit the possibilities described in Step 6. If you have a good handle on the choices from your home airport, you'll know where to start.
Case Study: With my "semi-permanent" picture of routes from my home airport and nearby hubs, the connections with the "end" segment became obvious. With my MPM dilemma, Halifax to Boston became an attractive "beginning" segment. From Step #6, I know that Boston has direct flights to Copenhagen, Zurich and Istanbul.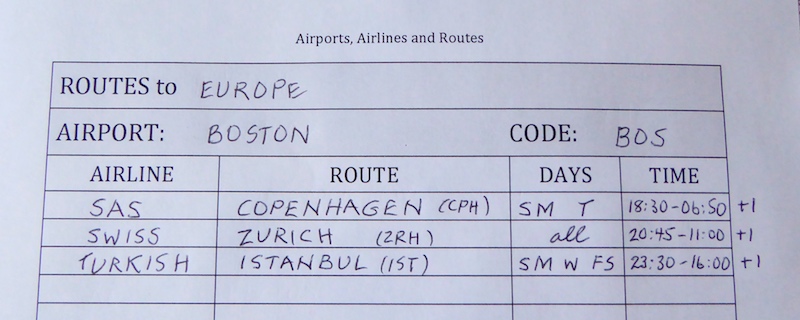 In Step #8, I started my segment search with Zurich to Malta. On the same chart where I recorded availability on that route, I recorded Halifax to Boston availability in the top section. This leaves the middle section to record research on the "middle" segment, Boston to Zurich.
My Halifax-Boston research revealed a few options to catch a late afternoon flight. This enables me to make the three-hour drive from home to Halifax, without incurring the costs of overnight accommodation in Halifax. This is a bonus, if there's availability on the late-night direct flight from Boston to Zurich.
Step 10: Research the "middle" segments
Now it's time to link the first segment with the end segment (if they don't already connect). Work forwards or backwards. It's your choice. However, if there's more than one middle segment, search for the longer one first, especially if it crosses an ocean. The Star Alliance FlightMap and FlightConnections are your tools. Keep your list of Star Alliance airlines handy, specifically those without fuel surcharges.
Case Study: From a previous step, I knew that SWISS flies Boston to Zurich every day. At the Aeroplan site, I searched availability for all days in my 7-day search window. The results were recorded in the middle section of my recording tool. I now had my options for Halifax-Boston, Boston-Zurich and Zurich-Malta recorded on the same one-page chart.
Step 11: Join the "beginning," "middle," and "end" segments
If the miles-and-points goddess is in your corner, you'll have what you need to create a viable outbound itinerary. With options for each segment recorded on the same chart or Excel spreadsheet, you'll easily see how they might connect.
Case Study: The Halifax-Boston late afternoon departure connected beautifully with the Boston-Zurich overnight flight. Zurich-Malta was a different story. Fortunately or unfortunately, the times were such that an overnight stay in Zurich couldn't be avoided. I saw it as an advantage, and booked my flights to include a two-night stay in Zurich using Aeroplan's free stopover rules.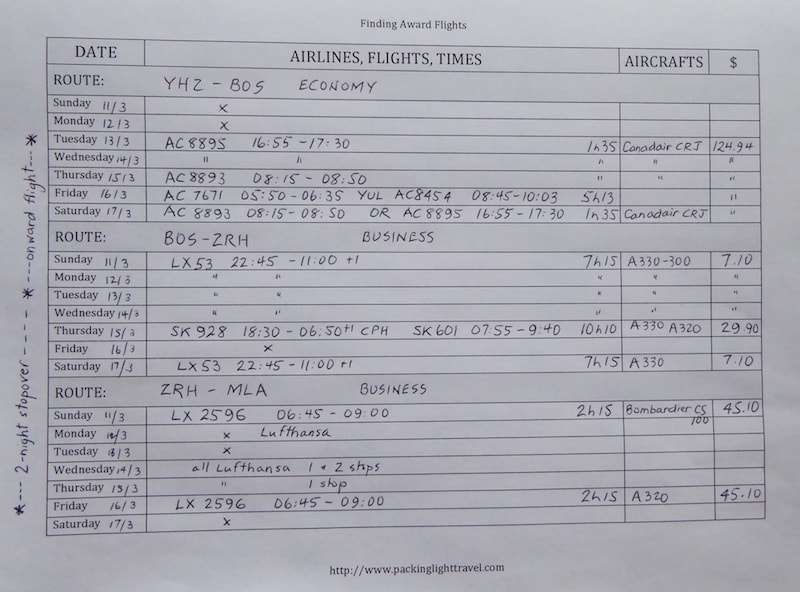 Step 12: Rinse and repeat
Now, work on the return leg. If you're booking a return redemption, start by looking at the same segments you found for the outbound flights. Or, perhaps you'd like to experience different airlines on different routes with different stopovers. In any case, follow the same process described above to construct your string of segments.
Consider stopovers. Check the stopover rules. Chances are you can have two stopovers on a return redemption (one in each direction, or both in the same direction).
Case Study: I'll be in the northern region of Italy. I could leave from Florence, Bologna, Milan or Rome. Or, I could use a budget airline to reach another departure point offering an attractive Aeroplan redemption. I've lots of British Airways' Avios points so that could be a means to reach an attractive departure airport and enjoy a "free stopover."
I played around with my options and eventually went with an Aeroplan departure from Rome. I found a workable itinerary using Rome-Zurich and Zurich-Montreal with SWISS.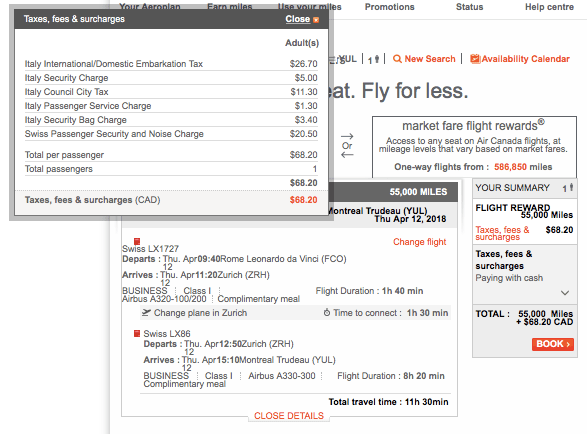 Unfortunately, Air Canada failed to cooperate for the home stretch. This has happened so often that I've come to expect it. This is one of the reasons I have miles-and-points envy of friends who live in Vancouver, Calgary, Toronto and Montreal. Despite the availability of direct flights (on revenue tickets and Market Fare Flight Rewards) from Montreal to Halifax, I was forced to do a "backwards bunny-hop" through Ottawa, and incur additional charges. In the past, I've been able to find availability by doing wider searches of dummy routes to squeeze out availability for the last critical segment. Nothing I tried worked. In my experience, agents at the Aeroplan Contact Centre don't have access to any more flights than what are available online. Still, it doesn't hurt to check. As predicted, there was no availability on the last two late-night flights to Halifax. Air Canada will eventually release a Montreal-Halifax direct flight for Fixed Mileage Flight Rewards, but the $100 change fee won't be worth the change. I'll keep an eye on it, and call to see if I can get the change fee waived. I don't like my chances, but it doesn't hurt to ask.
Taxes, fees and surcharges totalled $234.81, including $30 in fuel surcharges imposed by Air Canada. They're coded as "YR" in the fare calculation.

Tips
I hope I haven't made this sound more complicated than it is. With knowledge of the routes from your home airport and nearby hubs, and doing segment searches to your destination, it's really not that difficult.

Develop your own approach to the order of your segment searches. Vary the sequence depending on the destination. Sometimes, it makes sense to begin with a long flight, or one that crosses an ocean. Or, you might want to start with a hub served by an airline with a limited award inventory. That's how I found Air New Zealand business into Auckland, and then worked forwards and backwards from Shanghai and Auckland.

Your success rate will increase if you have flexibility with dates and routes.

Don't use airlines with fuel surcharges. They don't deserve our business. If you can't avoid Air Canada, use it only for short flights to reach a nearby hub in North America.

Availability changes. If you see something you like, book it. Otherwise, it might disappear. If you come up empty, return to your search in a day or two.

If you're booking through the Aeroplan Contact Centre, do your own research. Have the dates, flight numbers and times ready to share with the agent. If you expect the agent to do the research, chances are you'll end up on flights with fuel surcharges.

Keep a record. Unless it's a straightforward redemption you can book online, no one can keep that much information in their head. If you're comfortable with Excel or a similar program, Points Nerd has a good template. If you're a pen-and-paper person, use or adapt my printable tools to suit your needs. I've added PDF versions to the Resource Library. Scroll down to the bottom of the post to sign up for access, or use the sign-up option in the sidebar.
Acknowledgement
I owe much to several miles-and-points bloggers. They're my educators and mentors. The more they produce, the more I learn. Check out some of their work. Or, come to the next PointsU conference to meet them, and other miles-and-points enthusiasts, and learn more about the miles-and-points scene in Canada.
Congratulations on making it to the end of such a long post. If you found this guide useful, you might be interested in my other posts:
Care to weigh in? I love hearing from other miles-and-points enthusiasts. Please do so, in the comments. If you've made a sweet Aeroplan redemption, or have a link or tips to share, please join the conversation.
Care to share the Pinspiration?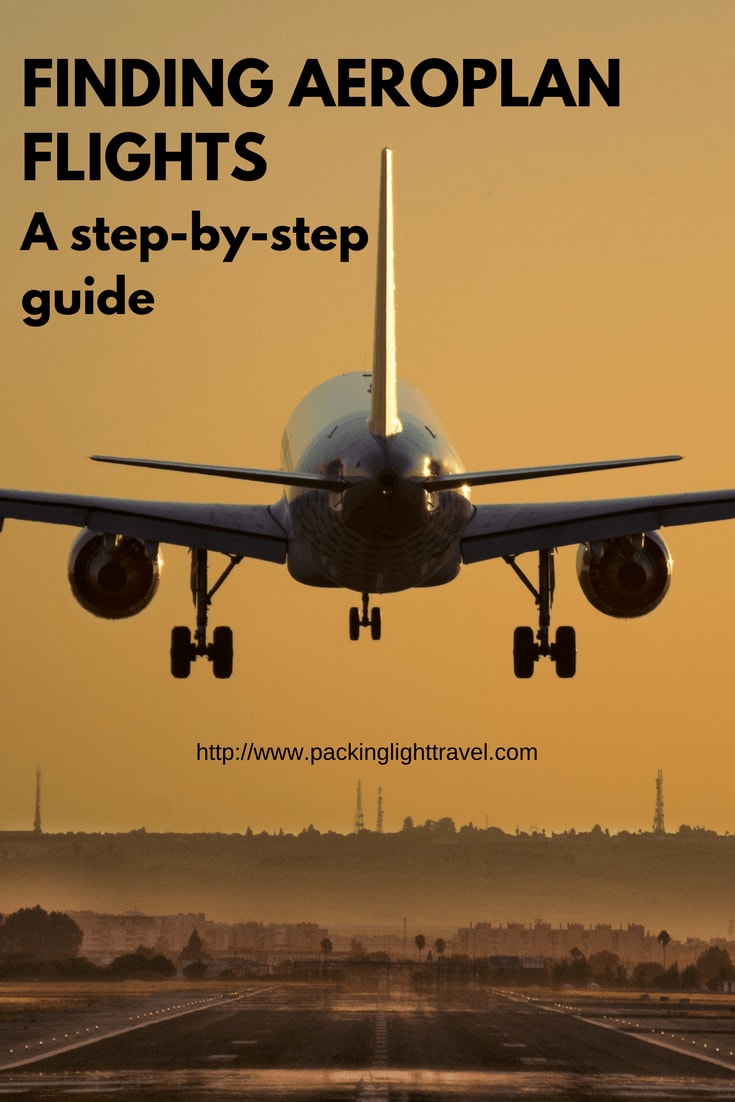 SaveSave
SaveSaveSaveSave
SaveSave
SaveSave
SaveSave
SaveSave
SaveSave
SaveSave
(Visited 285 times, 1 visits today)