On our return from Istanbul, one of my travel mates decided to shrink-wrap her newly purchased bag. It was her standard carry on, a few kilograms heavier than Turkish Airlines' carry-on limit of 8 kilograms. Given that her bag was destined for the hold, she figured shrink-wrapping would provide additional protection and greater peace of mind that it would arrive undamaged. This got me thinking about the different reasons to shrink-wrap luggage and under what circumstances I might use the service.
REASONS TO SHRINK-WRAP LUGGAGE
Protects against damage. Baggage handlers and equipment can be rough on luggage. Shrink-wrap offers protection against scratches, scuffs, splits and stains as a bag moves through the system. It keeps cardboard boxes from falling apart. For oddly shaped items such as wheelchairs and bicycles, or items with protruding pieces or dangling straps, several layers of wrap insulate them from damage.
Keeps things dry. Depending on the airport and the aircraft, checked luggage might spend time on the tarmac. It could be exposed to the elements while being transported to and from planes and during loading and unloading. Plastic wrap saves a checked soft-sided bag or cardboard box from getting soaked in a downpour. It keeps them free of snow and partly frozen winter gunk in cold climates.
Bundles things together. Two smaller pieces of luggage can be bound together to count as one checked bag to reduce or eliminate baggage fees. Or, rather than purchasing a suitcase for excess items, they could be packed in disposable bags or boxes and shrink-wrapped together.
Keeps luggage intact. Shrink-wrap prevents accidental openings and potentially losing what's inside a bag. An overpacked bag bursting at the seams might malfunction without additional protection. If a bag sustains a broken zipper or otherwise becomes damaged while travelling, shrink-wrap can get it home to be repaired or replaced.
Deters pilfering. One of the best ways to deter theft is to travel with carry on. If a bag needs to be checked, shrink-wrap may discourage "opportunity thefts" where a thief usually needs to work quickly. Shrink-wrap is not easy to break into. Someone interested in rummaging through a bag on the chance there's something worth stealing is unlikely to take the time to remove it. S/he'd be more likely to choose easier targets.
Deters stashing of contraband. Shrink-wrap isn't tamper-proof, but it is tamper-resistant and tamper-evident. If the wrap on a piece of luggage has been broken, the owner will know something's amiss and can alert authorities before taking possession. Mind you, an accomplice has in all likelihood removed the stowed items before the bag appears on the luggage carousel in the arrivals hall. However, traces of their presence will likely remain. If in doubt, notify the authorities before touching the bag.
WOULD I USE IT?
On the rare occasion my bag needs to be checked, I might use it if anecdotal accounts of pilfering point to the possibility of theft at particular airports. For example, Johannesburg had a reputation at one point, as did Miami, before a crackdown.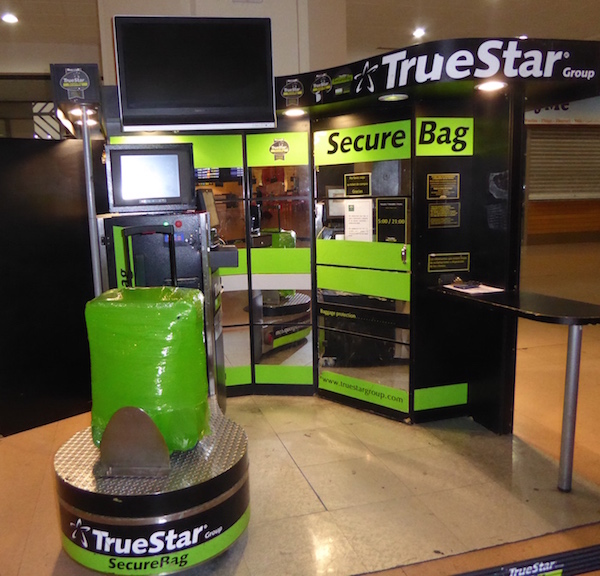 TIPS
To the extent possible, travel with carry on.

Purchase a bag with quality zippers and a lifetime warranty. To learn more about these and other attributes, review Features of a perfect carry-on bag.

If you check a bag, chances are greater it will be damaged or items will go missing. Be prepared in case you need to make a claim with the airline, security service or police. Always work with a detailed packing list, and take pictures of the inside and outside of your packed bags. Carry digital copies with you.

Don't pack anything you can't afford to lose. Deter pilfering by not packing any money, jewellery, electronics or alcohol in any luggage destined for the cargo hold.

Find out if theft is prevalent in airports on your itinerary, especially those with long layovers. Search criteria such as "worst airports for theft" or "thefts from luggage at ___

(name of airport)" should produce up-to-date information.

Research shrink-wrapping services as part of your pre-trip research. Know in advance if the company offers a complimentary rewrapping service if the wrap is removed during screening.

That's a lot of plastic. Only choose companies advertising a 100% recyclable product. Research shrink-wrap recycling options available at the place of removal. In all likelihood, it can be added to your "blue bag" at home but this may not be the case elsewhere.

If you're wrapping the bag yourself at a self-serve kiosk, ensure the wheels and handle are left unwrapped, or otherwise accessible and available for use. Here's a video of the process at a staffed shrink-wrapping station.
What about you? Have you used a shrink-wrap service when travelling? What was your experience?
(Visited 2,822 times, 1 visits today)