Updated January 18, 2018
When I finally realized the benefits of carry-on travel, I invested in my first carry-on bag. It was a convertible carry on, loaded with features and perfect in so many ways. But I soon came to realize the absence of a sternum strap and waist belt was a major shortcoming. I then did what I should have done in the first place: I made a list of the features of a perfect carry-on bag. As I scoured the Internet in search of bags matching my criteria, I learned that the perfect bag, for me, didn't yet exist.
However, here's what I did learn from hours of research and years of experimenting with different bags.
Get in touch with your travel style
The image of a perfect bag varies from one person to the next, and to a lesser extent, one trip to the next. Before creating your own list of the features of the perfect carry-on bag, get in touch with your travel preferences and needs. This should provide a shortcut to acquiring the right luggage without too many unwanted purchases along the way. Here are some examples of questions to help you get started. As you work through them, picture the type of bag that might be a good fit for as many situations as possible.
What are you going to use it for? Work? Travel? Hiking? Camping?

What forms of transportation do you picture yourself using? Planes? Cruise ships? Barges? Small boats? Trains? Buses? Camper vans? Taxis? City transit? Walking? Picture the challenges, and how you'll manage with your bag, with and without assistance.

What types of accommodation are you likely to use on your travels? Hotels? Hostels? Apartments? Overnight trains, buses and ferries? Tents? Imagine a scale with "budget" at one end and "luxury" at the other, and picture where you'll most likely fit, with your bag.

What specific activities might have a significant influence on your choice of bag? Hiking the Camino? Bike-and-barge tours? Island hopping? Bus tours? Imagine the possibilities.

What kind of terrain will your bag need to negotiate? Sand, knee-depth water or cobblestones? Subway steps? Try to picture as many different scenarios as possible.

What specialty items will need to be packed? Camera gear? Sleeping bag? Hiking poles? Electronics?

What can you realistically leave behind? What packing light strategies will help you lighten the load, and purchase the smallest and lightest bag possible?

What's the estimated weight of what will be packed?

For how long are you likely to carry your bag at any one time?

What, if any, physical or cultural characteristics or needs impact on your selection of a bag? Health issues? Medical aids? Culturally specific clothing?
Once you have an idea of the type of bag that might best suit your needs, identify your "must-have" and "nice-to-have" features. With so many choices of bags on the market, you can afford to be picky.
And finally, if finances and circumstances allow, you might decide to purchase more than one bag. For example, a shoulder injury temporarily sidelined my convertible carry on when it was replaced with a rolling bag. I now use both, at different times, for different types of travel.
Features to look for in a carry-on bag
Size. Ensure it meets the "45-inch rule." There are slight variations between carriers, but most airlines have established that the dimensions of a standard carry-on bag should not exceed 22 x 14 x 9 inches (56 x 36 x 23 cm). This amounts to 45 linear inches (115 cm).
The measurements must include external pockets, wheels, or anything extending beyond the packing compartment. Many airlines are flexible with the 45-inch requirement. Some aren't. With more competition for the limited space in overhead bins, size and weight restrictions might be more strictly enforced. As a good carry-on bag will be a significant up-front investment, it pays to get it right as early as possible.
Internal space. Bags with the same external dimensions rarely have identical internal volume. Design features influence internal capacity. A box-like shape with straight sides and ninety-degree-angled corners produces the greatest available packing space.
Once curves are introduced into the design, the volume decreases. In the case of some rolling bags, handles and wheel wells can gobble up an astounding amount of internal space. Also, the dead external space between protruding wheels is not available for packing.
Capacity. It's common to see the capacity of luggage measured in litres (and sometimes in cubic inches, or both). While dimensions and weight determine what's allowable in the cabin of an aircraft, chances are that bags hovering around 55 litres or more may not pass as carry on. If you're committed to carry-on travel, my advice is to look for a bag in the 35 to 45-litre range, and then figure out what packing light strategies you need to adopt to live within these constraints.
Weight. Many airlines allow carry-on luggage up to 10 kg (22 lbs). When plastic or metal handles and wheels are added to a bag, the weight can increase significantly. Aim for an empty weight of less than 20% of an airline's weight limit. That's a maximum of 2 kg (4.4 lbs) for a "10-kg carrier." Without sacrificing quality and durability, look for a bag weighing less than this threshold so most of the weight comes from what's packed, and not from the bag itself.
Durability. The outside of the bag needs to be water, tear and abrasion-resistant. In a soft-sided bag, look for ballistic nylon, Cordura rip-stop nylon or Dyneema, with a high denier rating. In a hard-sided bag, polycarbonate is the most durable. Rolling bags need crash protection bumpers for when they come in contact with walls, curbs or steps.
Distinguishable. A bag that's easily distinguishable from other bags by colour or design makes you less vulnerable to carousel theft (or honest mistakes) if you need to check your bag. On the other hand, a black bag has the advantage of obscuring dirt, debris, scuffs and stains. It can also help you blend in. There are various ways to add distinguishing features, such as luggage handle wraps or bag straps.
Grab handles. At least two sturdy, padded grab handles should be conveniently located on the top and side of a bag. A third handle at the bottom is useful for larger and heavier bags.
Ergonomically and strategically placed grab handles permit a bag to be safely lifted and retrieved from beneath a seat, the trunk of a car or an overhead storage compartment or luggage rack. One at the side of a bag allows it to be carried suitcase style.
Expandability. This is a handy feature but it comes at a cost. The extra zipper adds expense and weight to a bag. The expandable function can be a curse if it leads to overpacking, especially if it tips the dimensions over the "45-inch rule." Needless to say, I've found it useful on a few occasions to accommodate my packed personal carry on. I don't like to walk around carrying two separate bags.
Attachment features. It's sometimes handy to be able to attach items to the outside of a bag from different attachment points. These might be in the form of MOLLE or daisy-chain webbing, add-a-bag clips, straps or plastic hardware.
Being able to attach objects such as a smaller bag, clothing, shoes or a water bottle temporarily expands the packing space. It also permit convenient access to these items. It's especially useful if it means going hands-free.
Easy-access compartments. A top-loading bag is more challenging to keep organized, and it's difficult to retrieve items that aren't at the top. These types of bags are not a good choice for travellers. I prefer front-opening or side-opening access, suitcase style. The front panel should completely open on three sides to reveal a deep main compartment.
A smaller second compartment easily accessible from the outside allows you to quickly retrieve or stow items without having to enter the main compartment. This is particularly useful for a rain cover, rain jacket, or other layers of clothing. Because my current bags come with one, I realize I really like a third even smaller "brain" compartment that's perfect for a 3-1-1 bag.
Laptop compartment. A dedicated padded lockable compartment for a laptop or tablet keeps these items protected from damage or theft. It needs to be designed in such a way that the device can be easily removed at a screening checkpoint.
If the sleeve is positioned between the back of a backpack bag and the main compartment, it contributes to a more balanced load with the laptop closer to the body.
Pockets. External compartments and pockets should be on the same geometric plane as the main part of the bag. Pockets that protrude outwards can significantly increase the linear dimensions, without adding a commensurate amount of useful packing space.
If you're committed to one-bag travel, an expandable water bottle pocket would be good to have. If you travel with a second personal bag, it will likely have a one.
The absence of external pockets on a hard-sided wheeled bag means the entire bag needs to be opened to retrieve anything.
Internal pockets help keep things organized and accessible. Security pockets are useful for stashing valuables. Pockets add cost and weight to a bag, so try not to be seduced by too many "bells and whistles." They can add unnecessary complexity. Look for a few simple pockets that serve a useful purpose. You can always invest in lightweight packing organizers such as stuff sacks and compression sacks that bring function, organization and versatility to your packing.
Compression straps. Internal tie-down straps in the main compartment should be durable enough to adjust to various cinch positions. These keep the contents compressed and free from shifting. They need to be wide enough so ruts aren't left in clothing.
The role of exterior compression straps is to provide maximum compression, reduce stress on zippers, and keep the contents of a bag from moving around.
Colourful interior. I have two bags with bright interior fabric. It's bright orange in the eBags TLS Mother Lode Weekender Convertible Junior. It's bright green in the Osprey Farpoint 40. The brighter colour improves the visibility of what's packed, and makes it easier to locate smaller items.
Interlocking zippers. On each compartment, I prefer two interlocking zippers (with short pull cords) that can be anchored to a lockable D-ring with a lock or cable tie. This discourages tampering, and keeps zippers and luggage locks in a consistent position. Look for self-repairing YKK chain zippers to be assured of the highest quality. Storm flaps over zippers help keep out the weather.
Rain cover. If a soft-sided bag comes with its own integrated rain cover, there's a good chance it will fit. If it's attached to the bag, it's unlikely to go missing. For through-hikes and travelling in rainy climates, it's an important feature.
Warranty. A lifetime warranty with no exceptions is the assurance a bag is well built. If it's flawed or sustains damage, it means the manufacturer will stand behind its product. Avoid bags with "limited warranty" language stating that a manufacturer is not responsible for "carelessness caused by an airline" or "normal wear and tear." Briggs and Riley have a no-questions-or-exceptions lifetime guarantee, and Osprey has an all-mighty guarantee covering any reason, and any product from any era.
Replacement parts and repair centres. In the event of damage to the wheels or handle of a rolling bag, it's usually faster and more convenient if a bag can be easily repaired without having to return it to the manufacturer. Look for brands that have self-repair kits or a full catalogue of replacement parts for the bag under consideration. If you're planning long-term travel, having access to repair centres in different countries is beneficial. Lauren at Never Ending Footsteps makes a compelling case for this feature in her post Why I Will Always Travel with an Osprey Backpack.
Luggage tag. A luggage tag pocket built into the design of a bag means never having to worry about losing a luggage tag. It should have a privacy flap feature to hide personal details.
Storing when empty. A soft-sided bag without rigidly constructed walls means it can be stored flat on a shelf when empty. It consumes less storage space than wheeled luggage that's typically the same size and shape empty as it is full.
Additional features of a good travel backpack
A good fit. It's important to find a pack that's a good fit for your body type. You might not have plans to hike the Inca Trail, but it's wise to be prepared with a pack that will allow you to change plans on a whim. Take advantage of the experts at your local outdoor store. In advance, figure out your torso length and hip size, or chances are the retailer will have a fitting tool.
The correct positioning of sternum, waist and shoulder straps and load lifters is important. If purchasing online, the following videos from Deuter, Osprey, REI and Sail will help you fit and adjust your pack. Don't forget to check your retailer's return policy.
Frame. The external frame that was a common feature of older hiking packs has to a great extent been replaced with a lightweight internal frame in today's packs. Some manufacturers add this feature to travel packs. It brings the centre of gravity of the pack closer to that of your body. This positions the weight of the bag where it can be carried with the least amount of strain. If you'll be doing a significant amount of walking with your pack, you'll want an internal frame. It provides structure, and in all likelihood, good ergonomic support.
Ventilation. Look for a back panel designed to create a small space between your back and the pack. It might be in the form of perforated or rippled foam to reflect the natural arch of your back, covered with lightweight mesh stretched tautly across the back panel. This is designed to allow air to circulate, making for a more comfortable experience.
Backpack straps. I love the versatility of a convertible bag, one with padded adjustable contoured backpack straps that stow away in their own compartment. Breathable moisture-wicking mesh padding where the strap (and the back of the bag) comes in contact with the body is an added feature.
Attachment points on the straps in the form of webbing or plastic hardware can be useful for attaching small items such as a whistle, flashlight or compass. Many bags come with an additional padded strap for carrying it as a messenger bag.
Sternum strap. An adjustable sternum strap helps keep a backpack from moving around and subjecting the neck, shoulders and back to stress. A built-in sternum strap whistle is an added feature, or you could add one with a sternum strap whistle kit.
Padded hip belt. A hip belt helps distribute as much as 90% of the weight of the bag to the hips, reducing pressure on the back and shoulders. It should be padded, adjustable and removable, or capable of being tucked away in its own pouch or compartment. Hip belts with accessory pockets place items such as a passport, Smartphone, sunglasses, sunscreen or snack within easy reach. If this is a must-have feature, it's possible to purchase aftermarket attachable pockets.
Additional features to look for in a rolling bag
Telescoping handles. Make sure the handle is sturdy, easily retractable and smoothly telescopes to different lengths. Test the mechanism several times. If purchasing online, scrutinize reviews.
Tip-free. A rolling bag should be well balanced so as not to tip over when packed. Some two-wheeled designs have front feet that double as a second or third grab handle.
Wheels. The size and position of the wheels should provide enough clearance from the ground so the undercarriage of the bag doesn't scrape on uneven surfaces. The wheels on four-wheeled bags ("spinners") have 360-degree rotational bearings, which are almost never sealed.
Look for large-diameter wheels with sealed bearings to keep out dirt, dust and grime. Check out the G-RO bag with large slim wheels built to handle different types of terrain.
My search for the perfect carry-on bag
Additional resources
Are you looking for a carry-on bag? The 5-page Worksheet for Choosing a Carry-on Bag (Travel Backpack Version) might help. It lists features described above, and allows you to record information on bags under consideration. There's space for three bags. Use it as is, or adapt it for your needs. A copy of the full document is in the Resource Library. Scroll down to the bottom of the post to sign up for access, or use the sign-up option in the sidebar.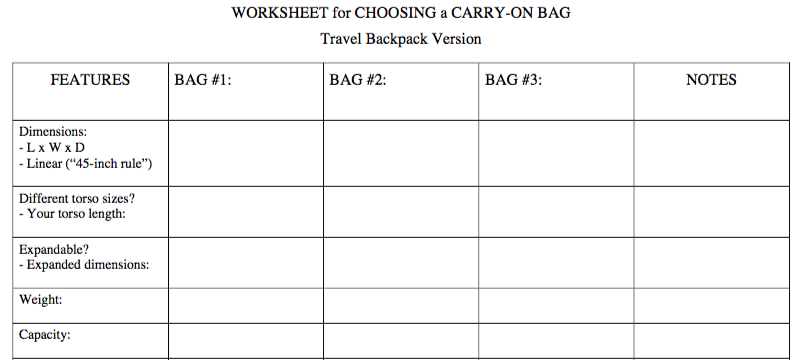 If you've decided a rolling bag is for you, check out The Wirecutter's The Best Carry-on Luggage. Even if you're looking at bags that weren't considered by The Wirecutter, their report provides a thorough and helpful guide to assessment criteria.
For useful articles on backpacks and other non-wheeled bags, consult the "The Go-Light Guru" Doug Dyment at onebag.com. For information on backpack construction and materials, review Zen Backpack Fabric and Construction.
If a travel backpack suits your travel style, you may be interested in Tame dangling straps with Web Dominators.
Comments? Suggestions? What's your perfect (or nearly perfect) carry-on bag?
Care to pin?
Some of the links on this page are affiliate links. If you use them to buy something, you don't pay more, but this website earns a small commission, which helps pay the cost of running the site. Thank you for your support.
SaveSave
SaveSave
SaveSave
SaveSave
(Visited 8,390 times, 1 visits today)