Using Wi-Fi in Cuba isn't something one does while juggling other things. It's a stand-alone activity that needs to be coordinated with others. These 5 steps to using Wi-Fi in Cuba will help you plan your approach.
Note: Information is accurate as of November 2017, the time of my visit.
Step 1: Understand the basics
You'll need an Internet card. A Nauta Internet card comes in a sealed cellophane packet. Each has a unique user code, and scratch-off password. Cards can be purchased in denominations of 30 minutes, one hour or five hours. It costs 1 CUC/USD per hour of use.
A card is valid for one device only (at a time). The available credit can be used over several sessions. Disconnecting pauses your credit. At the beginning of a new session, your credit will be displayed after you've logged on.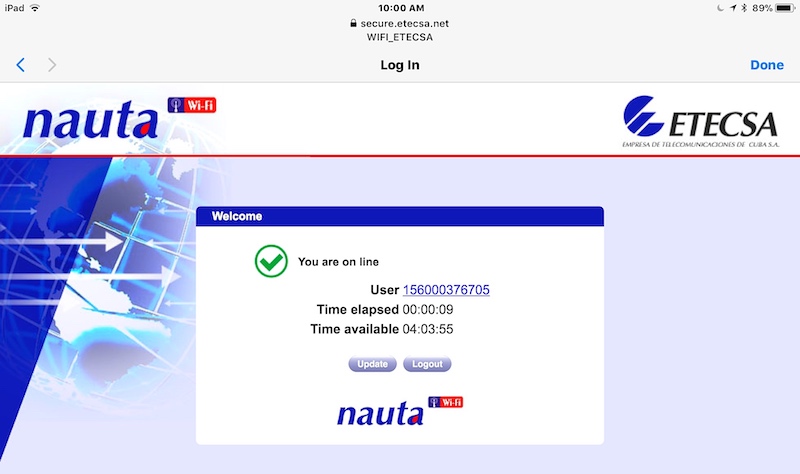 Step 2: Find an ETECSA office
ETECSA (Empresa de Telecomunicaciones de Cuba S.A.) is the government-owned agency that oversees Cuba's telecommunications. In all likelihood, you'll have to join a queue. You might want to buy enough cards to cover the length of your stay. My friend and I each bought two five-hour cards. Each card cost 5 CUC/USD.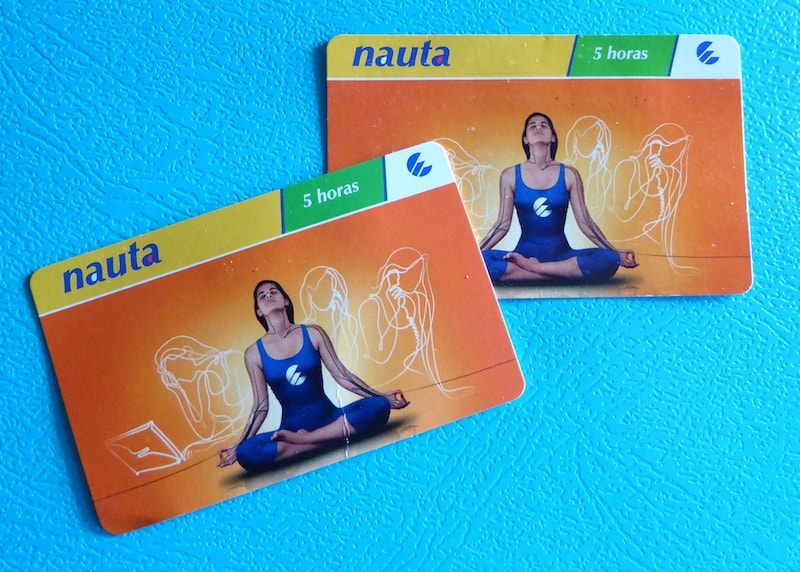 In Old Havana, the ETECSA office is at 1020 Calle Obispo, close to the intersection with Calle Habana. The queue begins outside, and just a few people are allowed inside at a time. The process is inconvenient and inefficient. It's one of the things that makes Cuba unique. Queueing for goods and services we take for granted was interesting to experience. Observing the unspoken rules of the queue was fascinating. But I digress. Obtaining Wi-Fi cards took 40 minutes from the moment we joined the queue. You'll need your passport to complete the transaction.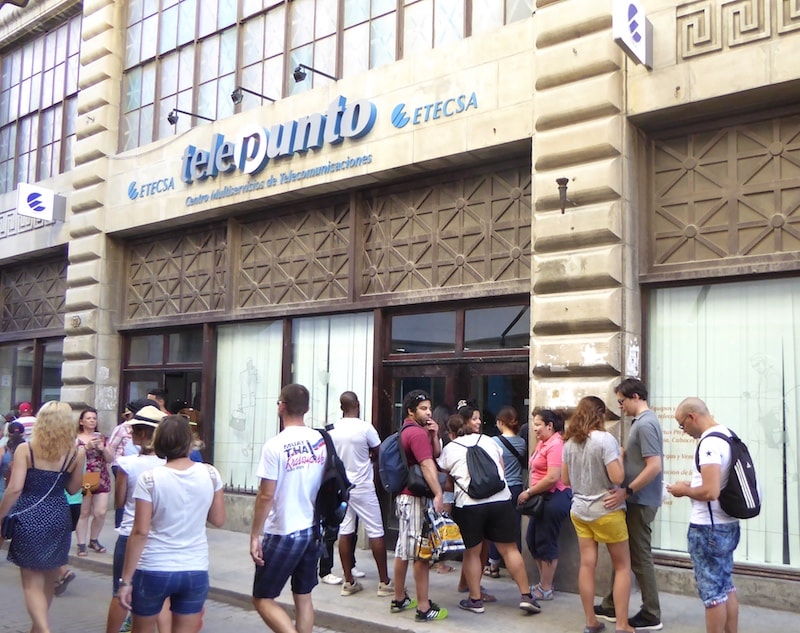 Another option is to buy from a reseller on the street. You'll be approached in a Wi-Fi zone, or near the ETECSA office. That was our experience, every time we headed to a Wi-Fi zone or lined up outside an ETECSA office. You'll pay at least double the price, and run the risk that the card won't work. If you're within Wi-Fi range, you might want to make it a condition of sale that you can successfully log on.
Or, buy a card at a hotel or restaurant. You'll pay more, but you won't have to queue. Ask if there's a card-and-drink deal. That way, you'll access the Internet in pleasant air-conditioned surroundings while enjoying a drink.
Step 3: Find a public Wi-Fi zone
These are easy to spot. They're the only public spaces in Cuba where crowds of people are glued to their devices. You'll find them in parks, squares and pedestrian zones.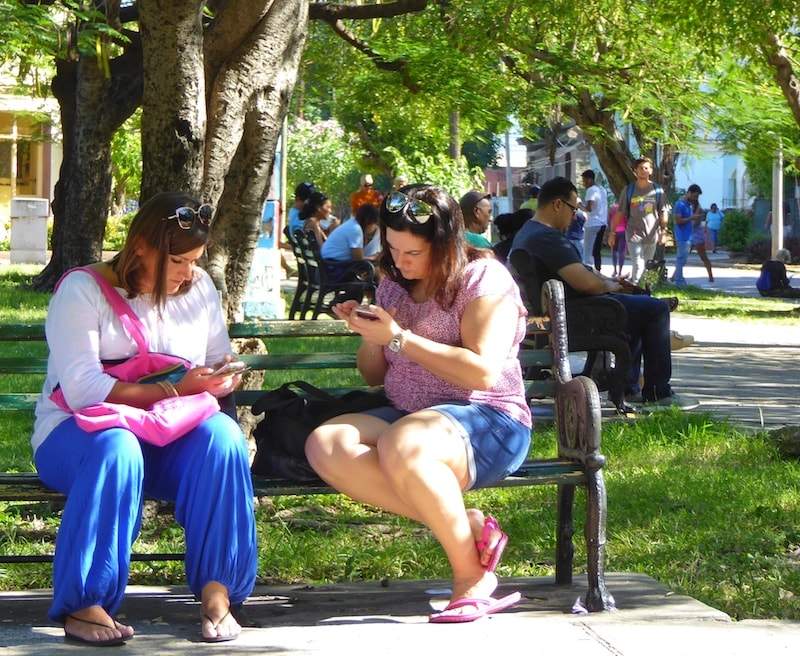 In Havana, we stayed in Vedado. There's a large Wi-Fi zone in a pedestrian area on Avenida 23. It stretches from the Habana Libre Hotel to the Malecón on the waterfront. Close to our casa particular was a Wi-Fi zone at Parque de 15 y 16 (at 15th and 16th Streets). When visiting Old Havana, we found a Wi-Fi zone at Plaza des Armes. It extended to the Hotel Santa Isabel on the edge of the square, where it was possible to enjoy a drink while accessing the Internet.
ETECSA publishes a list, organized by province and city.
Step 4: Log in
Scratch the password box to reveal your password.
Go to your device's Settings and enable Wi-Fi. Choose the ETECSA network when it appears. Be patient. It'll come up, eventually.
A login screen will pop up. You have a choice of viewing it in Spanish or English. Click on "English" if that's your preference. Enter your user number and password.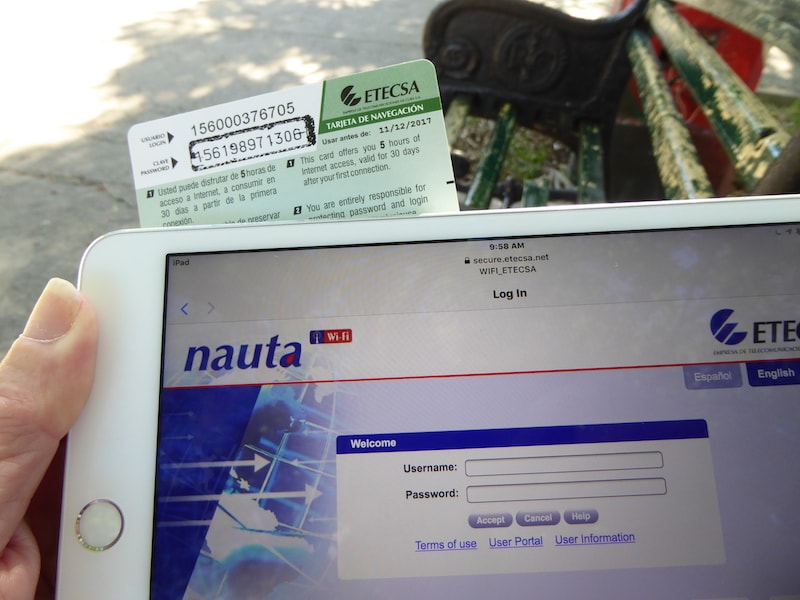 If you've enough credit, you'll be able to perform tasks that don't need a lot of data. I had no trouble managing email, interacting on social media, and making FaceTime audio calls. I downloaded a few podcasts, but the process was painfully slow.
Step 5: Log off
Go to Settings and disable Wi-Fi at the end of each session. This was sufficient to disconnect from the network and preserve the remaining credit.
Conclusion
Using Wi-Fi in Cuba was easier than anticipated. Expectations were low, and we were pleasantly surprised. Still, it's important to plan ahead.
For example, we made a few bookings before leaving Canada. We booked our initial accommodation through Airbnb, and a food tour and a bike tour. I purchased the Kindle versions of Lonely Planet Cuba, and Real Havana: Explore Cuba Like A Local And Save Money. Various files were prepared for off-line access. I downloaded a couple of Netflix movies and several podcasts. Apps permitting off-line use were readied before departure. I preferred the Galileo Offline Maps app to maps.me to find my way around Havana. The app will track your movements so you can tell where you are, even though you're not online.
Plan your Internet time. While offline, draft emails or social media captions using a word processing or notes app. When online, cut/copy and paste your text to make the most efficient use of your available credit.
Or, plan a digital detox. You might find it liberating to be offline.
Care to weigh in with your experience in accessing the Internet in Cuba?
Heading to Cuba? If you're looking for accommodation, you might be interested in A recommended Havana casa particular.
The Amazon links on this page are affiliate links. If you use them to buy something, you don't pay more, but this website earns a small commission, which helps pay the costs of running the site. So, thank you.
SaveSave
(Visited 38 times, 1 visits today)