Where does one start when trying to figure out where to stay in Havana? The task was made easier by following recommendations of other bloggers. There was one recurring suggestion: stay in the area of Vedado. One person described it as "más tranquilo," a calm and relaxed neighbourhood compared to the densely populated areas of Old Havana and Central Havana.
Once we'd decided on the neighbourhood, it didn't take long to stumble upon "Private rooms Otto y Mylena," and the fantastic reviews at TripAdvisor and Airbnb.
Why stay at a casa particular?
"Casa particular" is the term used to describe government-licensed private accommodation in Cuba. It's recognizable by the official "Arrendador Moneda Divisa" sign on the front of the residence.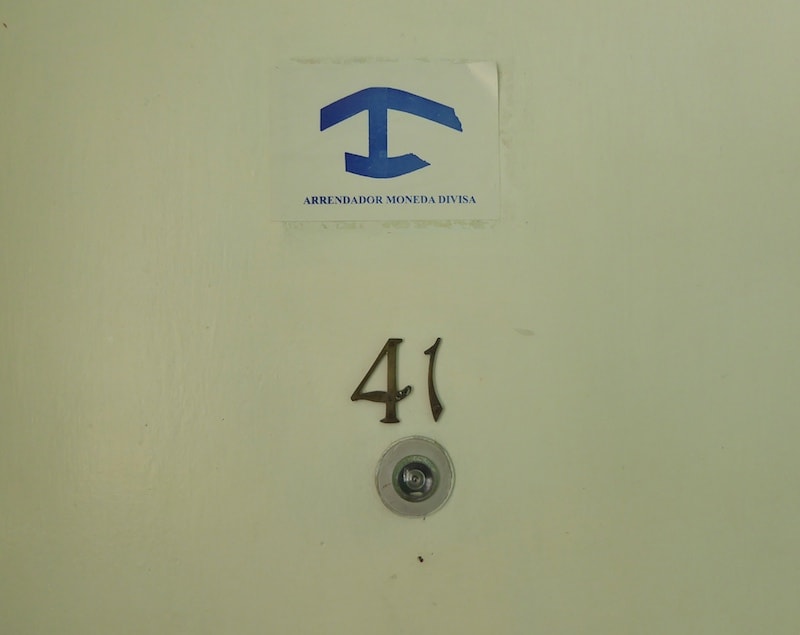 A casa particular typically offers a private room with a shared or private bathroom. The owners usually live on the premises, and some offer meals for a modest price.
There are many advantages to staying at a casa particular. They're cheaper than hotels, and offer glimpses into the everyday lives of Cubans. In a country where the average wage is 30 USD per month, it's a way to support entrepreneurs who create jobs through small business.
Hosts are familiar with the area, and can suggest places to visit, where to eat, and how to get around.
Hosts know owners of other casa particulars in other provinces, and the best way to get there. Booking accommodation and transportation are services readily and efficiently provided by casa particular hosts, at no additional cost. This is invaluable when working across language barriers, in a country where Wi-Fi is spotty to non-existent.
"Private rooms Otto y Mylena"
Unlike most casa particulars, the hosts of "Private rooms Otto y Mylena" don't live on-site. Their apartment is a short distance away. For the last ten years, Otto and Mylena have rented their former residence to visitors.
"Private rooms Otto y Mylena" is a third-floor apartment with a wrap-around balcony. It's in a building dating from 1957, on a tree-lined street in a clean and safe residential neighbourhood.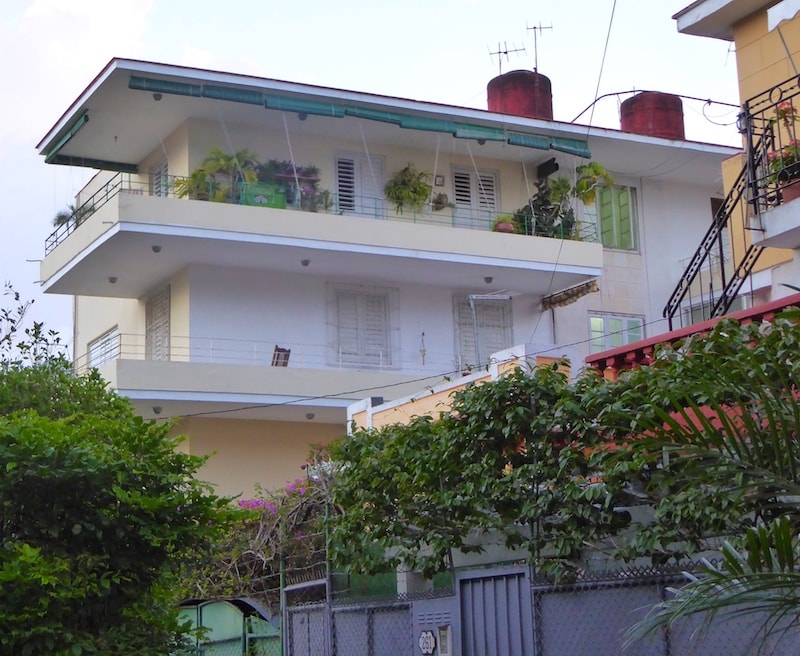 It has two private bedrooms, a shared bathroom and dining/living room, and access to a small kitchen.
Each bedroom has two comfortable beds, bedside tables, and places to hang and store clothes. There's a small fridge, safe, television, air conditioning, and a ceiling fan.
The larger bedroom has two queen beds. It opens out on to a section of the balcony through two shuttered doors.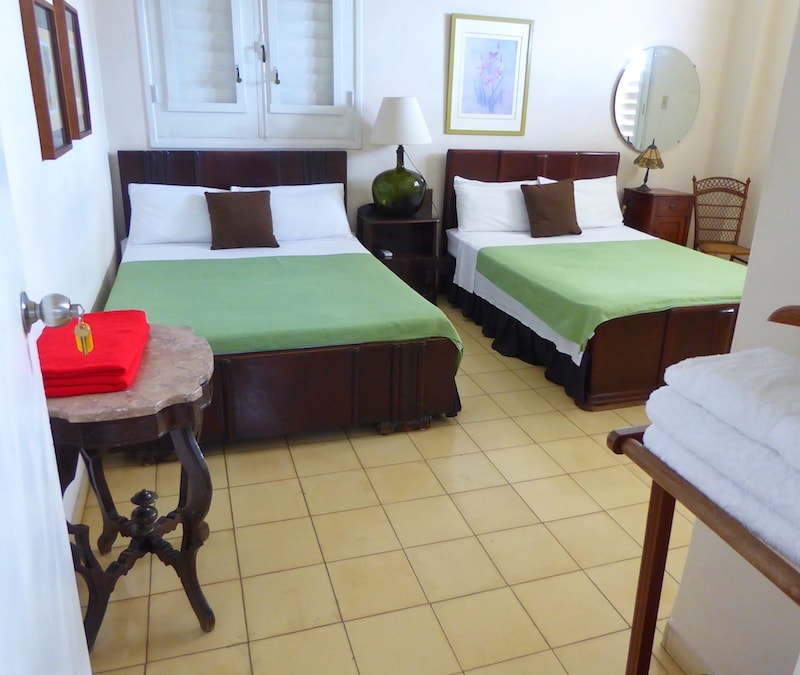 The smaller bedroom has two single beds. Access to the other section of the balcony is through the living room.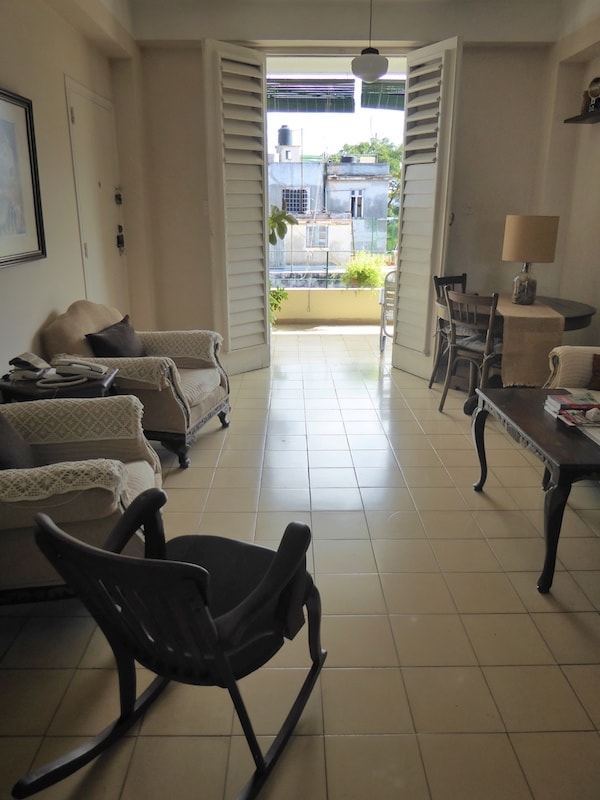 The bathroom is well equipped with supplies, including soap, body wash and a hairdryer. The water is hot, and the water pressure adequate.
Each bedroom comes with its own set of keys to gain access to the building, apartment, and bedroom. Yoly, the housekeeper, meticulously cleans the entire apartment each day. Fresh bed linens and towels are provided on a regular basis.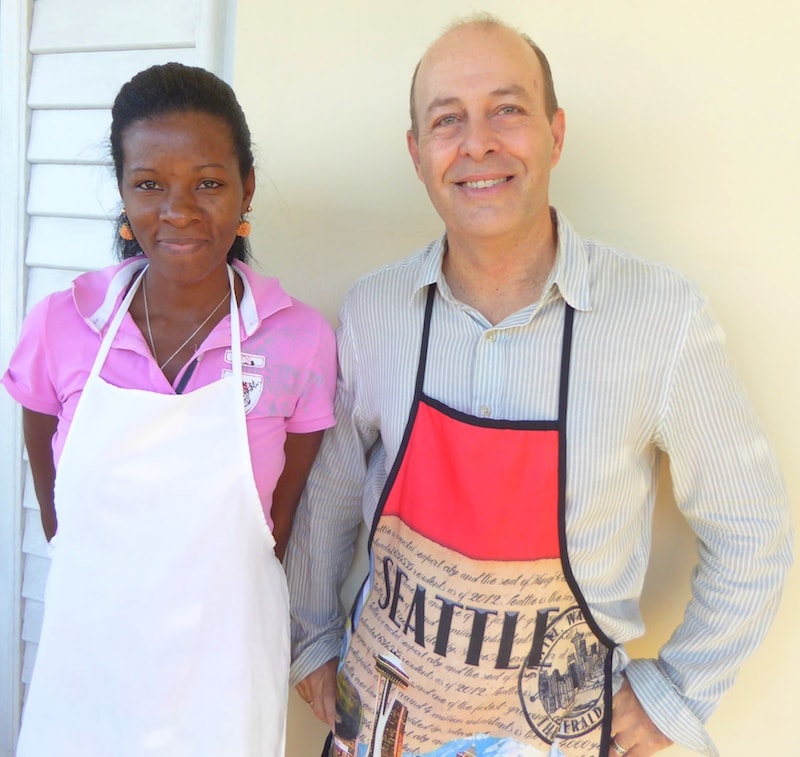 Breakfast
A bountiful breakfast, enjoyed on the terrace, is available for an extra charge of 5 CUC per person. (A CUC has a value of 1 USD.)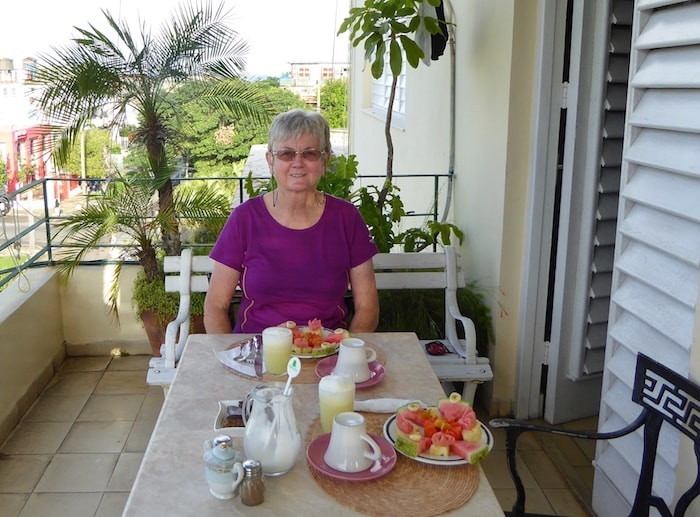 It's not a typical Cuban breakfast of coffee and toast. It's a magnificent spread consisting of fresh fruit, fresh fruit juice, toast, jam, eggs and coffee. It's not to be missed.
The fruit plates were always artistically presented.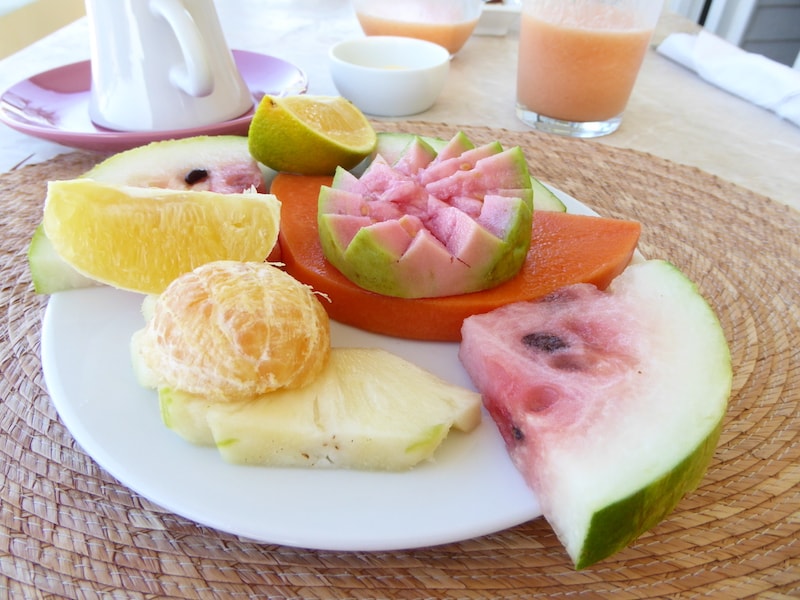 Some mornings, toasted cheese sandwiches and crepes were included. Or, on a couple of occasions, there was freshly baked cake.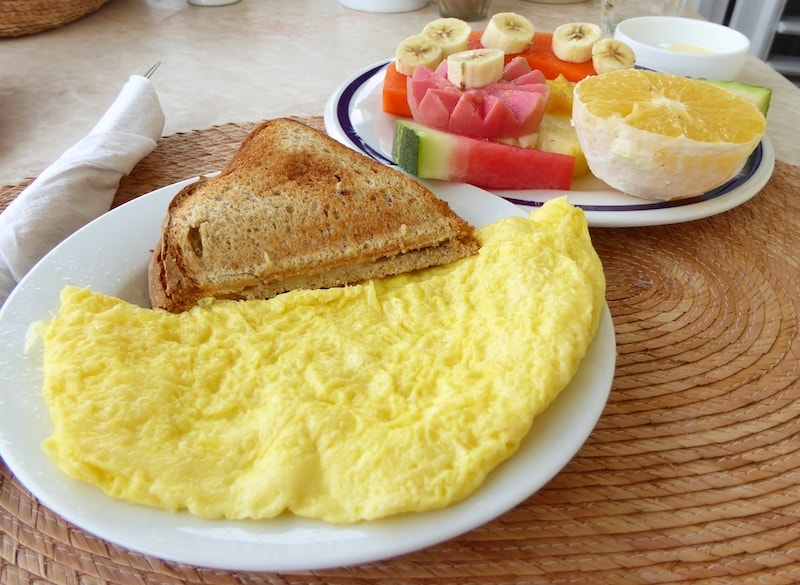 Breakfast was something to look forward to, and an opportunity to catch up with Otto or Mylena. Each day generated more and more questions about Cuba. Otto and Mylena patiently answered them, while graciously sharing their time and knowledge.
Tourist services
Mylena was away for part of our stay, but we saw Otto every day. There's a telephone in the apartment, so we could contact Otto or Mylena if we needed anything.
We were given a handy pamphlet listing restaurants, transportation and other services. This was a useful reference, and we carried it at all times.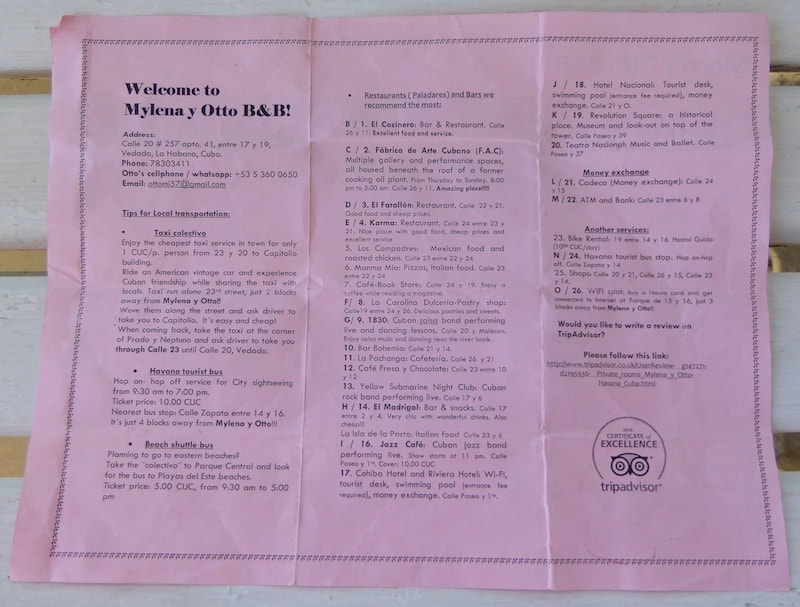 Travel guides such as Lonely Planet and National Geographic grace the living room table, as well as several pamphlets left by other guests.
Otto booked accommodation for us in Viñales, and Trinidad de Cuba, and a door-to-door shared taxi from Havana to Viñales. He waited on the sidewalk with us until the taxi arrived and we were in our way.
A sanctuary
Like many visitors, we spent several days exploring Old Havana with its narrow cobblestone streets, throngs of tourists, and proactive vendors vying for a sale. Outside the pedestrian area, the unpleasant fumes and black smoke of diesel engines hang menacingly in the air. It's a frenetic environment, and one that's nice to escape from at the end of an active day.
It took very little time to regard Vedado and "Private Rooms Otto y Mylena" as our sanctuary. We looked forward to returning to Vedado's tree-lined streets, and residents who would only acknowledge us in response to a greeting. We enjoyed cold beer on the terrace, surrounded by flowering orchids and tropical plants.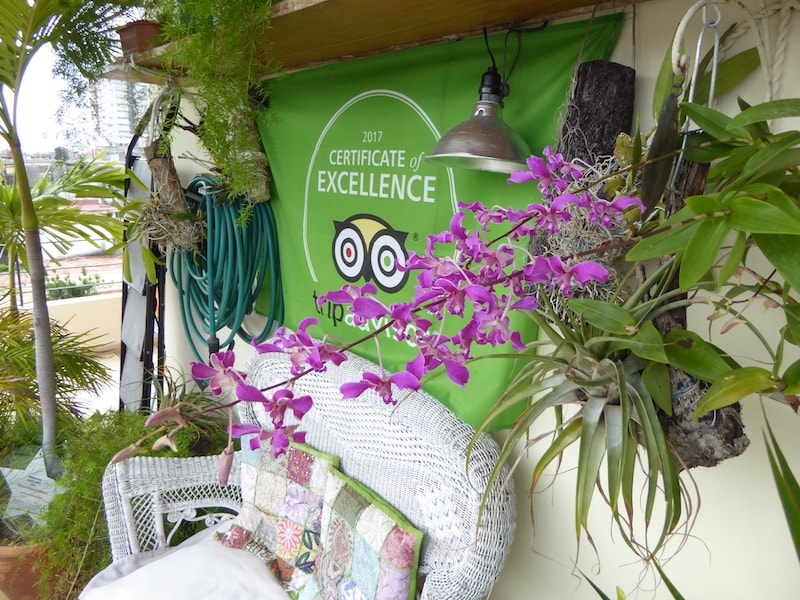 The views over Vedado towards Miramar and the sea often included stunning sunsets.
We took delight in the hunt for restaurants frequented by locals, and discovering many gems as a result.
Exploring Vedado's magnificent old mansions in the cool of the day filled many pleasurable evenings. We marvelled at the potential of what Western money, equipment and materials could do to these architectural treasures. We learned from Otto, a former architect, that most of Vedado's buildings were well constructed, so their restoration potential is on solid footing.
Nearby amenities and services
Vedado is easy to navigate, with the naming of streets following a system of numbers and letters. At each intersection, street names are painted on stone blocks.
Transportation to Old Havana is readily available within three blocks of the apartment. A money exchange office, supermarket, Wi-Fi zone and several restaurants were within walking distance.
Also within walking distance is Parque John Lennon, Plaza de la Revolución, and Cementerio de Cristóbal Colón. The 8-km long Malecón (Avenida de Maceo) sea wall is 5 blocks away.
How to book
We booked through Airbnb, and paid online with a credit card. While in Cuba, we decided to return to Havana earlier than expected and fortunately, Otto and Mylena had a vacancy. We were offered the opportunity to move to the larger room for the days it was available. As with most financial transactions in Cuba, we paid in cash for our second stay.
Expect to pay in the range of $30 to $40 (USD) per room per night.
I would welcome the opportunity return to Havana, and stay at "Private rooms Otto y Mylena." Next time, I would book through Otto and Mylena's website and email, and pay in cash at a time of Otto's choosing.
Otto and Mylena are exceptional hosts who genuinely want visitors to enjoy their stay. It's easy to understand why they were awarded the TripAdvisor Certificate of Excellence in 2017.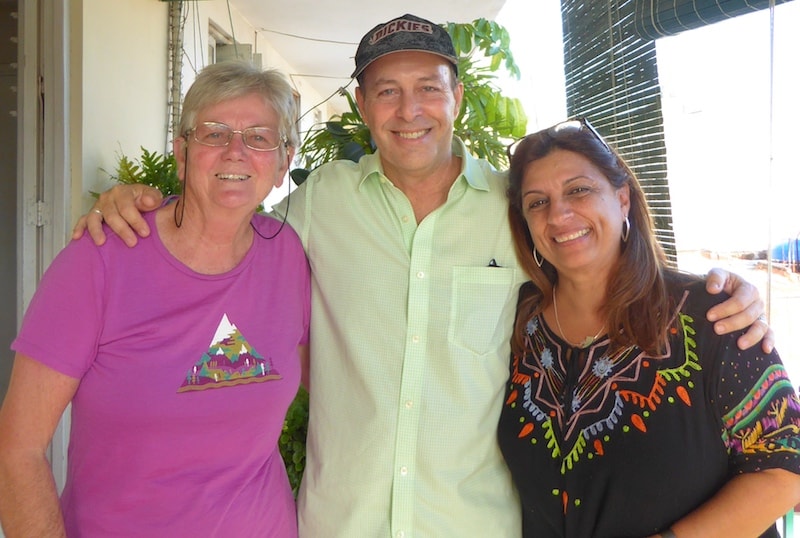 Muchas gracias Otto y Mylena y Yoly!
If you are fortunate enough to secure a booking at "Private rooms Otto y Mylena," you'll thoroughly enjoy your stay. Please pass on my best regards.
Heading to Cuba? if so, you might be interested in:
SaveSave
SaveSave
(Visited 228 times, 1 visits today)