Calling and data plans offer convenience and security when travelling. If you're planning on buying a SIM card in Spain, several options are available at reasonable prices.
Too Many Adapters is my usual starting point for pre-trip research. The section "Get Connected" boasts a growing number of posts on purchasing plans in a host of different countries. For my trip to Spain last spring, I expected to find four cellular providers (plus various resellers) with Movistar, Vodafone and Orange all offering good coverage throughout the country. It looked like I could make my decision after checking out the rates and plans available at the shops and kiosks in the arrivals area of Barcelona's El Prat airport.
On-site options
I found just two locations – a Vodaphone storefront and a Lebara kiosk. I'd had a positive experience with Lebara in the Netherlands in 2014, so that was my first stop. All my questions were answered. I didn't have a conversation with the Vodaphone worker, but I listened in on the exchange with two travellers from China. The plans for one month of coverage at both locations sounded similar. I was swayed by the better on-site service offered by Lebara. Both Lebara workers I spoke to were friendly, informative and patient. Lebara utilizes the Vodaphone network so I assumed there was no difference in coverage provided by these two sellers.
The plans
Both Lebara and Vodaphone offered plans for calling or data or both. An attractive feature of the plans was that not only were countrywide calls included, but international calls to 39 countries as well. These included countries within the European Union, Canada, China, Hong Kong, India and USA. What a bonus.
My choice when it came to data was straightforward: for one month, 1GB for 10 EUR. I could have purchased another GB for another 5 EUR. As all of our accommodation bookings came with Wi-Fi, I figured 1GB was more than enough.
My choice with respect to calls came down to 60 minutes (5 EUR) or 400 minutes for 10 EUR. I was staying almost a month and calls to Canada were included. I figured the extra 5 EUR for the convenience of calling home at any time was worth it.
My choice: Lebara
The Lebara kiosk was strategically located near the main exit by La Caixa Bank. On the day in question, it was staffed by three workers who were kept very busy.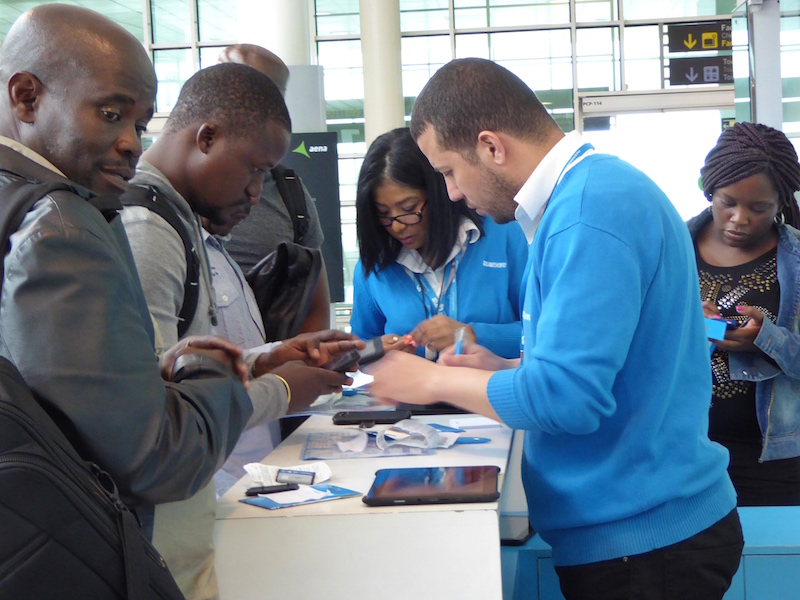 After my passport details were recorded, I was sent to a nearby storefront (The Airport Market) to obtain the SIM card included in my plan. After paying 20 EUR, I returned to the kiosk where my unlocked iPhone was set up.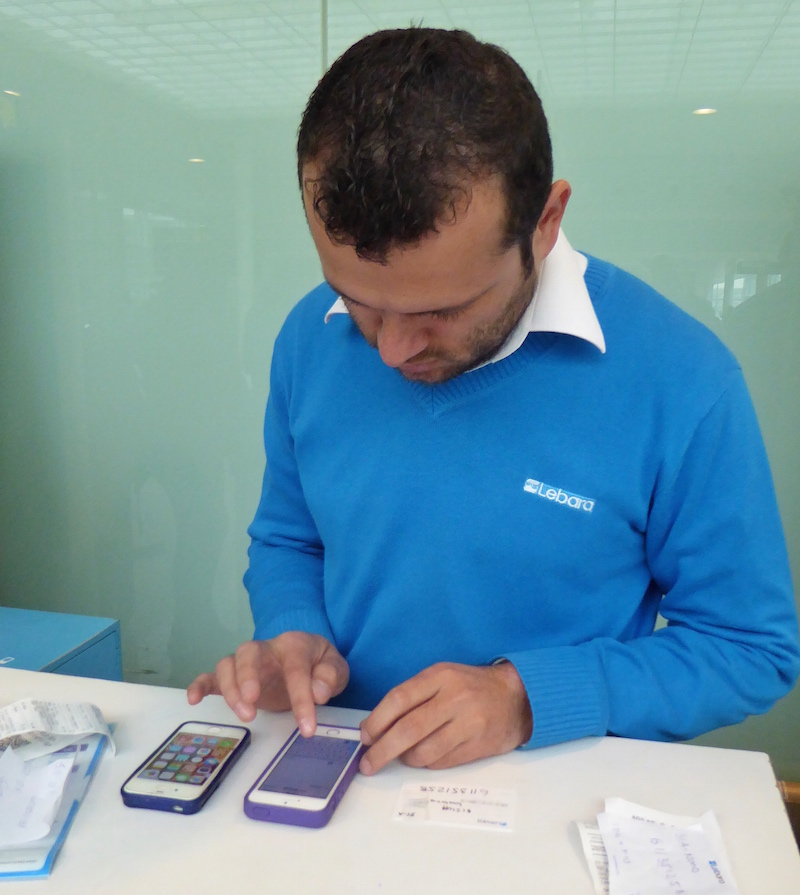 While waiting for my travel mates to arrive, I called Canada and the Netherlands on the plan. I couldn't have been more pleased with the reception. When my friends arrived, each one decided on a data plan only (1 GB for 10 EUR), as my calling plan would more than serve our collective needs. When travelling with others and their mobile phones, it's usually beneficial for everyone to purchase plans from the same provider. In our case, Lebara-to-Lebara calls were free, so calls between each of our phones were included in our respective plans. This came in handy.
Coverage was excellent in all places I visited – Barcelona, Mallorca, Tarifa, Malaga, Ronda and Granada.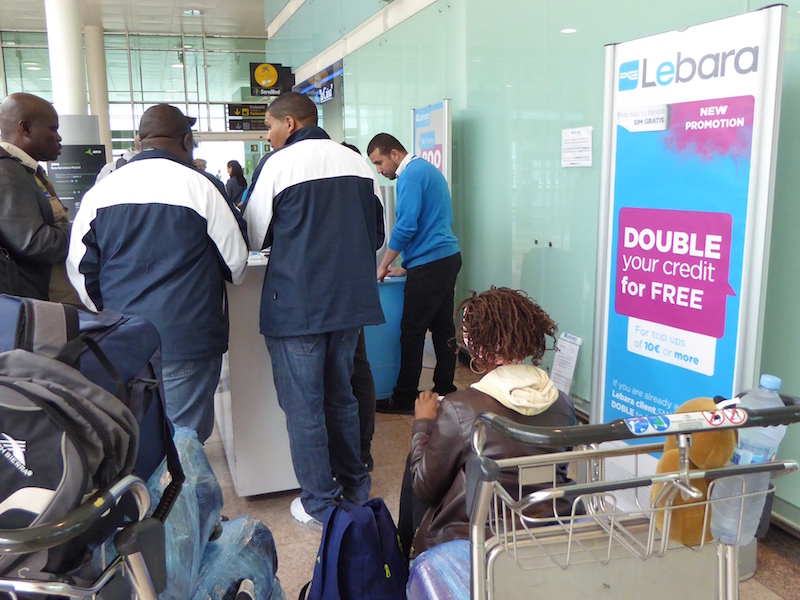 Take your passport, unlocked phone and 20 EUR to the Lebara kiosk and you won't be disappointed. Depending on the plan you choose, you might receive some change from that 20.
What's your experience in buying a SIM card in Spain?
Care to pin?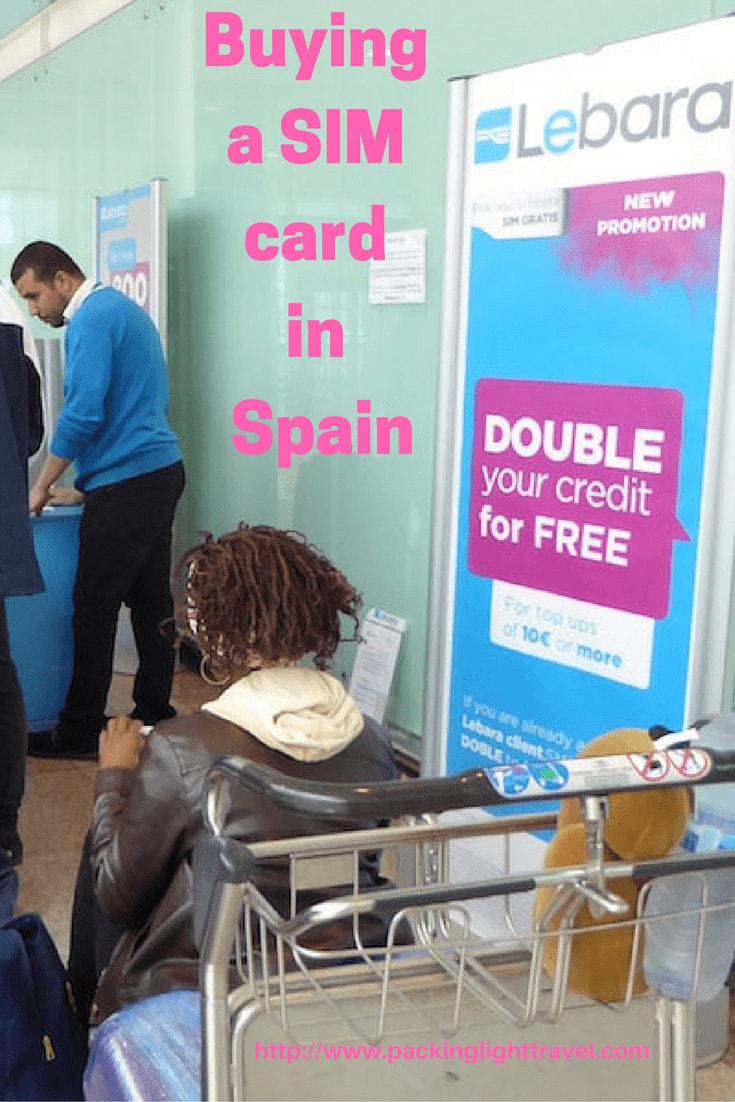 SaveSave
(Visited 8,935 times, 2 visits today)