Ashley Dempster is passionate about packing. So much so, if it's a choice between what she looks forward to more – packing or the actual trip, packing definitely has the edge. Needless to say, preparing a packing list for Madagascar, and the packing experience itself, were both approached with a great deal of enthusiasm.
Visiting Africa was a dream spawned as an eleven-year-old. Now, after months of fundraising for her favourite project, Ashley was about to experience first-hand the work of WaterAid in rural communities in Madagascar.
Packing considerations
Several realities had an impact on what and how Ashley packed for the trip:
Calgary, Canada to Antananarivo, Madagascar would take roughly 32 hours' travelling time, with connections in New York and Paris. Flights varied between four and ten hours, and the layover in Paris would require train travel between terminals. Ashley finds it difficult to sleep on planes, so packing her own entertainment was essential. The long trip also pointed to the need to be able to freshen up during the journey.

It was a relatively short trip lasting a little under two weeks.

Temperatures in Madagascar in October suggested a range of between 13°C (55°F) and 26°C (79°F), with the likelihood of rain.

Exercising could be difficult, but hopefully there would be opportunities to go for a run.

Access to running water for washing clothes would be limited, and power outages would be frequent.

Many people supported fund-raising efforts so keeping them updated was a priority. Instagram would require photographs and captions. Ashley also planned to publish a series of blog posts on her website.

The study tour would involve some sightseeing, trekking in a wildlife park, and travel to different rural communities. There would be lots of walking, and travelling by jeep over rough roads to reach outlying villages. While in the villages, water taps would be inaugurated amid celebrations organized by villagers.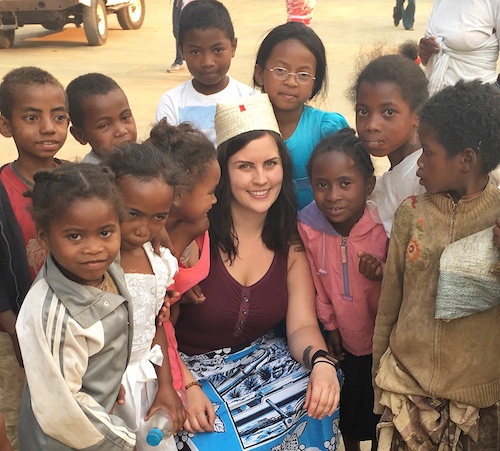 Packing principles
Ashley's packing style is guided by several tried-and-true principles and approaches.
Go carry on. According to Ashley, packing everything in two carry-on bags boils down to commitment. It can be done. "Why carry on, you may ask? Well, let me tell you. I will never pay to check a bag. I'll never have to worry about the airline losing my luggage. I won't have to worry about things getting damaged or stolen. I'll have everything I need, with the ability to freshen up and change clothes during long journeys. And, best of all, I will NEVER overpack." Indeed. It sounds to me like that commitment is sprinkled with passion and determination.
Pack early. In this case, packing was finalized on Monday, for a Friday departure. This not only created space to evaluate each and every item, but it relieved a lot of pre-trip stress.
Plan toiletries. According to Ashley, toiletries are at the heart of why many travellers don't want to go carry on. Key strategies are to minimize and multipurpose. If you need to pack lots of something such as shampoo or sunscreen, pack several small bottles so you're not over the 100-ml limit.
Curate a capsule wardrobe. Ashley admits it may be boring, but her wardrobe contains lots of clothing in black and other neutral tones. Combining individual mix-and-match pieces allows different outfits to be created. And besides, with limited access to running water, darker colours are less likely to show the dirt.
Wear bulkiest items on the plane. Ashley set aside her bulkiest outfit for departure day: Lululemon crops, tank, sweater, sarong/pashmina (to wear as a scarf and use as a blanket on the plane), sports bra, underwear, warm socks and hiking shoes.
Have a packing plan. Ashley's packing plan has several simple steps: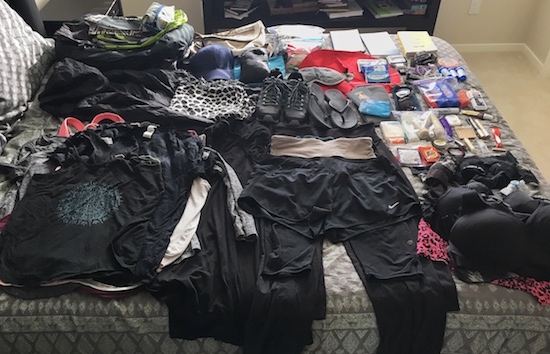 Lay everything out in categories (e.g., "toiletries," "shoes," "gadgets").

Evaluate everything, item by item. Remove items. Re-evaluate.

Set aside what will be worn on departure day.

Pack the personal carry-on bag with in-flight needs, essentials, and anything you can't afford to lose.

Place all liquids, gels and aerosols in a Ziploc® bag (3-1-1 bag).

"Recategorize" remaining items, according to how they'll be packed in packing organizers.

Pack the main bag. Identify what needs to go into outer pockets (e.g., 3-1-1 bag, rain jacket).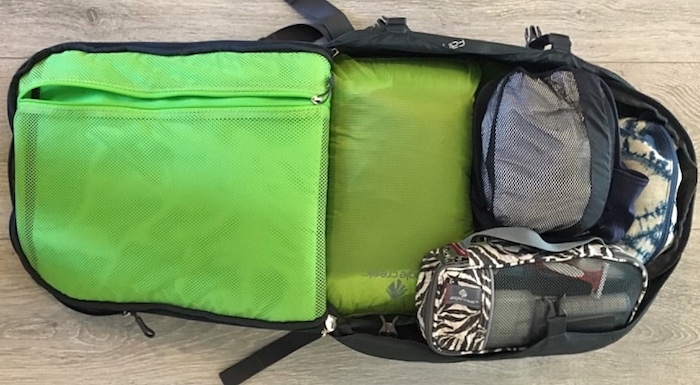 Bags
Ashley loves bags, and considers them a worthy investment. Her two carry-on bags ("standard" and "personal" articles) and a variety of packing organizers aren't necessarily top-of-the line purchases, but they're all durable and functional.
Standard bag. Ashley's standard carry on is a convertible travel backpack. She wanted a front-loading backpack that could be used for different types of travel: vacations, half-marathon weekends and eventually, long-term international travel. After extensive research and hours of watching YouTube reviews, she settled on the Osprey Farpoint 40. I have to agree with her choice. While searching for a travel pack in the 35 to 40-litre range with a padded hip belt and ventilated suspension, I must have read hundreds of reviews. A consistent theme was how comfortable the Farpoint 40 is when carrying the pack for any length of time. It comes in two torso sizes. The M/L measures 20 x 14 x 8 inches (53 x 35 x 23 centimetres). The S/M is slightly smaller and lighter with a capacity of 38 litres and weighing 3.11 lb (1.41 kg).
Personal bag. The Lululemon Festival Bag doubles as a "personal article" and a day bag. The strap adjusts easily to transition from a shoulder bag to a cross-body bag. Measuring 11 x 9 x 5 inches (28 x 23 x 13 centimetres), it has plenty of room and loads of secure pockets. As an in-flight bag, it carries everything needed for a comfortable flight, as well as essentials for entering and leaving the countries on the itinerary. This includes a passport, travel wallet, financial cards, travel documents, travel pillow, eye shade, iPhone, USB charging cable, portable power bank, headphones, journal, pen, earplugs, makeup, individually wrapped makeup removing wipes, and snacks.
Packing organizers. A variety of packing organizers brought efficiency, function and organization to Ashley's packing. Like a well-planned filing system, everything was arranged neatly in the Farpoint 40 in a way that made sense. Things needing to be accessed quickly along the way were destined for outer pockets.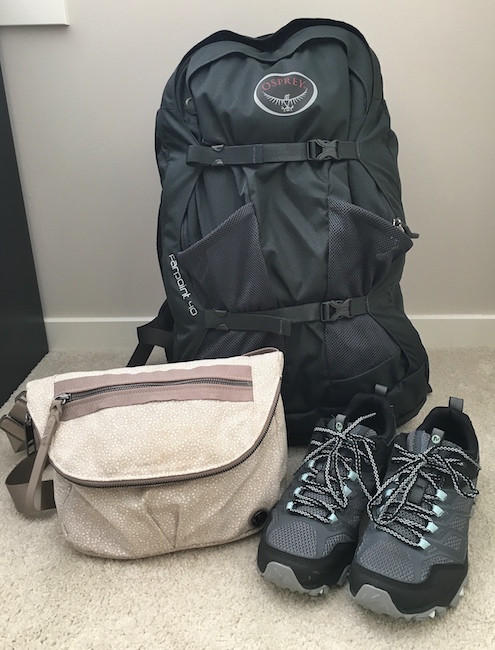 Packing list
Shoes, clothing and accessories
Typically, Ashley's packing list would have just 3 or 4 tops, 2 pairs of pants and 3 pairs of underwear. With limited access to running water, more clothes than usual were packed.
hiking shoes – Merrell Moab FST Hiking Shoes (1), flip-flops (1)

tank top (5), t-shirt (2), sweater (1)

shorts (1), Lululemon crops (2), long pants (1)

dress (1)

rain jacket – Marmot Women's PreCip (1)

underwear (7)

socks – moisture-wicking athletic (5)

bra (1), sports bra (2)

swimsuit (1)

pyjamas (1)

sarong / pashmina (1)

minimal jewellery (I Am Adventurous Bracelet and a pair of simple earrings)
Toiletries
minimal makeup (See The only makeup I travel with), makeup remover, cotton swabs, cotton pads

shampoo, conditioner (which works as shaving cream in a pinch), minimal hair products (curl enhancing cream, hairspray), comb, hair elastics

deodorant, solid perfume (LUSH Vanillary)

facial wash, moisturizer, lip balm

soap leaves (Sea-to-Summit), individually wrapped personal wipes, hand sanitizer, Wysi Wipes (see Ashley's interview at Her Packing List)
detergent (Tide Detergent Sink Packs)

tampons (a few for emergencies)

floss, interdental piks, toothbrush, toothpaste

nail file, razor
Gadgets
iPhone 6S (serves as a camera, movie theatre, e-book, and computer), portable power bank (Sinoele 10,000mAh charges an iPhone 6 4x+), charging cables, adapters

headphones

headlamp – Petzl, extra batteries
Miscellaneous



sunscreen (2), insect repellent with DEET (2)

first-aid kit kit to include prescriptions, Advil, Benadryl, Imodium, Midol, Tums, Polysporin, BAND-AIDs®

silk sleep sack, pack towel

guidebook, one novel (to reduce the drain on the phone battery)

journal, pens

eye shade, inflatable travel pillow, earplugs

sunglasses, hat

granola bars, fruit bars, Vega Sport protein powder, treats for children (individually wrapped Life Savers), tea bags, nuun rehydration tablets
Essentials
passport, ID

local currency

travel wallet, credit cards

travel documents

photocopied passport and ID, stored elsewhere
Assessment
Bags
According to Ashley, the Osprey Farpoint 40 was the star of the show. "It's by far the best bag I've ever owned, and I recommend it to everyone I meet. I couldn't have managed carry on with just any old bag. None of my travelling companions could believe how much stuff I fit into it! It helps me stay organized, is durable enough to be thrown on top of a dusty jeep's roof rack or cram into an overhead bin on a plane. It also keeps me from buying a bunch of unnecessary souvenirs."
"The Lululemon Festival Bag was a perfect size for daily excursions. Unfortunately, the light colour of the canvas fabric didn't stand up to the rigours of travel. It got absolutely filthy on the trip and won't come clean. I'd recommend the bag, but only in a more durable fabric."
What worked well
Packing cubes. "I can't stress enough how much I love these! They kept my clothes organized, and made repacking a breeze when we were moving every day or two. The compression feature is the only reason I was able to fit everything into a carry-on bag."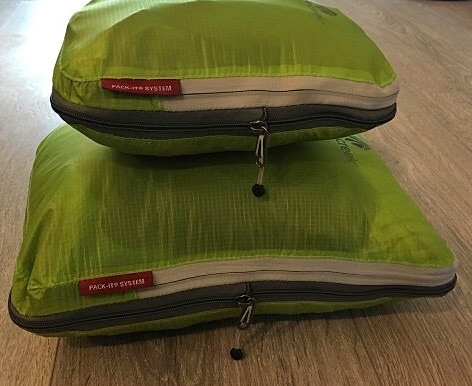 Power Bank. "The 10,000mAh, dual-USB port Sinoele was able to fully charge my iPhone 6S more than four times. This was a godsend during the 33-hour journeys there and back, long days in the jeep, and days in the field when there was no electricity."
Merrell Moab FST Hiking Shoes. "They're light enough to be a short-distance running shoe, but tough enough to hike even the gnarliest of terrain in rural Madagascar. It was extremely dry and dusty when we were there, and these shoes held up better than I could have ever hoped."
What could have been left behind
"I brought too much food. I packed protein shake powder, granola bars, and treats from home. I didn't know what the food would be like in Madagascar. I typically don't eat meat, especially when I travel, so I wanted to be prepared. The food in Madagascar ended up being incredible and it was very easy to find vegetarian fare. I ended up giving most of it away."
Conclusion
I'd like to thank Ashley for so willingly sharing her packing know-how. For more insights from Ashley on packing and travel, you can find her at Adventure to Anywhere. Look for The Madagascar Diaries, an inspiring collection of day-to-day descriptions of her experience. Check out her amazing photographs on Instagram. For more information on WaterAid, and how you can support this worthy project, visit the WaterAid site.
If you enjoy reviewing packing lists, you might like:
You might also find the following of interest:
Comments? Suggestions? We'd love to hear from you in the comments.
Care to pin it?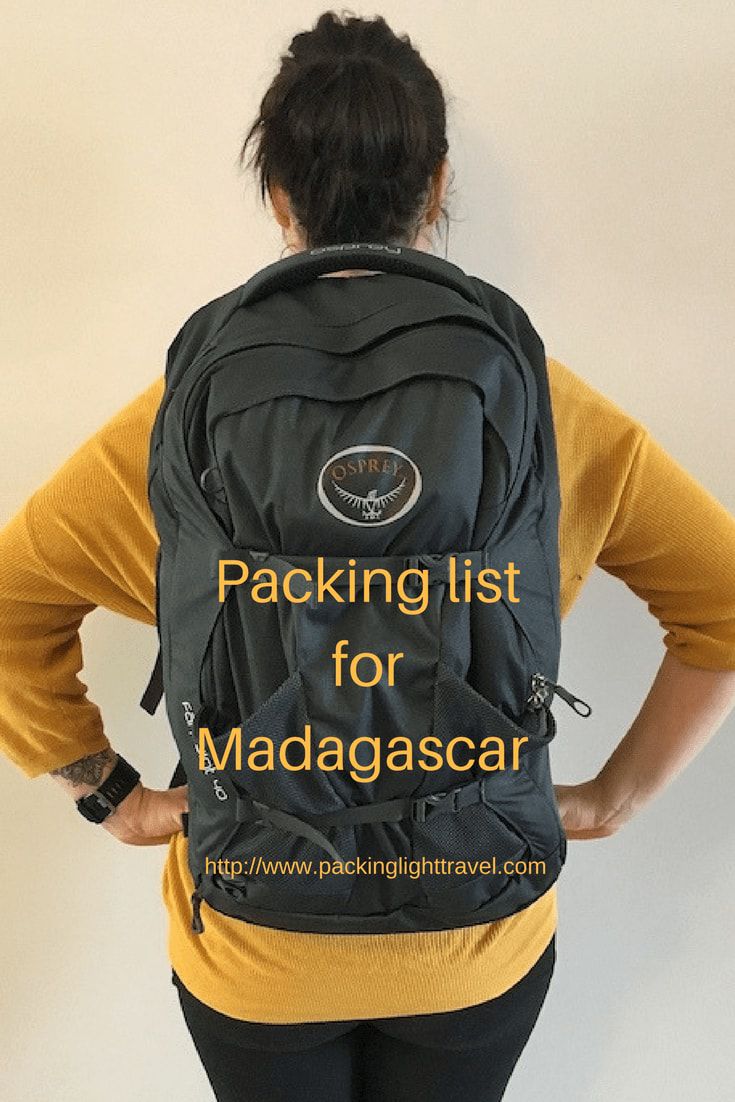 Some of the links on this page are affiliate links. If you use them to buy something, you don't pay more, but this website earns a small commission, which helps pay the costs of maintaining the site. So, thank you.
SaveSave
SaveSave
SaveSave
(Visited 2,393 times, 1 visits today)