The seed was planted in Dar as Salaam, Tanzania. A Consular Officer at the time, Dominique Lombard came in contact with many travellers on the adventure of their lives, and realized that doing something similar was definitely within her reach. After short trips within Africa and the Middle East while posted to Tanzania and Lebanon, Dominique set her sights on taking a year off to tour South America.
Preparing a packing list for South America was one of her greatest pre-trip challenges. Committed to packing light, Dominique invested in several months' research, seeking inspiration from bloggers such as Nomadic Matt, Legal Nomads, Two Wandering Soles, Packing Light Travel and Too Many Adapters.
I caught up with Dominique in September 2016, on the eve of her departure. Dominique explained that like many of her generation, she grew up in an environment where materialism was valued, and "stuff" equated with comfort. She sees her trip to South America as an opportunity to figure out what she really needs to pack for enjoyable day-to-day travels, and gain insights on how to do with less on her return.
Surveying the neat piles of possessions destined for her backpack, Dominique remarked, "I think I still have too much." I could feel her struggle. Learning how to pack light is a journey in and of itself.
Packing considerations
Several factors influenced Dominique's packing choices. Here are some examples.
Pack multi-use items. Items capable of serving more than one purpose were at the heart of Dominique's packing strategy. For example, flip-flops were packed for use as beachwear, indoor footwear and shower shoes in hostels.
Find winter gear there. Most of the trip will be spent in warm weather. Packing for three-season travel means not having to lug around winter gear that's not being used for a significant amount of time. Besides, Dominique figures clothing available locally will be more appropriate for the climate. Her plans are to rent, or purchase gear from local merchants or other travellers when it's needed.
Pack what will be worn often. Clothing that isn't being worn has to be carried. To earn a place on her packing list, each item needs to be worn on a regular basis. For example, hiking boots would be nice to have, but Dominique figures they won't be worn often enough to justify being packed.
Pack clothes that transition well. Dominique searched for clothing that will work equally well when trekking in rural environments, and exploring city streets. Clothes that will easily convert from daywear to eveningwear were also serious contenders. For example, an attractive Chlorophylle Maya Skort will work perfectly for active days, and dress up beautifully for occasions requiring something more stylish. The two pockets are a bonus.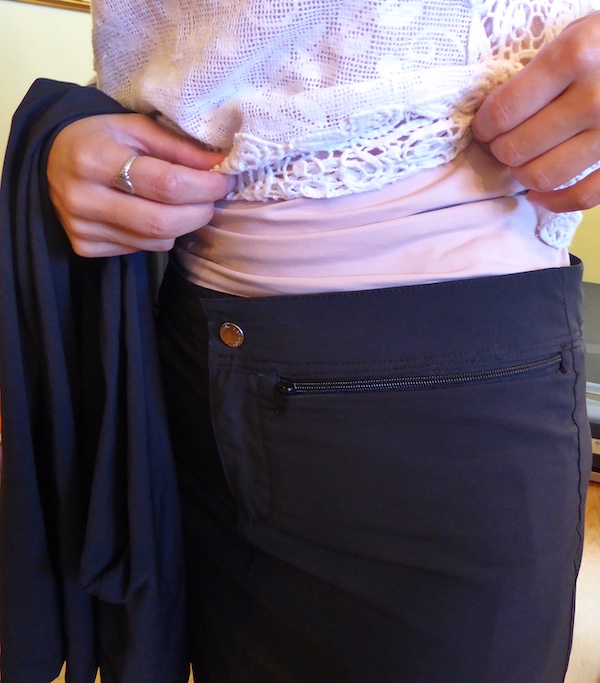 Luggage
The search for the perfect backpack started and ended with reviews from other travellers. When it came to "must-have" features, it needs to be comfortable when walking long distances. Dominique was eventually pointed in the direction of the Gregory Jade 63 after reading a recommendation from Legal Nomads' Jodi Ettenberg. Jodi pointed out that Gregory makes packs for an XS torso size, which sounded like a possible fit for Dominique's 5' 2" (157-cm) frame. Other key features include a suspension system that creates space between the body and the pack for ventilation and comfort, a substantial waist belt with pockets, a ventilated moisture-wicking harness, and an integrated rain cover. It sounds perfect.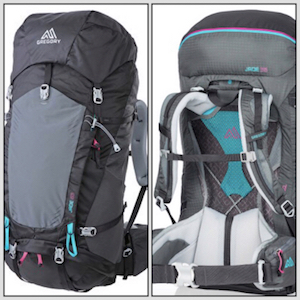 For a day bag, it was the Eastpak Foldable Backpack that made the final cut. A foldable stuffable pack was chosen on the assumption it won't be used often enough to justify taking a more robust bag.
Packing list for South America
Toiletries
Eagle Creek's Pack-It Specter Wallaby Toiletries Organizer is ultralight (4.3 oz / 122 g) and the stow-away swivel hook allows it to be used as a hanging kit.

Clothing
All clothes are packed in three 12-litre Osprey Straightjacket Compression Sacks in three different colours.
wrinkle-free black dress (1)

merino long johns (1)

black sports leggings (1)

capris (1)

khaki trekking pants (1)

black trekking pants, also suitable for city wear (1)

jeans (1)

shorts (1)

skort (1)

t-shirts (3)

tank tops (4)

button-up shirt

long sleeve merino wool top

long sleeve merino sweater

long sleeve top with zippered collar

Smartwool merino socks (5)

underwear (7)

sports bras (2)

regular bras (2)

swimsuit; two-piece swimsuit

scarf; Buff

gloves

belt with a zippered compartment for valuables

MEC Hydrofoil Jacket

packable puff jacket
Shoes
closed-toe walking shoes (Salomon Light Trail Shoes)

sandals (Teva Tirra)

flip-flops
Miscellaneous
Packing list for South America: an assessment
Two and a half months into her tour of South America, Dominique was generous enough to provide an assessment of how the items on her packing list have fared so far.
Luggage
"My backpack fits like a charm! The ventilated suspension for the back is, for me, one of the best features of the Gregory Jade 63. It keeps me cool as I'm walking around trying to find my next destination, be it the hostel or the bus station. The hip belt is also very comfortable. The bag does have a lot of hanging straps, but they're useful if you're hiking and need to attach your gear (e.g., mattress, sleeping bag or walking stick). Its packed weight is 12 kg (26.5 lb) and that's comfortable for my weight and size."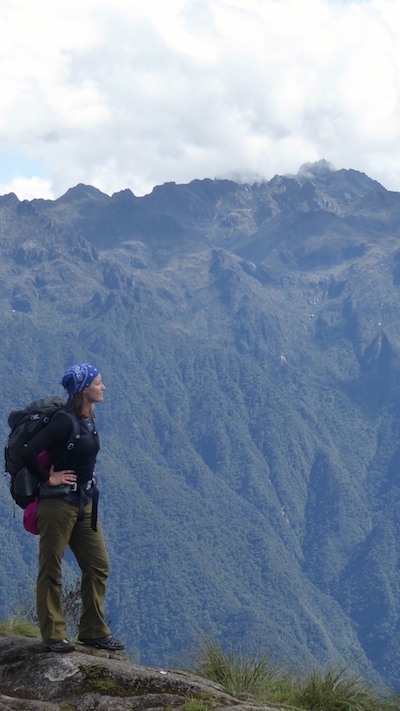 "For a day bag, I opted for the foldable Eastpak Foldable Backpack thinking that it wouldn't be used on a regular basis. However, I've been using it every single day, including on multi-day hikes. A sturdier day bag would have been preferable, given how often it's being used. I'll use this one until it's worn out (it already has tiny holes) and then replace it with something more rugged. To be fair, this bag is meant more for casual use. I'm surprised it's survived this long!"
Acquisitions and Discards
Dominique prefers reading a physical guidebook. However, she discarded her print copy of Lonely Planet South America on a shoestring and uses the digital version on her iPad. From time to time, she borrows paper copies from other travellers, so if she were travelling to just one or two countries, she'd carry physical copies.
A sundress was purchased in Colombia, motivated by the weather and the need to feel a bit more feminine by having more alternatives to backpacking clothes.
What's working well
The Columbia Anytime Outdoor Omni-Shield pants (Boot Cut) are lightweight, water repellent and comfortable, and great for hiking and city wear.
The MEC Hydrofoil Jacket has been a lifesaver in heavy rains. It's always in Dominique's day bag.

All merino tops and socks are fantastic. Merino fabrics dry quickly, and they're breathable and odour resistant.

The Chlorophylle Maya Skort is very practical, for both city and sports wear. It gets a lot of wear.

Insights on how to pack light for South America
I asked Dominique if she has any revelations, insights or advice on packing light.
"If you need to replace or acquire something, you can find pretty much anything during your travels. So don't hesitate to pack light!"
If you'd like to follow Dominique's travels, you can catch up with her at her blog, Storied Faces, Storied Places.
What insights do you have on preparing a packing list for South America? We'd love to hear from you.
Care to pin it?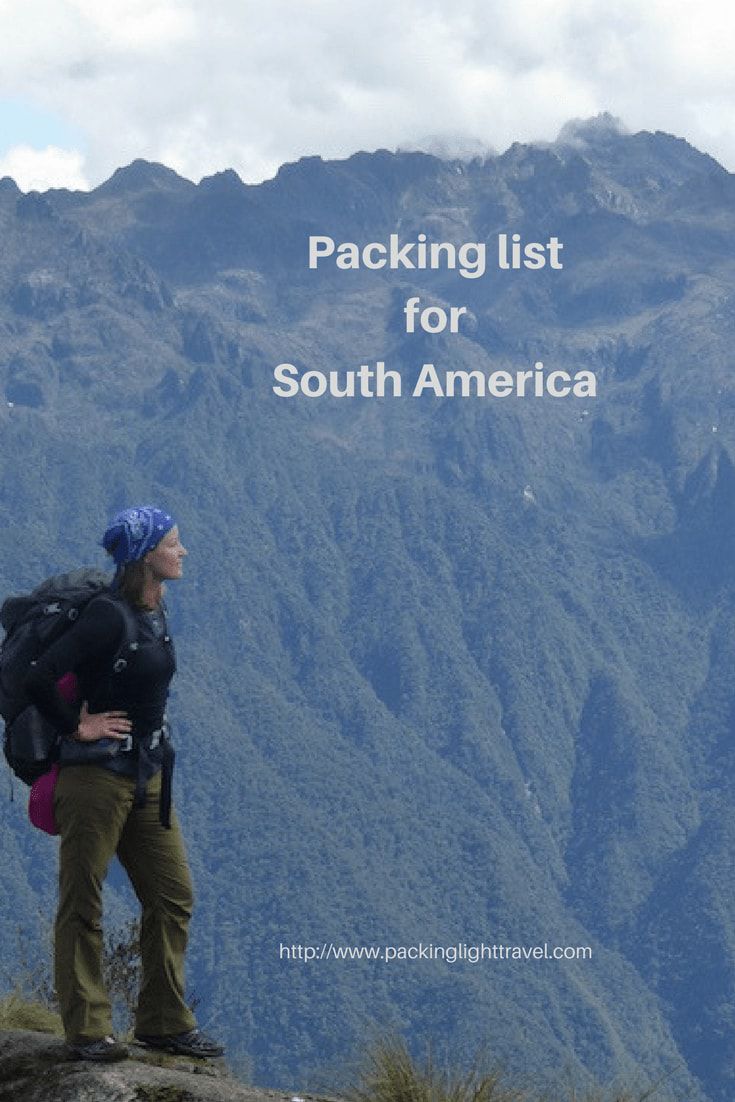 The Amazon links are affiliate links. If you use one to buy something, you don't pay more, but this site earns a small commission that helps with the costs of managing the site. So, thank you.
SaveSave
(Visited 996 times, 2 visits today)