Morocco and Spain are so vastly different, it's hard to believe they're separated by just a short 35-minute ferry ride. Morocco is a worthy destination in and of itself, but given its proximity to Europe, why not consider a side trip? There are reasonably priced flights to Marrakech, and convenient overland connections with the ferry service from Tangier. When in Marrakech, there's no better way to explore the city than from a comfortable riad in the heart of the medina. If you're looking for recommendations, I have one for you: Equity Point Hostel, Marrakech.
Equity Point is nestled within a labyrinth of alleyways inside the walls of the UNESCO-recognized Medina of Marrakech. It's a tranquil sanctuary where you can cool off during the warmer months, and wind down from the frenetic pace of the surrounding souks. There's a lot to like about Equity Point.
Great location. Just 300 metres or so from Jamaâ El Fna Square, it's perfect for those who love to explore their surroundings on foot. You'll want to spend a lot of time in the square, and getting lost in the maze-like network of souks. You'll also appreciate a break from the frenzy of the souks, and Equity Point is within walking distance of many interesting spots. Venture beyond the medina walls, and circle Koutoubia Mosque. Or, escape the blazing African sun and enjoy a cool and shady respite at the Majorelle Garden. Finding Equity Point the first time takes some planning, but once you get your bearings, you'll come to appreciate its superb location.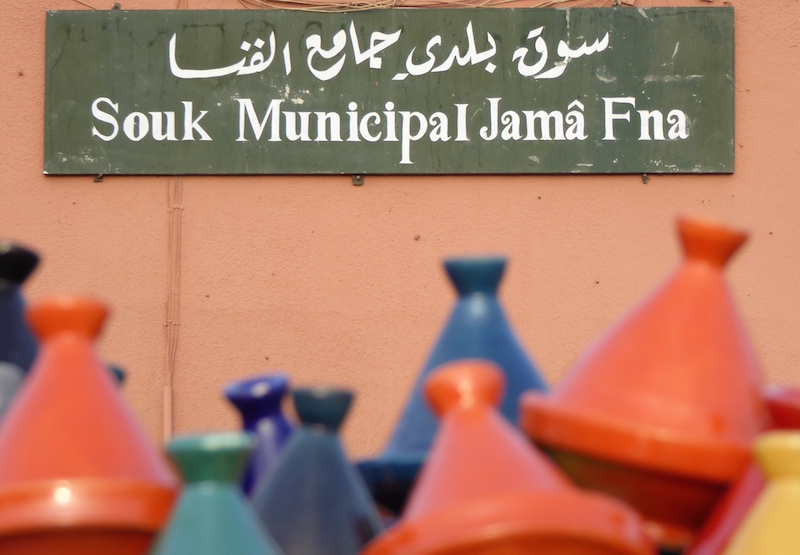 Variety of accommodation. The hostel boasts 147 beds to suit different tastes and budgets. Occasionally known by its old name of Riad Amazigh, Equity Point consists of two sections. According to the manager Xavier, the old section used as Riad Amazigh is at least 300 years old. It now houses the reception area, bar/restaurant and living accommodation. The new section was added in 2011 and includes the pool and additional accommodation.
Excellent value. At $15 USD a night with breakfast included, Equity Point is reasonably priced. This was the price I paid in a 6-bed women's dorm in May 2015. Mixed dorms were cheaper, and private rooms more expensive. The breakfast area is spacious, with indoor and outdoor sections. There wasn't a lot of variety from day to day, but the selection on the buffet more than satisfied my needs. I could have ordered (and paid for) a special breakfast, but never felt inclined to do so. Bread, Moroccan pancakes, cakes, biscuits, jam, yogurt, fresh juice, tea and coffee provided a satisfying start to the day.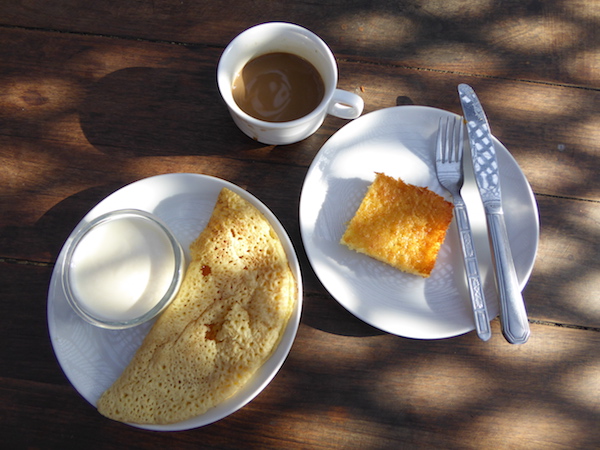 Basic, but clean. My dorm in the old section was very basic, and it was cleaned each day. Xavier gave me a tour of other rooms, and some were impressive. Facilities in my dorm included an ensuite bathroom with a shower, double sink and toilet. There was plenty of hot water at a consistent temperature, and the water pressure was excellent. Of the five power outlets (plus one in the bathroom), three were close to the pillows on three of the lower bunks. Each bed had a pillow with pillowcase, a fitted sheet, and a folded blanket in case it was needed. The bed was very comfortable.
Easy to stay connected. During my stay, the Wi-Fi signal was more than adequate – in my dorm, reception area, breakfast room/restaurant and rooftop. In the reception area, lockable charging stations are available for a nominal rental fee.
Lots of common areas. I've never seen so many common areas in a hostel. For those looking for a quiet nook in which to curl up with a book, there are several indoor and outdoor areas just waiting to be discovered. The breakfast room offers both indoor and outdoor tables, and serves as a restaurant and bar at other times. The rooftop deck looks out across the medina. It's a perfect spot to watch the sun rise, take in the sounds of the call to prayer, or enjoy a beer in the evenings.
Tours. Signing up for a tour is easy, with helpful information and recommendations from the staff. It may have been cheaper elsewhere, but it was just too convenient booking via Equity Point. Compare prices if this may be an issue for you. Ilham works on the front desk and she provided the inspiration for my tour outside the city. I was keen to take a trip out into the desert, but given how hot it was, Ilham (meaning "inspiration" in Arabic) pointed me in the direction of the tour to the Ouzoud waterfalls in the Atlas Mountains. It was a superb choice. A tour coordinator came to the reception area at the designated time, and escorted one other person and myself to an air-conditioned van parked in Jamaâ El Fna Square. If you sign up for a tour and your experience is anything like mine, you'll meet other interesting travellers and have a fantastic day.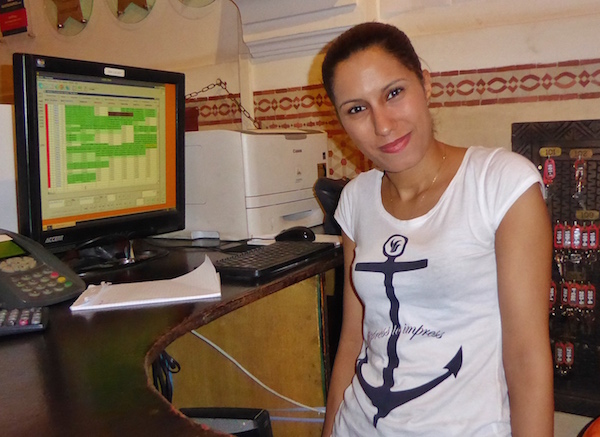 Secure. Reception is staffed on a 24-hour basis and guests need to knock to gain entry. A security person is posted outside the door during the night. I was provided with a set of two keys with a 50-dirham refundable deposit. One key opened my dorm and the other an assigned locker. The locker easily accommodated my 60-litre standard carry-on bag and 19-litre daypack.
Safe. When coming and going to and from Equity Point, and getting lost in the souks, at no time did I feel my personal safety was at risk. I grew to enjoy the walk through the maze of narrow alleyways. Greeting merchants and passersby with "salam" would inevitably be rewarded with a smile and greeting in kind. When I decided to take the 3:00 am bus from Marrakech to Tangier, I asked different staff members if walking out to Jamaâ El Fna Square around 1:00 am to find a "petit taxi" would be safe enough. All indicated it wouldn't be a problem. As I was leaving the hostel, there were three guys hanging around the door – a hostel worker, the security guard, and a third who expressed concern for my safety. He organized a trip to the bus station on the back of a moped, with the security guard as my chauffeur. Such thoughtfulness was appreciated.
Good to know
Not all accommodation is air-conditioned. My dorm in the old section wasn't. The advantage was that most people stayed in the new section, and there was just one other person in my dorm. I visited at a time when it was unseasonably hot, with temperatures during the day in the early forties Celsius (110 Fahrenheit). We kept the windows closed during the day and when it cooled down by about ten to fifteen degrees Celsius at night, the windows were opened for sleeping. The odd insect came for a visit so a silk sleeping bag liner would have come in handy. Moving to air-conditioned accommodation was an option, but I had settled in just fine and was enjoying all that space. It was quiet and comfortable. Besides, I was travelling solo and enjoying hanging out with my "dorm mate," a very interesting traveller from Berlin. Bottom line? Depending on the weather, ask for air-conditioned accommodation. UPDATE: Equity Point has advised that all sleeping accommodation is now air-conditioned. 
Directions
The most challenging part of staying at Equity Point is finding it, and Google Maps won't help. Do your research in advance and come prepared. Otherwise, you'll need to pay someone for directions or to guide you to the door. And you'll run the risk of a longer walk for an inflated payment. There are different routes but one is better than others. Here's an excellent video of my preferred walk from Jamaâ El Fna Square to the door of the hostel. It gives you a taste of what you'll see along the way. In addition, here are my written directions:
From the Menara International Airport, take the #19 bus to Jamaâ El Fna Square. It stops near Koutoubia Mosque at the edge of the square, and costs 30 dirhams. I noticed three ATMs in the arrivals hall at the airport.

Jamaâ El Fna is a very large pedestrian square. Walk into the square, keeping the Koutoubia Mosque at your back. Look for Café Argana on the northwestern perimeter. It has a large sign at the top of the building: ARGANA RESTAURANT GLACIER. From here, it's a walk of about 300 metres to the hostel.

Take the street immediately to the left of Café Argana. About 30 metres later, you'll reach a small square. Keep going straight, veering a little to the left to take the street under an arch. This is called Rue Mouassine. There's a small Equity Point Hostel sign on the arch.

Rue Mouassine snakes its way through the medina, with shops on both sides of the narrow street. Watch out for bicycles and mopeds.

After a couple of hundred metres, look for the following shop on your right.

When you're outside this shop, turn around and look for an arch nestled in a corner a few metres away. This is the entrance to Derb Laghnaiz Lamouassine, the street where you'll find Equity Point. There's a sign with the name of the street just to the left of the arch. Until I got into the habit of looking for the shop (Artisant El Koutoubia) as my marker, I walked past the entrance to Derb Laghnaiz Lamouassine several times.

Derb Laghnaiz Lamouassine is a narrow alleyway that winds its way to the hostel. After approximately 50 metres, you'll find the entrance door to Equity Point.

If you're arriving late at night, I'd suggest calling Equity Point and ask for a member of the staff to meet you by Café Argana.
If you've enjoyed this article, you might like my review of the Space Inn, Taipei – another unique hostel.
Enjoy your stay!
(Visited 481 times, 1 visits today)