Updated December 20, 2016
Anyone who travels is aware of the huge number of bags that go missing each year. In addition, consider the amount of stuff that's left behind at security checkpoints, in hotels, planes, taxis, restaurants and anywhere else people travel. What's surprising is that in far too many cases, there's no way to identify and contact the owners, and unclaimed items end up being sold as salvage. Lost and found recovery services for travellers could avoid this happening to you.
A solution – tag and register major items
Several internet-based companies offer lost and found recovery services. Features are similar insofar as customers obtain a durable security tag containing a unique code. The tag is then attached to a laptop, passport, suitcase or other article, and registered at the company's website in a secure database. If the article goes missing and is found, the finder contacts the company via the toll-free number or website listed on the tag. The code identifies the owner, which leads to a return of the missing item.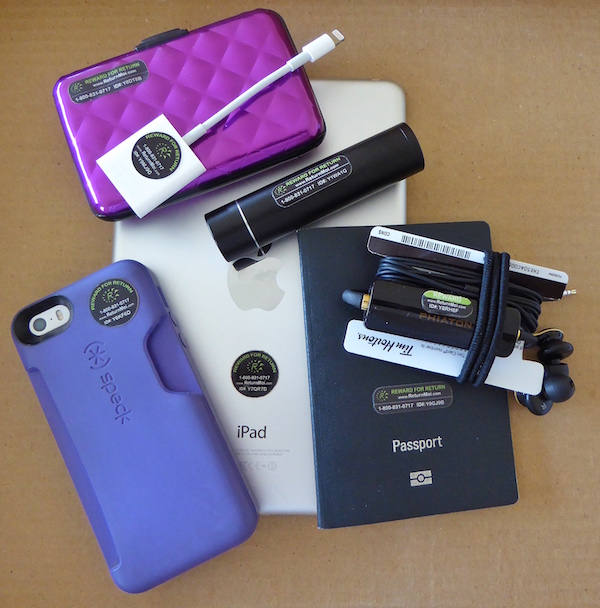 Choosing a service
Using my own experience as an example, I was interested in tagging as many as twenty items. This included twelve essential items and costlier gadgets – passport, keys, wallet, Smartphone, tablet, laptop, e-reader, camera, earphones, sunglasses and two bags. I presumed the functionality of each adhesive tag would be limited to the lifespan of the tagged item. So, I figured additional tags would be needed once possessions are replaced, renewed or upgraded.
My search led me to three companies – Okoban, ReturnMe and zReturn. All advertised just one upfront cost based on the number of tags purchased. There were variations in the types of tags and costs, and how the recovery services are managed.
Okoban
Okoban had its origins in Japan and is now recognized worldwide. It's reputedly the only property registration system linked to the SITA/IATA Worldwide Tracer Systems.
The company offers several types of tags (keychain, bag and luggage) as well as adhesive labels. Some tags include smart NFC (Near Field Communication) features. Prices vary. For example, a pack of 4 labels plus one keychain tag cost € 9,95.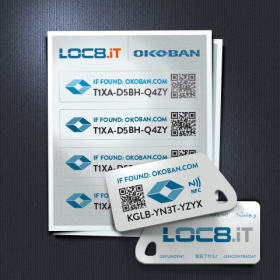 Pros:

linked with airline industry systems

Cons:

no toll-free number
ReturnMe
ReturnMe (formerly ReturnMoi) is a Canadian company advertising an 80% recovery rate. It has an impressive line-up of corporate clients and a long list of testimonials from customers who have had belongings returned. Each security tag lists a toll-free number, and indicates a reward is available for the finder. The cost of returning the item from and to anywhere in the world is borne by the company. An impressive variety of tags in several shapes and sizes each cost $8.99 (a luggage tag is $10.99). There's an option to save between 10% and 35% on a selection of value packs.
Cons:

expensive if purchasing many tags
zReturn
New York-based zReturn is the least expensive of all four companies. For example, 10 tags cost $14.90. It has an attractive user-friendly and very easy-to-navigate site. The recovery service follows a bulletin board model that puts the finder in touch with the owner via email.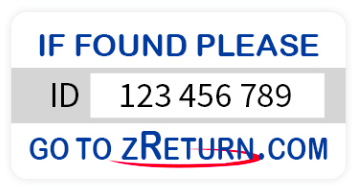 Cons:

no toll-free number; no active company involvement in contact with the finder or owner, or returning the lost item

Pros:

reasonably priced tags
Selection criteria
I like the idea of a toll-free number for a finder to call. It offers a quick and convenient option. It wouldn't surprise me to learn that an owner could receive an email or phone call from the company before s/he realizes the item is missing (as some of the testimonials attest). If I can avoid that sinking feeling of loss (and angst over what I'm going to do about it), this is a good thing.
I believe that most people want to do the right thing and return something to its rightful owner. Plus, a reward for a finder in the form of a gift is a positive acknowledgement. And, if someone is motivated by a reward and this results in its speedy return, that's OK too.
Having access to a variety of tags in different shapes and sizes means a wide variety of gear can be tagged and registered.
While it's hard to justify quibbling over the cost of a service that could lead to the return of a Smartphone and all of its data, cost is an important criterion.
My choice
ReturnMe scored top marks in all areas except cost. An initial outlay of $8.99 per tag ($10.99 for the luggage tag) is cost prohibitive and at this price, I would only purchase two or three, if any.
Social coupons to the rescue
I found several listings on social coupon sites advertising $60 worth of ReturnMe products for $9 with a limit of five coupons per person. I figured $45 would adequately fund my needs but alas, most coupons had expired. I found what appeared to be an active offer at MyDealBag but my purchase froze at the payment stage. When I contacted ReturnMe with my dilemma, I was offered three coupons that I readily accepted and placed an order. Since then, I've purchased additional coupons at YourBestDeals and tagged and registered almost thirty items. The tags make great gifts, and family and friends have been grateful beneficiaries.
Fortunately, I haven't required the lost and found recovery service, but ReturnMe's customer service has been second to none in all other communications. Based on testimonials and reviews, ReturnMe boasts many satisfied customers.

What lost and found recovery services have you used? What is your favourite?
(Visited 554 times, 1 visits today)