Istanbul is one of those places where one visit leaves a person longing for more. I first fell in love with Istanbul forty years ago when it was regarded as the unofficial start of the "hippie trail," the Pudding Shop in Sultanahmet was the place to go for networking and travel information, and the Topkapı Palace was virtually tourist-free.
Fast forward forty years, the Pudding Shop is in the same location with displays of nostalgic images of the past. And the generation of "hippie" travellers has been replaced with hordes of tourists from around the globe. My return visit in 2011 and then again in 2014 have only served to reinforce that the allure of Istanbul is just as intoxicating today as it was for me in the early seventies. And yet after four visits, I still long for more.
If you're planning a trip, a few days aren't enough. To cram as much as possible into too short a time, you may find yourself resorting to riding around in a large tourist bus with little or no interaction with locals. This would result in missing out on one of the best features of Turkey – the people. Plan for at least a week. Learn a few words of Turkish, pick up an Istanbulkart, and spend time on both the European and Asian sides of the city. Walk the backstreets, enjoy Turkish cuisine, and soak up the ambience of one of the world's most vibrant cities. Here are ten ideas to help you get started.
1. Stroll across the Galata Bridge
The Galata Bridge spans the Golden Horn, connecting Istanbul's two European neighbourhoods of Eminönü and Karaköy.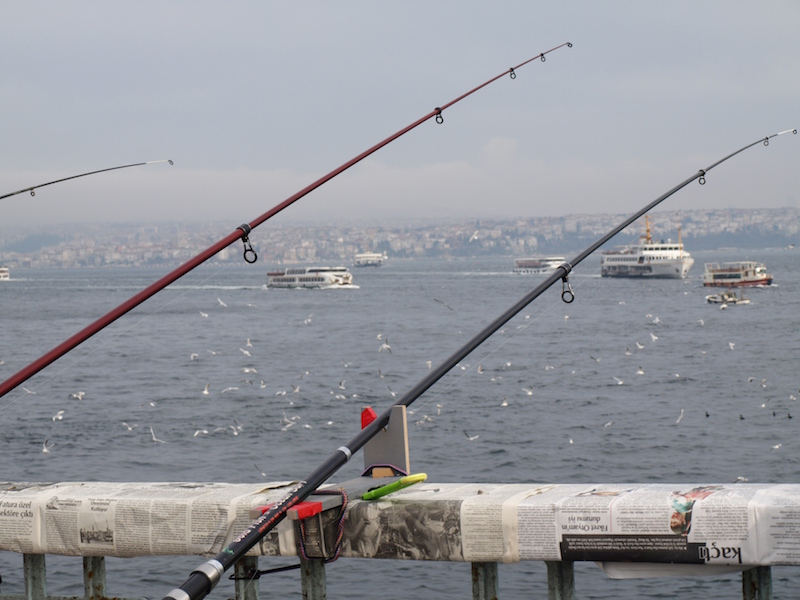 The bridge's most enduring image is its lines of shoulder-to-shoulder fishermen in numbers averaging two hundred a day. The almost unbroken line of bobbing rods creates interesting photo opportunities when incorporated with various backgrounds featuring Istanbul's characteristic skyline. Dotted along the bridge at strategic intervals are stalls selling fishing rods, wooden rod stands, lines, sinkers, hooks, lures and bait. Just after sunrise, it's possible to stumble across fires built in tin cans to take the edge off a crisp February morning, or be invited to share a sample of grilled fish being cooked up for breakfast.
2. Take a Bosphorus cruise
Istanbul straddles the Bosphorus, a body of water separating Europe and Asia. It's actually a strait, about 30 kilometres long connecting the Black Sea to the Sea of Marmara, which subsequently joins the Mediterranean. It's the world's narrowest strait used for international navigation so there's plenty to observe as the ferry zigzags its way up towards the Black Sea.
Avoid the ticket sellers on the Eminönü waterfront and opt for the public Full Bosphorus Cruise (Uzun Boğaz Turu) operated by Şehir Hatları, Istanbul's official ferry company. It's such an interesting and relaxing day that I've taken this same cruise on recent visits to Istanbul in the months of September and February. On both trips I sat on the left side (European side) heading up the Bosphorus and switched to the Asian side on the way back. The return trip is reasonably priced at 25 TL (about $10 USD). It leaves at 10:35 from the Bogaz iskelesi (Bosphorus Cruises Pier) immediately adjacent to the Galata Bridge at Eminönü. The ferry makes five stops as it goes back and forth across the strait and stops for almost two and a half hours at the quaint fishing village of Anadolu Kavağı, the last port before the Black Sea.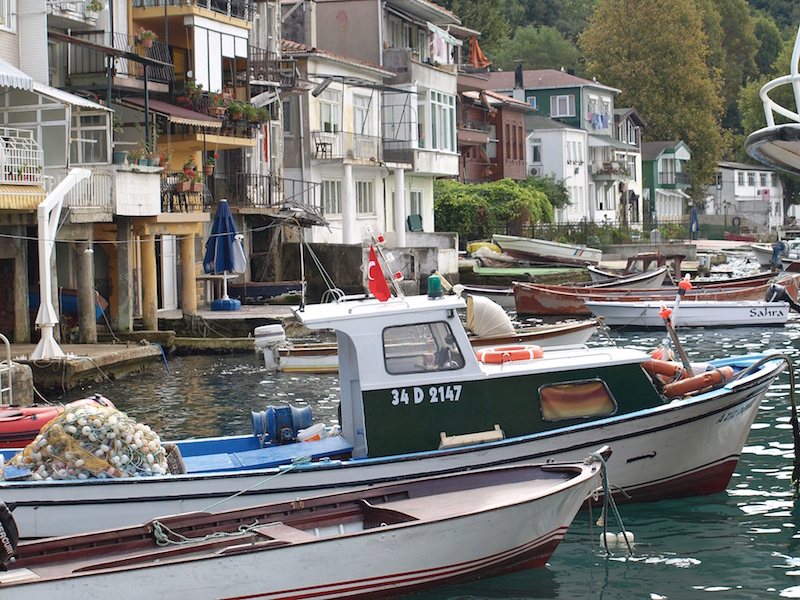 Stroll through the village and enjoy a seafood lunch at one of the many restaurants vying for patrons. It's also possible to hike up to Yoros Castle with stunning views of the Black Sea and the Bosphorus. Or, browse in a few souvenir shops with prices that seemed to be a little cheaper than those in Istanbul. The ferry leaves Anadolu Kavağı at 15:00 and arrives back in Eminönü at 16:25.
3. Remain ready to enjoy tea at any time
Turkey has a tea culture "steeped" in hundreds of years of tradition. It's consumed all day long, and considered a gesture of hospitality and friendship when offered to a guest. I was surprised to learn Turkey grows as much as ten percent of the world's tea production and the homegrown varieties are almost exclusively consumed within Turkey.
While I enjoyed apple tea when staying at hotels and hostels, it's considered a beverage for tourists. Traditional Turkish tea is black, served in a small curved see-through glass on a saucer with a couple of sugar cubes on the side. I was constantly offered tea by hoteliers, restaurateurs and merchants, but I found myself choosing to enjoy a glass of tea when stumbling across some aspect of Istanbul requiring pause for reflection. The prospect of sipping a glass of tea while marvelling at the surrounding scene would help me carve out time and space for enjoying the moment and feel gratitude for the privilege of spending time in one of my favourite cities.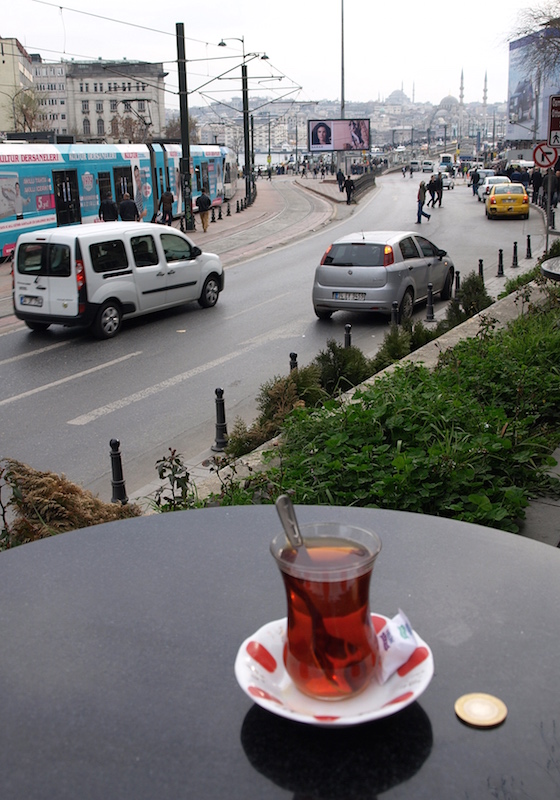 4. Enjoy adhān from the mosque minarets
With over 3,000 mosques in Istanbul, chances are you will always be within earshot of the adhān, the call to prayer sung five times each day. The exact times change from day to day and place to place, influenced by longitude and latitude, sunrise and sunset, and geographical relationship to Mecca.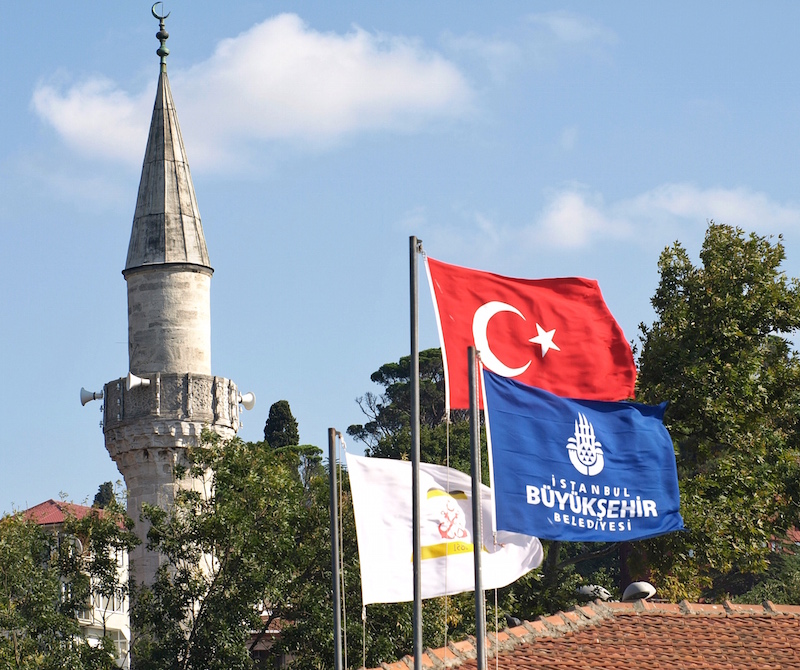 I tend to wake up early and found myself looking forward to hearing the hauntingly beautiful reminder that religion governs life in Istanbul. To the residents of Istanbul, of whom 99 percent are Muslim, the adhān is a melodic and spiritual start to the day. To visitors, it's a reminder of the layers of diverse faiths in the historically tolerant melting pot that is Istanbul. On one morning, my alarm clock was the call to Fajr prayer around 5:00 am – a day when I had planned to catch early morning views of Hagia Sophia and Sultanahmet Camii (Blue Mosque). On another day it was my signal to head to Eminönü to wander across the Galata Bridge to observe and interact with the fishermen on a misty February morning.
For those who prefer to not have their early morning sleep interrupted in this way, pack some earplugs. After all, there will be other times during the day to enjoy adhān from the mosque minarets.
5. Visit a mosque
The guardians of Istanbul's magnificent mosques are to be applauded for their efforts in balancing the rights of worshippers and the curiosity and enlightenment of visitors.
The larger mosques are usually open continuously every day. Visitors are welcome and admission is free, although donations for mosque upkeep are gratefully accepted. To avoid distracting worshippers, visitors may be restricted to the periphery behind a wooden railing.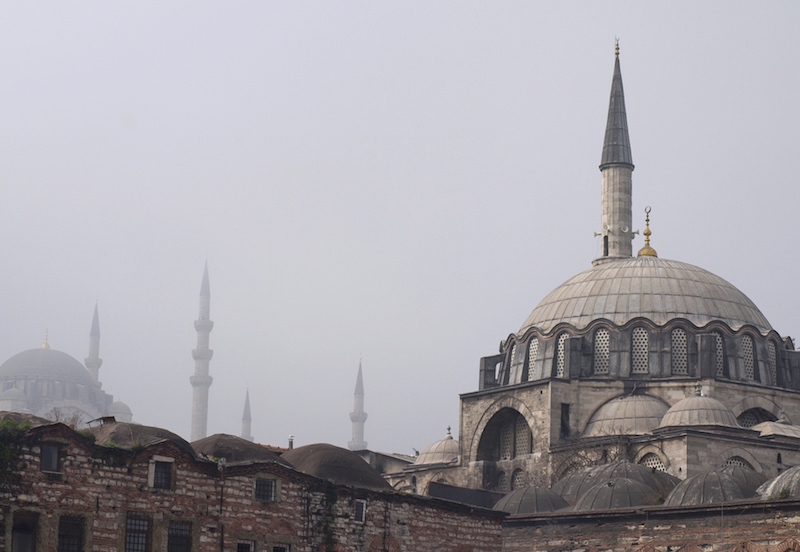 If the mosque is busy with worshippers, it's polite to return later. This is especially true on Fridays from late morning through early afternoon, when the weekly group prayers and sermons take place. It's also a sign of respect to avoid visiting a mosque at prayer time, or within the half hour after the call to prayer is sung from the minarets. To help with your planning, precise prayer times are available online.
Wear modest, conservative clothing exposing a minimum of flesh. For men, this means covering the knees and shoulders and for women, the knees, arms and head. Therefore, shorts or sleeveless shirts should be avoided on the days when visiting mosques. At the most popular mosques in Istanbul (such as the Blue Mosque), attendants often provide robes to visitors whose sightseeing clothing is too informal. Carrying a pashmina in my daypack has served me well in these instances. One option is to plan an early trip to a bazaar to pick up a beautifully woven tangible reminder of a visit to this remarkable city. In addition, all visitors must remove their shoes before entering. This is a practical, not a religious requirement as worshippers kneel and touch their heads to the carpets as they pray. Plastic bags are usually provided, but it doesn't hurt to come prepared with a means to carry your shoes.
6. Eat your way around Istanbul
Skip the ubiquitous McDonalds and Starbucks, unless they make convenient bathroom stops. Besides, unlike elsewhere in the world, in Istanbul neither one is a source of free Wi-Fi. At least that's what I found.
One of the highlights of Istanbul is unquestionably the food. My favourite way of experiencing Istanbul's culinary delights is to graze my way around the city – a little here and a little there, without sitting down for an entire meal unless the objective is to spend a leisurely evening with friends. My early morning starts inevitably led to a waterfront simit cart for a quick energy boost, followed by a bowl of delicious lentil soup with crusty Turkish bread and the customary glass of tea. Before lunch it's possible to "squeeze" in a cup of freshly squeezed pomegranate juice and some freshly roasted chestnuts from a street vendor. This type of menu resulted in a total cost of not much more than $5.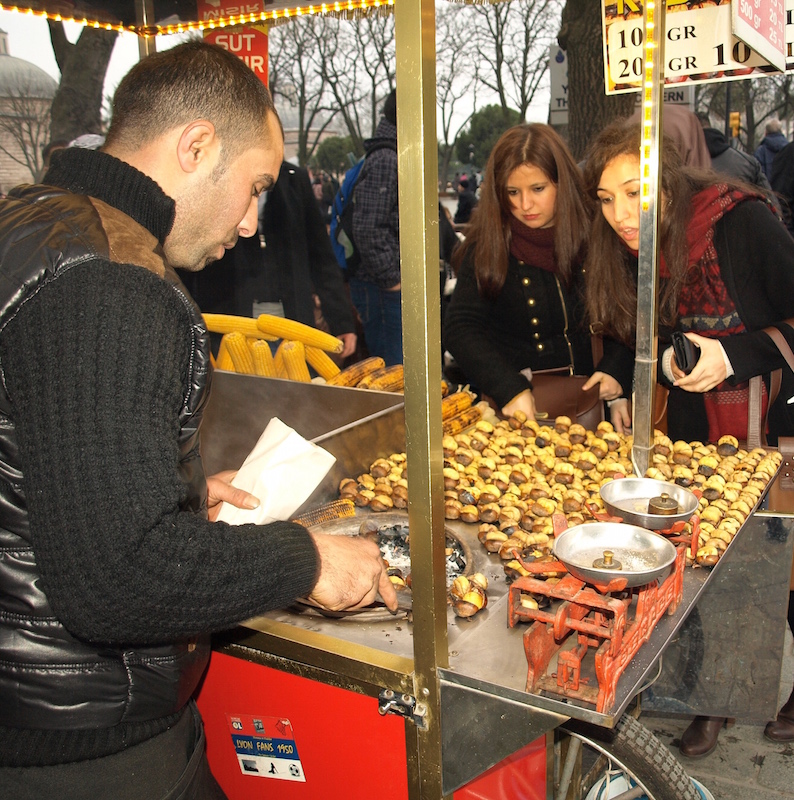 For supper, try munching your way through different courses at three or four different restaurants. One evening, we enjoyed an appetizer of Turkish pide, moved on to a lokantasi for the main dish and finished at a pastry shop for Turkish delicacies and coffee.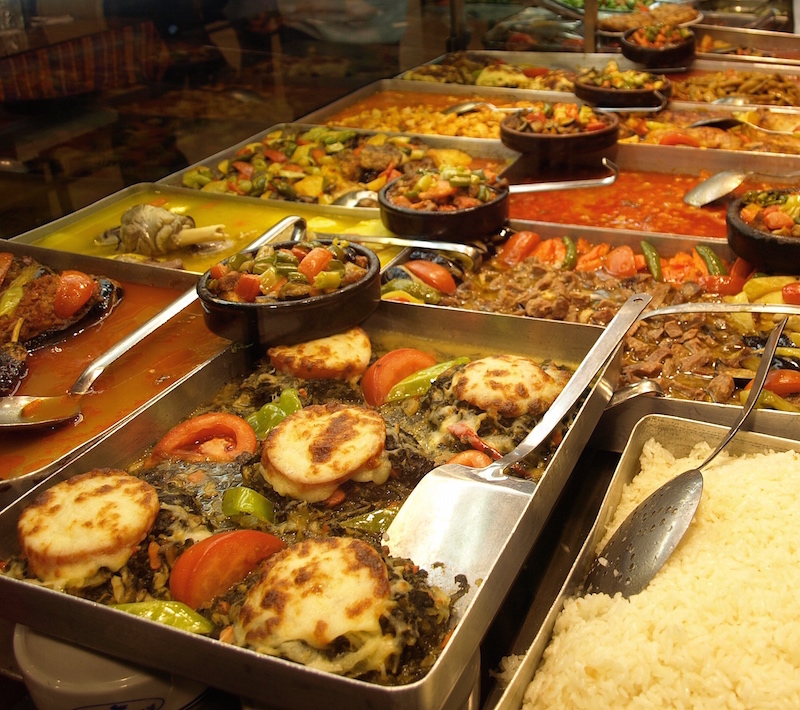 7. Play a game of backgammon
Traditional Turkish teahouses are predominantly the domain of men, who sit at tables quietly sipping tea, sharing conversation or playing backgammon. More often than not, women don't go to such places, and there is an expectation they don't. In 2011, I travelled with a woman friend and this was fine by us as we weren't in Canada and respecting these kinds of cultural norms was the thing to do, however alien they felt. So, we learned to scan the patrons first and if we didn't see any women we either asked if it was appropriate to enter or we looked elsewhere.
Needless to say, the interior of a teahouse isn't the only place to participate in a lively game of backgammon. Cruising the back streets would inevitably reveal a group of men playing backgammon outdoors, and on one occasion moving closer to observe the action resulted in an invitation to occupy a stool purposely vacated by one of the players. Backgammon skills were optional, as there were plenty of willing spectators whose role seemed to be to see my friend emerge the winner and the loser the recipient of playful ribbing.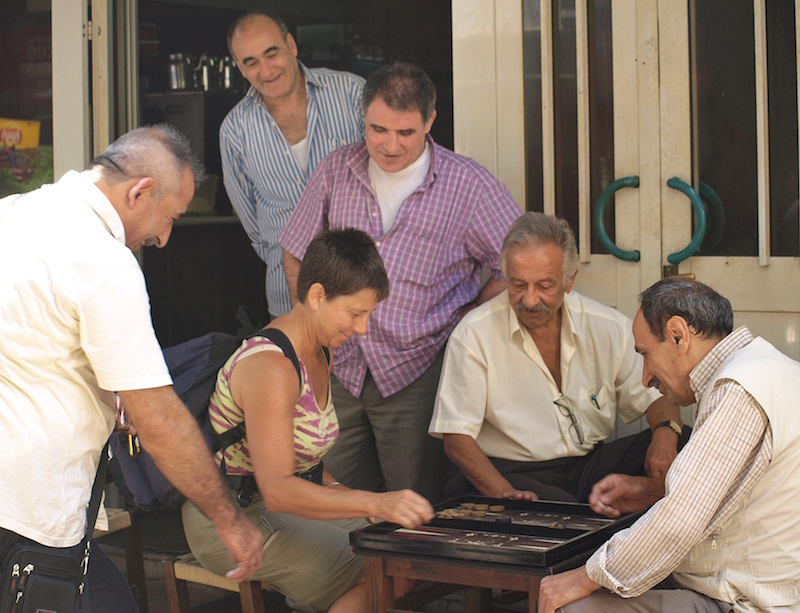 8. Spend a leisurely day in the bazaar
Dating from the 1460s, Kapalıçarşı (Grand Bazaar) is one of the oldest and largest covered bazaars in the world.
I can heartily recommend stopping by Aynen Dürüm at the edge of the Grand Bazaar (Muhafazacilar Sokak No: 33) in a busy and noisy alleyway. Pull up a seat at a small outdoor counter and enjoy a delicious Adana kebab prepared with spices from the Turkish city of Adana. Self-serve garnishing options such as crunchy pickles, roasted peppers and fresh parsley provide a tasty complement.
The Egyptian (Spice) Bazaar was built in 1663 as a stop for camel caravans travelling on the Silk Road. Meander through the twisting shopping streets between the Grand Bazaar and the Spice Bazaar where there are lots of locals, hardly any tourists and cheaper prices.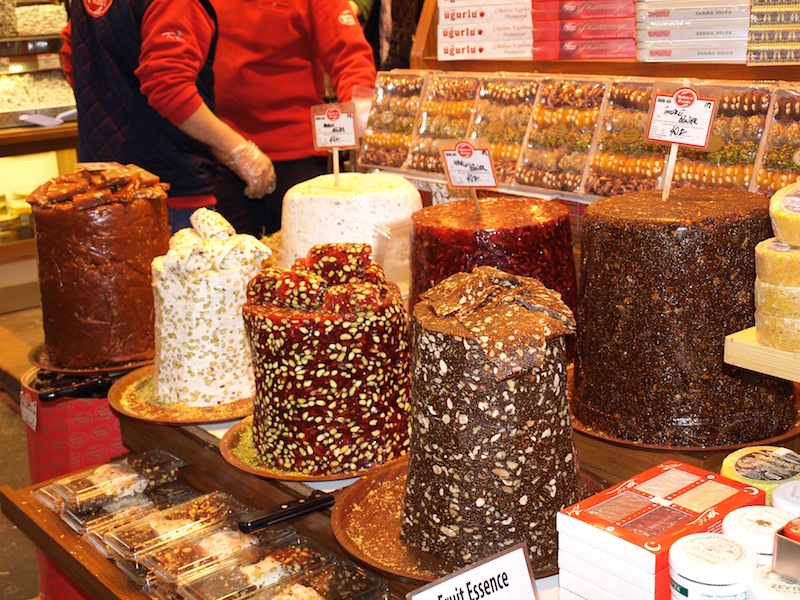 Keep in mind that being in a hurry might translate as a missed opportunity to enjoy Turkish hospitality, and leisurely sample a variety of delicacies. Or, missing out on learning more about the interesting array of wares for sale in the bazaars, and the streets connecting them.
Carpet salesmen seem to be among the most persistent and skilled at enticing potential customers into their shops. Making it abundantly clear we were not in the market for rugs would invariably invite a change in strategy to firstly convince us to go inside where we were presented with a well rehearsed and informative pitch designed to convert us into customers. After the first order of business – offering the customary glass of çay (tea) or furnishing us with a beverage of choice, salesmen seemed to have all the time and patience in the world to share their immense knowledge of the handsome handmade carpets and rugs for which Turkey is famous. If one or more members of your group is truly interested in purchasing one of these beautiful works of art, then the subsequent bargaining process is part of the experience, the stuff of fond memories long after returning home.
9. Don't miss Hagia Sophia
Built as a church, converted into a mosque and then transformed into a museum, the magnificent Hagia Sophia (Church of Divine Wisdom, Ayasofya in Turkish) reflects Istanbul's colourful history. It is widely regarded as the greatest monument in a city spanning two continents and two historic cultures.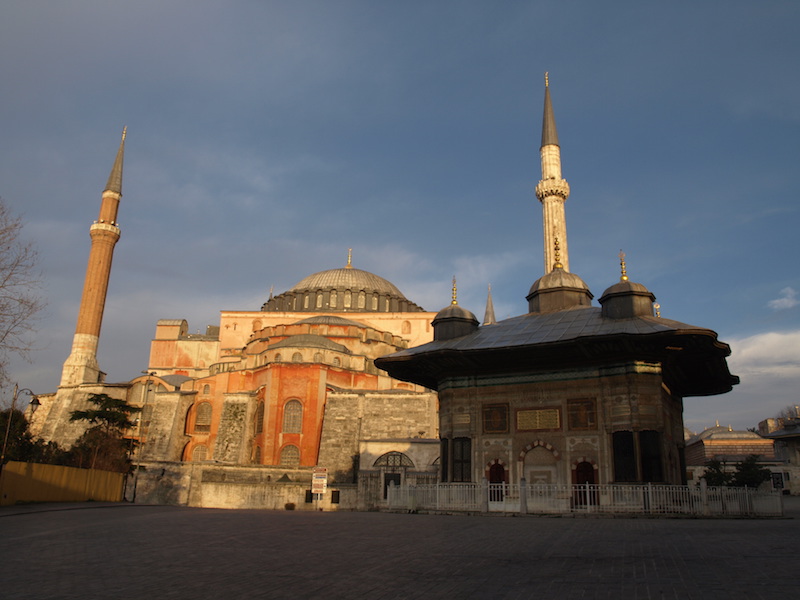 The design of Hagia Sophia was so unique it was reputed to have changed the history of architecture. For almost one thousand years, it was the largest cathedral in the world before serving as the principal mosque of Istanbul for almost half a millennium. While it wasn't built as a mosque, it was widely admired in the Islamic world and its architecture heavily influenced the design of many Ottoman mosques. Despite current efforts to return Hagia Sophia to a place of worship, it has not been used as such since being converted into a secular museum in 1934.
Hagia Sophia has undergone many changes over the centuries, and survived earthquakes, pillaging and other damage wrought by the ravages of time. With so much to appreciate, a tour of this enduring masterpiece is best accomplished with a guide. There are several options available, and after considering our preferences and needs, we chose an audio-enabled guide on my E-reader. Rick Steves' Istanbul includes several detailed self-guided tours and using this as our resource enabled us to visit at a time of our choosing (as soon as it opened in the morning), proceed at our own pace, switch from digital print to audio (or use both at the same time) and take a break when the need presented itself. With approximately 3.5 million visitors to Hagia Sophia each year, some planning is definitely required.
10. Look down on Istanbul from the Galata Tower
Dominating the skyline of Beyoğlu, the Galata Tower offers one of the best viewpoints for an unobstructed 360-degree view of the city. Needless to say, choose a clear day and be cautioned that queues can be long and the viewing platform can become overcrowded. Two elevators whisk visitors to the seventh floor where climbing two flights of stairs complete the journey to the observation deck.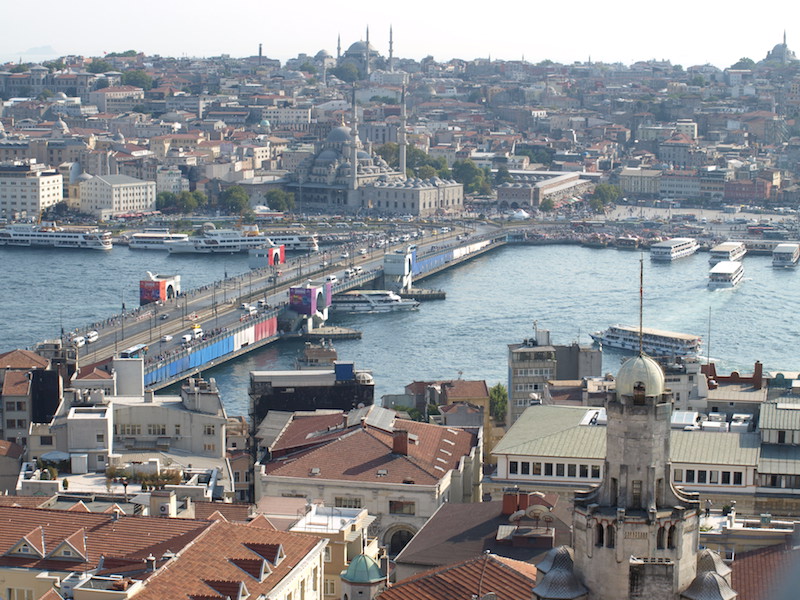 These ten suggestions barely scratch the surface of interesting things to do in Istanbul. Its fascinating history, scenic location, delicious food, frenetic markets, world-class museums, and some of the most friendly and hospitable people I've ever met make Istanbul one of the most intriguing cities on earth.
What are your favourite things to do in Istanbul?
(Visited 1,202 times, 1 visits today)