It was a recurring question about my trip down under. "What were the highlights?" The answer was easy. Cycling around Uluru was consistently in my top three.
What is Uluru?
Uluru, formerly known as Ayers Rock, is a massive monolith rising out of the desert of Central Australia. It's huge – 9.4 km (5.8 miles) around the base. And at a height of 348 metres (1141 feet), it's taller than the Eiffel Tower in Paris or the Empire State Building in New York. It's like an iceberg in the desert, with an estimated 2.5 km (1.5 miles) of its bulk underground.
Uluru and nearby Kata Tjuta (or Olgas) are a part of the Uluru-Kata Tjuta National Park.
The Aṉangu, the traditional custodians of Uluru own the land, which has been leased to the Australian government for 99 years. The Aṉangu and Parks Australia jointly manage the national park. This arrangement came into being in 1985 in an historic moment known as "handback."
A sacred place
My first meaningful connection with Uluru was at sunrise at 06:43. I was at the southeast side at the Talinguru Nyakunytjaku lookout. Being this close was an altogether different experience from seeing it from a distance. The cloud cover suggested we wouldn't be treated to the fiery red glow often seen in photographs.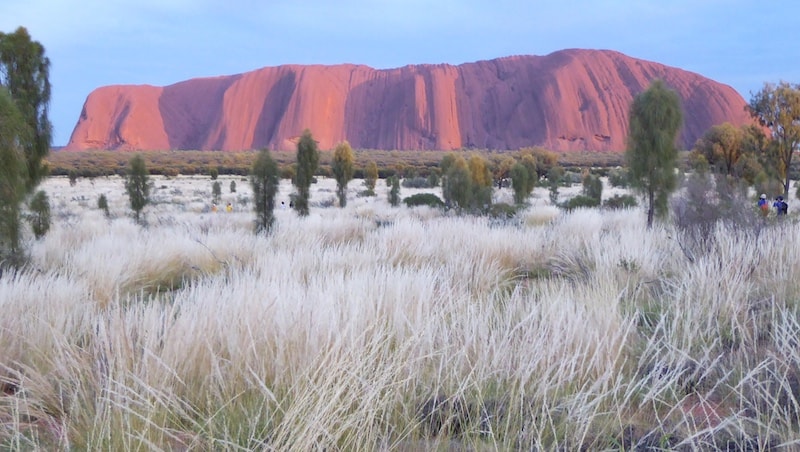 That was indeed the case. But I wasn't disappointed. Just being in the presence of Uluru was enough. It's hard to describe.
The bike path
Not long after 07:00, we were at the Outback Cycling mobile shop beside the Uluru-Kata Tjuta Cultural Centre to pick up our bikes from Lehi.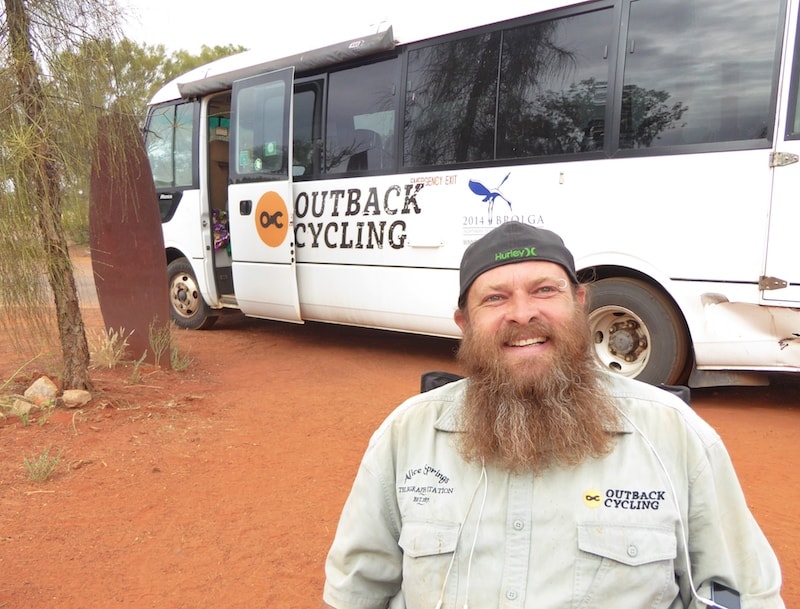 It was February, at the height of the Australian summer. We figured an early morning departure would position us ahead of the 40-degree Celsius temperatures predicted for later in the day.
As mentioned, Uluru has a circumference of 9.4 km. The bike path is around 15 km. It's flat, apart from a few potholes and patches of sand.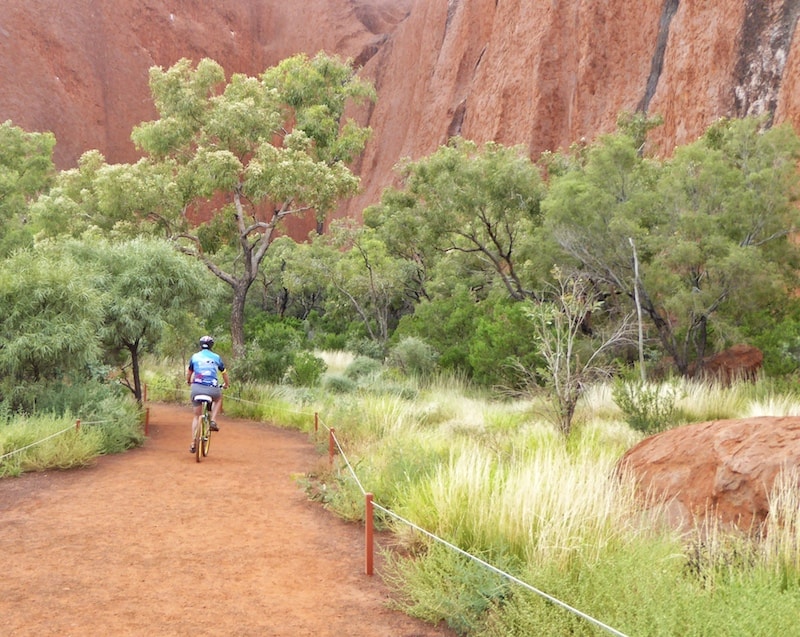 From Outback Cycling, it's a couple of kilometres via the Liru Walk to reach the base of Uluru at the Mala Carpark.
"The Climb"
That day, "the climb" was closed. It isn't prohibited, but the Aṉangu ask visitors to their land to respect their wishes, culture and law by not climbing Uluru. The signs are clear. Not only for cultural reasons, but for visitor safety and environmental protection.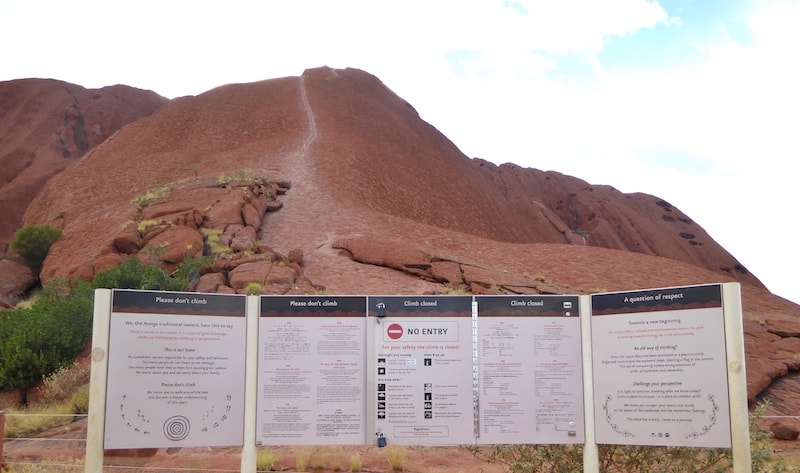 It was so disappointing the following day to see people doing "the climb." The total disregard of the logical reasons for abandoning this age-old practice of "conquering Ayers Rock" is difficult to comprehend.
It's pleasing to learn that effective October 26, 2019, the climb will be permanently closed. This date will mark the 34th anniversary of the Uluru handback.
The wonders of Uluru
One of my biggest surprises was to discover a rich green belt around the base of Uluru.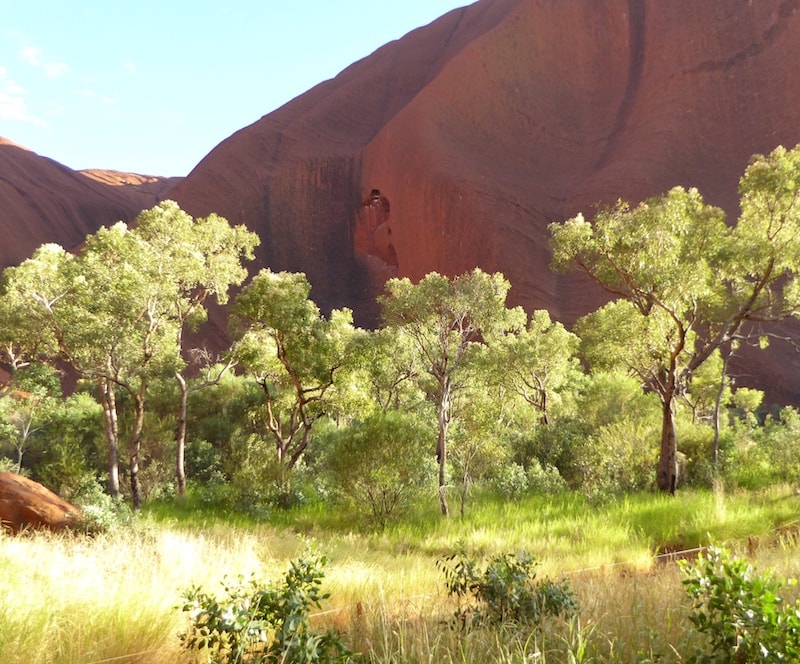 Another was to see several waterholes containing surface water. What a rich source of food and water for the Aṉangu who've occupied these lands for thousands of years.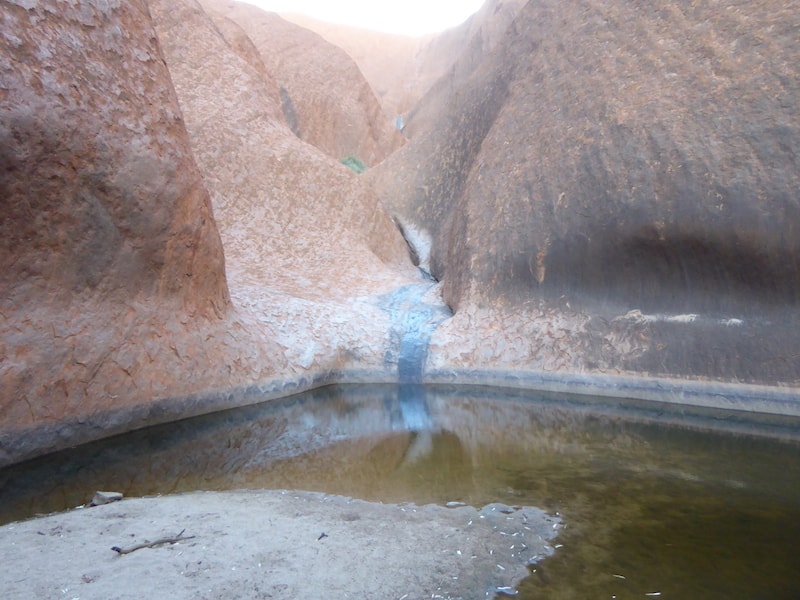 It must be quite the sight to see water streaming down the sides of Uluru during a decent rain. Streaks of black algae form on the channels guiding the water downwards.
Rainstorm after rainstorm over millions of years has sent water tumbling over the rock, wearing it away to produce grooves, potholes and plunge pools, often arranged in series.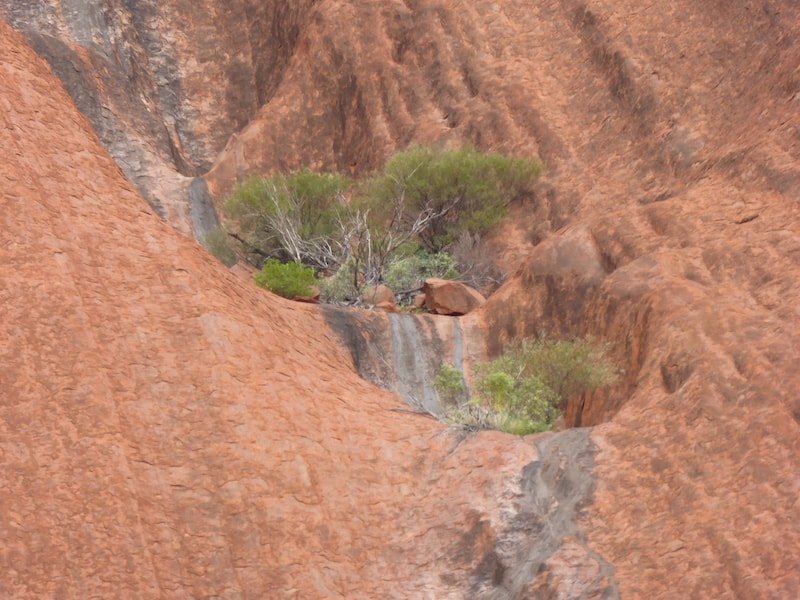 From a distance, Uluru looks smooth and featureless. Up close and personal, it's anything but.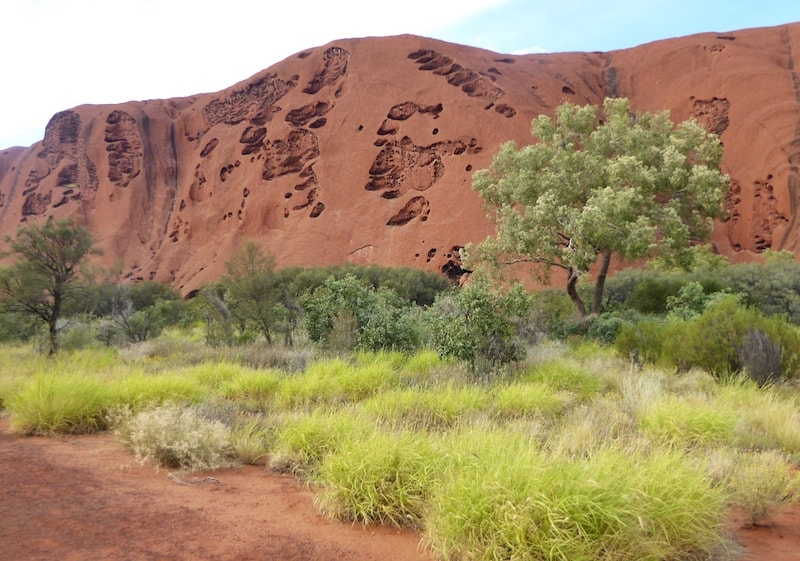 There are lots of examples of rock art in shelters around Uluru, creating an important historic and scientific record of human occupation of the region.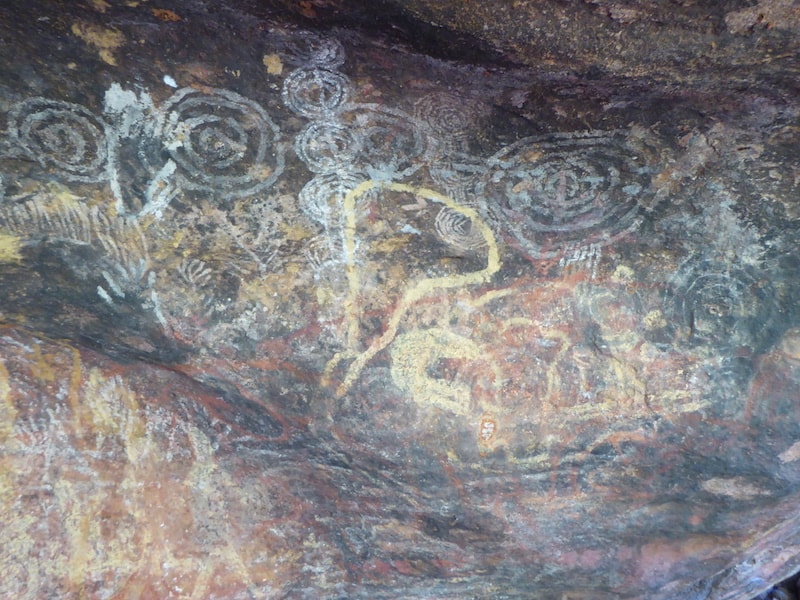 Dotted along the path are shelters and water stations. Information panels help visitors learn more about the Aṉangu, and why Uluru is such a sacred place.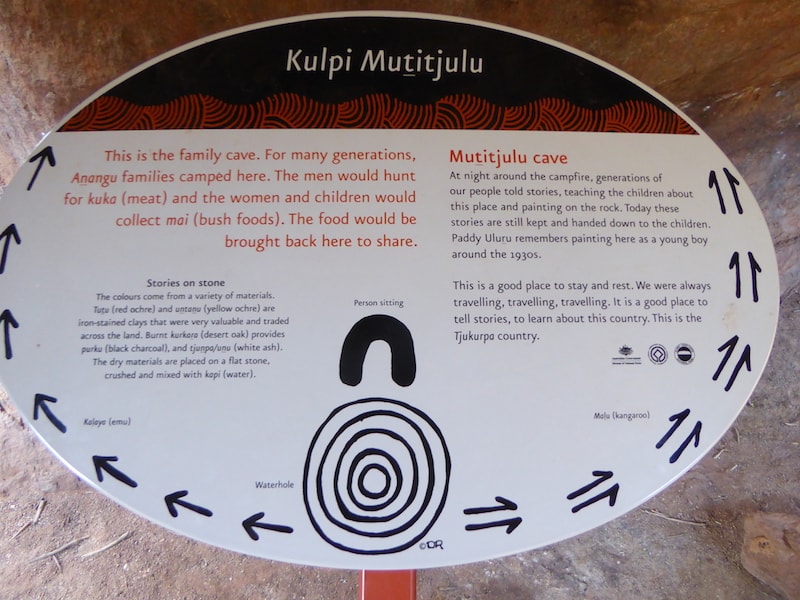 There are several benches crafted by Rex Maxwell from trees damaged by Cyclone Tracy that devastated Darwin in 1974. They're heavy and rugged, yet so inviting.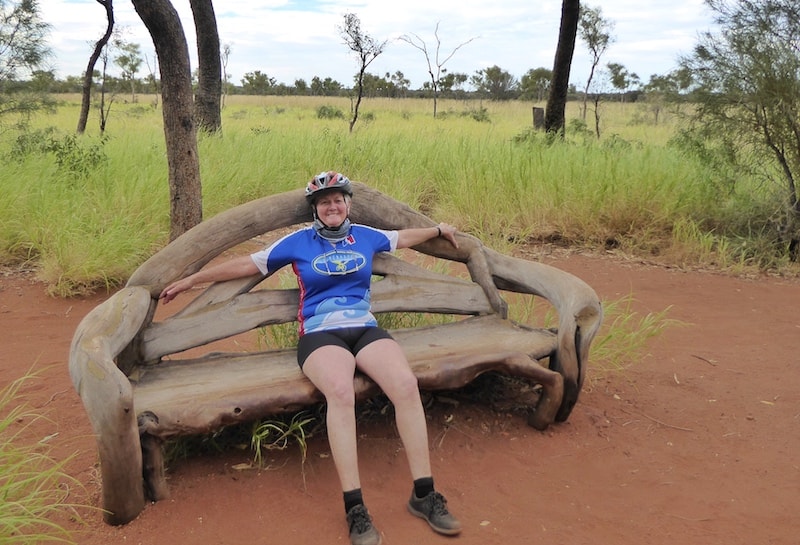 Logistics
Getting there. We were fortunate. My travel buddy has family in Alice Springs who lent us a vehicle. Driving from Alice Springs was most enjoyable. The distance was just shy of 450 km. I expected the route to be monotonous and boring. It certainly wasn't. Besides, I was on spotter duty for kangaroos and other wildlife. This, along with the stunning landscape, massive road trains and isolated roadhouses made it an interesting journey. Our friends from Canada flew into Ayers Rock Airport from Adelaide. Then, to see more of the Red Centre, they took a bus tour from Yulara to Alice Springs with an overnight stay in King's Canyon. Most of the travellers I met at a hostel in Alice Springs booked a return three-day bus tour package.
Accommodation. The closest accommodation to Uluru is at Yulara, 18 km from Uluru. Yulara was created in the late 1970s. It moved what had largely become the results of unstructured and unmonitored tourism away from close proximity to Uluru. Yulara consists of tourist accommodation, staff housing, restaurants, a supermarket, gas station and other essential services. Ayers Rock Resort at Yulara has various types of accommodation. This includes several hotels, apartments, campsites and hostel dormitories.
National Park. The entry fee for each adult entering the park is $25, with the permit valid for three consecutive days. Purchase it at the entry station.
Outback Cycling. We booked online. As of December 2017, bike rental costs $45 for three hours. If you don't have your own transportation, there's a Bus 'n Bike Package from Ayers Rock Resort to Outback Cycling for $90. Three hours is enough time to cycle the track, and incorporate plenty of stops. It wasn't busy on the day we rented in February 2017, so Lehi suggested we could take our time returning the bikes. Helmets are available, and are included in the rental fee. None of the bikes had water bottle cradles. Some had baskets. In case you score one without a basket, you'll need a light backpack or some other means to carry water, camera, sunscreen, and insect repellent.
Have you cycled around Uluru? If so, do tell, in the comments. Links to articles on the experience are welcome.
SaveSave
SaveSave
SaveSave
(Visited 56 times, 1 visits today)