Updated December 20, 2017
Minimizing Aeroplan taxes, fees and surcharges is one of many ways to maximize the value of your Aeroplan miles. Taxes, fees and surcharges are those pesky charges tacked on to an award ticket when you exchange miles for travel. They can range from a few dollars to several hundred, and are one of Aeroplan members' greatest irritants.
Taxes, fees and surcharges
Every Aeroplan redemption attracts taxes and fees. Examples include departure, immigration and sales taxes, and fees for airport improvement, security, service and navigation. These vary according to a number of influences. It's difficult to avoid them, short of bypassing certain airports or countries, or limiting the number of stops.
Some Aeroplan redemptions attract fuel surcharges. Some don't have any at all. Why is that? Well, when airlines price their tickets, the cost of fuel is one of the factors taken into consideration. Some carriers express that cost as a fuel surcharge and others simply build it in as a cost of doing business. In some circles, fuel surcharges are viewed as a scam to increase profits. Needless to say, when a fuel surcharge exists, some airlines pass it on to their frequent flyer program members on redemptions, and some don't.
It's Aeroplan's policy to apply the same fuel surcharges for flights on those Star Alliance airlines that the respective airlines charge within their own frequent flyer programs.
Therefore, there are two secrets to minimizing taxes, fees and surcharges:
knowing which airlines don't have fuel surcharges on award tickets; and

how to find itineraries with these carriers.
An example without fuel surcharges
I stumbled upon the power of travel without fuel surcharges in late 2014. That was when I booked award travel between Canada and Turkey. Taxes, fees and surcharges on various itineraries in economy class at the Aeroplan site were as high as $766.71 (CAD) for a return redemption. For the itineraries I selected, I paid a total of $86.91 (taxes and fees only; no fuel surcharges). The full cost of the cheapest revenue tickets listed at Kayak was $1270. The price of a return ticket with the exact flights I booked was $2084. From that point on, I was hooked on fuel-surcharge-free award travel.
Minimizing taxes, fees and surcharges
Based on my experience, here are some tips on how to make Aeroplan redemptions as successful as possible. Given the focus of this post, "successful" means those without fuel surcharges.
Start early. Award seats are first loaded 356 days ahead of departure date. When more than one seat is needed, especially on popular routes, it's wise to start looking as closely as possible to the first release date. Not all Star Alliance partners load award seats at the 356-day mark. Checking back in those early days is advisable. Additional seats can become available throughout the year but on the popular routes, I've found that the online inventory of itineraries at fixed mileage levels tends to diminish in both quantity and quality the closer departure day looms. As a general rule, start as early as possible.
Invest time. Before 2004 and the application of fuel surcharges, my selection criteria included total travel time, number of stops, and connecting times between flights. Departure and arrival times were also considered. Applying these criteria was easy, as a quick glance at each outbound and inbound itinerary posted on the Aeroplan site gave me what I needed to make a selection. It was so easy. Those were the days!
These criteria are still relevant. However, it's now necessary to consider the significant impact that taxes, fees and surcharges can have on award travel. Unlike United's site that displays the taxes and fees with each itinerary on offer (United doesn't have fuel surcharges), the Aeroplan site isn't as user friendly. It's necessary to delve further by clicking the "SELECT" button to reveal what taxes, fees and surcharges are due.
Another click on "Taxes, Fees & Surcharges" reveals a breakdown of these charges. Therefore, searching for a worthy redemption can take time – from a couple of hours to a couple of days. Or, it may be over a couple of months if it involves checking back to see if any award seats have been added to the inventory.
Choose airlines without fuel surcharges. At the present time, Aeroplan doesn't levy fuel surcharges on flights with Agean Airlines, Air China, Air India, Air New Zealand, All Nippon Airways (ANA), Asiana, Avianca, Brussels Airlines, COPA, Croatia Airlines, EgyptAir, Ethiopian Airlines, EVA Air, Scandinavian Airlines (SAS), Shenzhen Airways, Singapore Airlines, South African Airways, Swiss, Thai Airways, Turkish Airlines, and United.
Don't fly airlines with fuel surcharges. The current list of Star Alliance carriers with fuel surcharges are Adria, Air Canada, Austrian, LOT Polish, Lufthansa, and TAP Portugal.
Examine outbound and inbound flights separately. Start by selecting a one-way trip. This is the only way to find out what taxes, fees and surcharges are payable for each portion of the trip. Once the most attractive outbound itinerary with the lowest taxes, fees and surcharges has been identified, it can be combined with the best inbound itinerary (with the lowest taxes, fees and surcharges). Insert the necessary information to activate the search feature (departure and destination airports or cities, dates and preferred cabin).
If award travel is available, an inventory of possible itineraries will be revealed on the next page. Some will be identified as Air Canada itineraries, and others as "Multiple Airlines." To obtain more information about the carriers, flight numbers, stops and connecting times, it will be necessary to click on "DETAILS".
For international travel, I don't bother with any of the Air Canada itineraries (with the exception of those within Canada, or between Canada and the USA). These itineraries contain only Air Canada flights that cumulatively produce hefty fuel surcharges. In the interests of time, I'll often ignore those "Multiple Airlines" itineraries with a departure time that I know to be a long-haul trans-Atlantic Air Canada flight. For example, there's a direct flight from Halifax to Heathrow that leaves at the same time each day. I avoid it like the plague.
Avoid trans-Atlantic or trans-Pacific flights with Air Canada (or other carriers with fuel surcharges) at all costs.
If no success, search in segments. Let's say you want to travel from Halifax to Istanbul. A one-way search reveals an inventory consisting of Air Canada and Lufthansa flights. Your next step will be to break the journey into segments. Use the online tools FlightConnections and the Star Alliance Flight Map to identify possible routes. Search Toronto to Istanbul, or Toronto to Cairo, or Halifax to Boston, and then Boston to Istanbul, and so on. The objective is to find availability on airlines without fuel surcharges that fly these routes. This kind of search will invariably uncover flights with United, SWISS, EgyptAir and Turkish Airlines. You'll have to enlist the services of the Aeroplan Contact Centre to book your ticket, but the $30 fee will be much less than what you'd pay in fuel surcharges.
Record and shortlist possibilities. Arm yourself with pen and paper, or a spreadsheet program. Record dates, airports and flights having potential. With a thorough search, it's easy to forget where you've already been. Covering the same ground twice only adds to the challenge. Write down enough information to differentiate between flights. Your search may be spread over a few days, and you'll need to be able to return to the inventory to select your best options. Aim for a shortlist containing your best options.
Book without delay. I helped a friend find a flight to Fort Lauderdale for the day before the departure of her cruise. It was a direct flight (rare from Halifax) on a Fixed Mileage Flight Reward of 12,500 miles. The departure and arrival times were convenient. It was late at night when we found availability, so my friend waited until the following morning to book online. By that time, it had disappeared. Once you find an attractive redemption and you're in a position to book, do so without delay.
Two one-way or one return booking(s)? A one-way redemption is now half the rate of a return redemption. For example, my trip to Turkey in economy class cost 75,000 miles, 37,500 each way. Once I applied all my selection criteria and identified my best outbound and inbound itineraries, two one-way redemptions attracted a total of $86.91 in taxes and fees. There were no fuel surcharges. One return redemption containing identical itineraries cost $101.91 in taxes and fees.
A disadvantage of booking one-way redemptions is that no stopovers are allowed. Depending on the destination, a return redemption allows two free stopovers. Now that the Aeroplan change fees are $100 per direction, a one-way redemption might make more sense under certain conditions.
Be flexible with dates, and departure and destination airports. Being tied to specific dates, and just one departure airport in each direction can limit the options. For example, I worked on an open-jaw redemption for a return trip to Spain. Ideally, I had wanted to fly into Palma de Mallorca and return from Málaga. There wasn't one online itinerary available for less than $600 in taxes, fees and surcharges. A call to the Aeroplan Contact Centre didn't reveal any others. Most of the itineraries were dominated by airlines with fuel surcharges – Air Canada, Lufthansa and TAP Portugal. Adding a few days in Barcelona to my travel plans paved the way for a one-way redemption into Barcelona a few days earlier for $86.61 with United.
Look for routings dominated by carriers with NO fuel surcharges. Depending on where you live, chances are that your first or last flight will be with Air Canada. Air Canada flights within North America have fuel surcharges of $42 per direction. However, that will disappear or be reduced to $15 if you connect to carriers without fuel surcharges. That was the case with my trip to Turkey. The Halifax to Montreal and Montreal to Halifax segments didn't attract any fuel surcharges.
Look for a routing with a short-haul first flight to a hub where it's more likely to find carriers without fuel surcharges. My travel mate from Edmonton who was part of our Turkey adventure found a perfect example. Her one-way outbound itinerary consisted of a short-haul United flight to Chicago, then a long-haul Turkish Airlines flight to Istanbul. For a one-way redemption, she paid $89.61 in taxes and fees (no fuel surcharges).
Had she chosen the itinerary with an Edmonton to Heathrow first flight with Air Canada, and a Turkish Airlines second flight to Istanbul, she would have paid $350.61.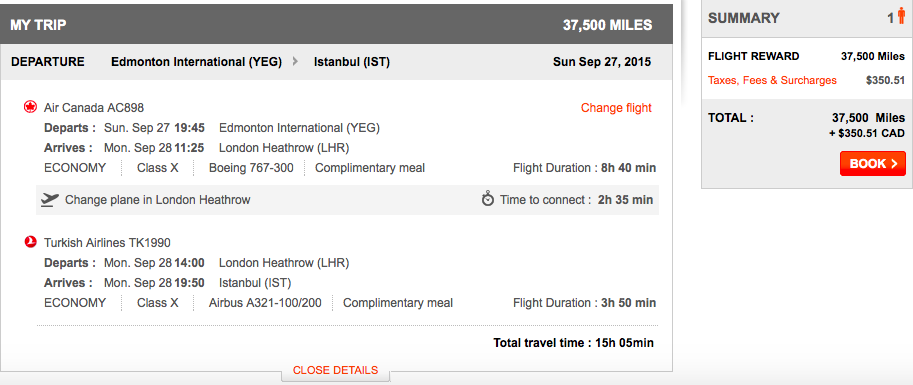 Be creative. A high fuel surcharge can be seen as a barrier or an opportunity. For example, a return from Spain was a challenge because of so many itineraries dominated by Lufthansa, TAP Portugal and Air Canada. Most one-way inbound redemptions attracted $350 in taxes, fees and surcharges.
By playing with the dates, I found an itinerary with SWISS via Boston for $72 with a 14-hour overnight stop in a city with incredibly high accommodation costs. An expensive overnight stop that adds very little to the travel experience cancels out what would have been gained by choosing this option.
Alternatively, I looked at European hubs with the best chance of finding itineraries dominated by carriers such as SWISS, Brussels Airlines, Scandinavian Airlines, Turkish Airlines and United. The Aeroplan site revealed a few possibilities, and a quick glance at Rome2Rio and Skyscanner gave me a sense of the best and cheapest ways to reach a hub where spending a few days would enrich my trip.
For example, a one-way redemption from Geneva to Halifax with United cost $60.20 in taxes and fees (no fuel surcharges). Skyscanner showed a direct flight at a reasonable time of day from Málaga to Geneva for $43 (USD). With an arrival time of 11:30 am in Geneva, I could easily take a train from the airport to central station – a six-minute journey. A hostel with good reviews was an eight-minute walk from the station for $40 per night. All that told me that I could spend a few enjoyable days in Geneva for roughly what it would have cost in taxes, fees and surcharges by returning home directly from Málaga.
Use the Aeroplan Contact Centre as a resource. There have been times I've found agents at the Aeroplan Contact Centre to be extremely helpful. If I can't find award travel out of my departure city, but I can out of New York or Montreal or Toronto, I know that as a backup, I can always call Aeroplan to see if an agent can piece together an itinerary with all the flights I've found. Or, perhaps an agent can find other flights. But from what I've learned, they have access to the same itineraries appearing online. Experience tells me those itineraries don't always appear unless I go looking for them in shorter segments involving different airports and routes.
For example, I tried to book return travel between Halifax and Taipei at the Aeroplan site. My return date was somewhat flexible and I found an attractive inbound itinerary consisting of EVA and United flights, and a short final flight with Air Canada. The taxes and fees (no fuel surcharges) amounted to $43.60.
As I was already making the three-hour drive to the airport to take a visitor for his flight home to Australia on March 4, that was my preferred outbound departure date. Unfortunately, I could find no itineraries with acceptable taxes, fees and surcharges leaving Halifax on or close to that date. In fact, in an entire 15-day period, there was just one. However, I did find an itinerary out of Toronto for $103.36 and plenty of award seats from Halifax to Toronto. But none of these appeared online with a multi-city search (Halifax-Toronto-Taipei-Halifax). I called the contact centre, gave the exact dates and flight numbers of the three different flights I'd found, and the agent was able to piece together a booking. As a result, i was able to take the same first flight as our international visitor.
I prefer to use Aeroplan's online system because I can search at my leisure. When I find what I'm looking for, I can make my own booking without incurring the booking fee. However, when availability is limited and an itinerary gets complicated, the Aeroplan Contact Centre can be very useful. Sometimes, an agent can provide enough information where it's possible to return to the website and take it from there. However, if the agent makes a booking, the service costs $30 ($34.50 tax included).
Further reading
If you found this useful, you might be interested in my other posts:
Summary
Start as early as possible.

Have a list of airlines without fuel surcharges close at hand.

Search for outbound and inbound itineraries separately. If limited success, search in segments.

Shortlist and prioritize possibilities.

When a selection has been made, book without delay.

Spend what's saved on fuel surcharges on enjoying the rest of the trip.
What's your experience in booking successful redemptions? If you've additional tips or thoughts, please comment.
Care to share the Pinspiration?
SaveSave
SaveSave
SaveSave
SaveSave
SaveSave
(Visited 12,233 times, 3 visits today)