For most of us, learning how to pack light, or lighter, is an evolutionary process. Getting it right takes experimentation, practice and refinement. According to Kia, of Atlas and Boots,
"In some ways, overpacking is a rite of passage: you have to do it to learn how not to do it. Of course, there is an easier way. By gleaning advice from other travellers and being strict with yourself, packing light will become far easier."
To help you on your journey, here are my top twenty tips on how to pack light.

1. One size doesn't fit all
Packing light means different things to different people at different times to different destinations. What works for one traveller may not work for another. While some ultralight packers travel for weeks or months with a small 20-litre backpack, most light packers aim to stay within an airline's carry-on allowance. Others need to travel with checked luggage for a variety of reasons and circumstances, while remaining committed to packing lighter.
Incorporate other travellers' suggestions only if they're a good fit. That includes what you'll find in these top twenty tips on how to pack light. Make your own decisions on whether or not to pack jeans or convertible trousers, or rolling is better than folding. Just because a universal sink plug, travel towel, headlamp, sleeping bag liner or duct tape are listed as indispensable items on seasoned travellers' packing lists, they don't have to be on yours.
In other words, identify your own definition and description of packing light, set goals for each trip and pack according to your own preferences, needs and travel style.
2. Benefits keep us on track
Of all the reasons to pack light, which ones motivate you the most? What benefits will most likely keep you on track? Is it saving money by taking a budget carrier with hefty baggage fees and an 8-kg carry-on limit? Perhaps it's the ability to walk or use public transportation to get you to where you're going. Maybe it's never losing sight of your bag, and always having it arrive with you at your destination. Or, could it be that liberating feeling of being able to change plans on a whim unencumbered by "stuff?"
Keeping benefits in mind might be just the inspiration that's needed to eliminate that extra kilogram (or more) from your bag.

3. Develop a minimalist mindset and strategy
How do so many travellers manage with carry on? While there's no right way or wrong way to pack light, the secret lies in identifying the bare essentials – the absolute minimum, and building from there. What are your must haves, and what can you temporarily do without? For example, can you forego a hairdryer and curling iron, and pare down your range of hair care products? What are your other toiletry kit essentials? If you're not ready to go totally makeup free, what are your must haves, and what's available in travel sizes? What does your minimalist wardrobe look like, and how can you stretch it to create as many different looks as possible? What's in your basic first-aid/health kit? Which gadgets are non-negotiable, and which ones can you do without?
Another approach is to work backwards. This involves laying everything out and evaluating each and every item. Everything must earn its place. There's no room for "just-in-case" items (except first-aid supplies) or anything that will be worn or used just once. Dig into each kit and remove pieces of jewellery, makeup, first-aid supplies and toiletries. Eliminate any item of orphan clothing that doesn't "go" with several other pieces. When flying on a budget carrier with an 8-kg carry-on allowance, I was able to use this process to purge an additional .8 kg of stuff that I didn't end up missing. It consisted mostly of small items that collectively and surprisingly weighed quite a bit.
Or, picture yourself with lots of luggage and how you'll manage. On a recent trip, I was surprised to see so many travellers struggling with baggage. After hoisting a huge backpack from the luggage compartment of a bus, the passenger stumbled and fell backwards from the weight of her pack. In hostels, I stepped over duffel bags and packs that were too large to secure in the lockers provided. I observed travellers wheeling huge rolling bags over uneven pavement while juggling other bags. Travelling like that can't be enjoyable.
4. Factor the environment into your packing style
Hikers who trek in and out of wilderness areas without leaving any trace of their presence pack with purpose and precision. We can learn a lot from the "leave-no-trace" movement.
There are travellers who pack old clothing to be discarded before returning home. Why not recycle or repurpose these items at home where you're familiar with environmentally friendly disposal systems?
Is "If I need something, I'll buy it there" a dominant feature of your packing style? If so, how can you reduce your environmental footprint when it's time to leave something behind? Resist the temptation to toss it in the garbage; chances are you'll find an appreciative local or another traveller to make use of it. If you plan to stay in hostels, look for a "care-to-share" basket to make a contribution, or to replenish existing supplies.
Does "pack in and pack out" make more sense for some items? Here are some examples.
Look for products that are safer for you and the environment.
For example, many panty liners and wet wipes have excess packaging and contain plastics and harmful chemicals. There are better alternatives such as natracare panty liners made of organic cotton, and sanitizing wipes that contain organic alcohol and are biodegradable. Visit your local health food store to explore these and other options.
By packing lighter, you're contributing to reduced emissions when flying. In addition, you're able to walk with your luggage, use public transportation and share smaller vehicles. Look for other ways to consider the health of our planet in the ways you pack and travel.
5. Choose luggage carefully
It pays to get this one right. Experimenting with luggage can get expensive. Been there, done that. Unless you're an ultralight minimalist and dedicated ONE bagger, two or even three "bags" (think luggage, day bag, packable purse) might best suit your travel style.
For your "standard" bag, what are your needs? Rolling suitcase or convertible backpack? Soft-sided or hard-shell? Desirable weight, both empty and packed? Capacity? If you can, aim for a maximum capacity of 40 to 45 litres. A bag of this size is manageable, and will undoubtedly pass for carry on for most airlines. A smaller bag will force you to adopt a range of packing light strategies, even if you're travelling for several months across different climates. Anything larger, and you're bound to fill it. Before making any decisions, list all the features you need, and start researching. Features of a perfect carry-on bag will help you get started. For ideas on bags, see The best carry-on bags according to travel bloggers.
Make your personal carry on do double duty. Many airlines have a two-bag carry-on allowance: one "standard" and one "personal" item, each with specific size and weight restrictions. Those for a personal item are usually generous enough that a personal carry on can double as a day bag. Choosing the type, size and features of this item depends on several factors, including your travel style and body type. I suggest four steps to figure out what meets your needs.
List what you'd want to carry in this bag while in transit. You could end up being separated from your standard bag, so it'll contain items you can't afford to lose, as well as things you need for a comfortable journey.

Make a list of what you'd want to carry while exploring a destination. Refillable water bottle? Clothing for layering up or down? Rain gear? Camera? Basic health kit? Comfort pack? Flashlight? Guidebook?

The two previous steps will provide clues on size and capacity. Next, identify what type of bag best suits your body type and travel style. If you expect to walk several kilometres and carry it from early morning to evening, it needs to be comfortable. For example, I found a strap made of webbing caused chafing, a cross-body shoulder bag resulted in shoulder-and-neck stress, and the shoulder straps of a cheap pocket daypack didn't have enough padding.

What features do you need? Internal and external zippered pockets? Sternum and waist straps? Security features? Water bottle pocket? List your desirable features, and start researching. For me, the Tom Bihn Synapse 19 checks most of the boxes. When I travel with a pocket daypack, it's the Osprey Ultralight Stuff Pack.
Do you need an evening bag? There may be activities or venues when it's handy to carry a few basic items, and a day bag doesn't fit the bill. For these occasions, I prefer a small packable cross-body purse that's big enough to fit my pocket camera, wallet and phone. It also doubles as a travel organizer to carry essentials during transit. It's small enough and comfortable enough to be worn from door to door. See Designing the perfect travel purse for a description.
How mobile will you be with your luggage? Figure out how to comfortably carry everything at once. I personally like the carry-on, hands-free, wheel-free independence model. For example, one of my travel mates with the same approach has two bags – a convertible carry on, and a cross-body shoulder bag for transit and day use. She wears both comfortably. I'm a "backpack person," but I'm not keen on wearing my convertible backpack on my back, and daypack in front like a pregnant turtle. What works for me is to leave enough room in my main bag to accommodate the daypack. Some backpackers use a two-in-one bag with a smaller backpack attached with a zipper to the main bag (e.g., Osprey Farpoint 55).
6. Leave room in your bag (20%)
It can be tempting to fill a bag of any size. By deliberately leaving room, it means:
A soft-sided bag with dimensions exceeding the "45-inch rule" can be squished to fit carry-on requirements, or stuffed into luggage sizers and smaller overhead bins.

You'll have room for repacking a bag quickly if you're strapped for time.

There's enough room to pack a personal carry on/day pack when carrying one bag is preferable.

There's space for purchases picked up along the way.
7. Lists help, a lot
I'm big on lists – in fact, three of them. One is a packing list, another is for shopping, and a pre-travel checklist contains tasks to accomplish before leaving home.
Packing list. I used to copy, paste, amend and save versions of packing lists for each trip, resulting in different lists for different seasons, destinations and types of travel. It became unwieldy and inefficient. Now, I work with just one generic list covering all possibilities. I print a copy prior to each trip and mark each item I intend to pack.
Organize your list in categories. Find ones that work for you. My current category titles are "Essentials" (primarily, identity documents and finances), "Toiletries," "Comfort Pack," "Footwear, Clothing and Accessories" (divided into sub-categories), "Laundry," "Luggage, Packing Aids and Accessories," "Gadgets," "Health/First-Aid" and "Miscellaneous." "Skiing," "Cycling" or "Camping" could be separate categories for those additional items specific to those types of trips or activities.
I also include descriptive information about many items, such as brand names, models and sizes. These are handy in the event of an insurance claim, or if someone asks for recommendations. They've been invaluable when ordering a replacement for a worn or lost item.
Shopping list. A notes app on a Smartphone is handy for keeping a list of "Travel Purchases." Collect recommendations from other travellers and bloggers. This allows you to pick up items when out and about, and research products at your leisure. When planning a visit to another city or country, do an online search for the names and locations of travel and outdoor stores, and try to blend a shopping excursion as seamlessly as possible into other activities. This will provide you with inspiration and leads on new products, or those not available at home. I found some gems at Bever in Amsterdam, REI in New York, MEC in Toronto and Kathmandu in Melbourne.
Pre-travel checklist. Create a list of all the tasks to be accomplished before leaving home, from the mundane to the essential. Be as detailed as possible, and include a timeline. Save an electronic version for the next trip. For ideas, check out How to create a pre-travel checklist.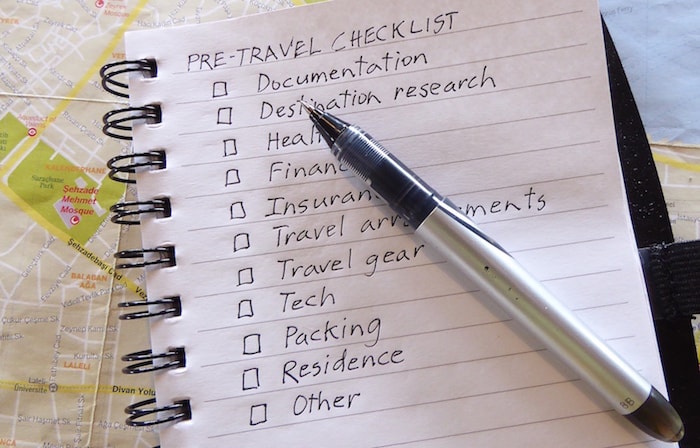 8. Size matters (think compact) and become a weight watcher
Look for lightweight compact versions of everything on your packing list. When faced with two similar products, choose the lighter and more packable one. When purchasing online, always check the specifications for the dimensions and weight. Here are a few other things to consider:
For any bag, aim for an empty weight that doesn't exceed 20% of your carry-on allowance. For example, if you typically travel on an airline with a 10-kg allowance, your bag should weigh no more than 2 kg. Go lighter if you can, but not at the expense of quality and durability.

A digital hand-held luggage scale takes the guesswork out of figuring out the weight of your packed bags. A combined kitchen/mailing scale can be very handy for comparing weights and making choices on what to pack. For example, replacing the three charging blocks of my iPhone, iPad mini and camera with my YXwin 4-Port USB Charger shaves 43 g / 1.5 oz off my packed weight. It's not a lot, but it adds up.

Avoid pre-assembled kits. Build your own toiletries and first-aid kits.

Collect light durable containers of various sizes and functions for your toiletries, and to use as packing organizers.
9. Think double-duty and multipurpose
When choosing what to pack or purchase, think about how many uses can be gleaned from each item. For example:
Scarf or pashmina? Both accent a travel outfit, but which one can be used as a blanket, towel, privacy screen, tablecloth, makeshift bag, skirt, swimsuit cover-up, and so much more?

The right leggings can double as pants, sleepwear, exercise gear, loungewear or as a layer under travel pants when the temperature drops. For me, the five-pocket Lululemon Pace Rival Crop fits the bill.

A skort is more versatile than shorts, and the skirt could be dressed up for evening wear.

A tunic could create an outfit with leggings, or used as sleepwear or swimsuit cover-up.

The right long-sleeved button-up travel shirt with an adequate UPF (Ultraviolet Protection Factor) could be as effective for dressier occasions as it is for protection from the sun. My Columbia Silver Ridge is such a shirt.

A waterproof windproof outer shell is useful for day-to-day use, and a rain jacket in wet weather.

Use a pair of socks as a shoe bag for sandals or flip-flops, or to hide an emergency cash stash. A single sock can be used as a case for sunglasses.

A Smartphone case with a compartment is handy for storing a transit card, emergency contact card or emergency money.

Look for double-duty products with pockets to use as a "wallet." Need inspiration? Check out Etsy. For example, you'll find infinity scarves, belts, bracelets and underwear, all with hidden pockets.
Flip-flops can be used as slippers, or wearing around water. However, by "glamming" them up a notch, the right style could be used for dressier wear. Both Havaianas and Crocs offer some attractive options, such as the Crocs Sanrah Beveled Circle Wedge Sandal.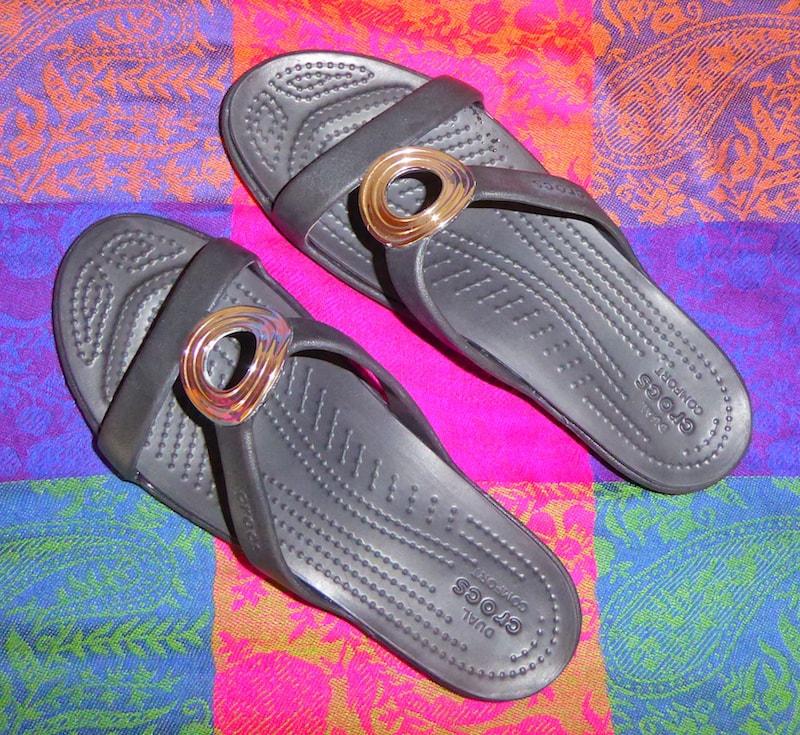 For more information, see Pack light with multipurpose travel gear.
10. Minimize toiletries
When planning your toiletries and cosmetics, choose the smallest and lightest bag possible. A pivotal breakthrough for me was to use a 3-1-1 bag as my toiletries kit. It eliminated the space and weight demands of a separate packing organizer, and motivated me to adopt new approaches to selecting and organizing what I packed. If this might appeal to you, look for a durable, see-through, zippered one-quart/one-litre bag with a hook, or the ability to add a lightweight carabiner to create a hanging kit. Mine is a Tom Bihn 3D Clear Organizer Cube. Despite references to "zip-top bags" for screening liquids, aerosols and gels, my zippered bag has been acceptable at countless security checkpoints around the globe. Just in case, carry an empty zip-top bag. Here are some other tips:
Look for products where a little goes a long way. I'm always willing to try something new when the directions tell me to use a pea-sized amount, or I can lather up a storm with, for example, a flimsy soap leaf.

Decanting is better on your purse and the environment than purchasing products in travel-sized containers. However, if you find a container that meets your needs, retain it for decanting purposes.

Decant just enough, and use a range of refillable containers of different sizes and functions. Experiment at home so you have an idea of what "just enough" means given the length of your trip.

Use double-duty products. For example, Druide makes a bar soap that triples as body wash, facial cleanser and shampoo. I've also used it for hand washing clothes. Dr. Bronner's Magic Soap is just as versatile.
Use solid substitutes if there's not enough space in your 3-1-1 bag for all the liquids, gels and aerosols you want to pack. For example, LUSH makes beautiful shampoo bars. I'm partial to Honey I Washed My Hair, and their lightweight storage tin.
Reduce your plastic waste, and pack toothpowder. Check out Eco-Dent's Baking Soda Toothpowder in cinnamon.
Visit your local health food store for healthier alternatives to products containing chemicals. This is where I discovered crystal deodorant. Crystal deodorant is effective, doesn't leave residue on clothing and lasts for months. Look for travel sizes: Crystal Body Deodorant (30g) and Naturally Fresh (40g). I've used both with good results.
Don't forget to include a packet of soap leaves, and a small travel-sized bottle of sanitizer. Look for brands containing alcohol derived from sugar cane. EO and Dr. Bronner's make natural sanitizer sprays in travel-friendly sizes. I like EO's coconut and lemon, and Dr. Bronner's in lavender. identifier="B001PR06WY" locale="US" tag="packlightra0d-20″ cart="n"]50 soap leaves[/easyazon_link]. Carry them with you everywhere for washing and sanitizing your hands.

Buy it there. I prefer to pack what I need, but there have been occasions when picking up a bar of soap made sense. For liquids, pack an empty container and fill it before taking your next flight.

For ideas and more information, see Organizing a 3-1-1 bag and Travelling with soap leaves.
11. Plan to do laundry
Clothes you aren't wearing are the clothes you have to schlepp around from place to place. And if they're dirty, they're useless. Dead weight. An essential key to packing light is to bring fewer clothes and have a plan to keep them clean. Self-serve laundromat? Hotel laundry service? Drop-off and pick-up laundry service? Hand-wash in a sink or shower? Choose what works for you and pack accordingly. In the event it's useful, here's what works for me:
With the exception of outerwear, if it can't be washed (or needs to be ironed), it stays at home.

Paying a little extra for a combination of merino and synthetics means not having to wash after one wear.

Jeans, travel pants and leggings in darker neutral colours can be worn day after day without washing.

Booking an apartment with a washing machine means planning to wash by the load, while doing something else.

Paying for a local, reasonably priced service once in a while is preferable to sitting around in a laundromat babysitting clothes.

Hand washing takes a few minutes each evening, and for lightweight and quick-dry fabrics, they're good to go the next day.

Check out How to do Laundry while Traveling. There are some excellent tips and tricks, but like anything else, choose what works for you. For example, the author suggests you not pack a travel clothesline. Mine is packed for every trip. It's lightweight and doesn't require clothespins. The hooks at both ends are more serviceable than suction cups. They loop back into the braid, expanding your options for setting up the line. My favourite is the Go Travel Pegless Washing Line, with the suction cups left at home.



12. Identify your clothing principles
Develop a set of principles to guide your clothing choices. For example, a few of mine are comfort over fashion, quality over quantity, and respect cultural norms. Here are some others to consider:
Love everything you pack. A limited wardrobe means wearing items over and over, and feeling comfortable and confident doing so. Choosing clothing and shoes can be the most challenging part of packing. Assembling a "travel wardrobe" of tried-and-true pieces and setting it aside for travel makes the task easier. It's also liberating. It means less focus on what to wear, and more on experiencing the joys of travel.
Build a compact capsule wardrobe. A capsule wardrobe is a small collection of clothing in coordinating colours where items easily mix and match. It includes tops, bottoms, dresses, outerwear, and shoes. When curating a capsule wardrobe, select a clothing colour palette consisting of colours that are right for you. Incorporate a couple of neutrals, and two or three main colours with complementary accent shades. Many travellers avoid white, and lighter colours that show scuffs and stains. Aim to mix and match every top with every bottom, and every base and mid layer. Each dress needs to blend with other pieces such as a warm layer and leggings. Accessorizing with scarves and jewellery helps dress up and extend a capsule wardrobe. One of the best articles I've found on how to build a travel capsule wardrobe is at Lady Light Travel. For additional inspiration and examples, take a look at the Capsule Wardrobe Pinterest Board.
Skip the slogans. Slogans draw attention, and scream "tourist." They can be very distracting in photographs, especially when the same item of clothing appears in many pictures. In a capsule wardrobe, they limit the ability of pieces to intermix. They also dress down an outfit. For example, I have a very comfortable and versatile pair of Sherpa Naulo black cargo pants that in a pinch could be dressed up with a decent top and accessories, except for the large and prominent "Sherpa" label on the left thigh. Oh, how I love those pants except for that label. And it's reflective for Pete's sake!!
Choose fabrics wisely. For many travellers, this means odour-resistant, wrinkle-resistant, lightweight yet durable, breathable, quick drying, and taking up as little space as possible. I tried performance fabrics found in active wear, but they came up short on the odour-resistant feature. I now lean towards a merino blend, and paying more for quality. Another example is ExOfficio Give-N-Go briefs. Mine have outlived all other underwear purchases and I now pack nothing but. They're lightweight and durable, and dry within a couple of hours under normal conditions.
Merino is your friend. I love this fabric.
It's cool in warm weather, and warm in cool weather.

It's soft and doesn't itch like other woollen garments.

It's lightweight, and doesn't demand a lot of space.

It's perfect for layering up and down. When the temperature drops, wear an extra layer. When it warms up during the day, remove a layer and stuff it into your day bag.

Merino's odour-resistant properties are legendary. For example, I can pound the pavement for days in the same pair of merino socks so there's never a need to pack more than two pairs. The same holds true for base layer shirts that can be worn several times without washing.
The downside is that it's pricey. Sign up for Icebreaker newsletters to stay updated on their twice-a-year sales.
Identify clothing numbers and stick to them. This simple system keeps me on track. My numbers, stacked in a somewhat vertical order, are 2, 3, 5, 5, 3, 2. For most trips, it means 2 pairs of socks, 3 bottoms, 5 panties, 5 tops, 3 pieces of head/neck gear and 2 bras. Add one piece of outerwear, one swimsuit, one dress, and one mid layer (reduce the 5 tops to 4) and I'm good to go for most trips.
Having numbers helps maximize the use of each piece that's packed. If each of the 5 tops can be worn with each of the three bottoms, there's more than enough variety in the 15 possible outfits. Choose pieces capable of transitioning from active casual wear to dressier outfits, such as a skort or pair of leggings, jeggings or skinny jeans. Denim isn't great in hot climates, but it can be worn many times without washing and copes well with the rigours of travel.
Plan to layer up and down. Dressing in layers translates into having clothes that allow you to cope easily with fluctuations in temperature, or when crossing climates and seasons. Thin base and mid layers are more functional than a bulky sweater or sweatshirt. They dry faster, and take up less space. In fact, three merino base layers, one Patagonia Capilene Midweight Zip and one merino full zip mid-layer takes up the same amount of space as one of my woollen sweaters.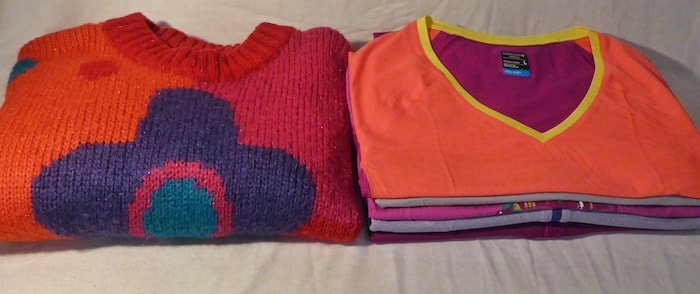 For winter and cold weather travel, look for a packable puffy down jacket that stuffs into its own pocket. With insulating layers underneath, and a waterproof windproof shell on top, it doesn't need to do the heavy lifting required of a heavier winter jacket.
Use accents. Accessories such as scarves and jewellery take up minimal space, spice up an outfit and help create a different look. A Buff tubular neck gaiter or head sock is a versatile piece of kit performing a multitude of functions. Check out Buff for the packing light traveller and Pack a pashmina for more information.
13. Limit shoes



Shoes are weight and space guzzlers, so stick to a two-pair or three-pair limit. When weighing your options, choose those that best transition from day wear to evening wear and outside to inside. If possible, steer clear of brightly coloured athletic shoes. Look for something that looks at home at the gym, on the trail, or in a fancy restaurant.
For the health of your feet and your shoes, you need at least two pairs. Alternating shoes keeps your feet limber, and your shoes need adequate time to air and dry out. For travel in warmer weather, choose a good pair of walking sandals and a versatile pair of closed-toe walking shoes in a neutral colour. If you haven't yet found your perfect pair of walking sandals, check out the Teva Tirra. They have the added advantage of coping well around water. Here are some tips on choosing and fitting walking shoes.
Flip-flops are useful for reasons already mentioned, but keep in mind that wearing them for long periods isn't good for your feet. They offer no support, and make stubbed toes, cuts, and sprained ankles more likely. They can also contribute to bunions, hammertoe, heel spurs and plantar fasciitis.
14. One week = one month = one year
Whether packing for a week, a month or a year, the packed weight of your bag should be similar for all trips. Your clothing inventory might reflect some slight variation by piece, and your shoes may vary according to weather and destination, but the number of items should be somewhat constant. Your basic first-aid kit, comfort pack and MacGyver kit will be much the same, and your electronics might have an extra adapter or two for additional countries. Your toiletries may reflect some variations of what "just enough" looks like, but they too will be similar for all trips.
For longer trips across different climates, you'll still dress in layers, but perhaps rent or purchase what you need for short periods in colder conditions. Thrift shops can be a great resource. As you enter or leave a country or climate, there will be opportunities to purchase, donate or sell items from or to other travellers. If staying in hostels, check out the "buy-and-sell" section on the bulletin board.
Depending at what point in your trip you need specialized gear, another option might be to mail gear home when it's no longer needed. Assess the feasibility of this strategy by checking the weight, postage rates and availability of an appropriate mailing box before leaving home. For example, I paid $60 AUD ($44 USD) to mail a postage box of stuff from Australia to Canada. It consisted of gear packed for cycling and lower temperatures in New Zealand. When I arrived in Australia, it was clear that the gear was no longer needed, and the extra 2 kg was more than I wanted to carry. Replacing it back in Canada would have cost way more than what it cost to mail it home.
15. Find your packing style
Roll, fold, bundle or stuff. Figure out what works best for you, and what you're packing. "Bundling" makes for a tight compact package if you're unpacking everything at your destination. Stuffing works for a packable down jacket, or maybe socks and underwear.
I quite like rolling. There are fewer creases, and when stored in a packing cube, it's easy to get a quick fix on how many clean pieces remain. I follow the techniques described by Von Malegowski (How to Pack Clothes for Traveling) and Elektra King (How to fold underwear quick and easy). When using an Eagle Creek Compression Sac for bulkier clothing, or a packing folder, folding is my preferred method.
Use packing organizers to compress and stay organized. Packing organizers keep things clean, protected and organized. They compartmentalize a bag, much like a filing system. Things are easy to find and easy to put back after use. No more rummaging through a cavernous expanse looking for what you need. They compress clothing so a bag looks smaller. This is handy when travelling on a budget carrier with a 7-kg or 8-kg maximum carry-on allowance, as your bag is less likely to attract attention.
For carrying layers I'm not wearing, I love the Eagle Creek Pack-It Spectre Compression Cubes. They compress outerwear beautifully, especially when travelling in winter. See The best packing cubes ever made for more information. Also, you might be interested in Pack light and tight with packing organizers.
Pack for balance and accessibility. A backpack needs to be as comfortable as possible. This means packing the heaviest items as close to the body's centre of gravity as possible – in the centre of a bag, and close to the body. Packing organizers allow you to densely pack both your heaviest and lightest items around each other, and keep them in place with the internal compression straps. What needs to be accessible at security checkpoints, during the journey or as soon as you arrive? Pack these items (e.g., 3-1-1 bag, water bottle, umbrella, outerwear) in an external pocket or "personal" carry-on bag.
Wear your stuff. Wearing your heaviest and bulkiest gear on travel days (if possible) might mean the difference between going carry on and needing to check a bag. And, if your outerwear includes a travel vest or jacket loaded with pockets, you can wear a lot of stuff. What you wear doesn't count against your baggage allowance.
For example, my Scottevest travel vest weighs about 14 oz / 400 g. It carries an iPad mini, iPhone, wallet, passport sleeve, camera, noise-cancelling earbuds, eye glasses, energy bar and pen for a total weight of 3.3 kg / 7 lb 4 oz. Similarly, my Clothing Arts Cubed Travel Jacket with its eight pockets can be packed with these same items. A packable travel purse worn under a travel vest or jacket increases the options for wearing more stuff.
16. Evaluate gadgets
Taking a digital detox is impractical for the vast majority of travellers. The electronic revolution is transforming the way we travel, and Internet-enabled devices offer convenience and security. They're not only useful for what we can take, but just as handy for what can be left behind. But how do you choose which ones to take? Here are a few ideas:
Make each one earn its place. How will it enrich your travel experience? If you decide to pack a Smartphone or tablet, load it with apps, music, movies, books, podcasts… whatever will be useful, allow you to stay connected with family and friends, and make your travels more informed and enjoyable. Read up on what bloggers and tech sites are saying about useful travel apps.

How might it encumber you? Might a more compact version meet your needs? For example, replacing a DSLR camera with a pocket-sized Panasonic LUMIX worked for me. Its portability far outweighs the benefits of a DSLR camera.

Unless you're doing any serious work while away, evaluate the need for a laptop. A small lightweight tablet can serve the needs of most travellers.

Is keeping it secure worth the effort? A smaller, more compact version is easier to keep tabs on. An iPad mini is small enough, and light enough, to be slipped into a zippered internal pocket of a purse or outerwear.

Reduce the number of charging blocks by using a charger with several USB ports for charging multiple devices off the same outlet. Instead of a universal adapter, use a kit consisting of different adapters and just take the one(s) you need.

Choose the smallest possible external charger for your needs. For example, my "lipstick" charger (Second Generation Anker 3200mAh Astro Mini) fits easily in a pocket or purse, and weighs just 75 grams (2.6 ounces). Fully charged, it has enough juice to take my iPhone 5s from 0% to 100% and have some power left over. I've found that a battery with a similar capacity to that of my phone is sufficient.
Skip the headphones. They're heavy, and take up more space than earbuds. You'll use them much more than headphones. Spend a little extra for the noise-reducing feature. There are lots on the market. I adore my BOSE QuietComfort 20.
17. Pack with your safety and security in mind
Staying safe and keeping your stuff secure can weigh heavily on your mind. A few digital downloads on your devices and adding some lightweight items to your packing list can be worth their weight in gold in an emergency. Here are some of my staples:
A personal security alarm makes a loud noise when activated. Attach it to a purse or day bag so it's within easy reach.
A whistle is easily attached to a purse or sternum strap.

Laminated cards are durable and pack well. Carry a copy of the information page of your passport and spread emergency contact cards throughout your luggage.

Carry a small high-powered flashlight, and use the flashlight app on your phone as a backup.

My wrist ID bracelet blends well with any outfit and contains a mine of useful information for first responders.

If you don't have a bag loaded with built-in security features, make your own bag more difficult for pickpockets to penetrate. I carry a few lightweight cables for this purpose.

Incorporate "travel gear hacks" into your clothing and gear. For example, add a small credit-card-sized pocket to the inside of a waistband, and hide an emergency cash stash in unlikely containers.

Carry a lock that's versatile enough for a range of applications. I use a triple cable lock. It fits all the hostel lockers I've encountered, and it anchors the interlocking zippers of the two compartments of my bag. A vinyl-coated cable is handy for attaching my bag to a luggage rack or belt loop, handy when snoozing on a train or while stuck in an airport.
Place useful information on the lock screen of your phone. I use the app from RoadID. It contains my name and ICE (In Case of Emergency) contact person and phone number.

Use a passcode lock on your devices.

Enable the "find-your-device" feature on your gadgets.

Label your valuables. Consider purchasing stickers and tags from an online lost-and-found service.
For more information, see Emergency preparedness toolkit for travellers, How to make a traveller's emergency contact card, Emergency ID bracelet for travellers, Lost and found recovery services for travellers, Tips on protection from pickpockets, Anti-pickpocket gear, and My favourite travel gear hacks.
18. Go paperless
I've travelled with people packing reams of paper… booking confirmations, language basics, pages of research on activities… OMG, I've been that person. Guidebooks, language guides, maps, magazines, novels, address books, emergency contact information, a journal (and more) are weight and space guzzlers. In most cases, they can be replaced with digital versions. Reducing paper gathered along the way can be accomplished by scanning receipts and other printed material with a scanner app such as Scanner Pro. Before packing paper, evaluate whether or not it can be replaced with an electronic version. My preference is to pack e-versions of all paper – with just a few exceptions:
For international travel, I prefer carrying printed boarding passes and a printed flight itinerary. These are my security blankets in case of a waning Smartphone battery, unexpected demands of foreign airport staff or immigration officers, or my inability to communicate across a language barrier. It's easier to respond to countless requests to show a boarding pass by presenting a small physical copy; it's more difficult keeping a Smartphone handy with the right screen active on demand.

Some bus, train and shuttle companies require a printed ticket capable of being stamped or marked in some way.

Some authorities specify that a visa acquired online needs to be printed.
19. Be inventive
Travelling teaches us to be resourceful. Packing can be more satisfying when alternate or multiple uses are found for things that at first blush seem one-dimensional. Something might be designed for a specific purpose, but repurposed into something different. For example, a depleted gift card or hotel room key forms a sturdy core for duct tape, or a wrapping channel for earbuds. These and other travel gear hacks are easy on the wallet, and are functional alternatives to commercial products.
Or, design your own travel aids and accessories. See Designing the perfect travel purse, Anti-pickpocket gear and My favourite travel gear hacks for ideas. Happy discovering!
20. Pack as early as possible
Most of us don't plan a trip at the last minute. We book in advance, and develop detailed itineraries. Take the same approach to what and how you pack.
Packing as far in advance as possible is the companion piece to list making. It gives you the space for the mental work that comes naturally while doing other things. Keep your various lists handy for amending when an idea strikes.

Designate one or more places for storing your "travel stuff." When you can quickly put your hands on your passport, currency from previous trips, packing organizers, travel clothing, 3-1-1 bag, first-aid kit and various packing aids, it makes packing less onerous.

Break it up. Pack in segments (e.g., toiletries in one sitting, first-aid kit at another) when you've the time and patience to evaluate each and every item.

Choose a "packing station" such as a spare bed or corner of the basement. Spread out what you're thinking of packing, organized in categories. Over several sittings, evaluate each item; remove, replace, remove some more.

If you travel frequently, consider developing a capsule wardrobe of items reserved for travel. Try on every piece of clothing with others, including shoes and accessories. Assess each and every outfit. Remove those pieces that don't combine well with several others.

Ask for advice, preferably of someone who will help you justify each item and edit some more.

Weigh your bag. Walk with it – around the house, the block or the neighbourhood. If you're going carry on, simulate lifting your standard carry-on bag up to the height of an overhead compartment. If you can't do it, you'll need to edit some more or check your bag. Helping passengers with luggage is not part of a flight attendant's job. A heavy bag is a liability. According to Nora Dunn, The Professional Hobo, "The weight of your luggage is equally proportionate to the level of misery you'll experience while travelling." The aim is not to reduce the load; it's to make travel more enjoyable. You'll thank yourself for it.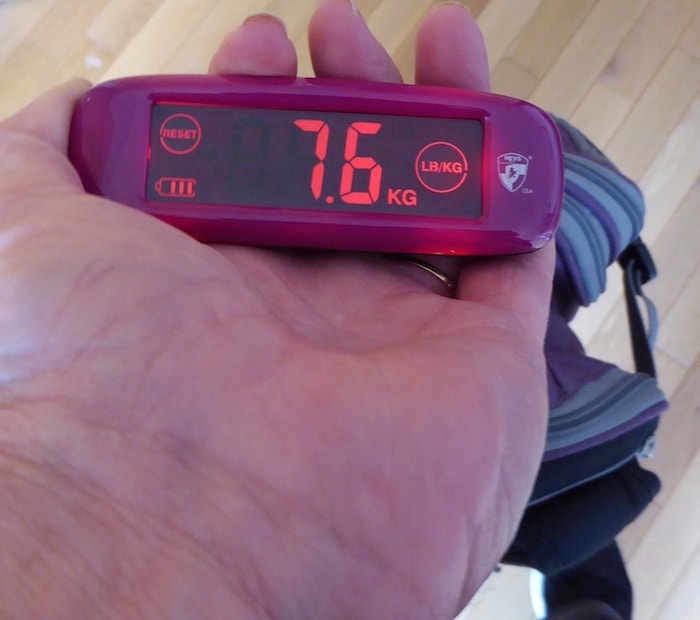 Conclusion
I'll leave the final words to a couple of experts.
According to Fred Perrotta of Tortuga Backpacks, "Packing light is about more than just saving money. Packing light minimizes your physical and mental burden. Trade stuff for convenience, flexibility, and fun. Real travel is about your experiences, not your gear."
Rick Steves, travel author and host, advises "Go casual, simple, and very light. Remember, in your travels, you'll meet two kinds of tourists — those who pack light and those who wish they had. Say it out loud: 'PACK LIGHT PACK LIGHT PACK LIGHT'."
If you're interested in more ideas and resources on packing light, sign up for our newsletter to be notified of new articles and to gain access to our resource library. You'll find the sign-up box in the right-hand sidebar. Your email address will never be shared, and you can unsubscribe at any time.

Care to weigh in? Please do so in the comments.
Care to pin it?
Some of the links on this page are affiliate links. If you use them to buy something, you don't pay more, but this website earns a small commission, which helps pay the costs of running the site. Thank you for your support.
SaveSave
SaveSave
SaveSave
SaveSave
(Visited 1,342 times, 1 visits today)