If it's destined for your bag, it should earn its keep. Multipurpose travel gear allows you to pack less, and lighter. By gleaning as many uses as possible from each item, in no time you'll have a solid collection. Looking for inspiration? If so, here are 30 ideas.
1. Pashmina
The pashmina is the Swiss Army Knife of travel gear. It crosses the boundaries of tropical and temperate climates. A pashmina is just as functional in hot weather as it is in cold. It can be used as a scarf, towel, blanket, tablecloth, privacy curtain, changing room screen, signal flag, makeshift bag, seating pad, pillow, pillowcase, eye mask, skirt, bathrobe, or swimsuit cover-up. It offers protection from the sun or dust storms. It can be used as a shawl in air-conditioned buildings or buses. Reach for it during cool evenings outdoors. Add it to your in-flight wardrobe to deal with the fluctuating temperatures on the plane. It can serve as a head cover when visiting religious sites, or to cover bare shoulders in countries where it's culturally appropriate to do so. After injuring my shoulder in Jordan, it became a perfect sling. I've also seen parents use one as a baby sling. Or, use it as packing material for delicate souvenirs.
2. Multipurpose soap
There are plenty of multipurpose soap products on the market. I've used Dr. Bronner's 18-in-one Hemp Pure-Castille Soap (Lavender) as hand soap, shampoo, body wash, shaving cream, laundry detergent and dish soap. A little goes a long way and it comes in a travel-friendly 59-ml (2-oz) recycled plastic bottle. Or, look for it in a bar soap. Druide and LUSH shampoo bars are almost as versatile.
3. Skin gel
My 35-ml (1.2-oz) bottle of Nature's Aid All Natural Skin Gel is just as handy in my first-aid kit as it is in my toiletries bag. This all-purpose healing and beauty product can be used from head to toe – from a scalp treatment to fungal infections of the feet. In between, it's a face toner, body moisturizer and wound healer. It treats a wide assortment of skin conditions, infections, and their related symptoms. I've used it as a wound healer on minor cuts and scrapes, and to quell the itch of insect bites. With its anti-aging, astringent, moisturizing and regenerative properties, I also use it as a facial moisturizer.
4. Dental floss
Dental floss is strong enough to use as a temporary shoelace, fishing line or clothesline. It's stronger than thread, so it can be used for mending jobs requiring a tougher approach. Fix eyeglasses after the screw holding the frame together goes missing. Repair a broken necklace or bracelet. Fasten a piece of cloth to a leaky tap or shower head to silence an annoying drip. It can substitute as a knife for cutting cheese, fruit, hard-boiled eggs, bread or pastries.
5. Activated charcoal
Activated charcoal is a centuries-old remedy that is still used today in trauma centres to treat certain types of overdoses and poisoning. Some travellers don't leave home without it. It's used to settle a queasy stomach, treat diarrhea, or alleviate gas and bloating. Activated charcoal can help prevent hangovers, and treat alcohol poisoning. It's also used for whitening teeth, and in homemade recipes for facial masks, skin cleansers, makeup, and deodorant.
6. Hand sanitizer
In an interview with the New York Times, cleaning expert Jolie Kerr recommended hand sanitizer for stain removal. "If I had to tell people to carry just one thing with them to handle stains on the fly, it would be hand sanitizer. It has a high concentration of alcohol in it, which is a very good stain remover and will work on everything from pen to food spills to blood."
For natural sanitizers dispensed from a spray bottle, EO co-founder Susan Griffin-Black describes additional uses in Five Creative Ways to Use Your Hand Sanitizer. She's used it as a deodorizer on her yoga mat and sneakers, and to clean smears and smudges from a phone screen and glasses. Check out Dr. Bronner's Organic Hand Sanitizer and Everyone Natural Hand Sanitizer Spray (Coconut and Lemon).
7. Travel clothesline
A braided travel clothesline doesn't require clothespins to attach laundry. It can be used as a clothesline or a "curtain rod" for a privacy curtain. Attach it to two fixed objects, and hang a pashmina to create a screen while sleeping or dressing. It works very well when strung between the posts of the lower bunk in a hostel dorm. Or, use it to strap items in place, or bundle them together.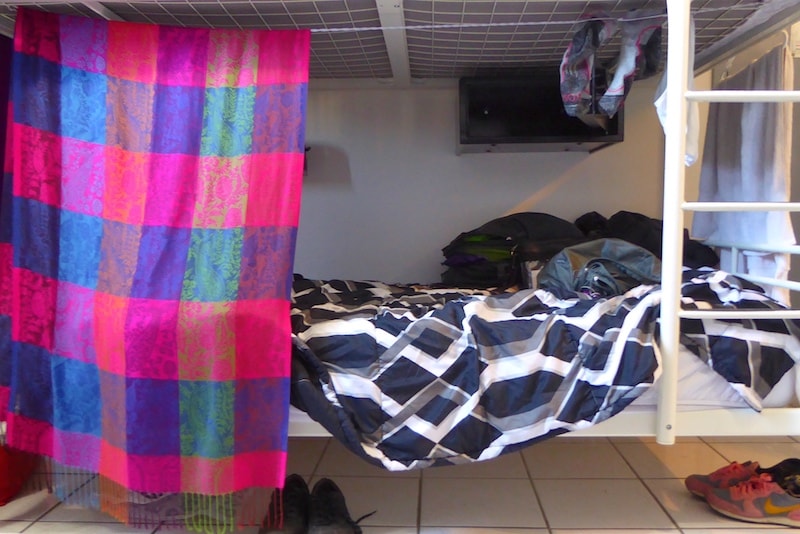 8. Refillable water bottle
Choose a refillable water bottle that's dishwasher and freezer safe. One with a flat design can be used as an ice pack for aching muscles. Or, fill it with hot water to use as a hot water bottle on cold nights. The multi-use function of my Sip 'n Go is part of its appeal. It's lightweight and foldable, and two empty bottles weigh just 28 g / 1 oz. When one serves as a water bottle, the other is available as an ice pack or hot water bottle.
A water bottle with built-in water filter technology eliminates the need to carry a separate unit such as a SteriPEN or LifeStraw, or iodine tablets. There are several on the market: Lifestraw-Go, Grayl, and Fill2Pure, to name a few. I have a Water-To-Go that claims to eliminate 99.9% of bacteria, viruses, water-borne diseases, chlorine, fluoride, heavy metals and harmful chemicals.
9. Travel shirt
Gone are the days when a travel shirt with sun protection created that "safari-ready" look. The Columbia Silver Ridge collection of long-sleeved travel shirts offer protection from the harmful effects of the sun. And, they do double duty as dressier wear. Their sleek design and range of vibrant colours have a UPF (ultraviolet protection factor) rating of 40.
10. BUFF®
A BUFF® can be used as a scarf, cowl, neck warmer, cap, sleep mask, scrunchie, hairband, sweatband, ear warmer, wristband, balaclava, mask, swim cap, helmet liner or bandana. Those impregnated with an insect shield offer protection from biting insects.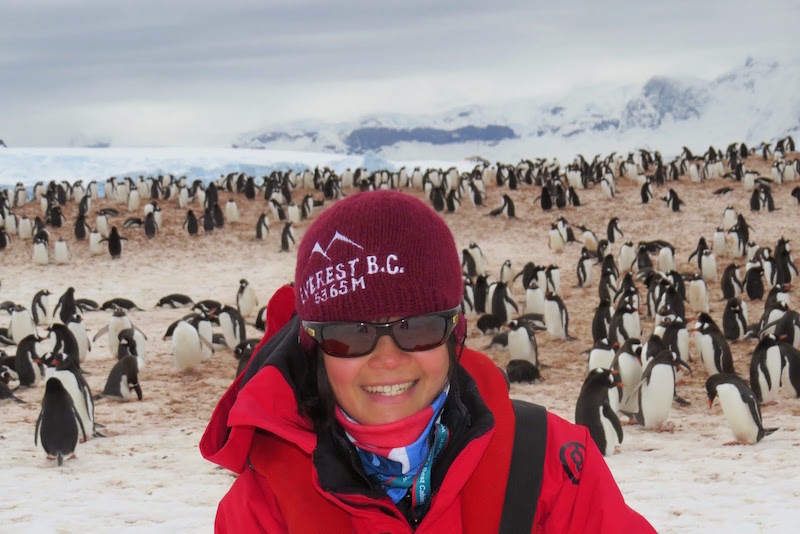 11. Tablet towels
Compressed tablet towels are roughly the size of two Life Savers® candies. When introduced to water, they explode into a durable cloth. A tablet towel can be used as a washcloth, dishtowel, strainer or emergency toilet paper. Keep a few in your first-aid kit for cleaning abrasions and minor wounds. Pack a couple of pre-moistened tablet towels in your purse or carry-on bag for freshening up during a long travel day.
12. Phone case with a pocket
A phone case protects a phone from damage. A phone case with a pocket doubles as a purse. The pocket holds emergency money, a financial card, hotel room card key, driver's licence, or a transit or Wi-Fi card. Your Smartphone holds other things and performs a huge array of functions. It's a camera, voice recorder, translator, scanner, map, calculator, or notebook. Use it to look up exchange rates, ride sharing services, and travel guides, or to book travel.
13. Paper clip
A paper clip is useful for more than keeping travel documents together. Use one as a money clip to keep currency organized. When used as a bookmark, place it at the side of the page to quickly find what you're looking for. Open up a paperclip and use it to remove hair from a brush. Use one as a SIM card remover. Unclog a spray bottle, or a salt or pepper shaker.

14. Zip-top bags
Zip-top bags have a multitude of uses. Dirty clothes hamper, icepack, camera raincoat, camera incubator to prevent condensation, food and snack storage, packing cube, outfit organizer, nausea bag, reusable wet wipes dispenser, space saver, 3-1-1 bag, wet swimsuit bag, washing machine, currency organizer, leak-proof and waterproof storage unit, file folder… the possibilities are endless, making them very handy indeed.
Discarded plastic bags are hard on the environment. Try to limit your plastic waste by using reusable packing organizers, washable food pouches, and other alternatives to single-use plastic products.
15. Existing containers
Can an existing container store something else? Instead of packing a small roll of duct tape, wrap a couple of pieces around a water bottle. Slip a needle and some thread behind the soap leaves in its plastic dispenser. What's in your bag that could be used as an emergency cash stash? Place cash inside a hairbrush, shoe, or empty deodorant or dental floss container.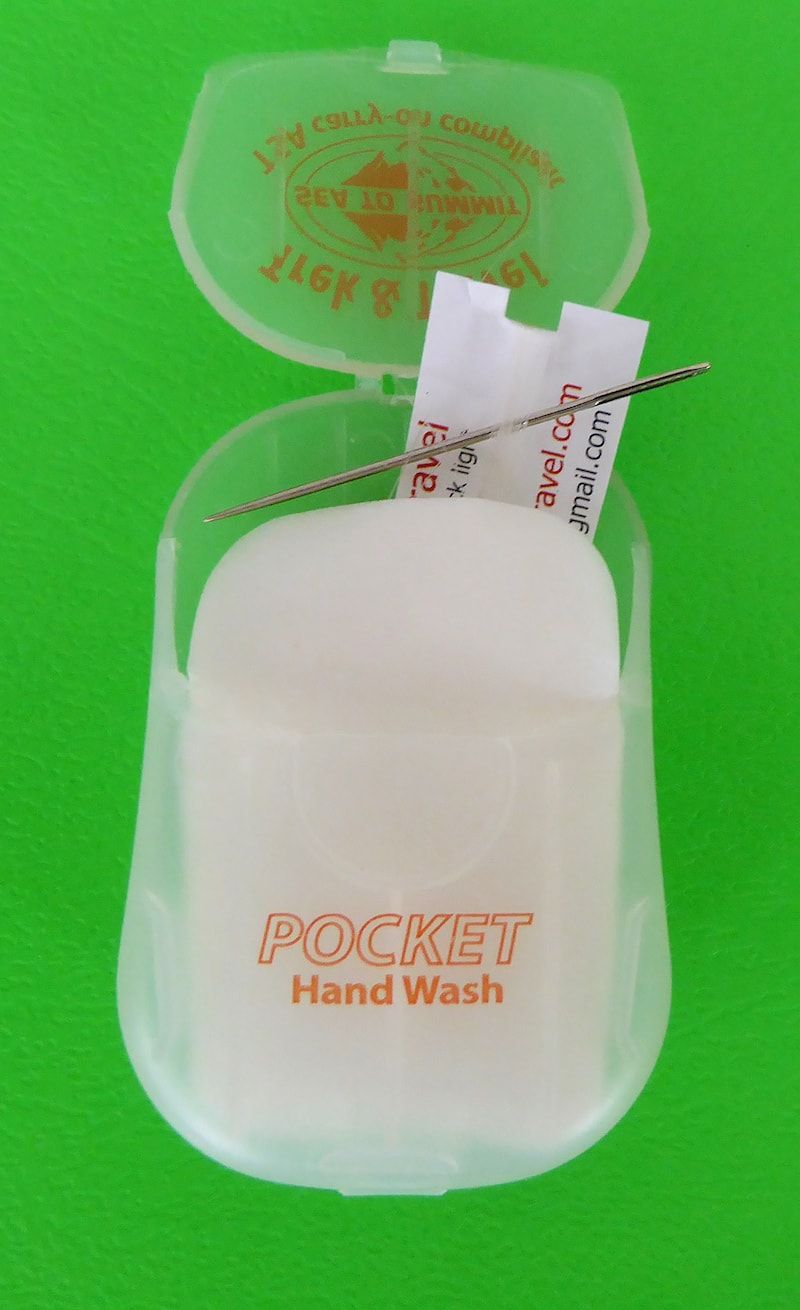 16. Socks
Use socks as a shoe bag, emergency mittens, or a packing organizer and protective case for small electronics and gadgets. A sock with a zipper is a useful piece of anti-pickpocket gear.
17. Denture cleanser tablets
Denture cleanser tablets are useful for sterilizing stuff on the road, when you don't have access to soapy water and a bottlebrush, or other cleaning products. Drop a tablet into a refillable water bottle once a week, or in a glass of water to periodically clean a toothbrush. Instead of discarding interdental toothpicks, sterilize and reuse them.
18. Twist ties
Pack a couple of plastic-coated twist ties in your MacGyver kit. Secure zippers or luggage tags, tame charging cords, fasten a loose button, or use as a temporary shoelace.
19. Tights and leggings
Tights and leggings are perfect for packing light travel. They're comfortable, lightweight and versatile. They can be dressed up or down, used as loungewear, sleepwear or exercise gear, or for an extra layer of warmth when the temperature drops. Add a couple of credit-card-sized pockets to the inside waistband for money and a financial card when you don't want to carry a purse. Or, check out how TheRealKilolo uses leggings as a head wrap. Now that's taking versatility to new "heights."
20. Waterproof windproof outerwear
Use waterproof, windproof outerwear as a rain jacket, windbreaker or winter jacket with layers underneath. One with zippered internal pockets offers protection from pickpockets, or to stow carry-on items that don't count as part of your carry-on baggage allowance.
21. Underwear with pockets
Underwear with pockets can be useful as anti-theft gear. There's a variety on the market. Of the three types I've tried, I prefer Clever Travel Companion's Women's Cotton Underwear with Secret Pockets. It boasts two zippered pockets, comfortably and securely positioned in front under the waistband. It's quite versatile, comfortable enough to wear as loungewear after a long travel day. It's also soft enough to wear as sleepwear. This is handy for sleeping with valuables on a sleeper bus, overnight train or in shared accommodation. Unfortunately, they're not as quick drying as my ExOfficio Give-N-Go Bikini Briefs. But that's a sacrifice worth absorbing when travelling to areas where pickpockets and street thieves are active.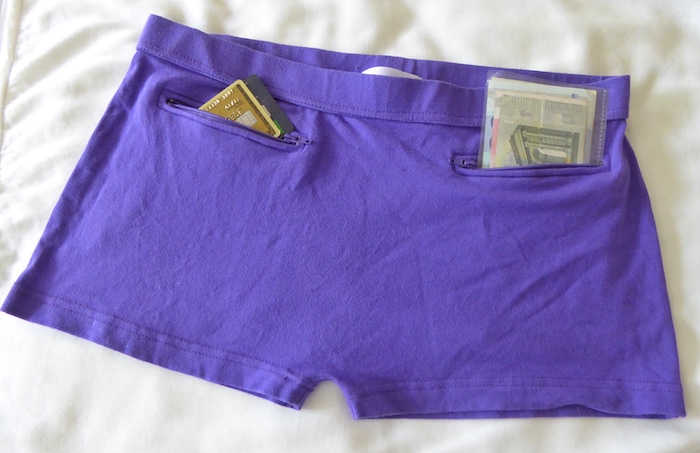 22. Safety pins
Carry a few different sizes of safety pins for anchoring a zipper to foil pickpockets. Join curtains to shut out the light for sleeping, or execute a temporary repair to a tent, bag or clothing. Keep a couple in your first-aid kit to remove a splinter, or fashion a sling. Hang up your laundry, or attach wet socks to an attachment point on your backpack. Or, attach a sock "safe" containing valuables to the inside of clothing. Are you travelling with blister packs of liquids or gels, and just need a small amount? Instead of ripping one open, use a safety pin to make a small hole to dispense what's needed.
23. Packable bag
Look for a small packable lightweight bag that can be used in several different ways. For example, the right bag could be used as a day bag, shopping bag, beach bag, shower bag AND in-flight personal bag. If it stuffs into its own attached stuff sack, it could be carried in a pocket or clipped to a purse. It's useful to have one with longer straps so it can be carried over the shoulder or worn as a cross-body bag. Plus, they're easy on the environment. My ChicoBag Vita is made from post-consumer recycled plastic bottles. It can carry up to 40 lb / 18 kg.
Love Bag's Stash It has longer handles, so it can be worn cross-body style. It's rated to carry up to 35 lb / 16 kg.
If you'd prefer one with backpack straps, I can vouch for the 18-litre Osprey Ultralight Stuff Pack weighing 3 oz / 85 g.
24. Versatile shoes
Shoes are a space and weight guzzler. When choosing which shoes to pack, versatility is key. Look for those that can do double or triple duty. For example, rubber flip flops can be worn at the beach or poolside, as slippers indoors or as shower shoes. But it's a rare pair of flip flops that can be worn for dressier occasions. That's where Croc's wedge sandals have the edge. They're as versatile as flip flops/thongs, and can be worn with dressier outfits. In addition, they're a safer and more comfortable walking shoe. I love Havaianas Slims, but they're not as versatile as my Crocs Sanrah Beveled Circle Wedge Sandal. They take up a little more space than my Havaianas Slims, and only weigh 2 grams more.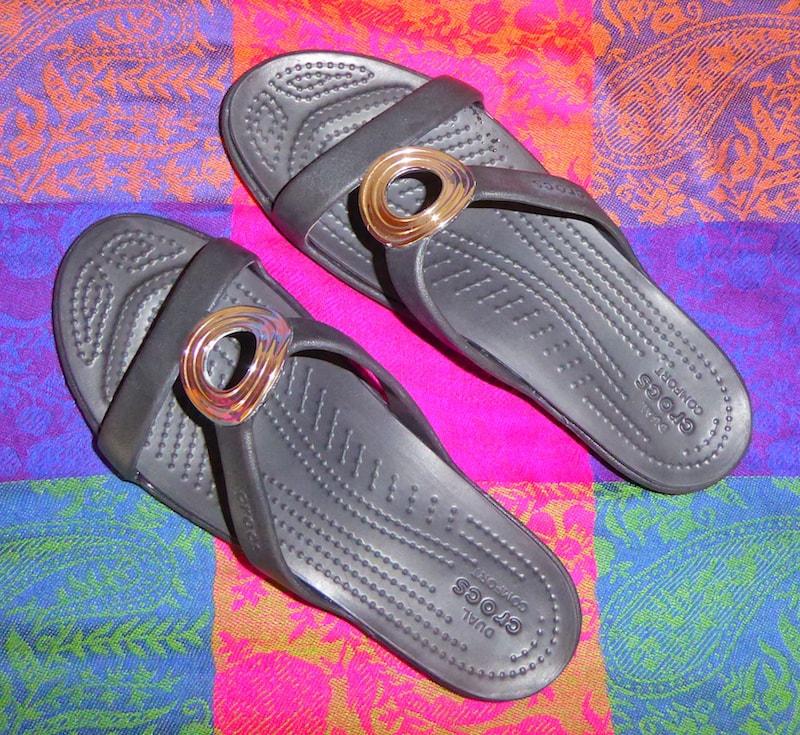 25. Boroleum
Boroleum is an analgesic ointment containing camphor and menthol. It keeps nasal passages moist and prevents nasal soreness. I carry a small amount on every flight, and when travelling in dry environments. Use it for relief from congestion and soreness from a cold, 'flu, allergies or nasal infections. Rub a little under the nose, or inside nasal passages. It also works on chapped lips, cracked skin, and cold sores. Use it on insect bites, and minor cuts and scrapes. I've also used it to mask offending odours such as those from cigarette smoke or rotting garbage. Dab a little Boroleum under the nose and it obliterates the smell.
26. Hair styling aids
Some types of hair styling aids take up very little space. My friend Marilyn doesn't pack a brush or comb when she travels. She uses a hair comb clip to brush, style and fasten her hair in place.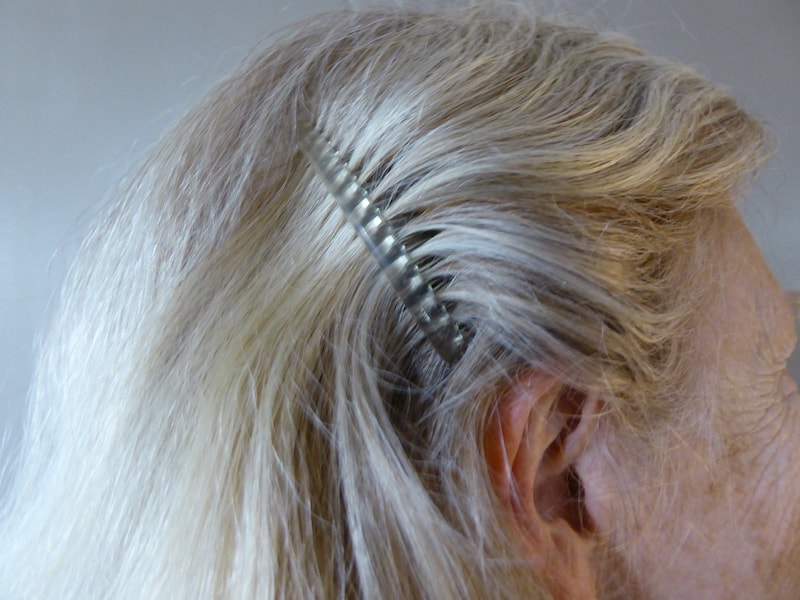 Hair elastics come in different lengths, widths and colours. They're sturdier, and last longer than elastic bands. Use them for keeping something contained, or bundling items together. Tighten wide sleeves at the wrist to keep out the cold, or long trousers at the ankle to keep the fabric free of a bicycle chain. Strap pants to boots to keep out insects or leeches. Use a long one as a bookmark, or a shorter one to constrain charging cords.
27. Travel umbrella
An umbrella offers protection from both rain and sun. In hot climates, such as Cuba and Australia, you won't stand out if you use an umbrella on a sunny day. Many people do. Or, use one as a privacy screen. Look for a travel-sized version. My Sea-to-Summit Pocket Umbrella fits in a day bag and weighs just 155 grams / 5.4 ounces.
28. Poncho
A waterproof poncho is a good choice of rain gear on through hikes when you're carrying a backpack. It can also be used as a pack cover, ground sheet, shelter, emergency stretcher, rain catcher, or windbreak when cooking.
29. Scarves with pockets
Scarves with pockets are triple-duty accessories. They provide warmth, dress up an outfit, and protect valuables. I have a rectangular scarf with a hidden pocket but it doesn't feel as secure as my two infinity scarves. An infinity scarf consists of one long circular loop, usually wrapped twice around the neck. Both of my infinity scarves from Etsy sellers have hidden pockets that are large enough to accommodate a passport. However, I find the pockets work better for carrying a financial card and some cash.
30. Surgical tape
Surgical tape is used to fasten a dressing on a wound. It's breathable, easy to tear, and can be removed without damaging the skin. Extend its usefulness to create a non-slip grip on a hiking pole, cover a hole in mosquito netting, or to mend a tear in outerwear.
If you found this useful, you might be interested in these related posts:
Care to pin it for later?
The Amazon links are affiliate links. If you use one to buy something, you won't pay more, but this site will earn a small commission which helps with the costs of managing the site. So, thank you. SaveSave
SaveSave
SaveSave
SaveSave
SaveSave
SaveSave
SaveSave
SaveSave
SaveSave
(Visited 236 times, 7 visits today)