Looking for hostel accommodation in Taipei? Look no further than the Space Inn. Designed with travellers in mind, the attention to detail in both its planning and operation is one of the hostel's outstanding features. At an affordable price of approximately $17 USD per night, it became my home away from home in March 2015, four months after it opened.
Location
Strategically located in the vibrant centrally located neighbourhood of Ximending, the Space Inn is in a perfect location to explore Taipei by foot, bus and metro. It's also conveniently situated for venturing out on day trips beyond Taipei.
Taipei's metro (or MRT – Mass Rapid Transportation) is one of the best subway systems in the world. Stations are very well designed with bilingual signs in both Chinese and English. The Space Inn is a short five-minute walk from two stations – Ximen on the Bannan (blue) Line and NTU Hospital on the Tamsui-Xinyi (red) Line.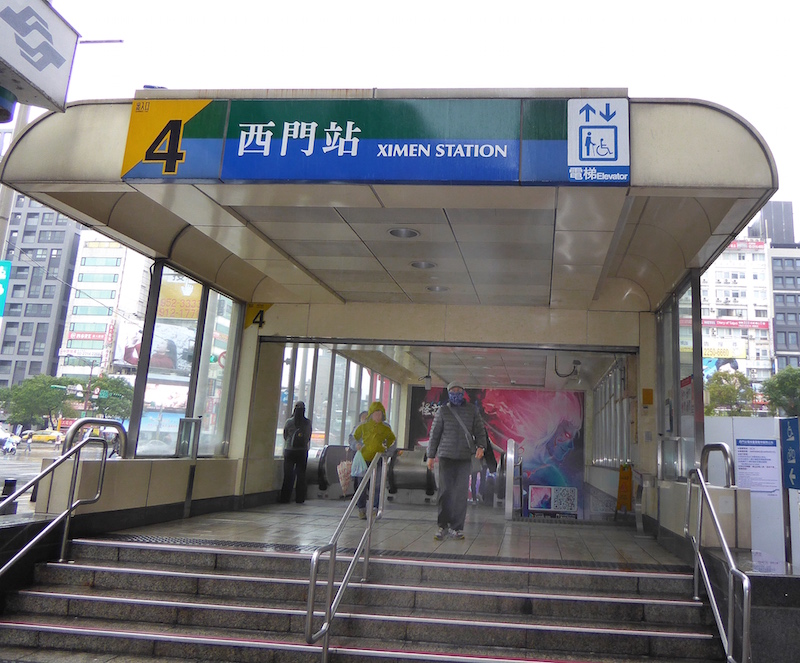 Just a few steps outside the front door are three bus stops (2/28 Peace Memorial Park) served by 13 bus routes.
Within a comfortable walking distance is Taipei Main Station, about a 15-minute walk through an interesting neighbourhood or one MRT stop away. Widely considered the centre of Taipei, the station is the main transportation hub for Taiwan Railways (TRA), Taiwan High Speed Rail (HSR), intercity buses and the MRT.
Accommodation
The hostel offers dormitory accommodation (women only, men only or mixed) in 43 rooms containing 4, 6, 8, 10 or 12 beds – 298 in total. I stayed in two women-only rooms at two different times and both the 12-bed and 8-bed rooms were quiet and comfortable. I had requested a lower bunk at the time of my online booking (I found the best prices at hotels.ca) and this was accommodated.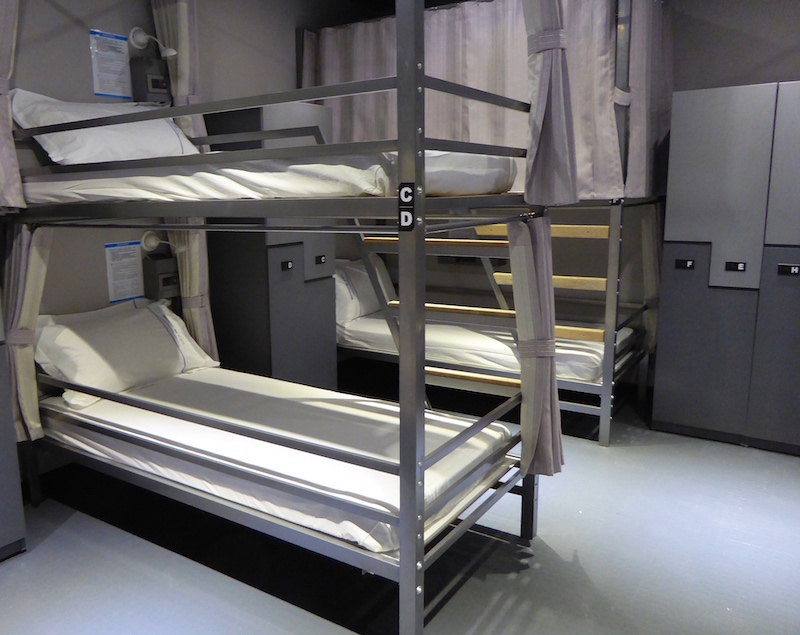 Of all the hostels where I've stayed, the beds at the Space Inn feature the best design. The metal frame contains tubular rods for hanging a towel or clothes to dry, and convenient attachment points for my braided clothesline and hanging toiletries kit. Each bed has an adjustable goose-necked reading light, and a handy shelf with built-in USB and power points. Even the power point has a universal socket, and with the two USB ports I could simultaneously charge my iPhone, iPad and camera. The two-section privacy curtain is another excellent feature. It provides enough privacy to simulate a separate "room" and besides, I could read at all hours with the knowledge my light wasn't disturbing other travellers.
The bed was extremely comfortable with a feather pillow and luxurious feather-top comforter inside a removable cover.
Beside each bed is a huge locker. It had plenty of room for my standard 54-litre carry on and smaller 19-litre daypack. It could likely accommodate a large hiking pack or suitcase. I especially appreciated the built-in shelf within the locker for smaller items, and three hooks on the side for hanging a jacket or towel.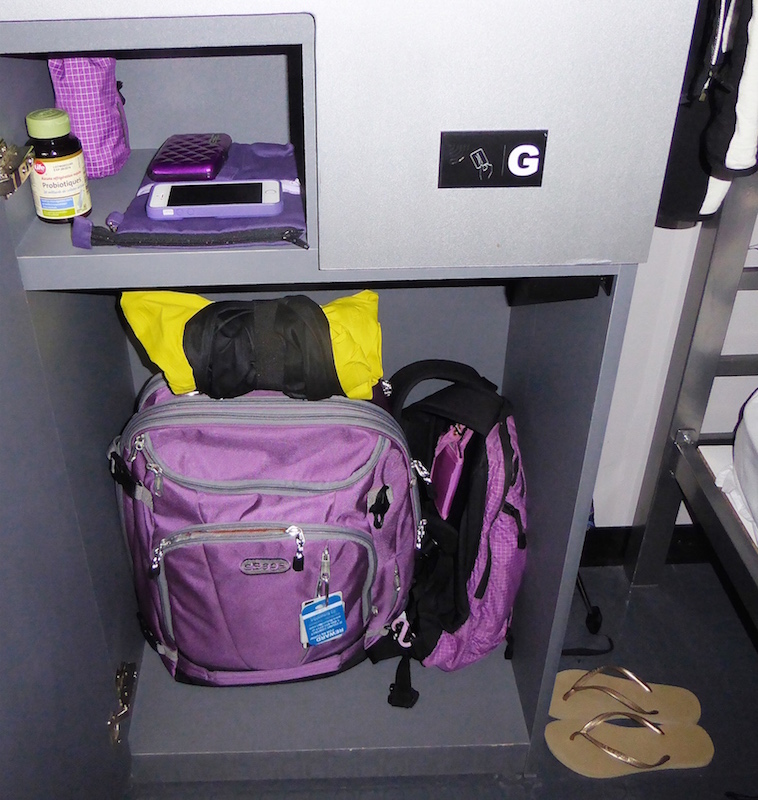 Security
One of the reasons I chose the Space Inn was its 24-hour reception desk. My flight was scheduled to arrive late at night and being able to check in around midnight was a prerequisite. Having staff on hand is an attractive feature for both convenience and security.
The hostel is located in the basement of a commercial complex at 51 Hengsang Road, accessed by two curved staircases on either side of two escalators and two flights of stairs.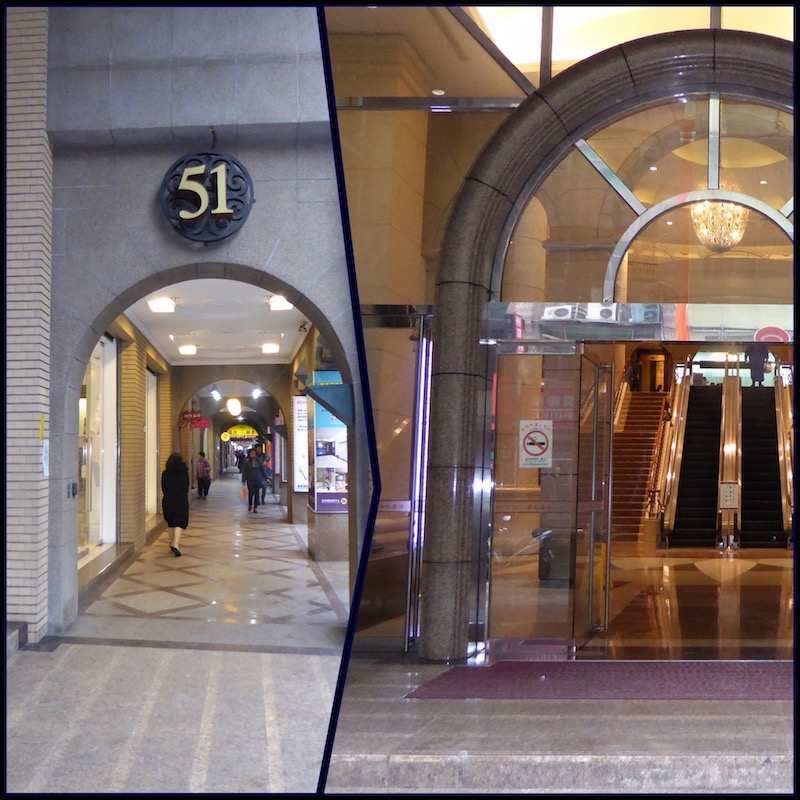 Once in the basement, beyond the Space Inn reception area is a large common area containing a lounge, games area, computer station, laundry and kitchen. Radiating from the common area are four entrances to dormitory accommodation.
A uniquely-coded electronic key card provides access via electronic sensor door locks to the common area, the respective dormitory area, the assigned room and respective locker. Having just one credit-card-sized key card to keep secure is very handy indeed.
A nice touch is that room numbers are projected on the hallway floor in front of each entrance so finding the correct room is a breeze.
Facilities
Within the dormitory area for women is one huge bathroom. I'm assuming the same exists in each of the other areas. The bathroom is divided into four sections.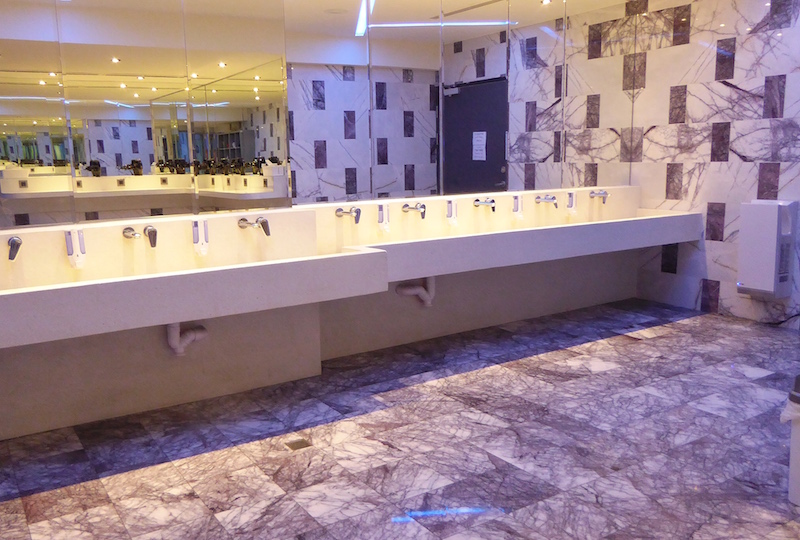 One features a long washbasin, another has toilets, there's an area for showers and a separate area containing a bank of hair dryers. There are 17 shower stalls, 17 toilets and 8 hair dryers – not once did I have to line up or wait to use any of the facilities. Soap, shampoo and body wash are provided in handy dispensers. There's even a clothes spinner for hand washing, and a hand dryer by the exit so it's not necessary to take a towel for drying hands. Towels are available for a rental fee of $50 NT ($1.60 USD).
Each shower stall is designed for convenience and comfort. There's a place to hang a towel and a hanging toiletries kit, and two shelves for clothes and toiletries. The water pressure is strong and consistent, and glorious hot water is available at all hours.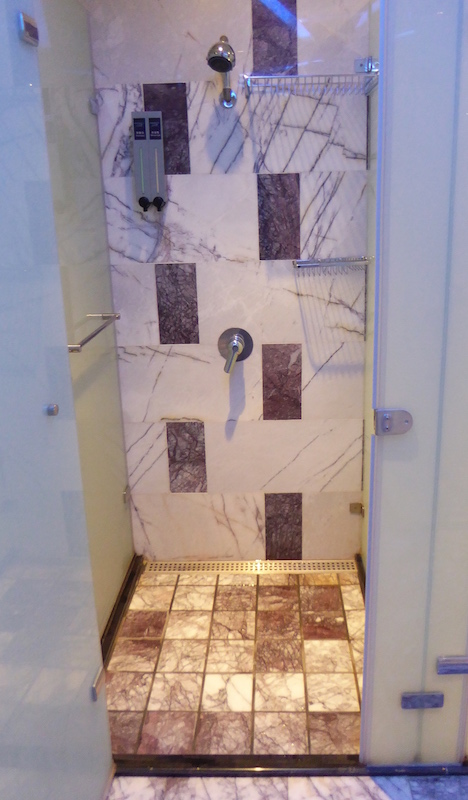 The laundry has two washers and two dryers with laundry soap and dryer dispensers.
No meals are provided, but guests have access to complimentary coffee and tea throughout the day. Two fridges, a hot plate, toaster oven and microwave are also available, and I especially appreciated the water dispenser to fill my water bottle with cold filtered water. It also dispensed hot water for tea or noodles. A recycling centre is also located in the kitchen.
The bathroom, kitchen, laundry and common area were immaculate, and seemed to be cleaned several times each day.
If staying connected is important, enjoy blazing fast complimentary Wi-Fi in both the common area and dorms. It's so good, connecting with family in Canada via the VoIP app Viber was crystal clear when speaking in barely a whisper from the common area.
Surrounding amenities
Ximending is so diverse, a person could take a few days to explore the neighbourhood and barely scratch the surface.
For trendy stores, fast food or a movie on a cold and rainy afternoon, check out the Pedestrian Area accessed via Exit 6 at the Ximen MRT stop. It felt a little like the Times Square of Taipei. To experience the more authentic Taiwanese food and market culture, head out the back door of the building housing the Space Inn to the area known as Chenghuangtempel van Taiwansheng. There you will navigate narrow market alleyways, stumble upon the Chenghuang Temple and find a host of eateries beckoning you to graze with adventurous abandon.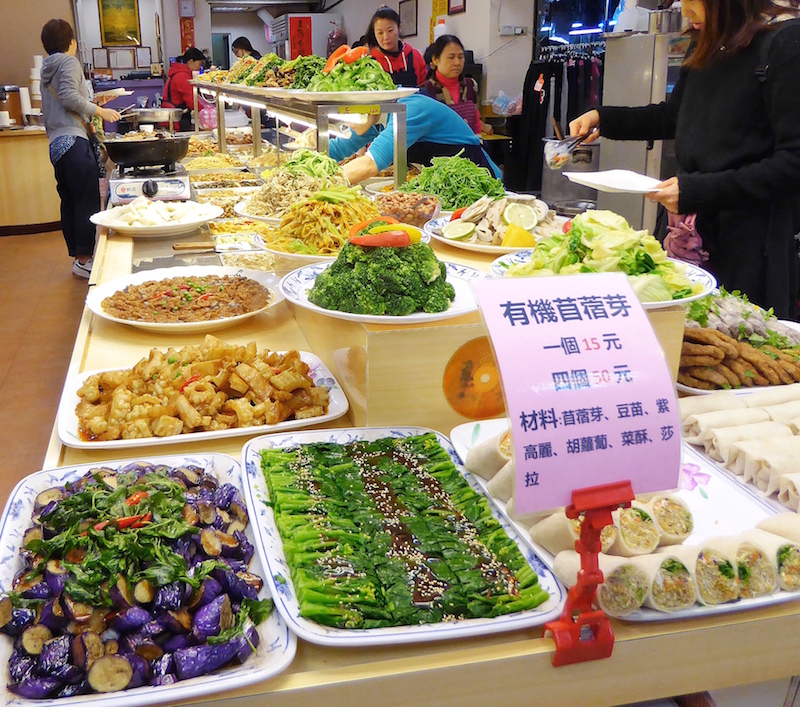 If craving an early morning coffee with Wi-Fi, until you get your bearings and find other options, there's a Starbucks at the end of the block. However, you're bound to appreciate a more home-grown experience and exposure to the recent proliferation of coffee shops appearing on the Taipei scene. Turn right when exiting the front entrance of the Space Inn, then right again on Bo'Ai Road and look for Oklao on the second block on the left. Enjoy an amazing café latte prepared by a true barista for a fraction of the price charged at Starbucks (and free Wi-Fi). You'll be treated to friendly service and amazing latte art – in fact, a different design each day.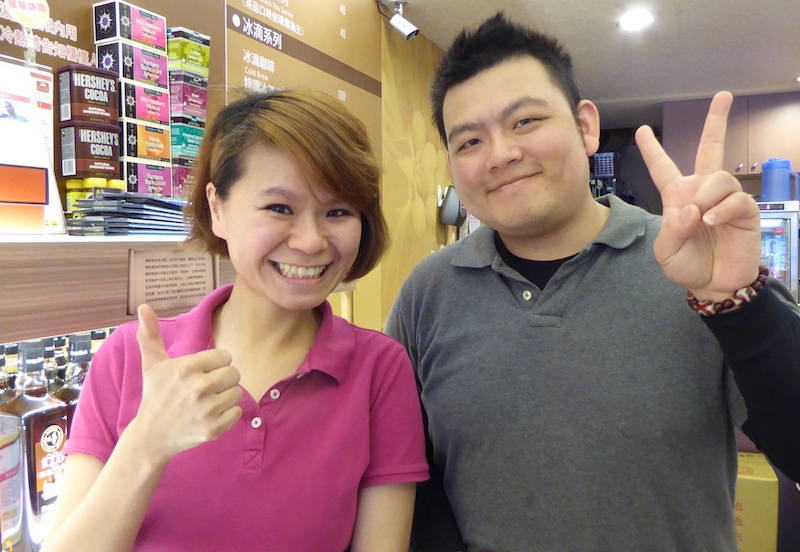 Convenience stores are everywhere. The closest 7-11 is just a few doors down the block after turning left when exiting the building containing the Space Inn. There are two bakeries on the way to Ximen MRT stop, a pharmacy across the street, several banks with ATMs and a host of eateries and food stands in the area.
But…
What's missing at the Space Inn is a design that facilitates easy interaction with staff and other travellers. The common area is set up in such a way that it takes a proactive effort to communicate with others. With breakfast provided at many hostels, sitting with others over a meal is a necessary feature of the layout. When a bar serving breakfast, coffee or alcoholic beverages is incorporated in a reception or common area, sliding into a booth or table occupied by others is an accepted if not necessary reality.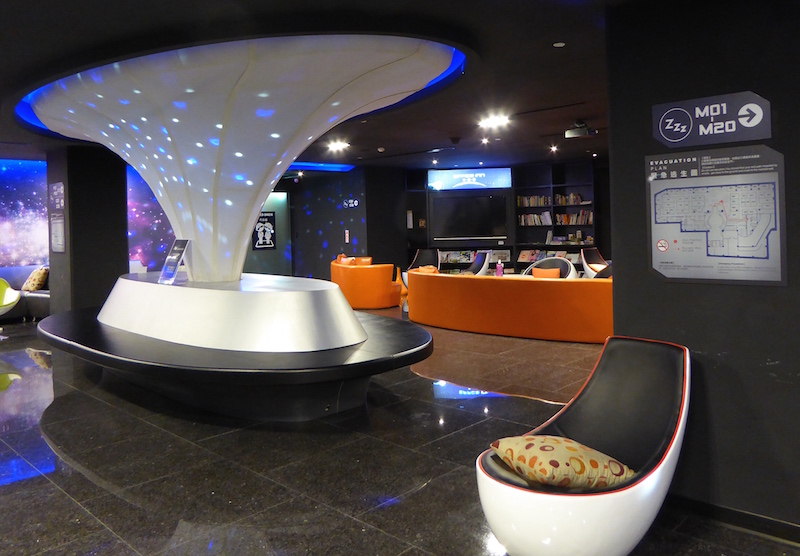 Staff members are friendly and helpful. Unfortunately, the only interaction is when arriving or leaving the premises, or purchasing a drink from the fridge in the reception area.
Getting There
Taiwan Taoyuan International Airport (TPE) is not actually in Taipei, but in Taoyuan County about 50 km from the city. Until such time as the Taipei MRT connects to the airport with a planned opening date of December 2015, the most economical way to reach Taipei is by bus. Depending on the traffic, expect a trip of between 45 minutes to an hour. Several bus lines serve the route but Kuo-Kuang Motor Transportation is recommended, especially if you're staying in central Taipei. It's a reliable service, buses leave at 15-minute intervals and make a limited number of stops.
My flight from Shanghai arrived at Terminal 2. After exiting the customs hall, I turned right and followed the signs indicating bus transportation to the city, a short walk of about a hundred metres.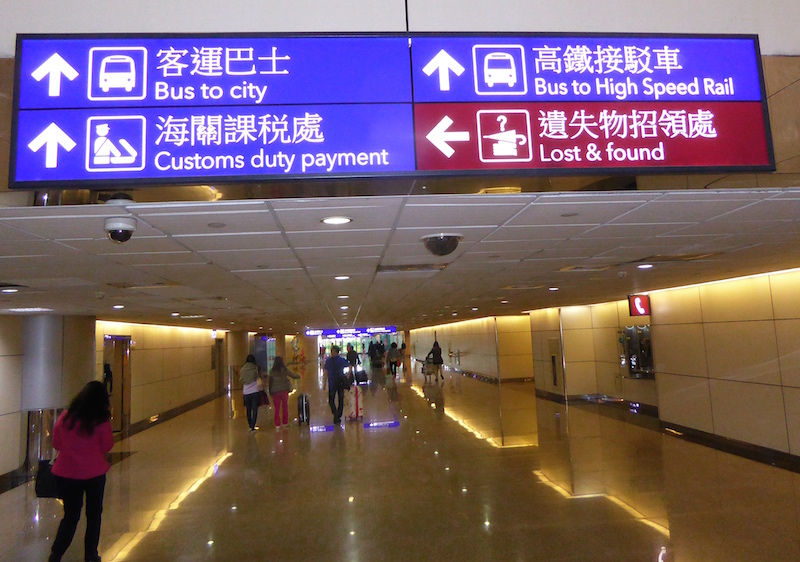 An ATM was strategically located on the way to the bus company counters. At the Kuo-Kuang Motor Transportation booth I purchased a ticket for NT$125 ($5 USD) to Taipei Main Station and the Kuo-Kuang representative pointed me in the direction of the clearly signposted bus bay just outside the doors for bus #1819. The process was smooth and seamless.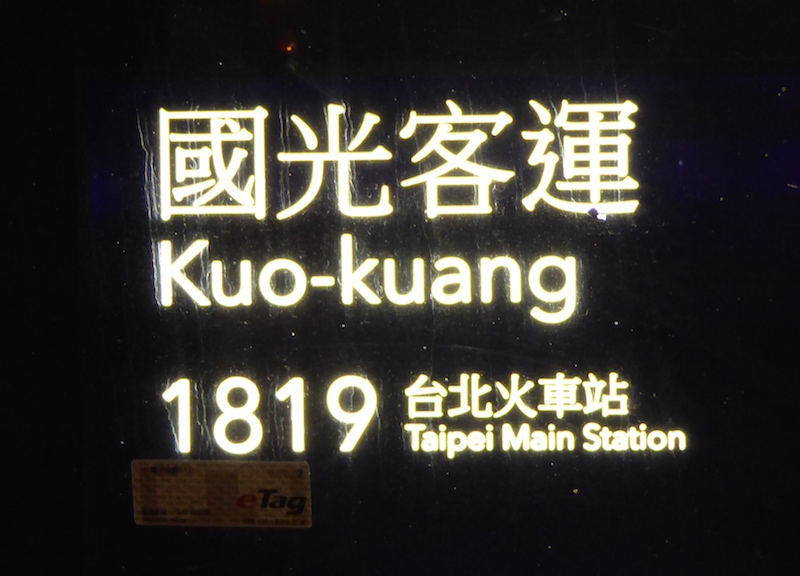 Getting to the Space Inn from Taipei Main Station is relatively easy. If you're arriving late at night, a taxi may be your only option as the MRT doesn't operate between midnight and 6:00 am. Have the address printed in Chinese characters as the taxi driver may not be able to get you to your destination without it.
Space Inn : 飯店聯絡資料
Address: B1, No. 51, Hengyang Road, Taipei City, 100, Taiwan
地址:100 台北市中正區衡陽路51號B1
Phone : +886 2 2381 3666
To travel via the MRT, most tourists purchase an EasyCard at a staffed station booth or vending machine. The card requires a NT$100 ($3.20 USD) deposit and can be topped up with varying amounts.
The best MRT station for the Space Inn is Ximen on the Bannan (blue) Line. This is especially true if arriving late at night. Each MRT station has clearly marked exit numbers. At Ximen, look for Exit 4 and when you reach street level, keep going straight down the left side of Hengyang Road keeping an eye out for #51. It's exactly two and a half blocks from the station – about a five-minute walk. The NTU Hospital station is another option, which I preferred on many occasions as it is located on the edge of 228 Peace Memorial Park. Take Exit 1, walk across the park and then up the right hand side of Hengyang Road for one and a half blocks. It too is about a 5-minute walk.
To return to Taiwan Taoyuan International Airport (TPE), take the Kuo-Kuang Bus Company bus #1819 from Taipei West Bus Station Terminal A. The bus station is attached to the Taipei Main Station which is huge and difficult to navigate so allow plenty of time to find your way. Look for Exit M5 to take you through the Station Front Street Mall. Follow the signs for the Taipei West Bus Station at Exit Z3 from the mall.
For more information, including a fare schedule and timetable, visit Taiwan Bus.
The Verdict?
When it comes to cleanliness, design and safety, the Space Inn rivalled if not surpassed many of the hotels I've stayed in over the years. The hostel represents great value, the staff was fantastic and the location can't be beat.
Now, I'm curious about you. What are some of your favourite hostels you've stayed in around the world?
Might you be interested in other posts on Taiwan? If so, check out:
(Visited 2,457 times, 1 visits today)