Do you have the ability to make voice recordings during your travels? It was a question I hadn't given much thought until my friends returned from a trip to Africa. They were disappointed that they didn't have the ability to record the presentations of rangers on game drives. This got me thinking about the many times I could and should have recorded different travel experiences on my iPhone. As a result, I went searching for the best voice recording app for travellers.
Just Press Record
It didn't take long to stumble upon the award-winning voice and audio recording app, "Just Press Record." Scanning its features, I couldn't help thinking, "This has been built for me. I just press record? It transcribes voice recordings to text? It recognizes punctuation commands? I can share recordings, or text of those recordings, with other apps or people? Wow, what a useful travel aid."
I started visualizing the possibilities. I could use it to record ideas on the move, such as what to add to a packing list or a pre-travel checklist. Recording narratives for photos could be done on the spot, instead of trying to recall details after the fact. I could dictate journal entries on the fly. A recording of a tour guide's presentation or interview would provide accuracy and detail, and exact quotes to incorporate in a future article or podcast. So many possibilities.
Clean and simple
Its simplicity is one of the best features of Just Press Record.
It can be activated quickly from the stand-alone app for Apple Watch users, or the Just Press Record widget on the lock screen of an iPhone. This is handy when speed is of the essence.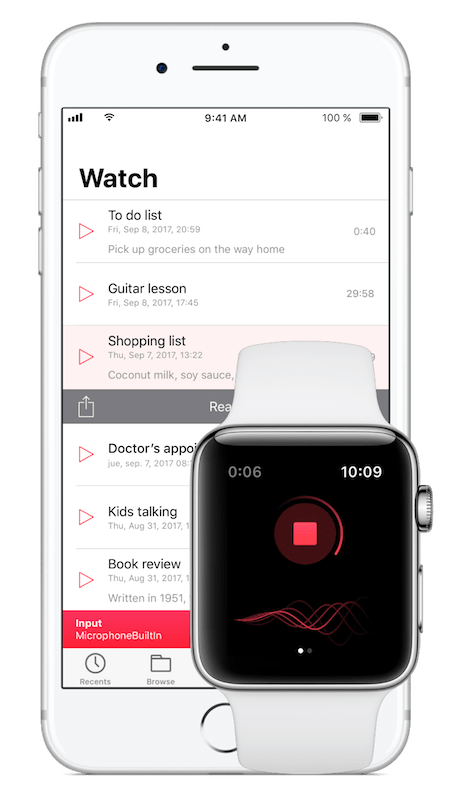 Press the prominent red button. Tap to start recording, tap to stop. Simple.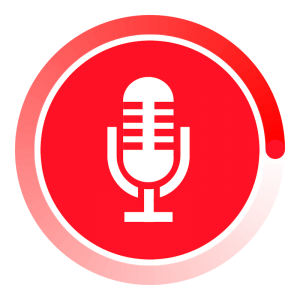 While dictating, add punctuation commands such as "comma" or "new paragraph."
Recordings are organized by date and time, lined up in neat rows under the record button. By default, the filename is numeric (e.g., 20-02-32). To rename the file, tap on the filename to activate the keyboard.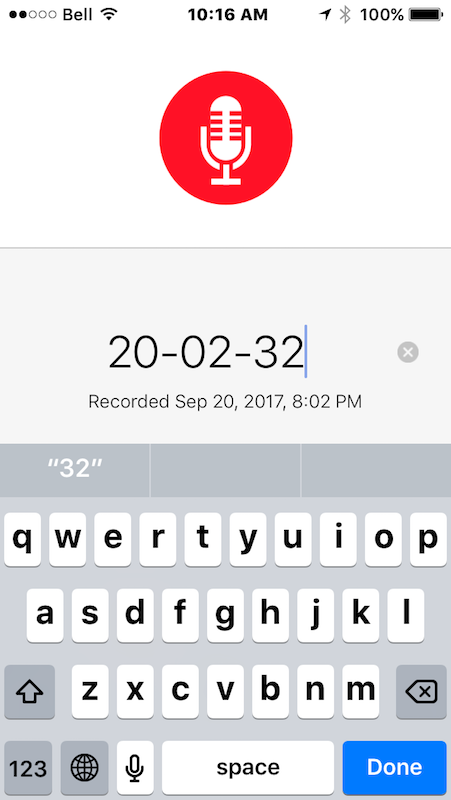 Tap on the file to hear the recording and its speech-to-text transcription.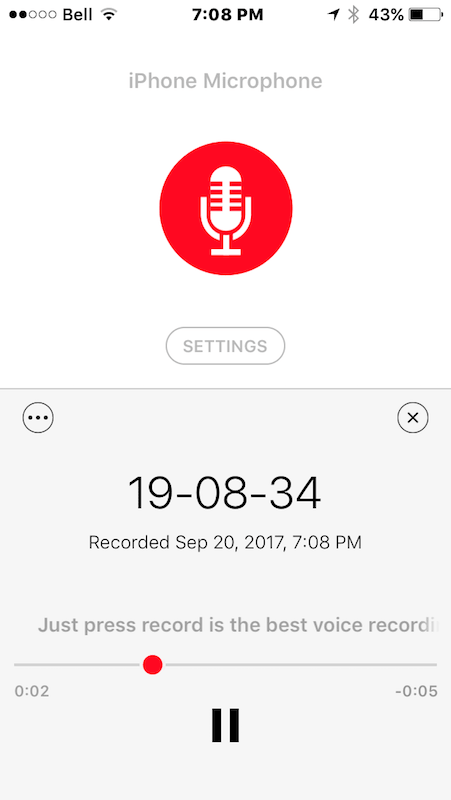 A recording, or its transcribed text, is shareable. Send it to other apps that support audio or text sharing, such as Dropbox, Mail, Messages or Notes.
You don't need to wade through recordings searching for a specific moment to retrieve what was said. The transcribed text is searchable, which makes finding things a breeze.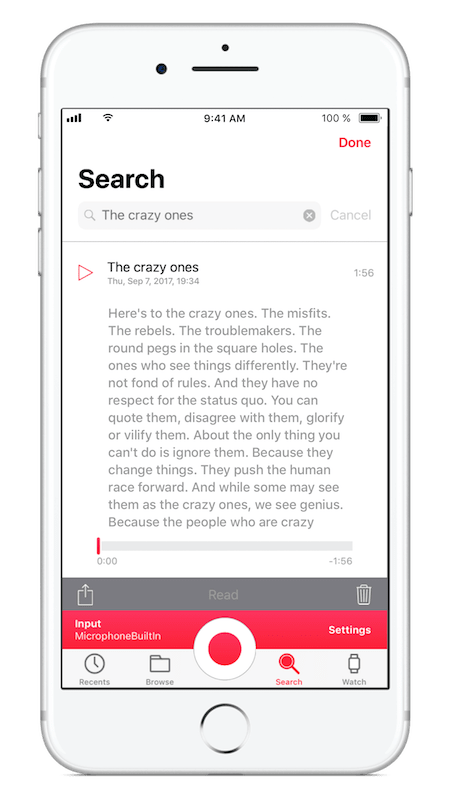 For better quality audio, an external microphone can be connected via the Lightning Port.
With an iCloud account and iCloud Drive, Just Press Record transfers recordings between my iPhone, iPad and MacBook Air via iCloud sync. If I'm in another country without a local SIM card and my phone is in Airplane mode, the file is available once I'm back on Wi-Fi. In fact, if I don't want a recording interrupted by incoming communications, I can switch to Airplane mode for the duration of the recording.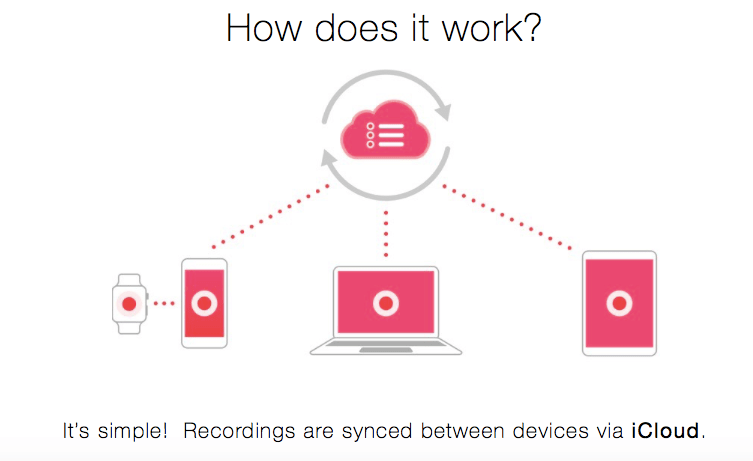 I also like that it's not offered as a "free" app with a multitude of in-app purchases. There's one upfront cost with all its features built in, working straight "out of the box." Its simplicity makes it intuitive. If not, the developers have a handy list of questions and answers in the Support section of their website. With significant features added in late 2016, the price increased to $6.99 (Canadian). When an app delivers so much value and the developers are regularly adding improvements, I think it's worth it.
Set up is straightforward
For an iPhone, go into the phone's settings to check that iCloud Drive is set to "on" (> Settings > iCloud > iCloud Drive).

Download the app.

When prompted, allow access to the microphone.

Choose your preferred audio settings. Before a recent update, the only option was to record in M4A (AAC) format. You now have a choice between AAC, AIF and WAV files.

Set the transcription language. By default, the app will use your device's language setting. This can be changed at any time by tapping the Settings button in Just Press Record and selecting a different language.

Change the Auto Transcribe setting if you're not satisfied with "Short Recordings" as the default.

Test with a short recording.

When prompted, allow access to Speech Recognition (to transcribe spoken words to text).

Delete the test recording by swiping left to reveal the delete button.
To add the Just Press Record widget to your Lock Screen, scroll down to the bottom of the Lock Screen and tap the edit button. Locate Just Press Record in the list and tap the green + button next to it. Move it towards the top so it's readily accessible when you want to quickly start recording.
Conclusion
If you're wondering what's the best recording app for travellers with iOS devices, take a look at Just Press Record. It's uncomplicated, and gets the job done. Trip planning and preserving travel memories have never been so easy.
If you found this post useful, you might be interested in other articles on tech gear and travel apps for packing light travellers:
Do you use a voice recording app for travel? Which one? What do you like about it?
(Visited 76 times, 1 visits today)