AirPods are Apple's new Bluetooth earbuds, released mainly for iPhone 7 and 7 Plus users due to the lack of a headphone jack. They're meant to be easy to use, and the perfect companion for your iPhone 7. But, are AirPods perfect for travel?
How do they sound?
The sound is loud and clear. When listening to music, you can hear lyrics and background instruments perfectly. However, there isn't much depth. In fact, they sound virtually identical to the wired EarPods that come in the box with your iPhone. There's a slight improvement with sound clarity compared to the EarPods, but not much of one. And if you're looking for lots of thumping bass, you'll need to look elsewhere.
Are they comfortable to wear?
The one-size-fits-all design works for most people. The unique shape points the speakers directly into the ear canal without plugging it up completely like rubber tip buds do. However, I've found that they don't create a very good seal around my ear canal, so I can hear what's going on around me. Due to the seal problem, I have to turn up the volume to almost max. And when I turn the volume up that much, it starts to hiss, which can be painful and irritating.

How convenient are they?
AirPods are loaded with four extremely convenient features.
To begin with, the case isn't just a carrying case. It also acts as their charger. The charging/carrying case can give your AirPods up to 24 consecutive hours of charge.
Another is the automatic play-and-pause feature. There are sensors on the AirPods that detect whether they're in your ears or not. If you take an AirPod out of your ear, the sensors will detect that you did so and what you're listening to will automatically pause. Put the AirPod back in your ear, and it instantly resumes.
A third convenient feature is the instant pop-up menu when you open the carrying case.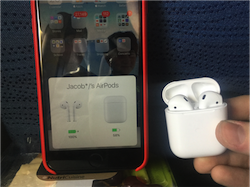 With the W1 chip inside the AirPods and the iPhone 7/7 Plus, the AirPods are automatically detected when you open the case near your iPhone. It's really handy if you want to quickly check how much battery life is left on your AirPods. They will also appear in your 'batteries' widget in the Notification Centre.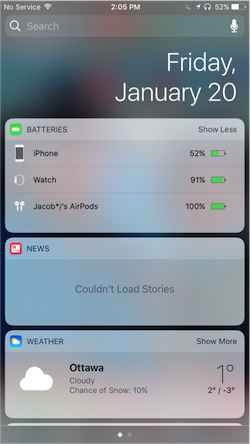 The last convenient feature is what I call "Double Tap." If you double tap on the stem of one of the AirPods, you can activate Siri. The onboard microphones in the AirPods make Siri easy to use because they know when you're talking and when you're not. In Settings, you can make Double Tap play and pause, as opposed to activating Siri.
What's the battery life?
The AirPods will give you 5 consecutive hours of playback and the charging case can charge them about 4.5 times before dying. The carrying case itself charges via a Lightning port at the bottom. On the inside of the charging case, there's an LED light that will indicate whether the AirPods have finished charging or not.
Are they good value?
Apple's pricing for the AirPods is a little steep at $219 CAD ($162 USD). Most people spending that sort of money would want to make sure they're buying the best headphones possible. I must say the price is a bit ridiculous, but if you're an Apple fanatic like me, they're a great companion for your iPhone.

Are AirPods perfect for travel?
I wouldn't recommend them as a main source of audio for travellers. They don't block out enough noise, and the audio quality isn't great for the price. And quite frankly, they're too easy to lose, even if you're great at keeping track of your things. They would be good as a backup pair of headphones, or while exercising during your trip. Weighing just 1.62 oz (46 g), and about the size of a pack of dental floss, they won't take up much space in your bag.
For more information, check out Apple's technical specifications.
Care to weigh in? Are AirPods perfect for travel?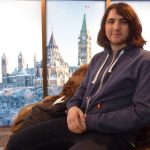 Guest Author Jacob Halbach is a self-proclaimed Apple fanatic. When he's not evaluating his next Apple purchase, he's working on his high school diploma in Edmonton, Alberta.
(Visited 274 times, 1 visits today)