As a packing light traveller, have you found a packable lightweight rain jacket that meets your needs? If not, you might want to take a look at the Arc'teryx Norvan SL Hoody. This little powerhouse weighs just 4.4 oz/ 124 g and when stuffed into its pouch, takes up as much space as a grapefruit.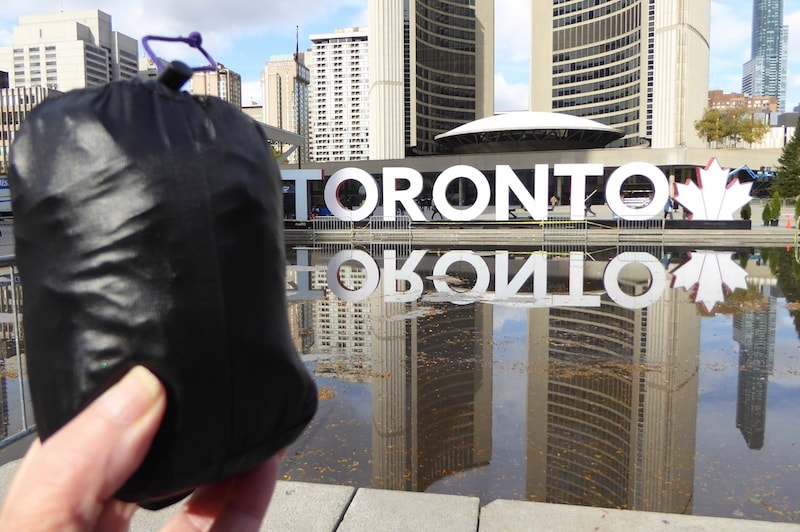 It's not only waterproof, but it's so breathable, it functions well in hot climates or during prolonged periods of exercise. It'll keep you dry, from both rain and perspiration. Guaranteed.
Arc'teryx innovation
Arc'teryx enthusiasts have come to expect quality from this innovative Canadian brand. But the company has risen to new heights with the Norvan SL Hoody. It's the lightest and most breathable GORE-TEX® jacket on the market. It's constructed of GORE-TEX® with SHAKEDRY™ technology, Gore's breathable two-layer waterproof fabric. This makes the jacket lighter and more breathable than those constructed with the traditional three layers.
Designed for runners and cyclists
The minimalist Norvan SL Hoody was built with runners and cyclists in mind. "SL" is an abbreviation of "super light." "Norvan" was inspired by the trails of North Vancouver where rain is a regular companion of runners and cyclists. It's marketed as a trail running jacket, which implies that moisture management from both rainfall and perspiration is key.
Research and first impressions
After considerable research, the Norvan SL Hoody earned a place on my shopping list. I wasn't interested in ordering it online, as I wanted to see and feel the jacket and its features. I also wanted to check the sizing with layers underneath. I was interested in a packable lightweight rain jacket for tropical destinations, and a waterproof windproof shell for wintry conditions when travelling across different climatic zones.
An opportunity presented itself on a stopover in Toronto in November, on the way to Cuba. I was staying in southern Ontario for a couple of weeks, with the requisite winter gear. Size Large of the Norvan SL Hoody fitted perfectly over three layers. These included a long-sleeved Icebreaker 200 mid-weight full zip, and my Arc'teryx Thorium A Hoody, a 750-fill puffy packable down jacket.
First impressions? It's an ultra-minimalist jacket. There are no pockets or zippered vents to add weight. The stuff sack, or anything else you're carrying, will need to be stowed elsewhere.
I was impressed with the detail on the jacket. The YKK zippers are reinforced with a WaterTight™ seam stretching up to the chin guard. The chin guard consists of a small triangular flap made of a smooth rubber-like material to prevent chafing. Two patches, one on either side of the zipper contribute to keeping the zipper and chin guard in place when the jacket is fully zipped.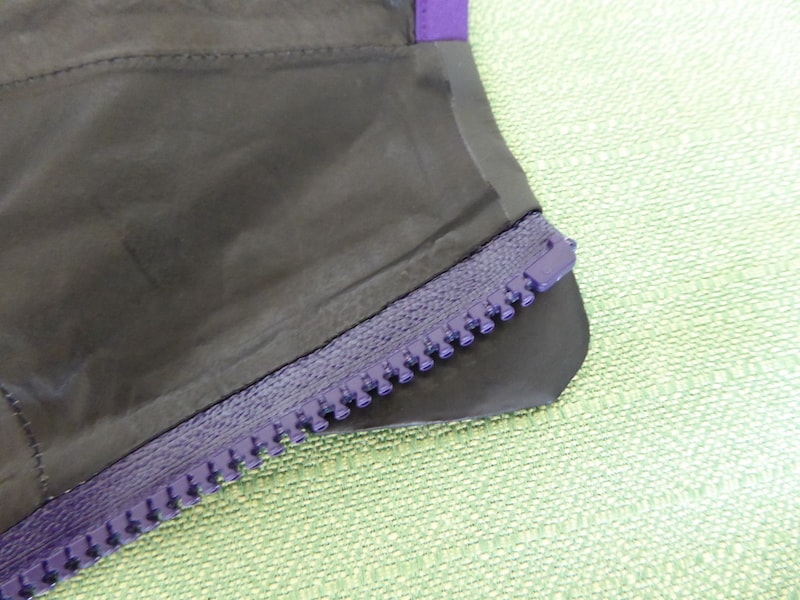 It comes in one colour – black. The women's version has purple trim on the zipper seam and around the hood. In the men's sizes, the trim is a bright blue.
The hood has a small, slightly stiff, protruding peak or brim. Stretching from each side of the peak down to the top of the zipper is elasticized trim. The adjuster at the back of the hood tightens it. These features contribute to a snug fit around the face and under the chin, offering a measure of protection to the face and reducing the possibility of rain getting inside.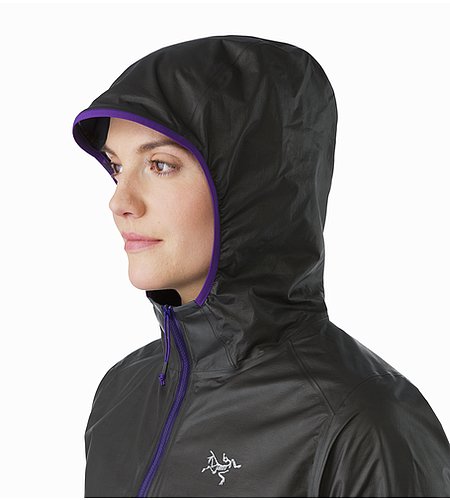 The adjuster also provides a way to secure the hood when it's not needed.
The sleeves are long, extending to the tips of my fingers. I assume this is intentional, to reduce the possibility of rain entering the jacket when the hands are elevated. The cuffs are longer on top of the hand and gathered with elastic binding underneath.
The binding on the hem of the jacket is elasticized. It has a slight drop tail for extra coverage.
The internal backer fabric uses Gore's Micro Grid Backer Technology. It improves internal abrasion and snag resistance, and feels comfortable on the skin. It's smoother than the external fabric, and slides easily over base layers.
It fits true to size. I expected to purchase a size Large, without the layers underneath. With the layers underneath, the Large remained a good choice. It doesn't come in an XL size, so I don't know if I would have been tempted to get a larger size to make allowances for layering.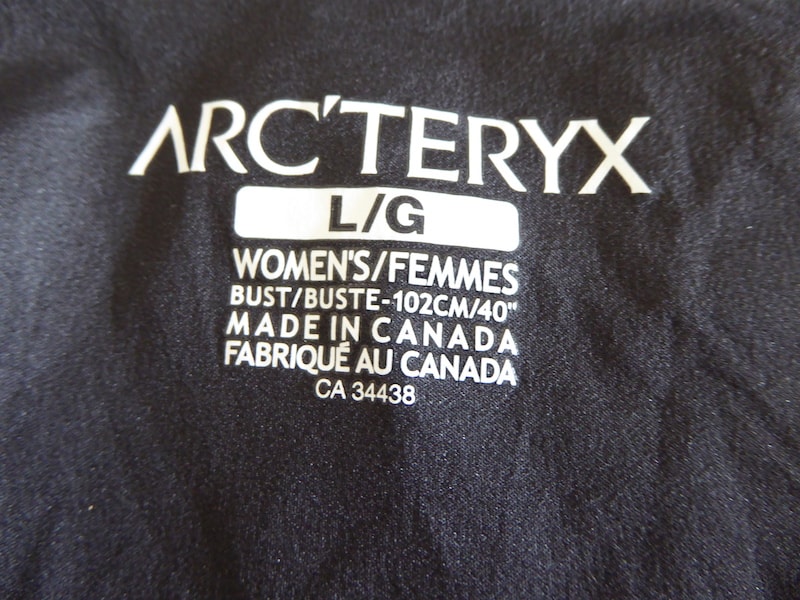 It's a trim fit, with plenty of room for the type of active movement one would expect of running and cycling.
The salesperson, Nanako, was helpful. She pointed out the jacket's fragility when hiking in conditions that could make it susceptible to environmental damage.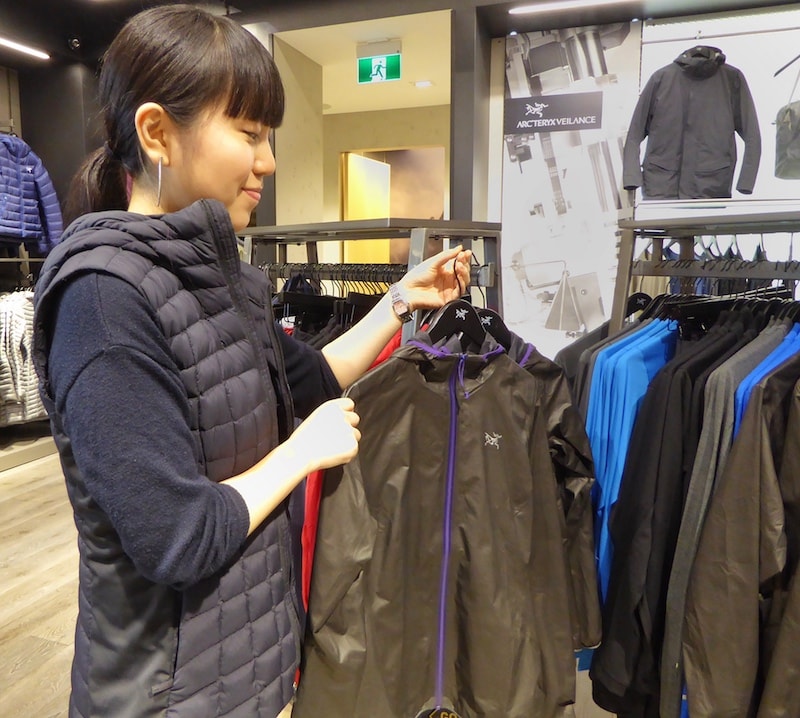 My experience
An Ontario November provided the opportunity to test the Norvan SL Hoody during rain showers, and as a windproof shell on several cold windy days.
It performed beautifully.
The real test was in Cuba, with torrential downpours in temperatures of 25 degrees Celsius. With the SHAKEDRY™ technology, water beads on the fabric before rolling off. A quick shake sheds any droplets that remain. Because it's so breathable, the clamminess experienced with other jackets was absent with the Norvan SL Hoody. I remained dry.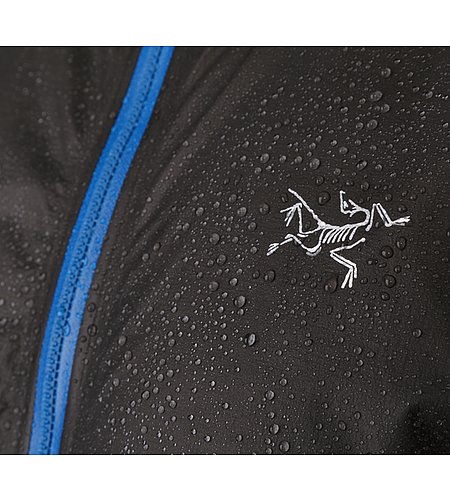 I'm yet to try it in snow, but I expect the waterproofing feature will perform as well as it does in rain.
Is it a good rain jacket for travellers?
It is for me, with a couple of reservations. I love so many of its features.
It's lightweight and compressible, and demands so little space.

It's truly waterproof. Water droplets bead and roll off, so it doesn't get heavier when wet.

Its breathability can't be beat. More durable predecessors have performed well as three-season jackets, but haven't been breathable enough to function in hot climates. The Norvan SL Hoody can work as a four-season jacket with the right cold-weather layers underneath.

It's perfect for exercising in wet conditions. It's built for movement.

It's washable.

It's small enough to toss into a day bag or stuff in a pocket.

While it's less durable than other waterproof shells, its pouch protects it from damage when stowed with other things.

It's made in Canada.
With its attributes come some sacrifices.
It's not as abrasion resistant as more durable waterproof shells. When wearing my travel backpack, I need to keep protruding pieces to a minimum to protect it from damage.

It doesn't have any pockets.

There's no attachment point for the small lightweight stuff sack. I'm conscious of the need to carefully stow the sack as it can be easily misplaced or lost.

Currently, it's only available in black, except for the trim. This works for me as a travel jacket. However, if I wanted it to double as a cycling jacket, I'd prefer a choice of colours to enhance visibility.

It's pricey, at $299 USD. However, this isn't out of line when compared to other high-performance jackets of a similar ilk.
If your priorities in a rain jacket are waterproofness and breathability in a small, packable lightweight product, check out the Arc'teryx Norvan SL Hoody. This may be a great choice if outdoor exercise and adventurous activity figure prominently in your travels.
Now it's over to you. What rain gear do you pack? Do you have any recommendations on a packable lightweight rain jacket?
SaveSave
(Visited 147 times, 1 visits today)