When one of my travel mates suggested I apply for a NEXUS card, the thought crossed my mind she was in work-related auto-pilot, promoting a program that supported her former livelihood as a Canadian Border Services Agency (CBSA) Officer attached to the NEXUS program. It was only after observing other travellers avoid queues and whiz through airports using NEXUS lanes, did I stop procrastinating and apply to join the program. Here's my experience with the process.
What is NEXUS?
NEXUS is a Canada-United States program for pre-approved Canadian and U.S. citizens and permanent residents travelling to or from the U.S. or Canada. It facilitates expedited entry using automated self-serve kiosks at airports, designated NEXUS lanes at land crossings and a call-ahead system for travellers using marine services. It also promotes expedited movement through dedicated airport security screening lanes.
Why use NEXUS?
Having a NEXUS card saves time. At NEXUS-enabled airports, NEXUS members don't need to line up in the standard queues to be processed by border services officers. Instead, they're able to head to the self-serve kiosks at U.S. entry points, U.S. pre-clearance centres in Canada, and CBSA checkpoints when entering Canada.
An added benefit is that at large and select mid-sized airports, there are NEXUS-dedicated lanes for Canadian Airport Transport Security Authority (CATSA) security screening. Another advantage is that in late 2012, the U.S. Transportation Security Administration (TSA) included Canadian NEXUS holders in TSA Pre✓™ on domestic flights of most airlines within the U.S. as well as international flights, including to Canada. Screening benefits include leaving on shoes, light outerwear and belts, and laptops and 3-1-1 compliant liquids remaining in carry-on bags. This is a huge benefit.
How to apply
After determining I met the eligibility criteria, I chose the online option to submit an application via GOES (Global Online Enrollment System) and pay the non-refundable $50 fee. I'd read that the system might be finicky so I gathered the necessary documentation hoping my session wouldn't time out if I left the computer. As it turned out, I was shut out just once but it was easy enough to log in to my account and pick up where I'd left off.
Once I'd paid the fee, and the system confirmed my application had been submitted, I then monitored my account from time to time to verify acceptance for the next step. This involved an interview at a NEXUS Enrolment Centre with a CBSA and a U.S. Customs and Border Protection (CBP) Officer. Checking my account wasn't necessary because twenty days later, I received an email concerning a change in the status of my NEXUS application. By logging in to my account, I retrieved a copy of the Conditional Approval Notification and made an online booking for the 20-minute interview for the following week.
The interview
The Conditional Approval Notification listed the documentation I needed to take to the interview. It also outlined what to expect.
The interview lasted approximately 20 minutes. The CBP Officer reviewed my documentation, asked a couple of questions relating to my status, took a digital photograph of my face, and my fingerprints were entered into the system. I was asked several questions relating to criminal history and violations of customs regulations, and I signed a declaration confirming my responses. A CBSA Officer administered a digital iris scan, walked through the terms and conditions of using the program, and conducted a hands-on training session at a kiosk. Both officers were pleasant, courteous and professional.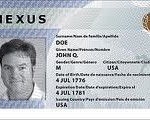 Activation
My NEXUS card arrived two weeks later. It needed to be activated online using my GOES account within 30 days of receipt.
The verdict
From beginning to end, the application and enrolment process took six weeks. My NEXUS card is valid for five years from the birthday following my application date. I just need to remember to go online to update any information that changes within the five-year period (e.g., permanent address, passport). Other changes require a visit to a NEXUS Enrolment Centre (e.g., name change, or changes to citizenship or resident card).
As security becomes even more of a priority at border crossings, especially when entering or leaving the U.S., prior screening and pre-approval for travel makes a lot of sense. I figure my NEXUS card will save me a lot of time and frustration, and I'll spend less time standing in queues and more time enjoying my travels.
(Visited 858 times, 1 visits today)