Of all the interesting things to do in Nova Scotia, the Mahone Bay Scarecrow Festival and Antique Fair is one of my favourites. It's also popular with others, judging from the swarms of visitors who descend on the picturesque south shore town each autumn.
The festival
2017 marked the festival's 21st year. It was held on the last weekend in September. The weather was perfect for combining the festivities with a leisurely cycle around Mahone Bay. For most of the time, traffic and pedestrians moved slowly. Drivers and pedestrians were courteous and considerate, a perfect combination for cyclists. Police presence was also on two wheels in the form of a friendly and helpful officer of the RCMP (Royal Canadian Mounted Police).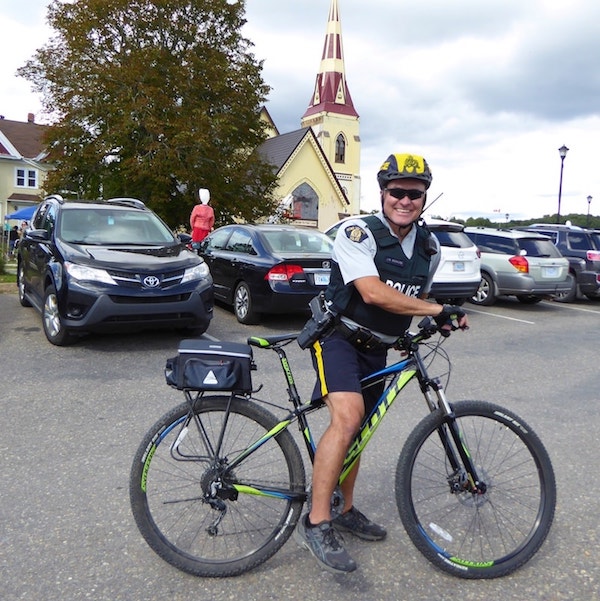 Over 120 volunteers help make the event a success. This is an amazing accomplishment for a town of only 900 residents. Activities are varied, with something for everyone. A pumpkin carving contest culminates in the Candlelit Pumpkin Path on Saturday evening. The three-venue antique fair features booths displaying the wares of 27 vendors. There's live music, a book sale, and several yard sales. Activities for children, hosted by Scout Camp, included a giant bubble party, face painting, aerial acrobatics, juggling, and magic.
Scarecrows: the stars of the show
The 250 or so life-sized scarecrows graced storefronts, sidewalks, and residential lawns.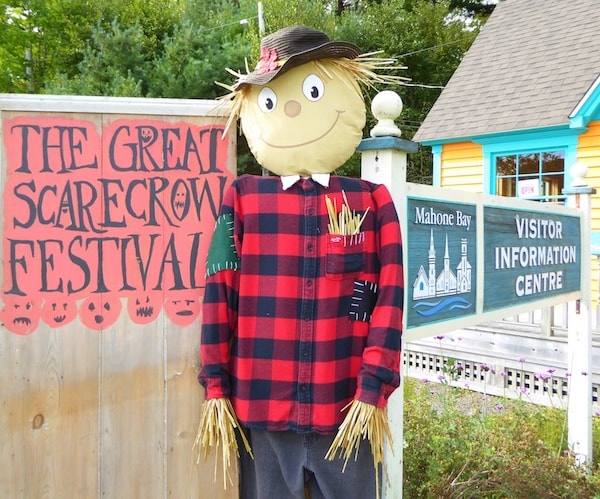 If you come with a camera, expect to return home with a huge collection of photographs. Many of the displays invite visitors to insert themselves into the frame.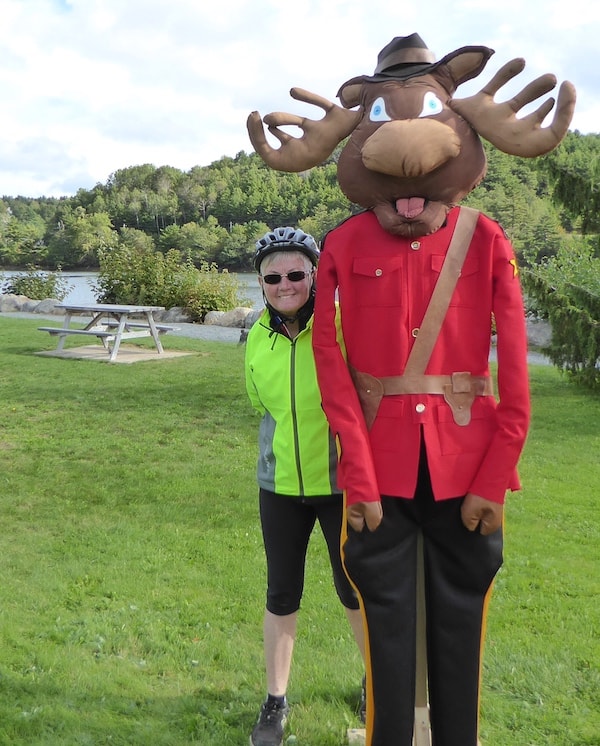 However, I found the word "scarecrow" to be somewhat deceptive. These handmade creations are works of art, prepared by talented volunteers who work with a variety of media.
The clay shaped into the face of Maud Lewis bore an uncanny resemblance to the Nova Scotian artist.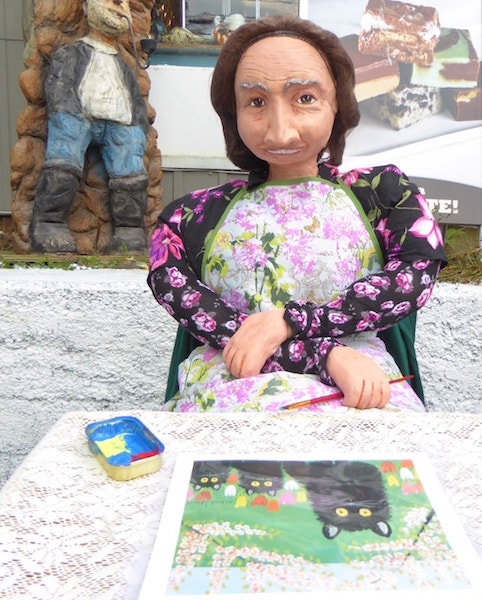 Costumes materialized from metres of colourful fabric.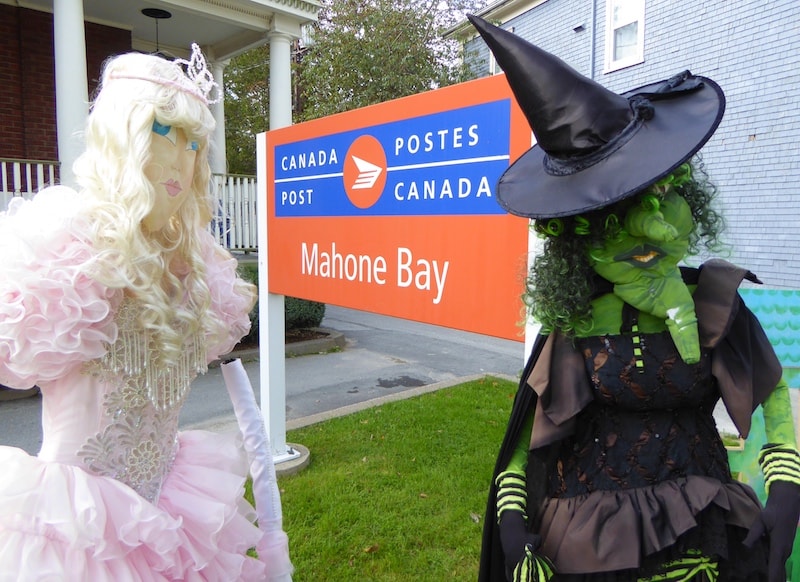 Tin figures evolved from an eclectic collection – a washtub, garbage can, furnace ducts, buckets and pots fastened together with duct tape.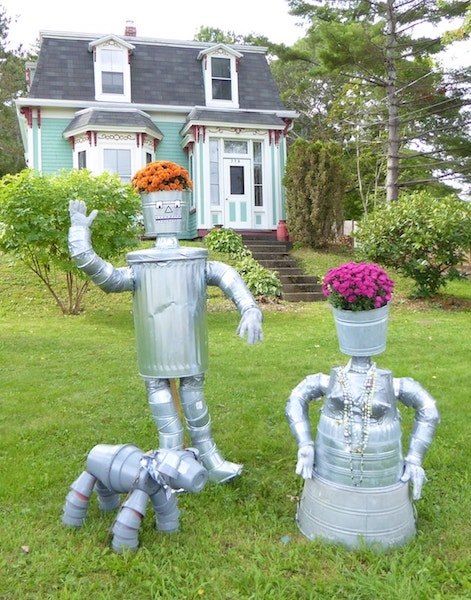 Some scarecrows were arranged individually like this one of Astronaut Chris Hatfield.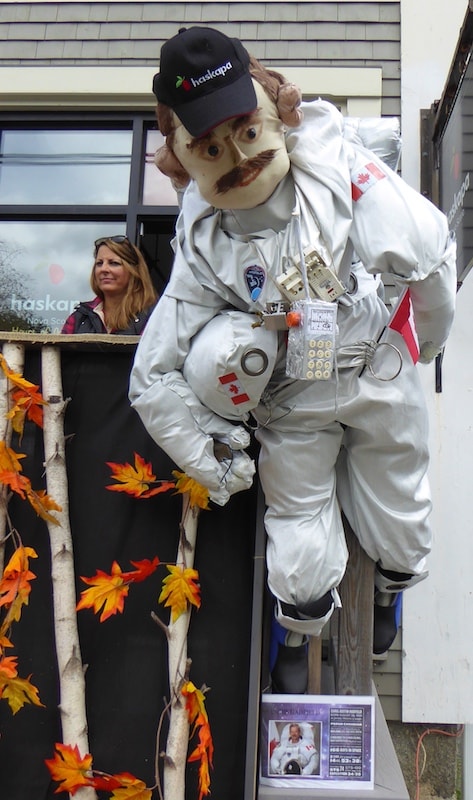 Others were arranged in collections of recognizable figures – actors, musicians, the royal family, cartoon characters, and Canadian icons.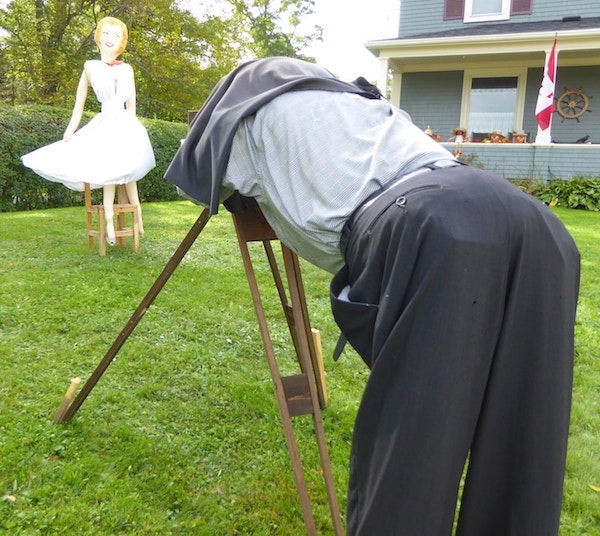 The collection by the Bank of Montreal paid tribute to the founding families of Mahone Bay. Mahone Bay was founded in 1754.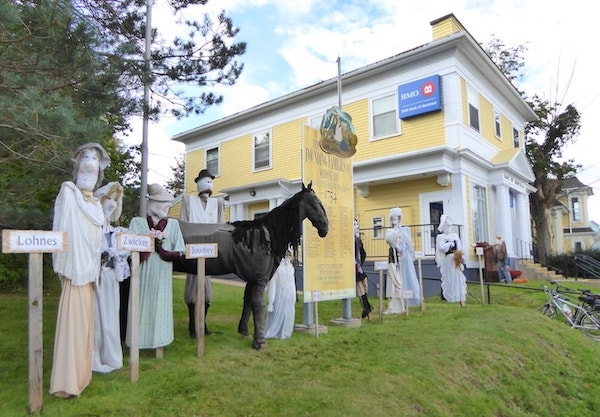 Many enterprises flaunted business-related displays. Recardo's Pizza included a replica of its signature dish with two life-sized scarecrows representing restaurant workers.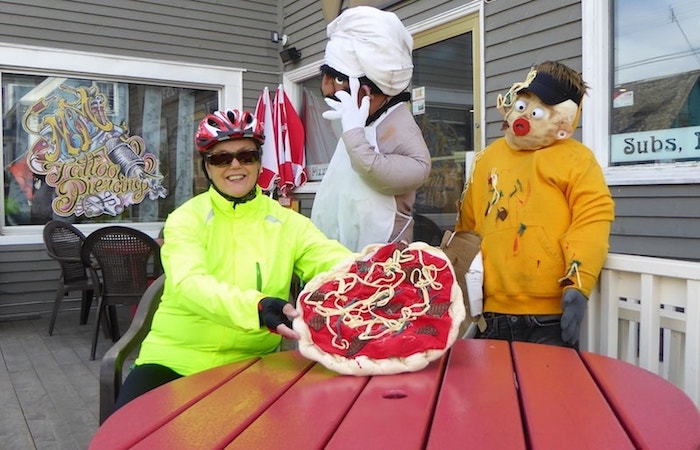 Buchanans House of Music featured a rock band.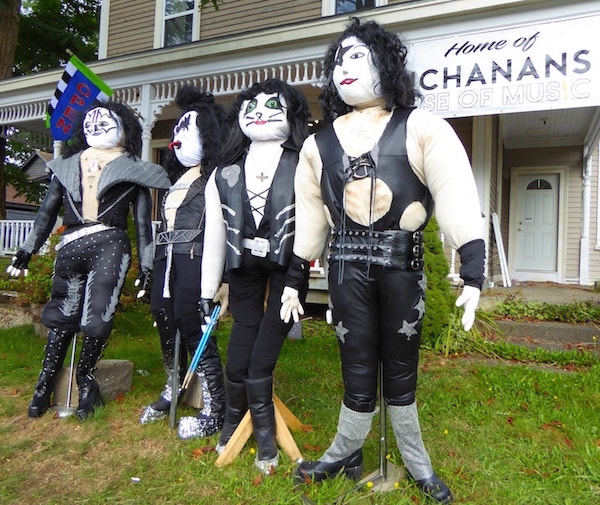 A dental practice displayed a youngster proudly sporting orthodontic braces.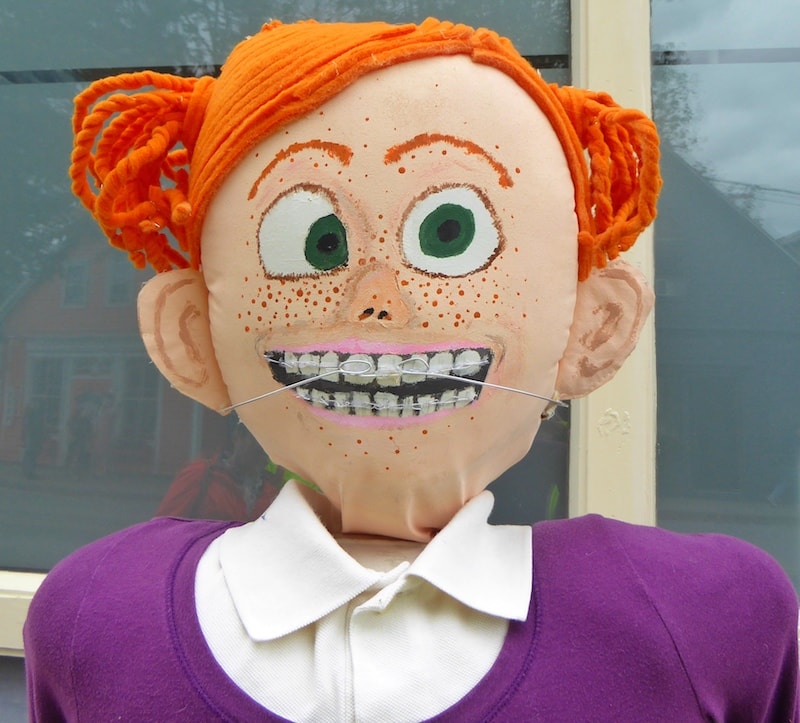 Mahone Bay has some grand old houses. These provide a perfect backdrop for scarecrow displays.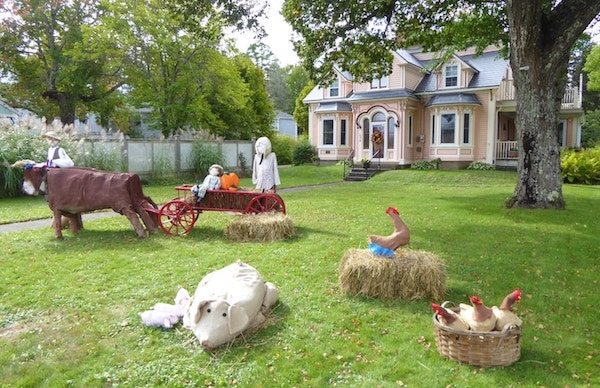 Logistics
Mahone Bay is 85 km from Halifax, a one-hour drive on Highway 103. A slower, more scenic option is to travel on Highway 3.
For visitors coming from the USA, a seasonal ferry crosses the Bay of Fundy from Portland, Maine to Yarmouth, Nova Scotia. From Yarmouth, take the coastal route using a combination of Highways 3 and 103. Or, choose from several routes crossing the province.
The festival lasts three days from Friday to Sunday. The "scare-crew" ensures the scarecrows are in place on Thursday, and taken down a few weeks later.
We arrived at 10:00 am when there were plenty of parking spaces in the large waterfront parking lot bordering Edgewater Street. It was more crowded in the afternoon, and more difficult to find parking spaces near festival venues.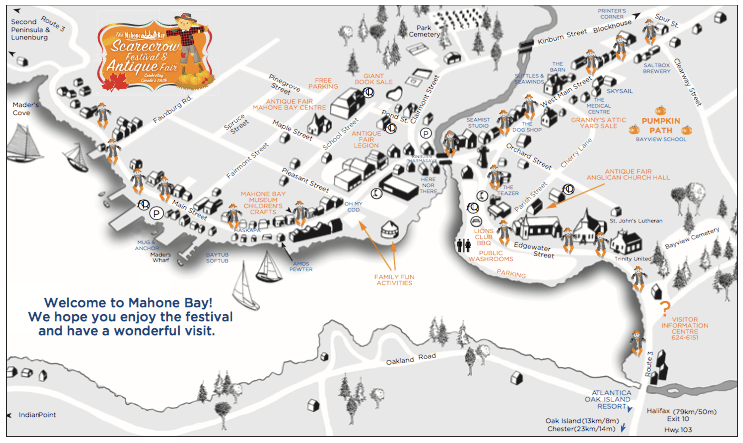 For the dates and activities of the next Mahone Bay Scarecrow Festival and Antique Fair, visit the festival website and their Facebook page. For accommodation, stay at one of the majestic old homes offering bed and breakfast. Diamond sponsor Atlantica Oak Island Resort and Conference Centre, 11 km from Mahone Bay, offers a festival rate.
See you at the next Mahone Bay Scarecrow Festival and Antique Fair? Come and see for yourself why Mahone Bay has been voted as one of the best small town destinations in Canada.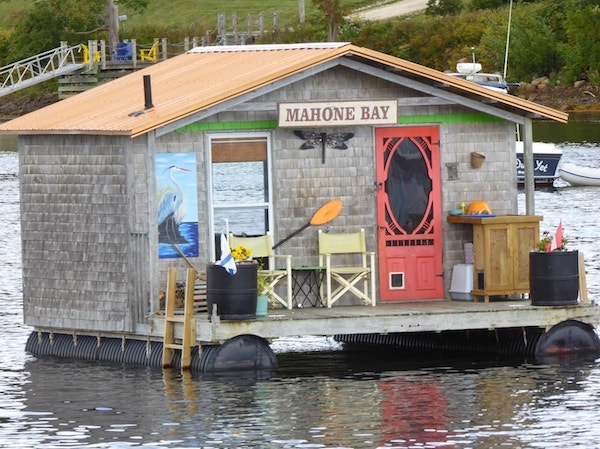 (Visited 74 times, 1 visits today)