If you're looking for the ultimate in relaxing travel experiences, consider a blue cruise on a Turkish gulet off Turkey's Turquoise Coast. Along the coast, a host of "Mavi Yolculuk," (Blue Voyage) options are available at budget prices, making a blue cruise within easy reach of most travellers.
My Blue Cruise
Climbing off the gangplank of the Seaborn Legend at its berth in Fethiye Harbour, we were greeted by a freshly washed aged teak deck and a request to remove our shoes. Remaining barefooted for the next four days while on board was the first rule of our blue cruise. The others, we were soon to discover, were to totally relax, swim to our hearts' content in the warm Mediterranean each time we dropped anchor, and enjoy the delicious meals prepared by the crew.
There are many companies offering day trips and longer cruises off Turkey's spectacular Turquoise Coast, regarded by many as one of the most beautiful coastlines in the world. We chose My Blue Cruise as the timing of our four-night cruise connected perfectly with plans to visit the neighbouring Greek island of Rhodes. Besides, the Gulf of Göcek sounded like the perfect destination. Its protected coves, bays and islands promised quiet mooring and swimming spots. And the forested hills and mountains peppered with ancient sites and panoramic viewpoints offered interesting hiking prospects.
A Turkish gulet
Cruising on a replica of a traditional wooden gulet is a highlight of any visit to Turkey. Originally fishing boats, these handcrafted vessels have evolved into the gulets offering holiday cruises that are a feature of Turkey's burgeoning tourist industry. According to Wikipedia, the Turkish word gulet (pronounced GOO-let) is a loanword from Venetian gołéta (modern Italian goletta), itself a loanword from French gouëlette (present-day spelling goélette), meaning "schooner."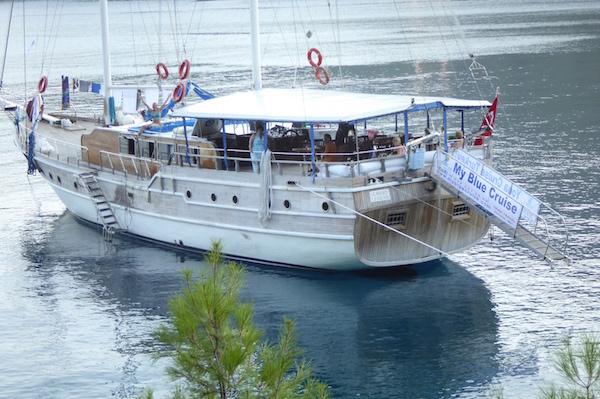 The Seaborn Legend is a 30-metre sleek double-masted creation of teak and mahogany. The beautifully weathered teak requires no maintenance beyond what the salt water and sea air have provided. Technically a ketch, the vessel has fallen into the "gulet" category of wooden vessels offering blue cruises. Built in Fethiye in 2004, its heavy sturdy body is capable of handling the unpredictable winds and waves of the Mediterranean. It boasts six double/twin cabins with ensuite bathrooms for 12 passengers, and additional space for the crew of three. At times, the cabins seemed superfluous. We spent entire days on the spacious deck lounging on the comfortable mattresses or sitting around the heavy mahogany tables. Besides, most passengers preferred to sleep on deck. There's something surreal about admiring a star-studded night sky while drifting off to sleep to the gentle sound of waves lapping against the boat. Waking up to the soft sunrise colours emerging from behind the multiple layers of mountains is an exhilarating start to the day.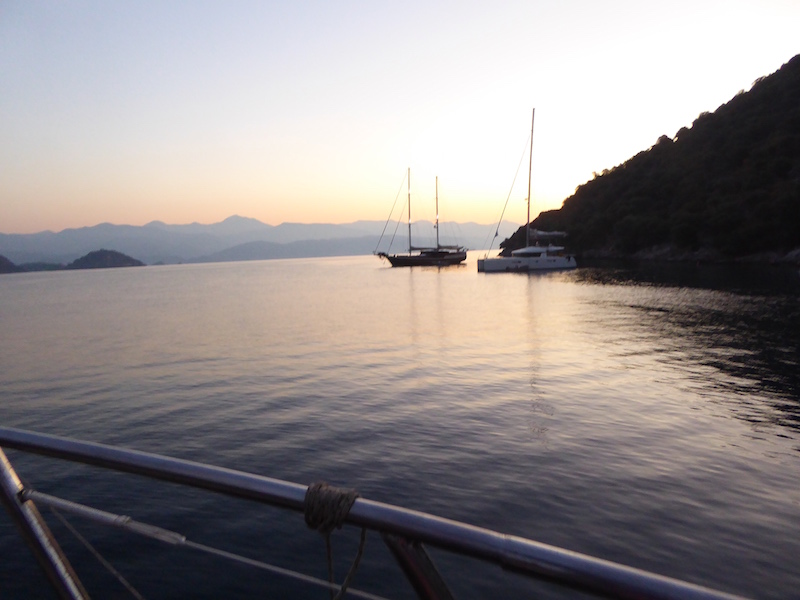 Be prepared to relax
Our first day was spent reading, writing, swimming, snorkelling, eating and getting to know the crew and other passengers.
The three-man Turkish crew consisted of a skipper, alternate skipper and deckhand, but most of the time the roles seemed interchangeable. Ali, İlyas and Hilmi juggled tasks associated with sailing and mooring the boat, ferrying passengers and supplies in the zodiac, and preparing the most amazing meals.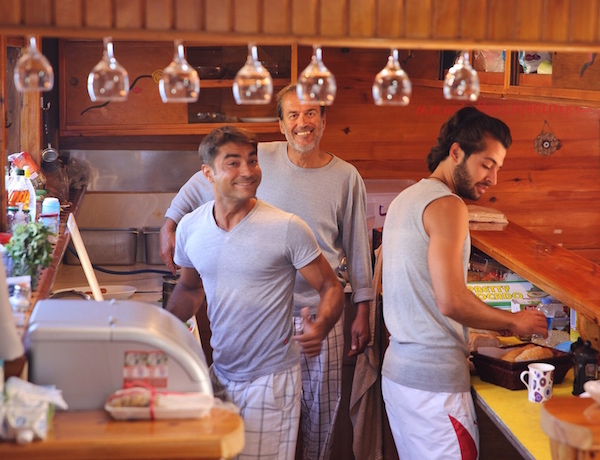 The ringing of a bell announced meal and snack breaks. After tasting our first lunch of several delicious vegetarian dishes, there were no stragglers to the supper table. It might have been thoughts of the culinary experience awaiting us. Or, perhaps it was because our appetites received a boost from the intoxicatingly fresh sea air and swimming in the refreshing turquoise-hued water. Besides, Ilyas provided a hint of what was to come by firing up the barbeque attached to the deck rail for grilling fresh aubergines, peppers and sea bass.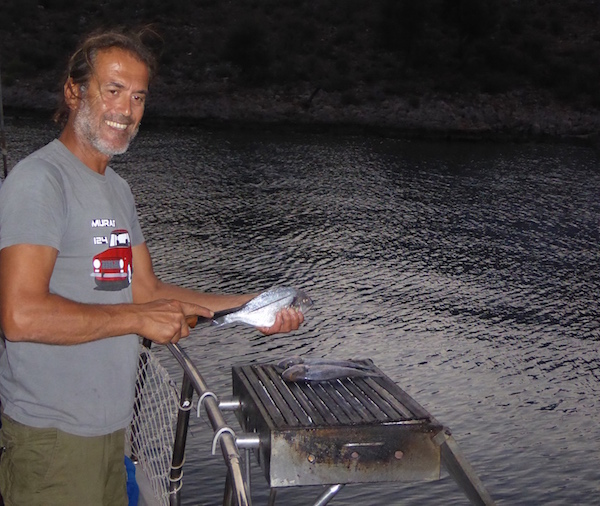 Interesting mix of passengers
The passengers were an interesting group – Alpa the restructuring consultant was from Britain, and Flavia a homemaker and Niklaus a physicist and engineer joined us from Switzerland. Chloe a vintner and Dana a marine biologist came from New Zealand, and Jess was a journalist from the USA. Neus a pharmacist from Spain was working with Doctors Without Borders near the Turkish border with Syria, and my gang of union representatives and retired union representatives came from Canada. On the second day, we were joined by Jordine, a dancer from Australia. Also joining us for one night was Terry a travel writer from Britain, and Ömer a tour operator from Turkey. We were actually on three overlapping cruises. Three passengers enjoyed the previous four-night cruise so much that they signed up for an extra night. Four passengers were on an inaugural one-week "yoga tour" with two yoga classes each day facilitated by Marija an archeologist from Serbia, and Eva a nurse from Switzerland.
A varied yet relaxed schedule
Over the course of the four days, we adopted a pattern of eating, swimming, reading and writing interspersed with the occasional nap or hike. I found myself spending hours admiring the scenery, and watching schools of fish dart around the hull. Or waiting for the heads of sea turtles to break the surface of the water, and watching goats negotiate the steep rocky hillsides.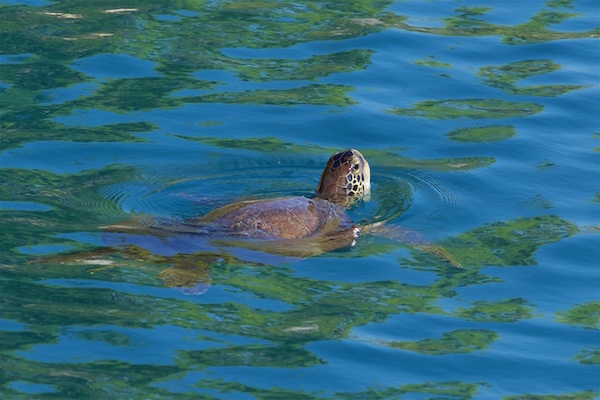 Watches were removed prior to the first swim and never put back. They weren't needed, as time was set to the rhythms of the boat, twice daily yoga classes and the delicious meals emerging from the galley. Coffee, tea and biscuits appeared three times each day between meals. Other drinks were available on an honour system with accounts settled at the end of the cruise.
Occasionally, enterprising entrepreneurs would pull up alongside to peddle an assortment of merchandise such as scarves, jewellery, beachwear and ice cream.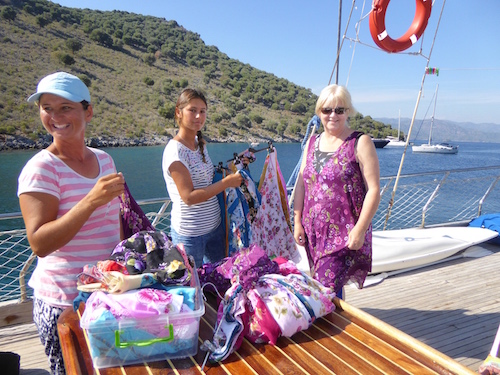 Our flexible itinerary was in the hands of the crew, achieving just the right balance between relaxing, swimming, hiking, exploring as much of the impressive coastline as possible, and picking up and dropping off passengers.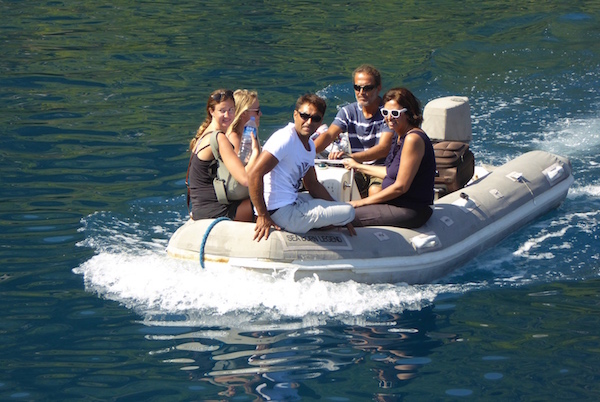 Interesting landings
Lycian rock tombs from the 4th century BC perch over sheltered bays. They beckon the adventurous to climb to panoramic viewpoints to admire the Seaborn Legend from other vantage points. Or to demonstrate one's prowess by precariously striking a yoga pose on a rocky ledge.
On the third day, we anchored in the picturesque cove of Ağ Limani, with its pebbled beach and crystal clear water. Following in the footsteps of Romans who moored their wooden sailing ships here, we climbed a pine-shaded track to the ruins of ancient Lydea (1200 – 500 BC). Along the way, we explored sarcophagi, temple walls, terracing and cisterns from the Roman and Byzantine periods. Living nearby was a family of nomadic yörük people who eke out a living as goat herders, honey gatherers and olive growers. We were served sage tea in a shelter adorned with colourful Turkish rugs surrounded by wares for sale – honey, wooden spoons and utensils crafted from olive wood, necklaces and goat bells decorated with nazar boncuğu (evil eye).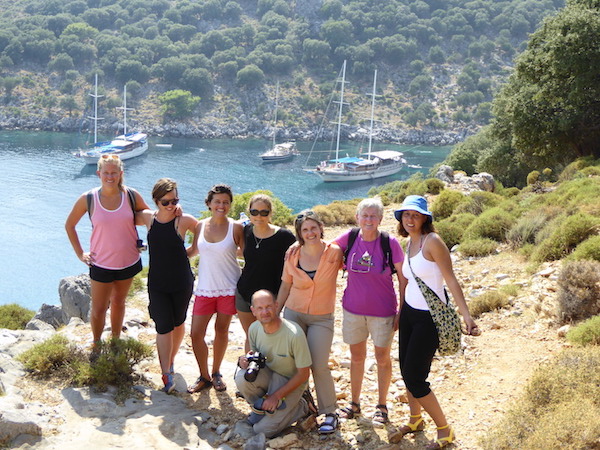 Conclusion
A blue cruise on a Turkish gulet offers the ultimate balance between relaxation and adventure. However, be prepared to take the gentle rocking of the boat with you to your next destination. In our case, it was to the Greek island of Rhodes. It might have been the close proximity of our Rhodes apartment to the sound of the Mediterranean below but for the next few days, I experienced the gentle swaying of the Seaborn Legend. And I didn't mind it one bit.
Logistics
Our blue cruise was booked through Tribe Travel. The agency also organized a van charter for our group of five from Dalman airport to Fethiye. In Fethiye, we stayed at the Yacht Hotel, a short 50-metre walk from Tribe Travel and within easy walking distance of the harbour. UPDATE: My Blue Cruise is no longer affiliated with Tribe Travel.
If you're looking for packing tips:
Carry as little luggage as possible, preferably a soft-sided carry-on sized bag. Space in the cabin is limited.

Swimsuit. If you're restricted by weight and space, forget a swimsuit cover up. A peştamal (hamam towel) is provided to each passenger. Made with Turkish cotton, a peştamal is colourful, absorbent and fast drying.

Hat and sunscreen.

Toiletries. Only liquid hand soap is provided.

Insect repellent will be handy for hikes.

Comfortable walking shoes with a good tread.

Turkish Lira will be needed to purchase merchandise from the entrepreneurs who pull up alongside the boat, or those visited on a hike.

A book or e-reader.

Bring a notebook and pen if you like to write, or a tablet if you don't mind writing in the shade. I also carried a small notebook and pen for collecting email addresses to exchange photos, and record recommendations and notes.

Charge electronics fully before boarding. The only time they can be recharged is when the generator is started up for an hour or so twice a day. An external battery pack may be handy.

A pocket shopping bag can be useful for keeping stuff together while on deck (e.g., water bottle, camera, hamam towel, hat, sunscreen, sunglasses, book, notebook, pen).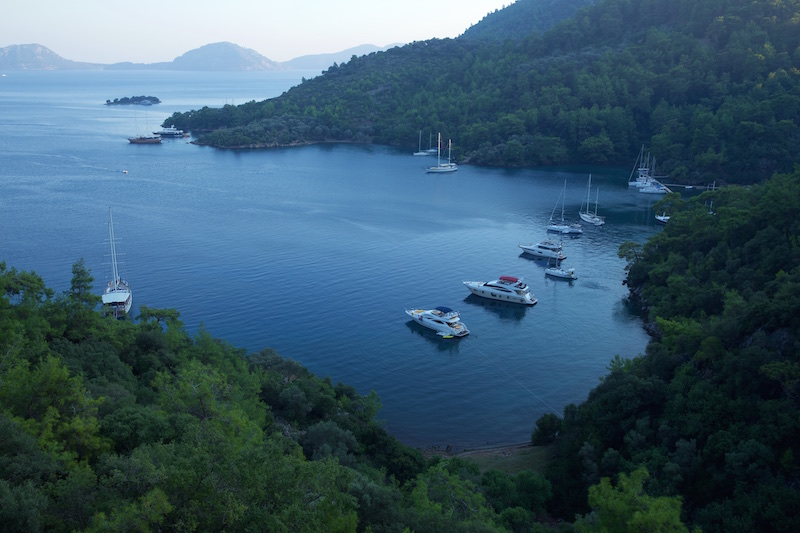 Have you taken a blue cruise? If you've written a post about the experience, please include a link in your comments.
(Visited 233 times, 1 visits today)