Where travel meets food in Spain, going out for pinchos is one of those not-to-be-missed social and cultural experiences. And there's no better way to be introduced to pinchos in Barcelona than by someone who describes them as "gastronomic treasures."
Typically found in bars and taverns, pinchos (sometimes displayed with the Basque-country spelling "pinxtos") are small snacks pierced with cocktail sticks to hold the ingredients together.
Before stumbling across the community-driven marketplace trip4real, I had never heard of pinchos. That changed with the following description posted by Javier Bazán Felgueroso for Feel like a Local: Taste Delicious Pintxos in Poble Sec.
I would love to show you the gastronomic treasures of a street called Carrer Blai through a personalized tour! This street has become one of the best areas of the city to eat pintxos and drink beer or wine and I want you to discover why!
Meeting Javi required an adjustment on our part to accommodate the reality of local meal times. We learned that businesses close from 2:00 pm to 5:00 pm for siesta, and bars and restaurants from 4:00 pm to 8:00 pm. This means that many people have lunch after 2:00 pm, and supper around 10:00 pm. Javi finished work at 8 o'clock, so we arranged to meet outside the Poble Sec metro station at 8:30 pm.
By the time we reached Carrer Blai, the pedestrian street was buzzing with activity. People were enjoying drinks at the outdoor tables and Javi pointed out his favourite places for pinchos in Barcelona.
Our first stop was at Bodega Saltó, a wine bar at the end of Carrer Blai.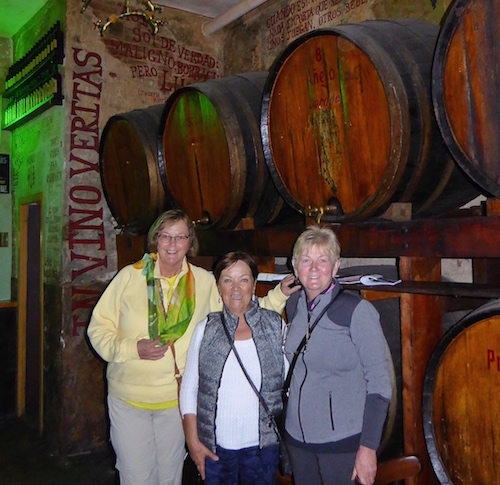 Javi ordered the drinks and over a glass of wine we talked mostly about travel. The conversation was interesting, and trip4real was certainly delivering on its premise and promise of connecting travellers with like-minded locals.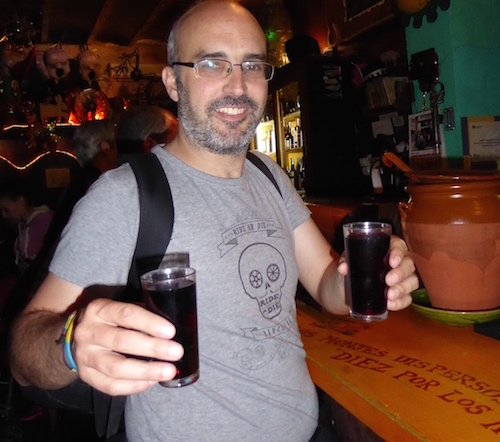 Our next stop was at Bar Zodiaco, a busy unpretentious bar advertising one-euro pinchos.
Temptingly arranged on the bar was a huge selection. Javi invited us to make our choices, but we deferred to his expertise and left things in his capable hands.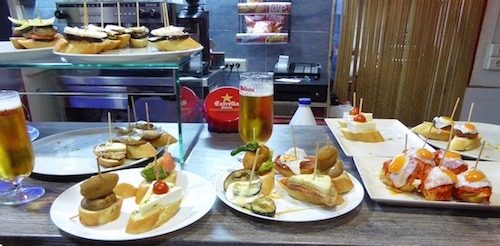 What a wonderful variety of "gastronomic treasures" Javi brought to our table. Almost an art form in their own right, our pinchos included Spanish omelette, Brie and ham, croquettes, shawarma, sausage, hamburger… they definitely were, and contributed to, a rich social and cultural experience.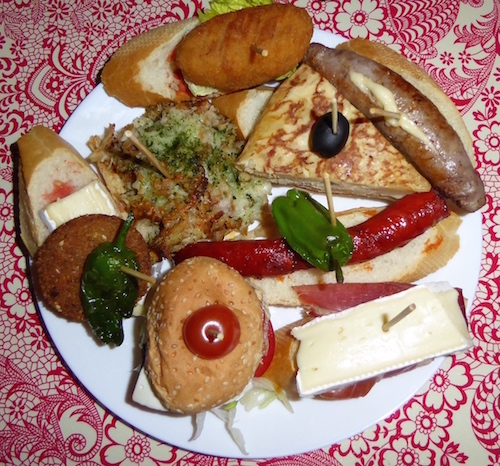 Afterwards, Javi guided us on a leisurely stroll up to Plaça d'Espanya to catch the metro opposite Las Arenas, a former bullring converted into a shopping centre. The façade, an ornate style typical of Spanish bullrings was entirely preserved and lifted above street level during reconstruction. The last bullfight was held in Barcelona in 2011 after Catalonia banned the centuries-old tradition in 2010.
Feel like a Local: Taste Delicious Pintxos in Poble Sec was our third trip4real activity in Barcelona. The others, Classic Bicycle Ride and a Good Local 'Breakfast Fork' and Try my grandmother's recipe for delicious Paella! were just as enjoyable. For descriptions of these experiences, check out Bike Barcelona with a local and Delicious seafood paella in Barcelona.
If you're a fan of the sharing economy and unique peer-to-peer experiences designed by local guides, look up trip4real and similar platforms such as Vayable, Tours By Locals and EatWith. They're revolutionizing travel.
What about you? Have you enjoyed other peer-to-peer travel experiences? Do tell in the comments.
(Visited 93 times, 1 visits today)