Hunting for the perfect paella in Spain can be a hit-and-miss endeavour. But, thanks to trip4real and a grandmother's recipe, we scored a hit with a delicious seafood paella in Barcelona.
This little gem surfaced during pre-trip research. I had a burning need to look beyond the "top ten sights" and discover people and places away from the hordes of tourists visiting the Catalan capital. Partly motivated by a desire to avoid pickpockets and partly driven by a thirst for unique experiences, I couldn't believe my good fortune when trip4real appeared on my radar. A community-driven marketplace, trip4real offers authentic experiences designed by local guides. "Try my grandmother's recipe for delicious Paella!" and its captivating description caught my attention:
Are you in Barcelona and want to try delicious seafood paella that restaurants don't offer? Then my grandmother Pili is where you need to go! Here we'll be waiting at the subway exit Clot, then go to my grandmother's Pili house, who will welcome you with open arms and a huge and delicious seafood paella! I will teach you how easy it is to prepare paella – contains an odd little secret – and then, as we eat it, a talk about our city: you will be enchanted with everything we know and our recommendations to make your stay in Barcelona a unique experience! I hope you come hungry!
Our local tour guide Júlia Alonso was waiting for us outside the metro station a short walk from her grandmother's apartment. Júlia is an intelligent, accomplished and articulate young woman in her final year of university who clearly loves her grandmother Pili (and vice versa).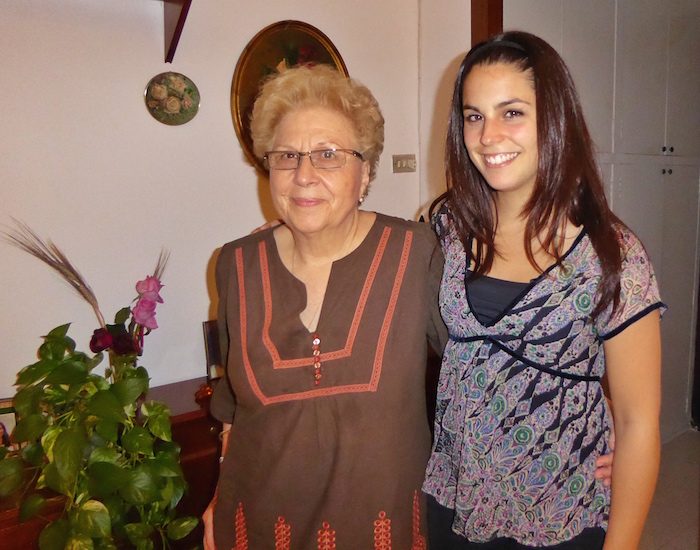 How fortunate were we to visit a Catalan home? What an honour. Pili was the most gracious of hosts who willingly shared the recipe passed down from her mother. Throughout the meal, Júlia facilitated our interaction with Pili by patiently translating the back-and-forth exchange.
Pili had prepared a selection of appetizers for us to enjoy while the paella was simmering on the stove in her small kitchen. Once the paella had absorbed the rich juices of the seafood broth, Pili served generous helpings accompanied by a local red wine.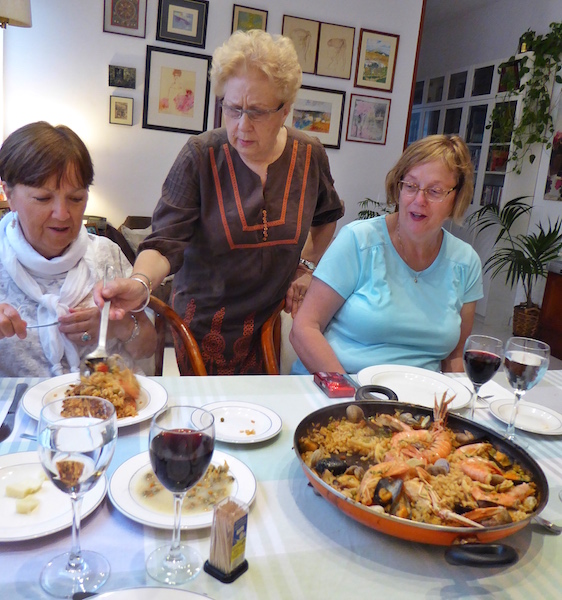 The paella contained squid, clams, mussels, prawns and cijalas (scampi). Pili explained that cijalas must be purchased live to ensure their freshness. She can't stand to toss them live in a cooking pot so in Pili's home they meet their demise in her freezer. We didn't have the heart to tell her how we cook lobsters in Nova Scotia.
Dessert consisted of a mountain of fresh strawberries and freshly whipped cream.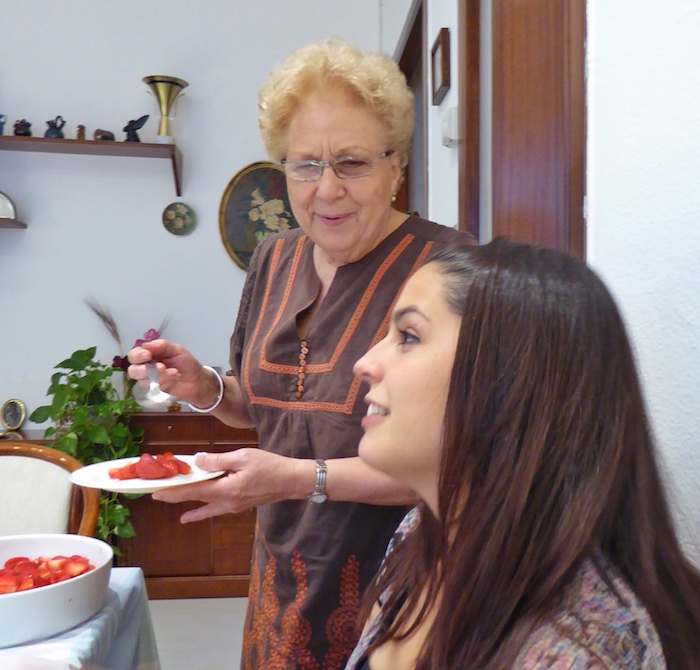 It was perfect timing to have the booking confirmed prior to leaving Canada. This provided an opportunity to visit Jennifer's of Nova Scotia to select a handcrafted local gift for our host. As luck would have it, Pili loved pottery, as revealed by plenty of pieces on display. She instantly recognized the Canadian maple leaf on the spoon rest. It was the perfect gift for a perfect cook!!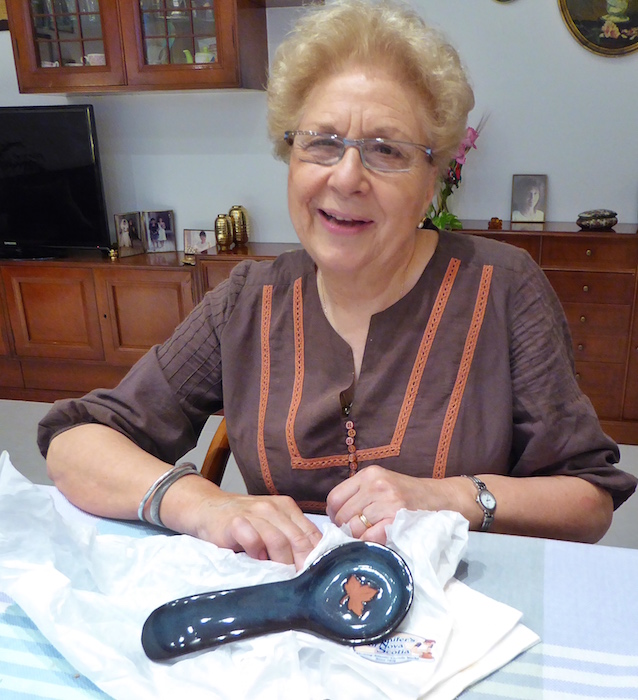 We wrapped up the evening by saying goodbye to Pili, and Júlia walked us to the metro station. What an amazing experience!!
Barcelona is a fascinating city, and trip4real opportunities such as "Try my grandmother's recipe for delicious Paella!" enriched our visit.
(Visited 212 times, 1 visits today)