Guest Blogger Lynn Chen from A heart in sharing travel tales
After hiking up to Everest Base Camp in April of 2014, my husband Wayne and I set foot in Antarctica this past November with G Adventures' Antarctica Classic In Depth expedition. Our ship, the MS Expedition left from Ushuaia, the most southern city in South America, the starting point of our adventure.
We certainly "paid our dues" by surviving the two-day voyage through the Drake Passage. It is arguably one of the most turbulent bodies of water in the world owing to the notorious winds, and convergence of cold and warm ocean currents. According to our captain, we experienced level 6 (out of 10 being the highest) treacherous waves during our crossing.
However, once we reached Antarctica, the discomfort was replaced with excitement.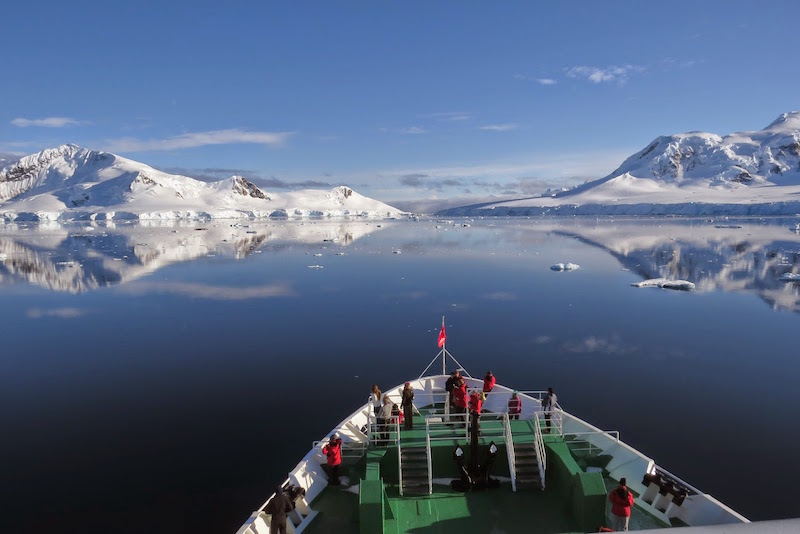 There was ICE, ICE and more ICE during springtime in November. Even though we couldn't sail into some places, I enjoyed seeing the landscape in the early season – pristine and untouched.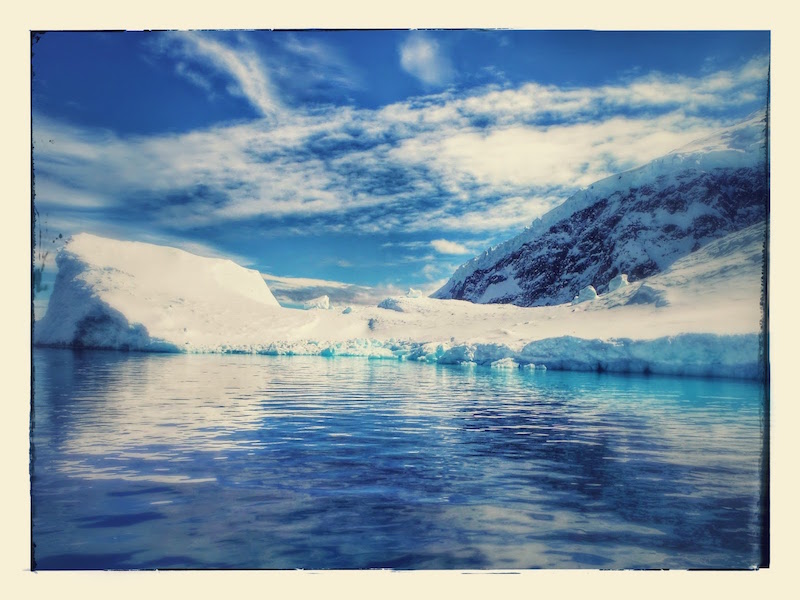 We spent six days around the South Shetland Islands and the Antarctic Peninsula. Each day we were blessed with one or two zodiac landings where we encountered three types of penguins: gentoo, chinstrap and Adélie. My favourite is the chinstrap, as they seem to be smiling all the time. Happy penguins! It was an amazing experience to be "up close and personal" observing them in their natural habitat.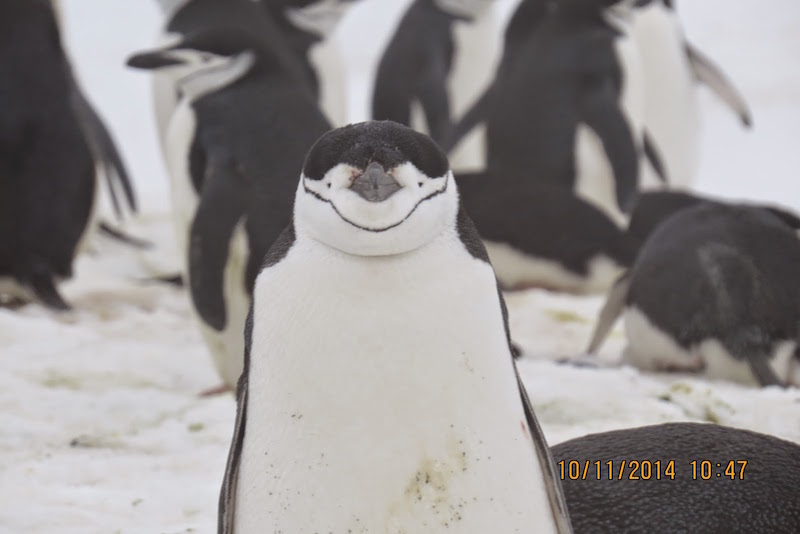 There is a "five-meters-apart-from-the-animal" rule, but penguins are so curious and unafraid of people, they would hop around us performing mating rituals, jump in and out of the ocean, or work on building their nests.
We didn't see a lot of Adélie penguins but they are so cute.
One of Wayne's roommates was a semi-professional photographer. We nicknamed him "penguin whisperer" as he would spend a lot of time in one spot just to take amazing pictures of penguins. On one occasion a penguin leaned on his lap and was very interested in his camera bag!
I was overwhelmed by the number of chinstrap penguins at Baily Head on Deception Island. That particular zodiac landing was not for everyone. Because of the swells, getting out of the zodiac quickly and at the right time was very challenging. I felt like a soldier on a beach landing as we needed to jump out of the boat and run up the beach. However, the reward for getting on to land was to be surrounded by chinstrap penguins with a mind-boggling amount of noise and activity.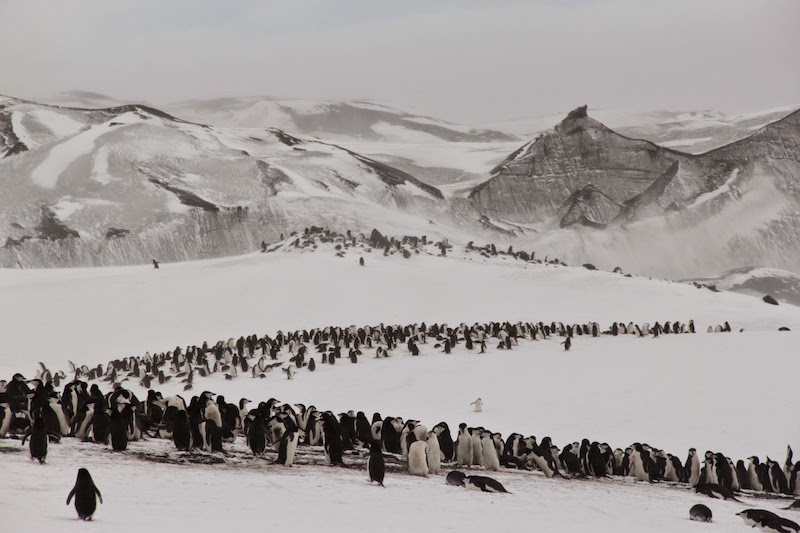 Apart from penguins, we also saw four kinds of seals. My favourite was the Weddell seal. They sleep a lot and are less aggressive. They have the cutest faces and make perfect models for photographers.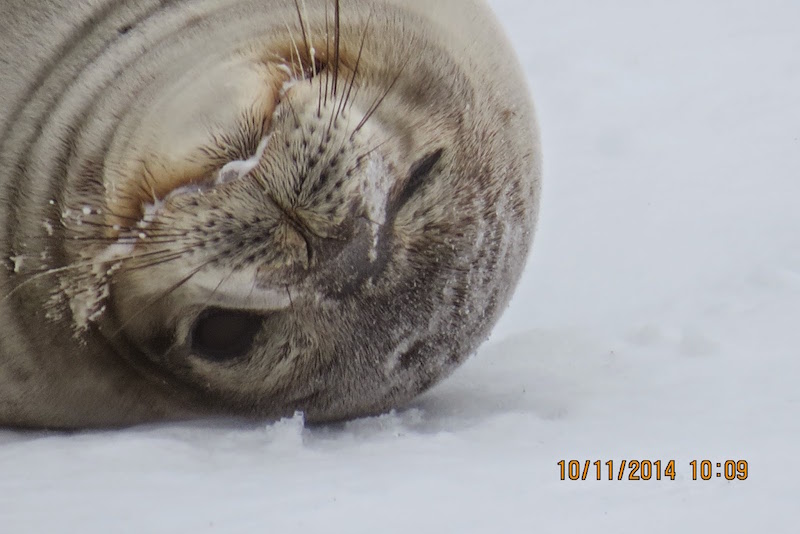 As it's an expedition ship, we completed a few challenging hikes and participated in many lectures about the local environment, the continent, and photography skills.
The American scientific base at Palmer Station issues eight invitations during each season and we were among the lucky ones to pay them a visit. It was fascinating to see how scientists study and live year round in such a harsh environment. I took a special liking to an injured elephant seal pup making a home at the station. He might have been attacked by a bull seal and abandoned by his mum. Hopefully he will continue to grow stronger in summer and be able to survive in the future.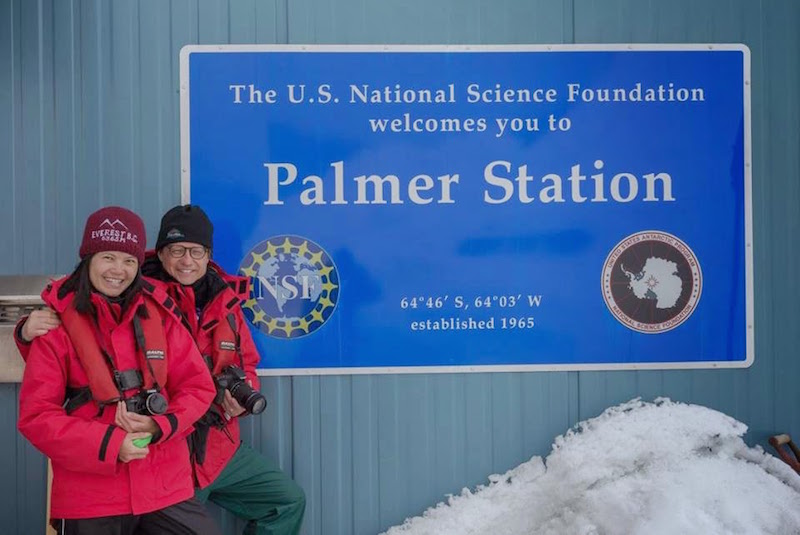 The Antarctic Post Office at Port Lockroy is a "must" stop for sending postcards home, which might take a few months getting to their destination.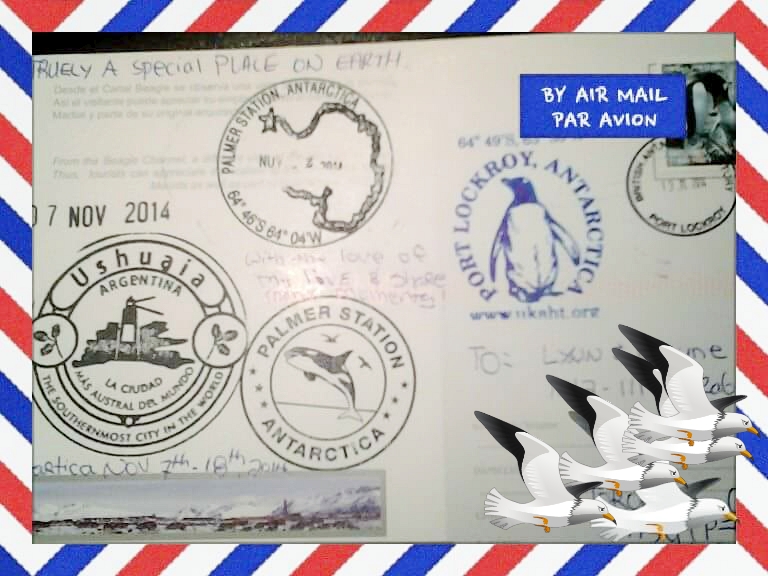 Being in Antarctica during the early season has advantages. There were many icebergs and lots of snow. We experienced Antarctic weather with split-second changes – sunshine, wind chill, blizzards and clouds all in a short period of time. Fog rolled into Port Lockroy in a matter of seconds.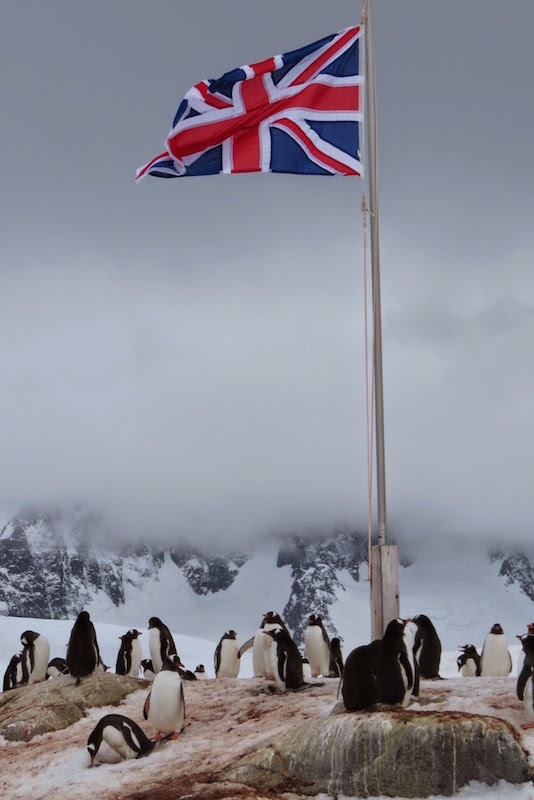 Antarctica can only be visited during spring and summer. Any month is good for glimpses of how penguins mate, hatch eggs, grow chicks and then head back to the ocean until the next spring. In addition, there are soaring seabirds and migrations of whales. Antarctica is the only continent belonging to no nation – only to animals, sea birds and nature. I hope it will be this way for years to come, so our future generations can enjoy this unique beauty as I did during this amazing voyage.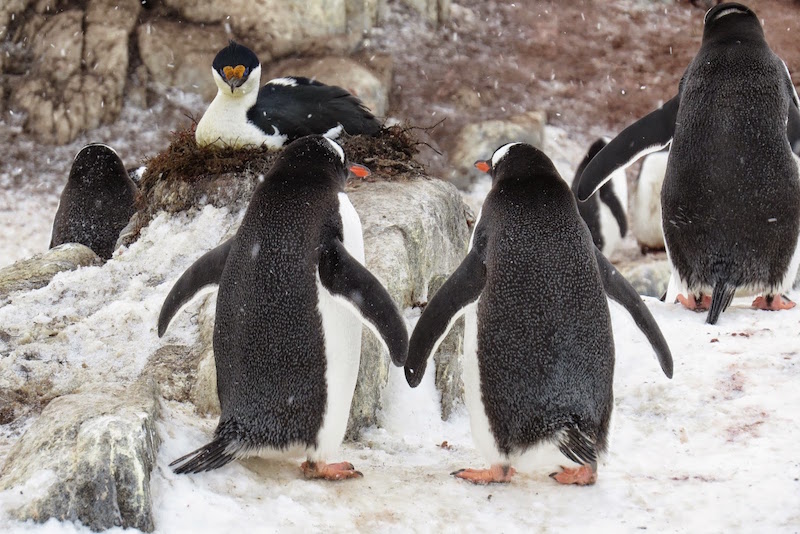 For anyone planning an Antarctic adventure on MS Expedition, especially during early spring, I offer the following information and tips:
1. Weather changes quickly. Dress in layers.
The free parka from G Adventures was great. It really blocks the wind and keeps you dry. I get cold easily so I had one merino wool base layer, occasionally another top layer plus one fleece then the G Adventures parka. For bottoms I had merino long johns and one pair of fleece pants, plus waterproof pants for landings. I wore one toque, one Buff, one pair of normal gloves (to be able to take pictures) and a pair of waterproof gloves when out in the zodiac. With one pair of thin socks and one pair of thicker woollen socks I never felt cold. (My roommate had those feet warmers that can attach to the bottom of socks; she said they were good. However, make sure you wear those socks when trying on boots as they will be staying with you for the rest of the trip.) Boots are worn underneath the waterproof pants, and we were lucky to get brand new boots for the season. They're pretty good for walking on ice or snow and hiking up hills, although there was one hike where the angle of the slope was too steep, and I didn't feel comfortable continuing to the top.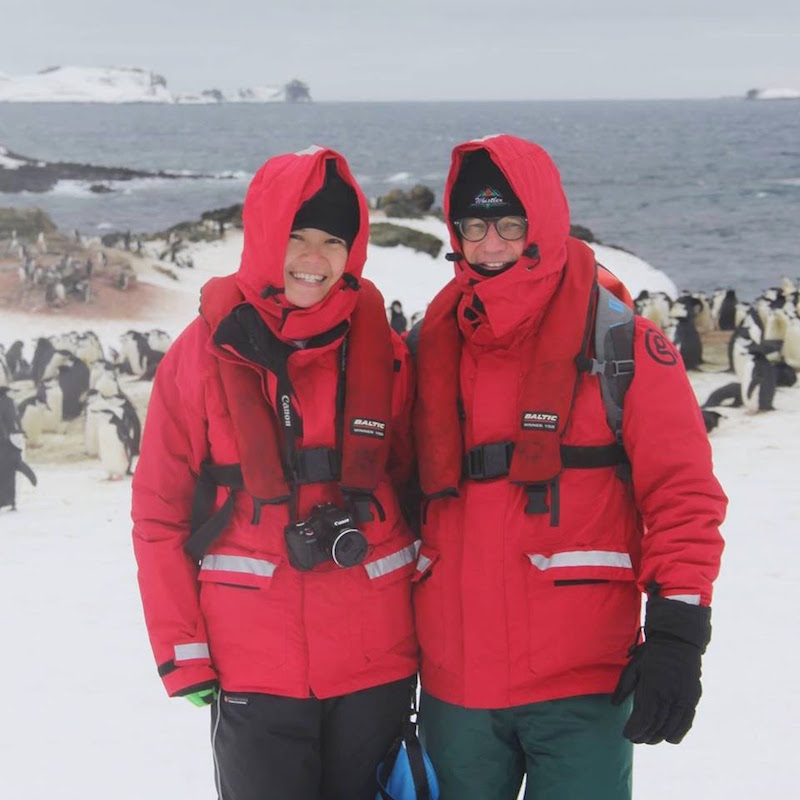 2.  G Adventures Parka – get it on board.
Everyone went to the Discovery Lounge to try on jackets for the correct size. I didn't have a choice but to take a small, though it was a bit big for me. I am still wearing it after coming back to Toronto. (The weather in Antarctica was warmer than our winter here in Toronto!)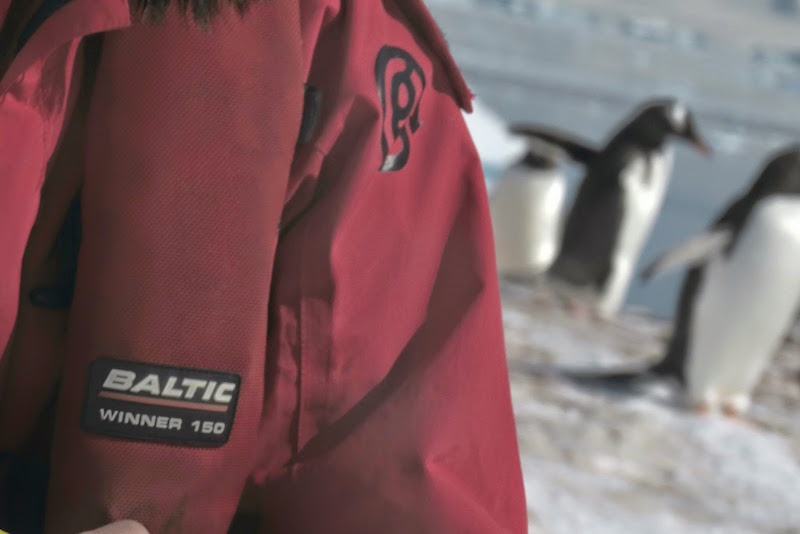 3.  The food is very good and we were never hungry. 
Complimentary coffee, tea (herbal tea as well), hot chocolate, Overtine, honey and cookies were available on a 24-hour basis in the lounge. You cannot drink your own alcohol in the public areas on the ship, but it can be consumed in the dining room with a $10 corkage fee. Non-alcoholic drinks are around $2 each. A happy hour alcoholic drink is $4. In Ushuaia there is a supermarket near the Hotel Albatross where we stayed the first night (included in the cost of the tour). We bought some sparkling water and wine for our journey. (Gingerale is good for seasickness!)
4.  Seasickness: Drake Passage!
We said this was an expensive token to pay for coming to and leaving Antarctica!! The captain tried to make our crossing as smooth as possible but still a lot of us did not feel like normal human beings. Many people used the patch (for Canadians it's available over the counter from a pharmacy, but in the United States a prescription is required). I highly recommend a patch over pills. My husband took the pills but he couldn't eat and stayed in bed for two days during the two-day crossing. Though the patch has some side effects, it's still better than feeling sick. My throat was very dry, and it felt like I was coming down with a cold, so bring some Halls/Ricola candy. I felt very sleepy and laid down a lot. If this happens to you, try to go for lectures in the lounge. I tried to sit (lay down) on sofas, not the swivel seats.
5.  It's a very casual ship.
Jonathan, our expedition leader said, "It's an expedition, not a cruise." That says it all. For both the Captain's Welcome and farewell cocktail (sparkling wine for all and hors d'oeuvres) in the lounge, we were all dressed in casual attire. If you want, you can wear something better, but nothing too flashy. I wore jeans and a shirt the whole time.
6.  People are friendly.
During the trip, we encountered many interesting people from different walks of life. Thirty percent of the passengers were under 50 and some were under 30. And some of them had been to Antarctica more than once! Maybe Françoise from Montreal who was over 80 and travelling solo was the oldest person on board. I admired her zest for adventure and for sure she didn't just stay on board but boarded the zodiac and did quite a few landings. Wayne and I stayed in different cabins and we were lucky we both had very nice roommates. So I didn't miss him that much (LOL). Mimi and April Sabangan were my roommates – amazing young ladies who shared the same passion for travel and all three of us have now been to seven continents! We shared a lot of laughter and were comatose together during the nasty Drake Passage crossing. April even celebrated a milestone birthday at Baily Head with penguins.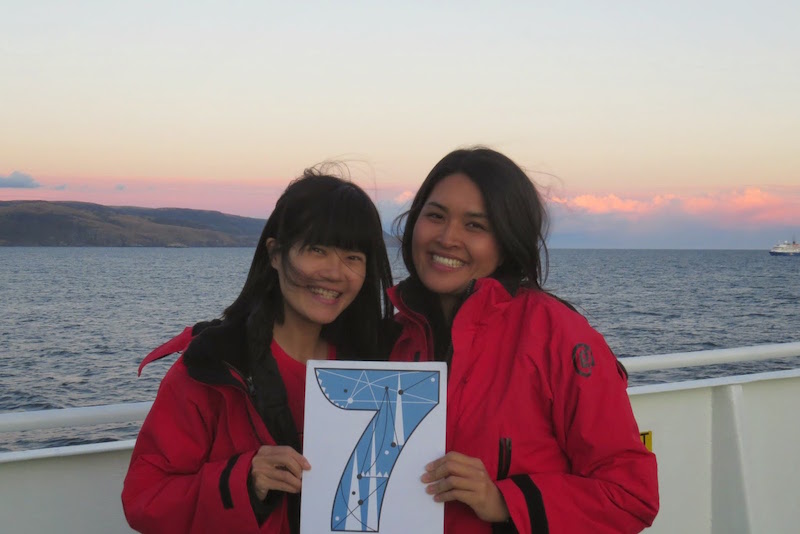 7.  The ship looks exactly the same as the picture on the website.
Cabins are clean, and bigger than I expected. I was in a triple-berth cabin on deck 2 (next to the mud room – great for going/coming back from landings). We had a porthole in the room, which was convenient for seeing icebergs pass by. We each had a closet to hang clothes and there was room to put luggage away under the bed. The desk had additional shelf space. There were no thermos cups for us like in the picture though (LOL). It would be handy to bring a water bottle to have water in your room. The bathroom is tight and water can be everywhere if you point the showerhead in the wrong direction. Shower gel, shampoo, conditioner and a hair dryer are supplied in the bathroom. There are plenty of towels. Housekeepers are GREAT!! They cleaned and tidied up our room every morning and turned down our beds every night. So I guess if you have a twin room it will be even roomier. But I guess in a quadruple room it might feel tighter? I was very happy in our triple room with great roommates.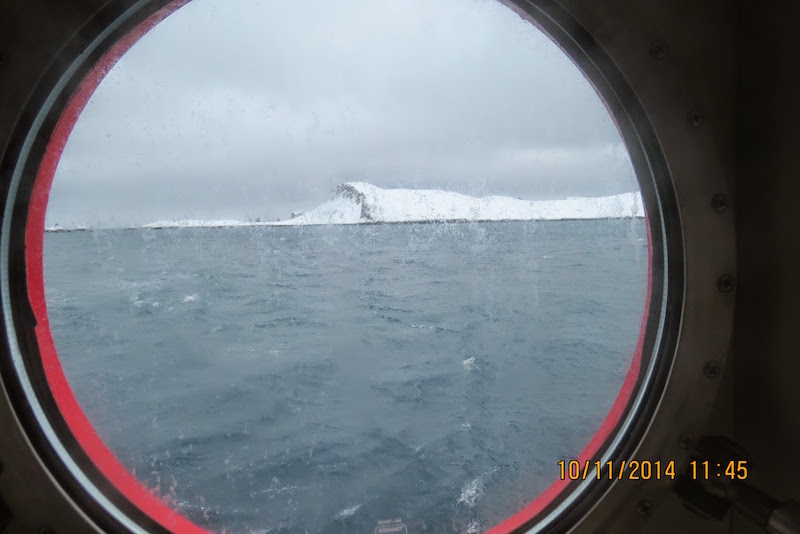 8.  Set Itinerary?
Before leaving, I was anxious about where we would go as there was not a lot of detailed information on the website. After the trip, I understood why. With the early season sailings, it all depends on the direction of the winds and the amount of ice. We tried twice to go to Lemaire Channel but it was in vain due to too much ice in the channel. But what I love about the early sailing is that I felt we were the first ones of the season to see such a remote area with lots of ice and snow. Every day there was a debriefing of what we did that day and what we MIGHT do the next day depending on the next day's weather. The tour leader and the captain tried really hard to get us on shore during our time in the area. We spent almost two to three hours on land each time or as we wished. Cruising in the zodiac was good, not as scary or wet as I expected. If it looks like it will be wet for the ride, the zodiac drivers will let you know. Face away from the splashing water (the parka kept me dry the whole time). My $25 rain pants served me well as landings were usually wet, meaning you might have to be in the water when getting off the zodiac. During our six days in Antarctica only one landing (Baily Head at Deception Island) was problematic. Needless to say, it was one of my favorite landings!! It's a beach landing but the waves were the concern. You need to be able to move fast and at the right time when getting off the zodiac. One lady in our zodiac didn't get off as instructed and when she fell into the water her life jacket inflated. She needed to go back to the ship and change into another life jacket.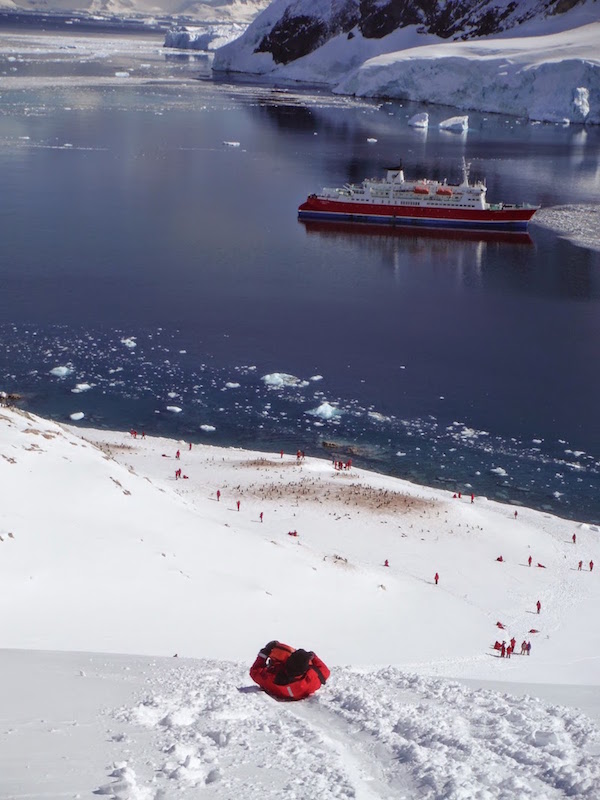 But it was a lot of fun! We were rewarded with tens of thousands of chinstrap penguins!!! Love, love, love them. I didn't want to leave at all.
The mudroom is warm and dry so you can leave your parka, wet pants, gloves and boots there to dry. If you go on the outer deck you'll want to wear your parka and gloves.
9.  Shoes.
Before going, I was quite concerned about what shoes to pack. Before boarding the MS Expedition, we spent five days in Buenos Aires and two days in Ushuaia. We brought a carry-on backpack (8 kg) and one handbag (carrying two cameras and things for a 15-hour flight from Toronto to Buenos Aires). I planned to wear a pair of Converse shoes for Buenos Aires and hiking shoes for the deck and Ushuaia BUT ended up wearing the Converse shoes the WHOLE TIME on the ship. The deck was washed each morning and I had NO problem at all walking around the deck with my Converse shoes plus a pair of woollen socks. It can be really windy at times, when the boat is moving. But no matter what you wear, you always have to be careful anyway. Of course, if you already have Uggs you can bring them, but if not, sneakers are good enough as inside the ship almost everywhere is carpeted. If you feel cold outside, you can always go inside to get warm and go out again. Don't bring flip flops or open-toed shoes for onboard use.
10.  It is DRY onboard.
I washed my socks and underwear and even my T-shirts every day and they dried in a day. I just hung them in the bathroom with hangers. You also have the option of sending them to the laundry.
11.  We had a resident photographer.
Paul from Toronto was our resident photographer. He provided answers to questions about our equipment and conducted two photography lectures during the Drake crossing. He also had a photography zodiac where people could sign up for those landings.
There were people on board who were semi-professional photographers with really good cameras. There were a lot of point and shoot cameras and also GO Pro cameras. I have a PowerShot SX50 and was able to do a lot of experimenting using different settings. If I get ten good shots out of hundreds of pictures I'm happy. And I have more than ten good shots! I also have a Fujifilm XP70 Waterproof camera (but wish I had a GO Pro instead for the trip). I carried two batteries but there was no need to change the battery as I always charged it when I returned to the boat. There are two desktop computers on board so bring a USB stick in case your new friends onboard are willing to let you download their videos or pictures or you want to back up your own.
12. I think every ship visits Port Lockroy.
We actually had three staff members of the British Post Office in Port Lockroy catch a ride on our ship. They disembarked at their station before the season started and we went back to visit them two days later after they'd dug out more than six feet of snow to reach the door. At the post office you can buy post cards, stamps and souvenirs. If you want, bring your passport to have an Antarctica stamp added. There's a small museum as well. If you're lucky like us, you might be invited to tour Palmer Station. Even the members of the crew were excited to have this opportunity, and try their famous brownies!
13.  I am happy with my experience.
It was my first time on a ship like this and it was a good experience. The CEOs were all experienced and their professionalism was inspiring. The restaurant, lounge and housekeeping staff members were all hard working and kept us happy all the time. Perhaps others might have had greater expectations but for me I appreciated all their efforts.
Hopefully this will help you prepare for an Antarctic adventure on MS Expedition AND enjoy Antarctica for wherever or whatever you encounter!!
For more photographs of Lynn's amazing adventure, visit A heart in sharing travel tale. For a detailed report on a G Adventures' tour on MS Expedition, read Sherry Ott's HOW CRUISING TO ANTARCTICA WORKS.
Have you been to Antarctica? If so, please add a comment and/or a link to your site.
(Visited 1,317 times, 1 visits today)